San Sebastián, Puerto Rico – San Sebastián Del Pepino
Foundation: The original name was San Sebastian (sahn se-bahs-tee-AHN), de las Vegas y el Pepino, because of its location in an extensive valley protected by mountains, watered by the Culebrinas and Guatemala rivers, and by the locally wooded hills called "pepinos" (cucumbers), characteristic of the karst zone. Authorization to found the town dates from 1752. It is said that its founder was don Cristóbal González, neighbor of the area. After seven years (1759) the construction of the first parish was culminated and placed under the patronage of San Sebastián Mártir. Later in 1808 and 1812 the House of the King and the City Council were built, respectively.
During the first years of its foundation, after exploiting the forests and ruining the forest wealth, the economy was mainly based on cattle and equine raising, sugar cane, coffee, cotton, tobacco, rice and fruits were also cultivated.
In the 1815 numerous immigrants arrived to Pepino who introduced capital and slave manual labor, that stimulated the economic development. One decade later Pepino counted on 53 wooden sugar refineries, 4 stills that processed sugar cane melases, and the produced coffee, cotton and fruits. In 1823 the first primary school of the town was founded and in 1828 the population had already exceeded 9,000 inhabitants. Eighteen years later Pepino counted with more than 100 homes, two primary schools and the municipal population exceeded 10,000 inhabitants.
In 1868 the historical episode known as the "Grito de Lares", (Lares Revolt) took place. One of the more important Revolutionary Groups in the organization of the revolt was the "Porvenir" of Pepino, whose most outstanding members were Manuel Cebollero, Eusebio Ibarra, Cristóbal Castro, Cesáreo Martínez, Clodomiro Abril and Francisco José Méndez. The facts, which correspond to the History of Puerto Rico, consisted of the taking of Lares and the frustrated attack against Pepino.
In 1869 the Government authorized the name of Pepino be changed to San Sebastian. In 1919, like a inheritance of its past, the following public buildings existed in San Sebastián: The House of the King, slaughter house, meat market, the Municipal and Lunatic hospitals, the cemetery chapel and the Municipal Public square.
Location: It borders with Isabela and Quebradillas to the north, south with Las Marías, west with Moca and Ańasco and east with Lares.
Area: 137.8 sq km / 53.0 sq mi
Population: 44,204 (census 2000)
Population Density: 320.7 per sq km / 834.0 per sq mi
People are known as: Pepinianos
San Sebastián is also known as:
San Sebastián Del Pepino
Los Pepinianos
Cuna de la Hamaca
Los Patrulleros
Wards:

San Sebastian, Puerto Rico
Census 2000:
Population by Wards – San Sebastián
Habitants

Aibonito

2,116

Alto Sano

1,282

Bahomamey

2,740

Calabazas

2,458

Cibao

1,218

Cidral

453

Culebrinas

4,006

Eneas

912

Guacio

733

Guajataca

700

Guatemala

2,919

Hato Arriba

1,991

Hoya Mala

3,505

Juncal

2,075

Magos

242

Mirabales

624

Perchas 1

1,024

Perchas 2

1,072

Piedras Blancas

2,562

Pozas

3,713

Robles

1,595

Salto

2,887

San Sebastián Pueblo

1,952

Sonador

1,425

Total
44,204
Información: Negociado del Censo de los EE.UU. Censo 2000
Patron:
San Sebastián Mártir
Parroquia San Sebastián Martir
Apartado 801
San Sebastián, P.R. 00685
(787) 896-1028
Mass Schedule:
Monday thru Friday: 7:00am & 6:15pm
Saturday: 6:15pm
Sunday: 7:00am, 8:15am, 9:30am, 10:30am & 6:15pm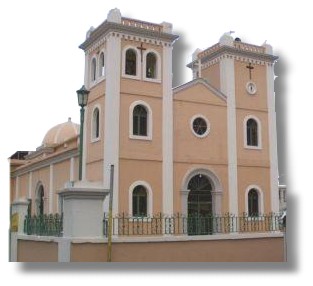 Topography: It is located in the Interior Central Mountains. In general, its terrain is slightly elevated although it counts with numerous small elevations or wooded hills, known as "pepinos", from where the name of San Sebastián Del Pepino comes from.
Hydrography: It is watered by the Grande de Ańasco, Culebrinas, Guajataca rivers, several affluents and the dam known as the Guajataca Lake.
Economy: Agriculture (cattle and sugar cane).
Average Salary: $ 249.01 weekly (1998)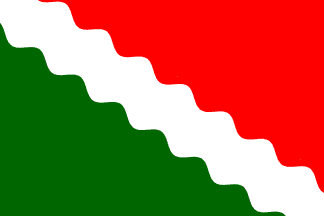 Flag: It consists of a rectangular flag of the usual proportions, crossed by a white waved band that separates its red superior part from the inferior one, that is green. The red color symbolizes the patron San Sebastián Mártir and the revolt of September 24, 1868, where the town witnessed the bloody events originated by the Revolutionary Movement of Lares; the color green represents the mountains of Pepino; and the white waved band, the Culebrinas River.
Coat Of Arms: The three arrows represent Patron Saint of the population, San Sebastian Mártir, officially named in 1869. The arrows constitute the attribute of this Saint. According to tradition he was killed with arrows by his pursuers, giving this way testimony of faith. The arrows that appear in the old seal of the population perpetuate the use of its symbolism. The red color of the shield has in addition another symbolism; the faith of the martyr. It recalls that San Sebastián was the first town of Puerto Rico in the course of a combat operation, blood for the national freedom of Puerto Rico was spilled. It was in effect, in the plaza of the town, next to the Parochial Church, on September 24, 1868, where by the gun fire of loyal milicianos of the Spanish regime, Venancio Roman fell along with other patriotics of Lares who came to occupy the military quarters of Pepino.
The Mountains: With silverplated borders, represent the characteristic mountains (Pepinos) that dominate the area from which it derives its name.
The Crown: Is the heraldic standard used to identify towns, villas and cities. It symbolizes the defense and conservation of the municipal traditions and the union of intentions that must reign between the inhabitants of a municipality.
The Sugar Cane and Coffee Branches: They represent main agricultural products of the zone where the population is based.
San Sebastian Public Schools
| | | | |
| --- | --- | --- | --- |
| Name | Level | Telephone | Address |
| AGUSTÍN ACEVEDO HERNÁNDEZ | Elementary | (787) 896-2105 | PO Box 4704 |
| AIBONITO BELTRÁN | Elementary | (787) 896-4362 | PO Box 977 |
| ÁNGEL GUERRERO LUGO | Elementary | (787) 896-2888 | PO Box 4704 |
| ÁUREA FUENTES MÉNDEZ | Elementary | (787) 896-4100 | PO Box 5220 |
| FRANCISCO LUGO ROSA | Elementary | (787) 280-0863 | HC-05 Box 42005 |
| GUILLERMO CARDE | Elementary | (787) 896-0199 | PO Box 1220 |
| INÉS MENDOZA | Elementary | (787) 280-1863 | PO Box 4704 |
| JOAQUÍN ORONOZ RODÓN | Elementary | (787) 896-1775 1680 | Ave. Emerito Estrada |
| JUAN CARDONA RODRÍGUEZ | Elementary | (787) 896-1425 | PO Box 4644 |
| JUANA B. GUZMÁN | Elementary | (787) 280-4072 | PO Box 662 |
| JULIO CANCEL (ANEXO) | Elementary | (787) 896-0115 | PO Box 1220 |
| JULIO CANCEL FACUNDO | Elementary | (787) 896-1072 | PO Box 1220 |
| MARÍA S. DEL RÍO | Elementary | (787) 896-0166 | Bo. Robles Carr. # 466 km 3 hm |
| MINIMA ORONOZ | Elementary | (787) 896-4669 | PO Box 7000 Suite 70 |
| PABLO CARDONA | Elementary | (787) 896-5940 | PO Box 4704 |
| PERCHAS RABEL I. | Elementary | (787) 896-6492 | PO Box 4704 |
| RAMÓN M TORRES | Elementary | (787) 896-1135 | PO Box 5443 |
| ERNESTINA MÉNDEZ | Intermediate | (787) 896-1745 | Suite 138 |
| NARCISO RABELL CABRERO | Intermediate | (787) 896-1164 | PO Box 1619 |
| PERCHAS ROSARIO | Intermediate | (787) 896-4497 | PO Box 4704 |
| EMILIO SCHARON RODRÍGUEZ | Secondary | (787) 896-4142 | PO Box 4691 |
| BERNARDO MÉNDEZ JIMÉNEZ | SSecondary | (787) 896-5980 | PO Box 1676 |
| CARMELO SERRANO CUBANO | Secondary | (787) 896-6810 | PO Box 1676 |
| MAXIMINO A. SALAS | Secondary | (787) 896-2838 | PO Box 2855 |
| NUEVA SUPERIOR VOCACIONAL | High School | (787) 896-1430 | PO Box 1277 |
| PATRIA LATORRE | High School | (787) 896-3970 | PO Box 5379 |
Hymn: Lirics Juan Avilés Medina Music Guillermo Figueroa
Van más de dos siglos de historia de vida,
vida con historia, siempre Florecida
de esperanzas nuevas, de anhelo y de afán,
con el gran prodigio de la Fe Cristiana
que abrió los caminos de ayer al mañana
bajo el nombre Augusto de San Sebastián.
Somos de los llanos, somos de la sierra,
somos de los valles, somos de la tierra
que lleva muy hondo clavada en su entraña
la feliz historia del Río Culebrinas, l
as nobles leyendas de hazañas taínas
y la historia escrita con sangre de España.
Tenemos orgullo, forjamos cultura,
labramos rencores, sentimos bravura,
guardamos amores en el corazón.
Pero en un instante, cultura y rencores,
bravura y ternura y orgullo y amores
se postran de hinojos a nuestro Patrón.
Deprisa vivimos la vida de día;
vamos al progreso con la gallardía
de un pueblo que marcha con paso seguro.
Y el Viejo Pepino de los pepinianos
sigue siendo el pueblo de miles
de hermanos que van siempre unidos.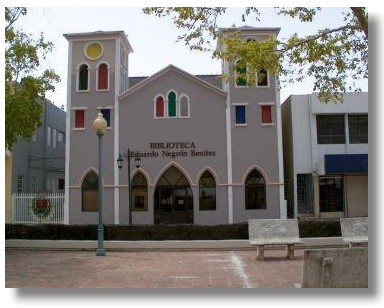 Events:
Patron Celebrations – January
Three Kings Festival – January
Festival of the Heifer – January
Hamac Festival – July
Places To Visit:
Barandillo
Robles Waterfall
Sombrero Hill
Guajataca Lake
Merchant Plaza
Salto de Collazo
Distinguished Citizens:
Juan F. Acosta – Composer & muscian (biography)
Sinforoso Vélez Arocho – First Puerto Rican to participate in WW1.
Delia Margarita (Margie) Castro Alberty – Opera singer
Dr. Salvador Arana Soto – Historian