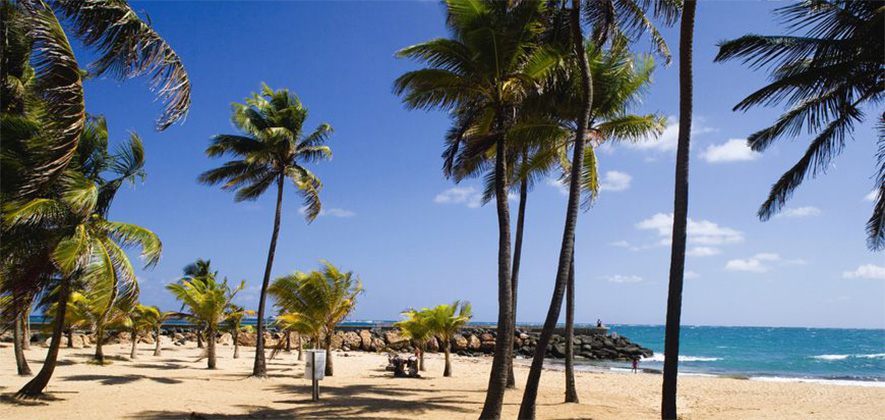 Condado Beach
San Juan, Puerto Rico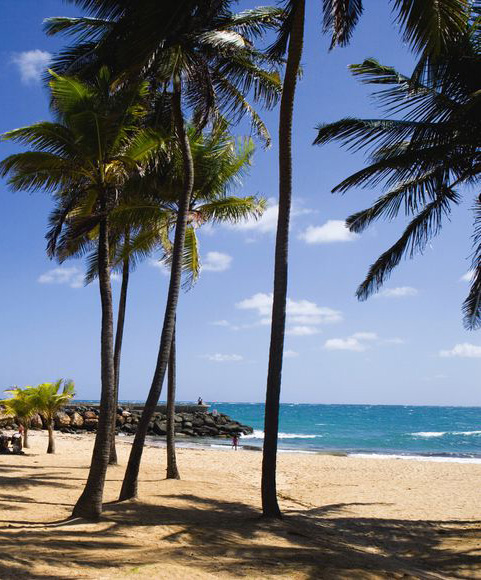 Condado Beach is a beach located north of the island in the heart of the tourist district of San Juan surrounded by the most important hotels and restaurants in Puerto Rico.
Tourist staying in San Juan love to stretch on the sands with no need to venture farther than Condado Beach. For many sun-lovers, that's just fine.
Condado is framed by a string of high-rise hotels and resort complexes, plus it's ground zero for water sports and beach bars. Families, however, sometimes forego these sands for one of the government-run beaches, or balnearios, because Condado beach's tide is often too strong for young swimmers. It is a long sandy beach, popular with sun lovers.
Conveniently, the beach is also next to Parque La Ventana al Mar, a small park with places to eat and wonderful ocean views.  The western end is an area known as the La Playita del Condado and has calmer waters, ideal for children.
The Beach is open to the public but also serves the guests of the hotels and resorts that surround it.
Condado Beach is considered the most popular beach in San Juan, mainly due to its proximity to Old San Juan, Santurce and the Condado area, which makes it a popular tourist destination.
The beach has the style and is compared to Miami Beach, as it is lined by high-rise buildings and resorts, hotels, restaurants, exclusive shops and nightlife in the area. Cultural experiences, nearby beaches, and world-class attractions make Condado Beach even more appealing, not to mention warmer weather year-round.
On the beach there is a hotel that sells drinks and provides rental services for umbrellas, sunbeds, surfboards, tables and beach chairs. There are also water sports rental concessions available for those who want to dive into the water to surf, jet-ski, kayak, or paddle. Sometimes there are small sellers of hats, canoes, piña colada drinks among others.
Condado Beach draws a diverse crowd, from families to famous celebrities. Puerto Rico's most popular beachfront luxury beach resorts are loved by Puerto Rican celebrities as they are right in the center of all the action and charm of Condado Beach. For those looking for cheaper hotels, there is a good variety of hotels and small inns within walking distance.
If you have children, be aware that the waters are not the best for swimming. Nearby, you can enjoy the Playita del Condado, a small beach with calmer waters, perfect for families with children and with lifeguards.
How to get there:
You can access Condado Beach through Ventana al Mar Park on Ashford Avenue. There is off-street parking, although limited. There is a convenient parking lot right in front of the Venta al Mar park for a fee.