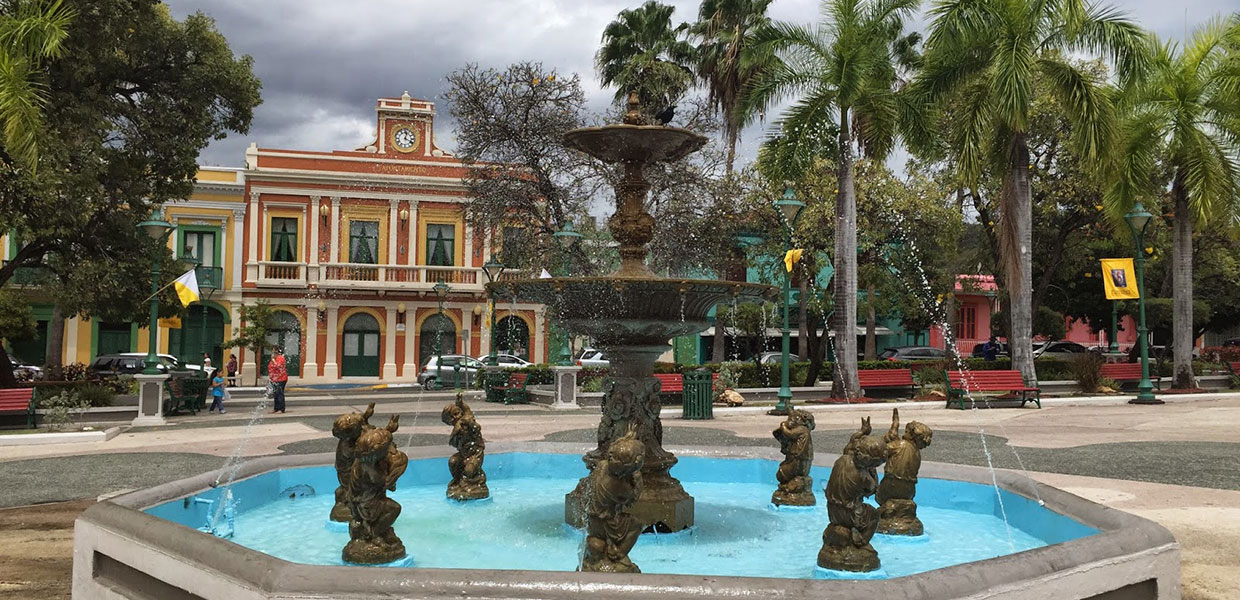 Juana Díaz, Puerto Rico
Mabí City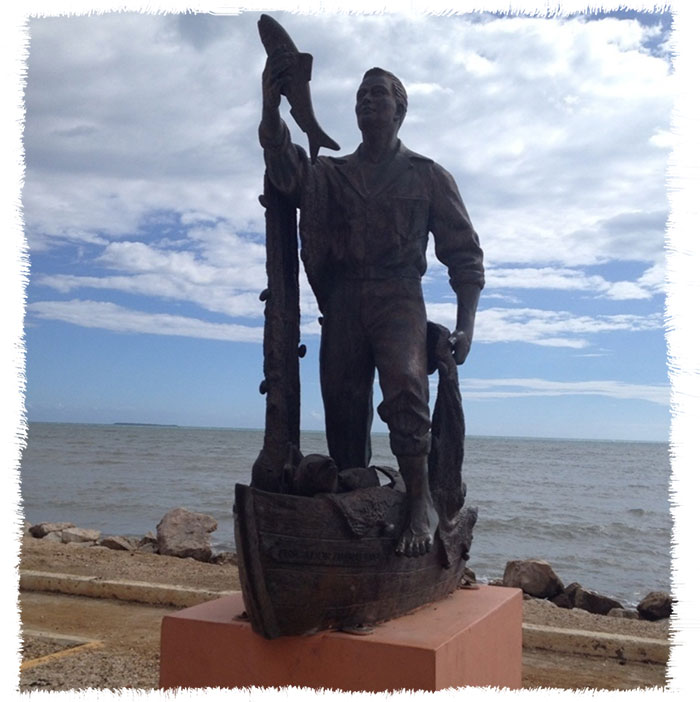 Juana Díaz (HWAH-nah DEE ahz) is known as "the Mabí City", "the city of the Jacaguas River", the "city of the Three Kings", and the "Bethlehem of Puerto Rico". This municipality is where the centuries-old tradition of Three Kings Day is celebrated with the most enthusiasm. The famous kings have traveled to Rome to meet Pope John Paul II. The patron saint is Saint Raymond Nonnatus, whose day is celebrated on August 31.
Juana Díaz is located in southern and south coast of Puerto Rico. Is bordered by Ponce to the west; Jayuya, Villalba and Ciales to the north; Coamo and Santa Isabel to the east; and the Caribbean sea to the south.
The geographical region is part of the southern coastal plains and semi-arid southern hills, situated on a geological fault. There is very little rain. Topographical features include valleys, plains, and coasts.
At present, Juana Díaz produces fine quality marble. There are four quarries from where marble tile and chips for terrazo are extracted. The large-scale sugar plantations of the past are now used for fruit, especially mangos, avocados, beans, and produce. There is also some cattle farming.
Foundation:
Located along the shores of the historic Jacaguas river, Juana Díaz (HWAH-nah DEE ahz) started its life as a village in 1592, according to Fray Iñigo Abad y Lasierra. At that time no private property existed as such but farms were authorized by royal decree from the governing body in Coamo. Before 1582, this region was frequently attacked by fierce local Carribean indians known as the Caribe and many residents in the region died. Amongst them was the husband of Doña Juana Díaz. After her husband's death she managed the cattle ranch, which was acquired by usufruct (the right to enjoy and profit from the property of another as long as it is not damaged). This ranch was called Jacaguas, named to honor the Taino "Cacique" Jacaguax. Doña Juana Díaz was the head of the family who worked this parcel of land of approximately 16 acres. The first businesses established in this region were breeding livestock and growing fruit trees. The land for these businesses was not part of Doña Juana Díaz' ranch.
When the town of Juana Díaz was established as a municipality in 1798, Doña Juana Díaz had passed away and the residents no longer remembered her. Her name was kept because she was the first person to administer the ranch. By that time the town was known as the "Versailles de Ponce" because of its lush landscape, luxuriant trees and beautiful streams that flowed through the region. The attention of travelers was always drawn to their beautiful fountain.
The parish was founded in March 1798. The civil government of this territory was established in April 25, 1798. Don Tiburcio Rodríguez was its first organizer. His descendants settled at Barrio Collores. By then, approximately 1,000 people lived in Juana Díaz. The barrios (districts) of this new municipality were:
To the North – Lomas Guayabal, Villalba Arriba, Villalba Abajo, Hato Puerco, Arriba y Hato Puerco Abajo, Caonillas Arriba, Caonillas Abajo and Vacas
To the South – Amuelas, Sabana Llana, Cintrona, Capitanejo.
To the East – Tijeras, Río Cañas Arriba, Río Cañas Abajo, Emajagual.
To the West – Jacaguas, Callabo, Collores.
During the 18th century Juana Díaz became a major producer of sugar cane and several mills were established to produce molasses and sugar. These mills were: La Luciana, Cristina, Ponceña, Serrano, Amelia, Potala, Cintrona and Ursula. By the turn of the century, as a result of the Hispanic-American War, Puerto Rico became part of the United States. The first mayor was Espartani Franceschi. In 1917, the municipality of Villalba was created and a number of barrios of Juana Díaz are now part of this new municipality. They are: Villalba Arriba, Villalba Abajo, Hato Puerco Arriba, Hato Puerco Abajo, Caonillas Arriba, Caonillas Abajo and Vacas.
Location:

Located in the Southern coast of the Island, it borders north with Orocovis, Jayuya, Ciales and Villalba, south with the Caribbean Sea, west with Ponce and east with Coamo and Santa Isabel.
Area:
157.5 sq km / 60.6 sq mi.
Population:
50,531 (census 2000)
Population Density:
313.81 per sq km / 818.2 per sq mi.
People are known as:
Juanadinos
Juana Díaz is also known as:
La Ciudad del Mabí (Mabí City)*
*Mabí is a delicious, refreshing fermented
Taíno beverage made out from the bark
of the mabi tree Colubrina elliptica (L'Her.) Brongn.
La Ciudad del Jacaguas (Jacaguas City)
El Belén de Puerto Rico (Puerto Rico's Bethlehem)
Wards: Juana Díaz, Puerto Rico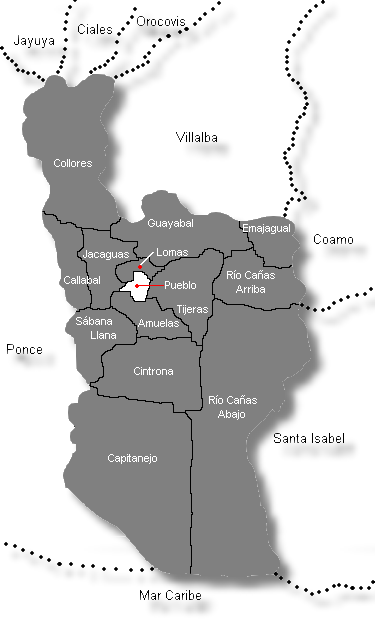 Census 2000:
Population by Wards – Juana Díaz
Habitants

Amuelas

4,056

Callabo

2,206

Capitanejo

5,328

Cintrona

2,309

Collores

2,161

Emajagual

3

Guayabal

5,774

Jacaguas

4,522

Juana Díaz Town

4,555

Lomas

1,358

Río Cañas Abajo

2,323

Río Cañas Arriba

2,332

Sabana Llana

7,964

Tijeras

5,640

Total
50,531
Source: Censo 2000
Patron:
San Ramón Nonato
San Ramón Nonato Parish
Aptdo. 1426. Juana Díaz, P.R. 00795
(787) 837-2390
Parish: Tel. 837-2193
Mass Schedule:
Monday thru Friday – 7:00am y 7:00pm
Saturdays & Sundays – 7:00pm, 6:30am, 8:00am, 10:00am & 6:30pm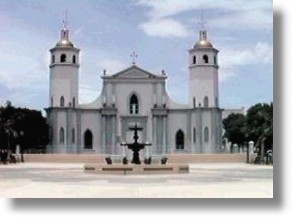 Topography:
Located in the Southern Coastal Plains its territory is mainly level. To the north it has some elevations such as the Cerro de las Cuevas that reaches about 638 meters (2,093 feet) and La Mesa and Agostinillo hills, about 580 meters (1,903 feet) high.
Hydrography:
Juana Díaz is bathed by the Descalabrado river, the Inabón and its affluent Guayo, the Jacaguas and its affluent the Toa Vaca river, the Chorrera and Guanábana gorges and the Ponceña Lake.
Economy:
At present, Juana Díaz is a major producer of high quality marble with four quarries. Fruit trees are grown on farms spanning the municipalities of Santa Isabel, Coamo, Juana Díaz and Ponce. The marble quarries also produce construction aggregates and by the turn of the century also produced manganese ore. Of all the sugar cane mills only the remains of Boca Chica still exist.
Average Salary:
$251.70 weekly (1998)
Flag: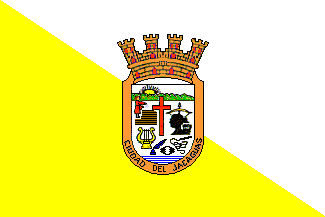 The flag of Juana Díaz is rectangular in shape, formed by two triangles whose hypotenuse extends from the upper left corner to the lower right corner. The upper triangle is white, the symbol of silver and the lower triangle is yellow or gold. At its center is the coat of arms of Juana Díaz in its natural colors. Both the flag and coat of arms of Juana Díaz were officially adopted on April 25, 1978, the date of the 180th anniversary of the foundation of Juana Díaz.
Coat Of Arms: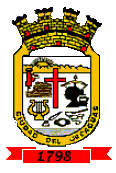 The Mountains – Thirteen mountains symbolizing each one of the thirteen districts of Juana Díaz. They also symbolize the mountains of the town, that have a great mineral wealth. Juana Díaz produces on a commercial scale marble of extraordinary purity and quality compared solely with the one of Carrara, Italy. It produces in addition manganese, plaster and limestone for construction.
The Sun – It symbolizes a new horizon. Hope in the formation of a town. The sun has thirteen rays, each representing one of the districts of Juana Diaz.
The Woman – Represents the name of the woman who gave orgin to the town, Doña Juana Díaz. The woman waters with her hand thirteen grains of maize on thirteen furrows; symbolizing the seed that germinated and gave birth for the formation and growth of our town.
The Indian – Represents the natives who were settlers of the village at the arrival of the conquering whites. The Indian represents Chief Jacaquax; in whose honor our river is named. The native has on his back thirteen arrows and an arc and arrow on his head. The arc and the arrows represent the only useful means of defense or subsistence.
The Harp and The Pen – The harp represents our music and the pen in the inkpot, the verse and the poetry. Juana Díaz has given generously to Puerto Rico, distinguished poets and writers among others: Luis Lloréns Torres, Tomás Carrión Maduro, Luis Felipe Dessús, Soledad Lloréns Torres, Mario Braschi, Cesáreo Rosa Nieves and Arturo Gómez Costas.
Events:
Children`s Day – January
Three Kings Festival – January. A religious and folk festival promoted by the Spanish priest Father Valentín Echevarria. The first celebration was held on January 6, 1884, on the eastern side of the town. In the first procession, the Three Kings were represented along with a group of young women dressed as shepherdesses. In 1940, the festival took on a new life under Father Ramiro García Rey, to include the dialogue of the Kings, which originated in Spain. The dialogue is in medieval style and is performed to explain the mysteries of the Incarnation and Revelation which constitute the Epiphany. The symbolism of the offerings to the Child of gold, incense, and myrrh are also described.
Homage to Love – February
Luis Llorens Torres week – April. Celebrating the founding of Juana Díaz and Luis Llorens Torres.
Homage to mothers – May
Homage to fathers – June
Patron Saint"s Festival in honor of Saint Raymond Nonnatus – August
Coast Festival and Regatta – August
Puerto Rican Culture Month – November. There are poetry recital contests and other cultural events.
Lighting of the Christmas tree – December. At the town square.
Juana Díaz Creche– December. During the Christmas season, Dr. Enrique Marrero prepares a nativity scene that has become a special attraction in Juana Díaz. The nativity scene is unique in Puerto Rico for its size and originality. There are over forty feet of houses and structures, according to the ancient architectural style of the Holy Land, as well as vegetation, water bodies, animals, shepherds, and other elements. Dr. Marrero makes the pieces out of plaster, wood, and fiberglass. The nativity scene is located at #2 Mariano Abril Street.
An evening of poetry and music on the town square – the last Sunday of the month. Music by the town band.
Places To Visit: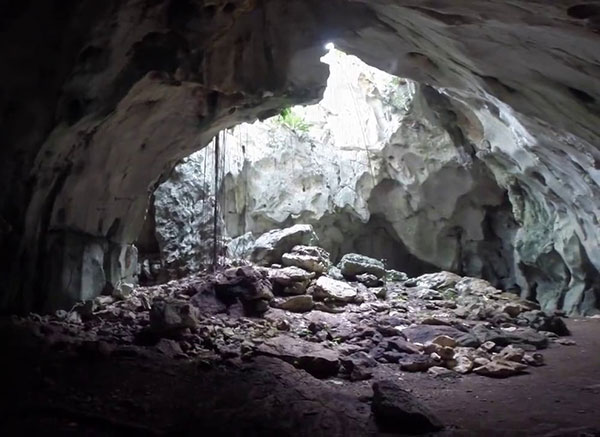 Stone Forest – A mountain in Guayabal ward with ancient rock formations. It is known as the rock cemetery. The site is being developed for ecotourism.
Collores Ward – the renowned poet Luis Llorens Torres dedicated one of his poems to t he Collores ward.
Three Kings Museum
Lucero Cave – a very important archeological and cultural site because of its petroglyphs.
Guayabal Lake and Reservoir
Monument to the Three Kings
Children's Park
Jardines de Santo Domingo Promenade
Camboya Boardwalk
Luis Llorens Torres Square
Román Baldorioty de Castro Town Square
Veterans square.
Collores waterfall
Schoenstatt Shrine– built and founded in 1988 by José Ketenich, from Germany. The site is visited by devotees of the Virgin of the Immaculate Conception.
Distinguished Citizens:
Carlos Bernier

– professional baseball player who played in the major leagues with the Pittsburg Pirates in 1953.

Mario Braschi

– journalist, patriot, and literary critic. He used the pen name Canta Claro to defend his liberal ideas and founded the newspapers Don Severo Canta Claro (1873) and El Heraldo del Trabajo. His works include La úlcera and Prosas del sendero.

Tomás Carrión Maduro

– poet, essayist, literary critic, playwright, political figure, and journalist. He wrote on many subjects. Carrión Maduro was a representative at the House of Delegates for Ponce and Juana Díaz between 1900 and 1905 and a political adversary of José de Diego. He was imprisoned for his political ideas under Spanish rule. Carrión worked at the newspaper El Día in Ponce and led the newspapers El Pueblo and El Independiente. His works include Cumba (1903), Oradores Parlamentarios (1904) and Ten con ten (1906), and his poetry includes Alma nostálgica and Voces de la noche.

Luis Felipe Dessus

– political figure, journalist, and poet. He was an active member of the Puerto Rico Union Party. Dessus founded the Pancho Ibero, a literary and political journal (1917). He collaborated with the newspapers La democracia and El Mundo and the weekly Puerto Rico Ilustrado. His works include Obras and Balas (1916) and the poems Al Jacaguas and Indiana.

Father Ramiro García Rey

– Spanish priest who came to Juana Díaz in 1940, devoting his life work to the town. He founded the San Ramón school and chapels in some of the wards. He was one of the organizers of the Three Kings Festival as it is currently celebrated.

Arturo Gómez Costas

– essayist and modernist poet who was also important in the world of finance. He was Executive Director of the Puerto Rico Academy of Arts and Sciences and collaborated with El Mundo, Puerto Rico Ilustrado and Revista de las Antillas. His works include El Alcázar de Ariel (1918), San Juan, ciudad fantástica de América (1951), Puerto Rico heroico (1960), Canto a Ponce en 25 estampas (1965), and Vendimias en prosa (1976).

Zoilo Gracia Zayas

– educator. His achievements include the creation of the so-called "second units," schools in the rural areas of Puerto Rico.

Luis Llorens Torres

– attorney, poet, essayist, journalist, and legislator. In 1913, he founded the Revista de las Antillas. His most outstanding works include is books of poetry América (1898), Al pie de la Alhambra (1899), and Voces de la campana mayor (1935). Llorens' most famous poems include Valle de Collores and Canción de las Antillas. He was a representative to the Puerto Rico House of Delegates for the District of Ponce between 1908 and 1909.

Soledad Llorens Torres

– poet and essayist.

Roberto Monclova

– historian and athlete; he organized a small museum of the history of Juana Díaz in his house.

Cesáreo Rosa Nieves

– musician, poet, story-writer, novelist, and essayist. Rosa Nieves was awarded a PhD at the Universidad Autónoma de México. He put on plays in theaters with his own group. His first book of poetry Las veredas olvidadas was published in 1922. His works include Estampas Sinfónicas, La danza puertorriqueña and a book of poetry, La feria de las burbujas. Rosa Nieves was awared the Cervantes Medal in 1924 and the Roosevelt Medal in 1930.

Emilia Villalonga de Armstrong

– poet and story writer who wrote under the penname of "Azucena."
Public Schools sorted by educational levels.
Ponce Region
Juana Díaz District
Name
Level
Telephone
Address
Elementary

CARMEN FLORES

K-6

(787) 837-6221

PO Box 30060, P.R. 00795-0000

DR. PEDRO ALBIZU CAMPOS

K-3

(787) 260-0406

PO Box 1412, P.R. 00795-0000

FRANCISCO ZENÓN LAPORTE

K-3

(787) 260-0118

PO Box 932, P.R. 00795-0000

JOSÉ A. GONZÁLEZ

K-6

(787) 260-6326

HC 1 Box 30060, P.R. 00795-0000

JOSÉ J. RODRÍGUEZ

K-3

(787) 837-3027

PO Box 932, P.R. 00795-0000

JUAN RAYMUNDO GARCÍA

K-5

(787) 260-5932

PO Box 932, P.R. 00795-0000

JUAN SERAPIO MANGUAL

K-6

(787) 837-8515

PO Box 3501 Suite 276, P.R. 00795-0000

JUANITA RIVERA

K-5

(787) 260-2503

PO Box 932, P.R. 00795-0000

LUZ E. CORREA

K-6

(787) 260-0418

PO Box 3501 Suite 331, P.R. 00795-0000

MANUEL FERNÁNDEZ JUNCOS

PK-6

(787) 837-2249

PO Box 846, P.R. 00795-0000

RAMÓN ENRIQUE ORTIZ

K-5

(787) 260-4671

PO Box 1401, P.R. 00795-0000

ROSA M. ZAMBRANA

K-4

(787) 837-5276

PO Box 1401, P.R. 00795-0000

RUTHERFORD B. HAYES

4-6

(787) 837-2336

PO Box 1404, P.R. 00795-0000

SANTIAGO COLLAZO PÉREZ

4-6

(787) 837-6208

PO Box 1412, P.R. 00795-0000

Intermediate

FELIPE COLÓN DÍAZ

7-9

(787) 837-2365

PO Box 3500 Suite 155, P.R. 00795-0000

Secondary

DR. MÁXIMO DONOSO SÁNCHEZ

7-12

(787) 260-4694

PO Box 1407, P.R. 00795-0000

LUIS MUÑOZ MARÍN

7-12

(787) 837-8151

PO Box 3501 Suite 274, P.R. 00795-0000

ESCUELA NUEVA BARRIO JACAGUAS

K-9

PO Box 1401, P.R. 00604-0000

SU SALVADOR BUSQUETS

K-9

(787) 260-1963

PO Box 1796, P.R. 00795-0000

SU TOMÁS CARRIÓN MADURO

K-9

(787) 837-0587

PO Box 3501327, P.R. 00795-0000

SU ZOILO GRACIA

K-9

(787) 837-0544

PO Box 6, P.R. 00780-0000

High School

CARMEN BELÉN VEIGA

10-12

(787) 837-2435

PO Box 982, P.R. 00795-0000
Hymn:
By Prof. José Rafael Gilot
Juanadinos, alcemos las voces
en un himno para esta ciudad.
De poetas y atletas la cuna
y una historia que la hace inmortal.
Gloria a tí, Juana Díaz,
del Jacaguas jardín sin igual,
Gloria a tí, Juana Díaz,
tus blasones debemos honrar.
Juanadinos digámosle al mundo
nuestro suelo es todo esplendor.
Por su noble hidalguía de pueblo
lo bendijo la mano de Dios.