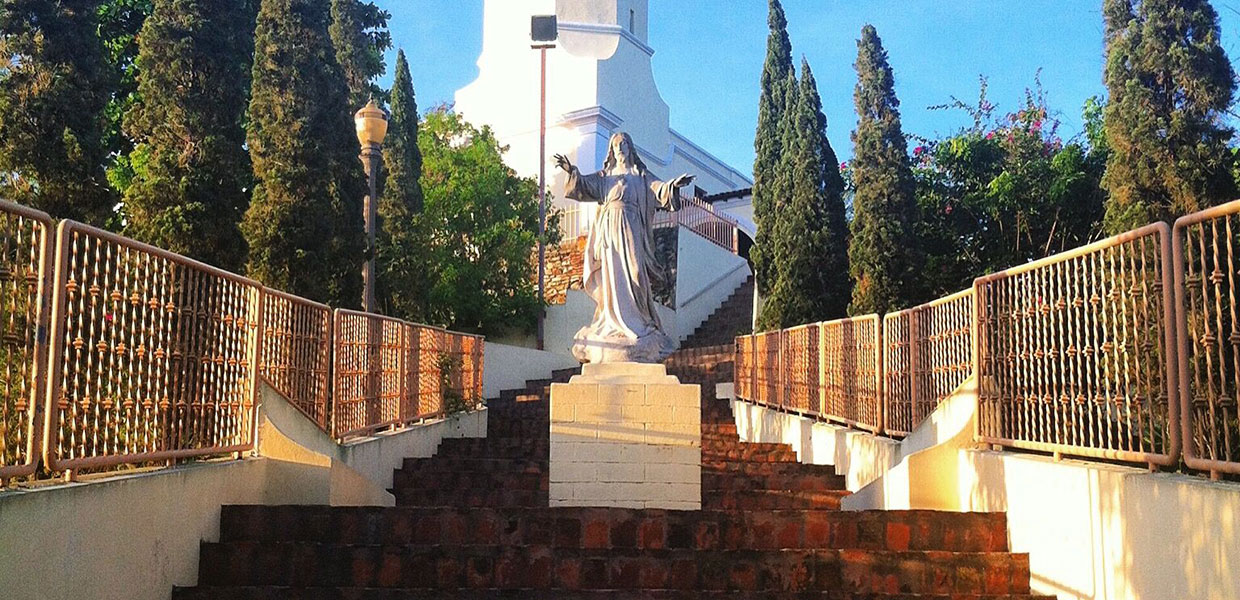 Hormigueros, Puerto Rico
Town of Our Lady of Monserrate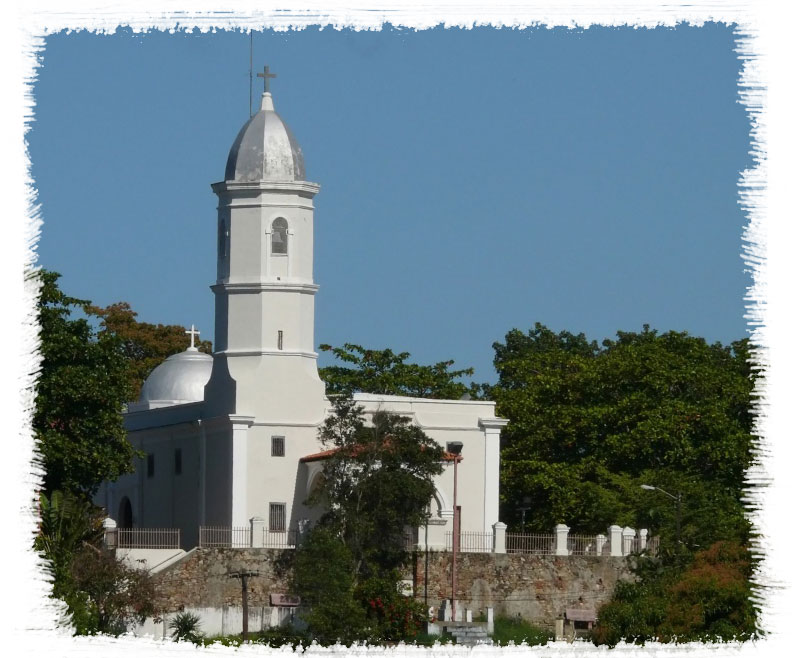 Hormigueros (or-mee-GAI-ros) is known as the "Town of Our Lady of Monserrate", "miracle town" and "the pilgrim's town". The patron saint is Our Lady of Monserrat.
Hormigueros is located in the western coastal plains and western side of Puerto Rico. It is bordered on the north by Mayagüez, on the south by Cabo Rojo and San Germán, on the east by San Germán and on the west by Cabo Rojo.
The town is located in the western humid mountains and the western valleys.
The municipality"s economy is based on commerce and manufacturing. Manufacturing includes pharmaceuticals, needlework, machinery, and electrical and electronic equipment. There is limited agriculture and cattle and dairy farming. The town formerly grew tobacco, plantains, taniers, sugar cane, and coffee. There were several wooden sugar mills known as trapiches and rum was produced. Central Eureka was founded in 1881, and eventually ground up to 350,000 tons of sugarcane. The central mill closed down in 1979.
Foundation:
The translated name Hormigueros means "anthills", but in this case it will be referred to as "ant trails" represented by the multitudes (true human ant trials) that visit the sanctuary from all points of the island every September 8 for the annual festivity of Our Lady of Monserrate. It is said that the name derives from the Taíno word "Horomico" that is claimed to be the name of a river or a Taíno indian. Since 1640 it was already known as the Hermitage or Sanctuary of Hormigueros. At the time it was part of San Germán.
There are two legends; one says that in 1599, Our Lady of Monserrate revealed herself to Don Gerardo González when he was attacked by a bull, González invoked the name of the Virgin. Immediately, the beast fell with its legs splintered and its temple touching the ground, which seemed as if the beast was praying. The second account is about Gerardo González' daughter; she strayed into the forest, turning up several days later safe and sound as the result of a miracle by Our Lady of Monserrate.
In both versions of the legend Gerardo González in 1775 gratefully erected and dedicated in 1775 a church to Our Lady of Monserrate that gave birth to the town of Hormigueros. It was founded officially April 1, 1874, separating it from San Germán.
Location:

Hormigueros is located in the western region of the island. It is bordered by: Mayagüez to the north, Cabo Rojo and San Germán to the south, Cabo Rojo to the west, and San Germán to the east.
Area:
28.6 sq km / 11.0 sq mi
Population:
16,614 (census 2000)
Population Density:
580.9 per sq km / 1,510.3 per sq mi
People are known as:
Hormiguereños
Hormigueros is also known as:
El Pueblo de Nuestra Señora de la Monserrate (Town of Our Lady of Monserrate)
El Pueblo del Milagro (The Town of the Miracle)
Los Peregrinos (The Pilgrims)
Wards: Hormigueros, Puerto Rico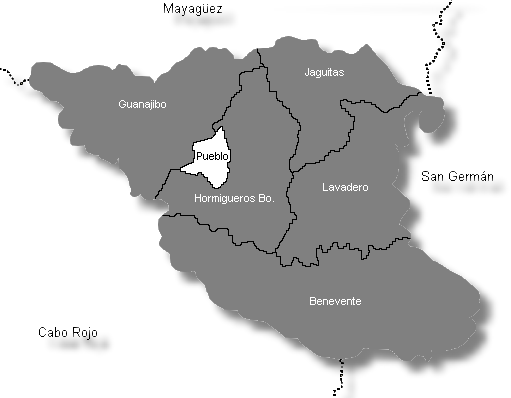 Census 2000:
Population by Wards – Hormigueros
Habitants

Benavente

298

Guanajibo

6,437

Hormigueros (ward)

3,112

Hormigueros Town

1,017

Jaguitas

1,658

Lavadero

4,092

Total
16,614
Source: Censo 2000
Patron:
Nuestra Señora de la Monserrate
Nuestra Señora de la Monserrate Parish
Apartado 24
Hormigueros P.R. 00660
(787) 849-2260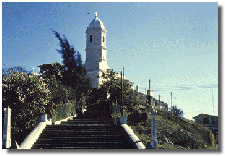 Topography:
Due to its location in the Western Costal Plain region its terrain is mainly uniform.
Hydrography:
The Guanajibo River and its affluents; Rosary, Seco and Hondo rivers.
Economy:
Manufacturing companies of textile, paper, medical and electrical equipment. Cattle and sugar cane are part of the economy, although in a smaller scale.
Flag: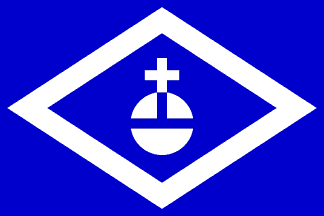 The flag is based on the blue and white colors and the design of the municipal shield. It consists of a blue cloth with a horizontal white rhombus. Superposed on the white rhombus there is another blue rhombus with a white globe outlined in blue with a cross.
The globe with the cross are standard for royalty and represent the dominion of Christ over the world. The image of the Virgin is a traditional icon attribute to Our Lady of Monserrate as much as for Jesus that both carry the globe in their hands.
Coat Of Arms: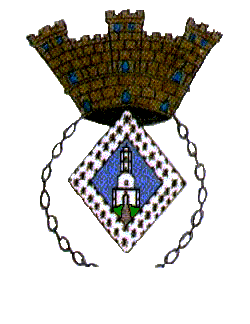 The shield is formed by a blue rhombus, with silver-plated edge. On the blue bottom, a green hill, a representation of Our Lady of Monserrate de Hormigueros' Sanctuary, with its silver stairway. The border appears to be splashed by black ants, ready, on guard symmetrically. On the top of the shield resides a crown formed by a wall, with three towers that have blue doors and windows. The joints of the stones are filled with blue lines. The shield is surrounded by two chains that begin at the crown and finish under the bottom part of the shield with the last links broken.
The symbolism of the shield, is obvious to a large extent, particularly because it combines the streamlined representation of a historical and characteristic building of the town, the Sanctuary of Our Lady of Monserrate. In heraldic terms the surrounding ants mean "talking souls", heraldic figures that say directly the name of the town. In this case the talking souls are ants that have arranged themselves on the silverplated bottom. The ants also represent the multitudes that go to the sanctuary, from all over the island, on occasion of the annual festival of Our Lady of Monserrate every year on September 8. It is reasonable for Hormigueros to be represented by the Sanctuary that for centuries has dominated the panorama of the town, from which the population rose to become a municipality separated from San Germán.
The chains, a suggestion given by the people of Hormigueros, recall Segundo Ruiz Belvis, whose birthplace can be seen from the sanctuary. Specifically it symbolizes his fight for the abolition of slavery and the national freedom of Puerto Rico. Additionally, the last name and lineage of Segundo Ruiz Belvis have held a close relationship with the history of the Sanctuary. Judging by recent investigations, the Ruiz Belvis family, who held during many generations the honorary position of keepers of the Sanctuary, descend directly from the sixteenth century in appreciation for a miracle attributed to the intervention of Our Lady of Monserrate. The crown is a standard for towns, cities and municipalities.
Events:
Three Kings day Festival – January
Evening of poetry and music dedicated to love and friendship – February
Cultural meet – March
Town anniversary – April
Celebration honoring Ruiz Belvis – May
Evening of poetry and music dedicated to mothers – May
Evening of poetry and music dedicated to fathers – June
Youth Festival – July
Patron Saint's Festival queen selection – August
Patron Saint's Festival dedicated to Our Lady of Montserrat – September
Segundo Ruiz Belvis Marathon – September
Puerto Rican Culture day – November
Lighting of the Christmas tree – The first Saturday after Thanksgiving
Caroling (Aguinaldos) – December
Places To Visit:
Our Lady of Monserrat Basilica – The shrine dates from the late 16th century, having been built by Giraldo González de la Renta, in gratitude to Our Lady of Monserrat.
Pilgrims Inn – a centuries-old inn, it is now being used as a parish house.
Silva Bridge – a structure that spans the Guanajibo River, located at kilometer 4 on Route 114. Built in 1897, the bridge was built by the Spanish engineer José María Sainz.
Torréns Bridge – Also known to the townspeople as the iron or red bridge. It is located on Route PR319, kilometer 1.5. It was designed by the Spanish engineer José de Echevarría and was built between 1878 and 1898 by the Belgian company Eugene Rollin.
Las Plumas Springs – a source of crystal clear water.
Segundo Ruiz Belvis Mausoleum
Julita Arenas Theater – the building that houses the Art and Culture Office
Distinguished Citizens:
Edna Acosta-Belén

– writer, professor, and feminist. Editor of the section on the Puerto Rican Diaspora in the Enciclopedia de Puerto Rico.

Edwin Albino Pluges

– historian

Mario Cancel

– historian

Bobby Cruz

– famous singer, band leader, and Protestant minister

Carlos Dalmau

– sculptor and carver of wooden saints

Modesta Díaz Segarra

– feminist and first woman mayor in Puerto Rico.

Antonio Duvergé Duval

– born in Hormigueros in 1807. He was a patriot who played an important role in the struggle for independence in the Dominican Republic.

Mateo Fajardo Cardona

– founder of Central Eureka, originally known as Hacienda San José. He was a separatist during Spanish colonial times. The main street bears his name.

Andrés Mangual

– painter

Andrés Nazario

– painter

Leopoldo Olivencia

– painter

Segundo Ruiz Belvis

– renowned abolitionist and advocate for the independence of Puerto Rico along with his friend Ramón Emeterio Betances. Ruiz Belvis died in Chile in 1867 and his remains were brought back to his birthplace in 2006.

Luis H. Vega

– sculptor and carver of wooden saints and other religious subjects
Public Schools sorted by educational levels.
Mayagüez Region
Hormigueros District
Name
Level
Telephone
Address
Elementary

ANA PAGAN DE RODRÍGUEZ

K-6

(787) 849-3520

PO Box 10, P.R. 00660-0000

ESCUELA ELEMENTAL NUEVA

K-6

APTO.10 OFICINA DEL SUPERINTENDENTE, P.R. 00660-0000

MIGUEL A. RIVERA

K-6

(787) 849-1140

PO Box 10, P.R. 00660-0000

RAFAEL HERNÁNDEZ

K-6

(787) 849-1160

PO Box 10, P.R. 00660-0000

Intermediate

RAMÓN E. RODRÍGUEZ DÍAZ

7-9

(787) 849-1230

PO Box 355, P.R. 00660-0000

Secondary

GIRARDO GONZÁLEZ

9-12

(787) 849-2130

CALLE SEGUNDO RUIZ BELVIS # 16, P.R. 00660-0000

SU ALFREDO DORRINGTON

K-8

(787) 806-0185

PO Box 10, P.R. 00660-0010
Hymn:
Sobre un verde valle de mi linda Borinquén
se yergue orgulloso cual majestuoso corcel
un pedacito de tierra un pueblo rico en ayer
bendecido por la Virgen al posar en él su pie.
Hormigueros, Hormigueros,
que distinto es para mí tu cielo:
hallo en tu gente, hallo en tu suelo
algo tan bello que describir no puedo.
Guardan sus calles, discretamente,
románticos recuerdos de otros tiempos y gentes.
Sus suaves brisas y tibio sol arrullaron
a Ruiz Belvis paladín libertador.
Son sus mujeres bellas y tiernas,
tienen sus ojos brillo de perlas.
Es Puerto Rico el jardín del Creador
y mi Hormigueros su más linda flor.