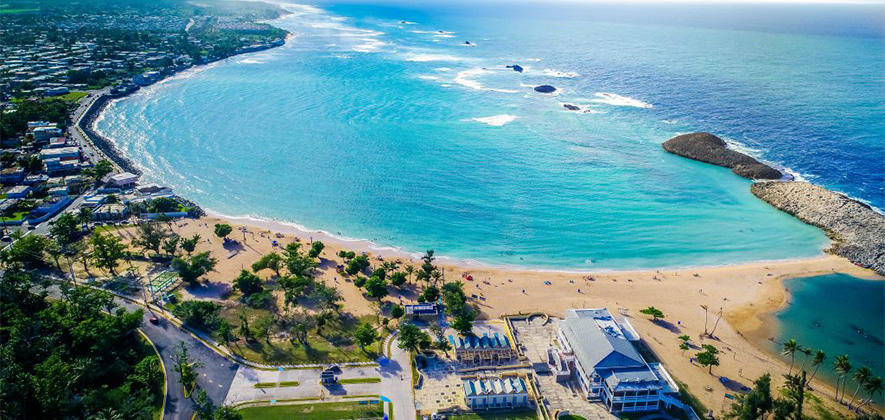 Puerto Nuevo Beach
Vega Baja, Puerto Rico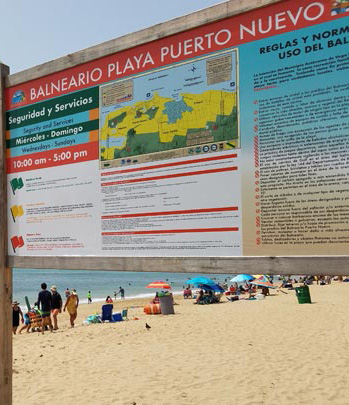 Puerto Nuevo Beach, also known as the Vega Baja Beach, is undoubtedly one of the most beautiful beaches in Puerto Rico and the Caribbean., located in the beach sector of the Puerto Nuevo neighborhood of Vega Baja.
The Puerto Nuevo Beach is characterized by its beautiful landscape of giant rocks, crystal clear waters, calm and white sand perfect for sunbathing and swimming.  The natural beauties that it has make thousands of locals, Puerto Ricans and foreigners visit the beach continuously to enjoy its charms.
The shore of the beach is protected from the strong currents of this coast, thanks to the large stone formations that stop the waves.
The beautiful spectacle that the water presents to us when it hits these immense stones is one of its attractions. You can take a dip, play beach games or just rest.
The beach has two parts in which the right part has a pose that families with children or those who do not know how to swim will enjoy. The left part is protected by a natural breakwater that allows swimming in it, making it perfect for families, however it is still open sea, so it is recommended to take appropriate precautions.
This paradise is perfect for a fun family day because in addition to its beautiful beach it has a "pool" of less than three feet deep perfect for children. Those who love sports, this beach has a volleyball net.
The famous Puerto Nuevo Beach of Vega Baja has an additional attraction this year to enjoy, since it received the Blue Flag certification, granted by the Foundation for Environmental Education (FEE) to beaches, ports and boats that meet the legality criteria , health, cleaning, security and information and environmental management.
The beach is open to the public from Wednesday to Sunday from 7:00 am to 5:00 pm, with service from the Municipal Police, lifeguards, paramedics and the Emergency Management Office from 9:00 am to 5:00 pm.   This excellent place has different food trucks and kiosks where you can delight from fried foods and skewers to pina coladas and other drinks. In the Beach there are tables and security.
One of the distinctions that facilities have on the Puerto Nuevo beach of Vega Baja is compliance with the ADA (American Disabilities Act), so that people with disabilities can also enjoy a bath on the beach by means of special  adapted water chairs, service provided for free.
Another attribute of opting for a day at the beach is to enjoy its boardwalk.  Right next door, you can walk along a walk with a beautiful view of the sea.