Guaynabo, Puerto Rico
Puerto Rico's First Settlement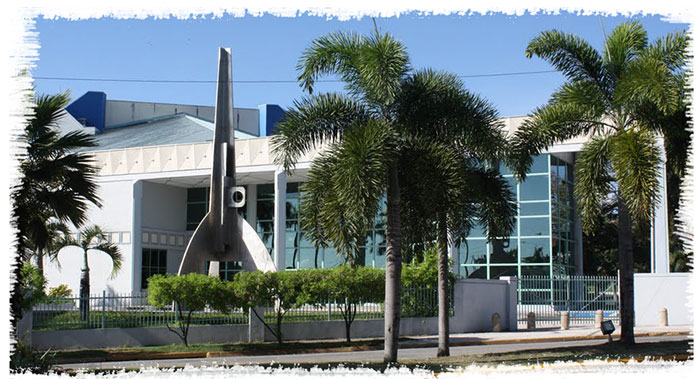 Guaynabo (gwei-NAH-bo) is located in the northern part of Puerto Rico. It is known as "el primer poblado de Puerto Rico," "la ciudad de los conquistadores," "la capital del deporte," "las ruinas de Caparra," and "el pueblo del Carnaval Mabó" (Puerto Rico's first settlement, city of the conquistadors, sports capital, ruins of Caparra, Mabó carnival town).
The municipality is located on the northern coast of the island is bounded by the San Juan bay and the town of Cataño to the north, Aguas Buenas to the south, Bayamón to the west, and San Juan to the east. Its territory lies within Puerto Rico's northern coastal plain.
There are several hills in the southern part of the municipality. A smaller but noteworthy hill named Caneja, in the northern barrio of Pueblo Viejo. Within this hill is a cave which is known for its five entrances and its large, well lit interior. This town is also part of Puerto Rico's Northern Karst zone.
This municipality's economy is primarily industrial and commercial. Some of its factories process dairy products and foods from wheat and other grains, while others manufacture textiles and metal, paper, and chemical products. The service industry and construction are other important sectors within the economy of Guaynabo.
Foundation:
Guaynabo was founded in 1769, after its founders went through much turmoil battling to separate themselves from Bayamón because they had the approval since December 14, 1764, to found their town. Previously the city of Guaynabo was known as Buinabo. The Taíno name of Guaynabo means "Here is another fresh water place", meaning, that the origin of Guaynabo is Indian-Antillean. Cacique Mabó ruled the Guaynabo region.
The process of colonization began in 1508, Juan Ponce de León – appointed the following year Captain General of Land and Sea Island and Governor in 1510 founded Caparra, the first Spanish settlement on the island, located in the north of what was currently it is the municipality of Guaynabo.
The town of Guaynabo was elevated to the rank of municipality in 1769, being separated from the municipality of Río Piedras. In 1875 the municipality of Guaynabo was dissolved and its territory divided between Bayamón and Río Piedras; the town of Guaynabo was within the municipality of Bayamón. Later, in 1912, Guaynabo regained its municipality status.
Location:
Located in the northern coast, it is bordereded by: Cataño and the San Juan Bay to the north, Aguas Buenas to the south, Bayamón to the west, and San Juan to the east.
Area:
70.2 sq km / 27.0 sq mi
Population:
100,053 (census 2000)
Population Density:
1,425.2 per sq km / 3,705.6 per sq mi
People are known as:
Guaynabeños
Guaynabo is also known as:
Primer Poblado de Puerto Rico (Puerto Rico's First Settlement)
Guaynabo la Ciudad de los Conquistadores (Guaynabo City Of Conquerors)
El Pueblo del Carnaval Mabó (Town Of The Mabó Carnival)
Wards: Guaynabo, Puerto Rico

Censo 2000:
Población por Barrios – Guaynabo
Habitantes

Camarones

6,311

Frailes

33,023

Guaraguao

4,145

Guaynabo Pueblo

3,056

Hato Nuevo

3,115

Mamey

3,165

Pueblo Viejo

26,109

Río

2,811

Santa Rosa

16,981

Sonadora

1,337

Total
100,053
Source: Censo 2000
Patron:
San Pedro Mártir de Verona
San Pedro Mártir de Verona Parish
PO Box 32 Guaynabo, PR 00970-0032
Tel. 787 720 2361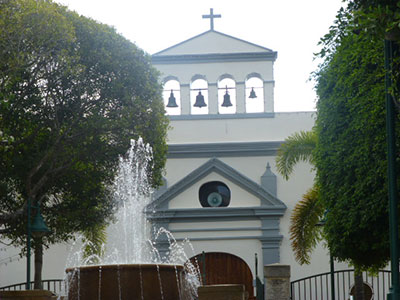 Topography:
To the south it contains smooth hills, the rest of its territory is characteristic of the Northern Coastal Plain.
Hydrography:
The Bayamón and the Guaynabo rivers. The Guaynabo, being the greatest tributary of the Bayamón, rises in Mamey, a ward of Guaynabo.
Economy:
Commerce, manufacturing (nutritional products and apparel).
Average Salary:
$384.88 weekly (1998)
Flag:
The flag of the municipality of Guaynabo is divided vertically in two equal parts by a crenellated line of six green battlements and five white ones. The half of the flag that is next to the hoist is green and the other half is white. On the green part appears the same cross, which except in this case is white and black, as that of the shield.
Coat Of Arms: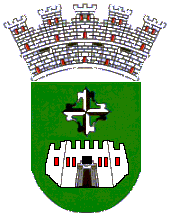 For five years the Instituto de Cultura Puertorriqueña and the Cámara Junior de Guaynabo were detailing the design of the first drafts for the Coat Of Arms, the Flag and Official Seal of the City. In a resolution by the Municipal Assembly these symbols were approved officially July 11, 1972.
It has a green background. In its superior half there is a cross that is divided by a vertical line, another horizontal and two diagonals, with silver and black colors alternating. The inferior (lower) part of shield contains a fortress crowned with battlements. The fortress has over its door a small shield with the drawing of a purple lion rising up on its back legs. The cross is the standard of the Order of Preachers of Santo Domingo, and represents San Pedro Martyr of Verona, patron of the town. Above the shield is a crown formed by walls and towers.
Events:
Three Kings Festival – January
Mabó Carnival – February
Mothers' Day celebration – May
Patron Saint Festival honoring Saint Peter the Martyr of Verona – May
National Salsa Day – June
Fine Arts camp and recreation and sports camp – June
Bomba and Plena (folkloric music and dance) Festival – October
Official lighting of Christmas Lights – November
Places To Visit:
Bust of Román Baldorioty de Castro
Guaynabo Fine Arts Center
Caribe recreational center
Mets Pavilion
Ruins of Caparra
Sports Museum
City Hall
Old telegraph facilities
Vórtice II sculpture in the Cultural Plaza
Distinguished Citizens:
Rafael Martínez Nadal

– Born in Mayagüez, but died in Guaynabo. Attorney, journalist, editor, writer, speaker, businessman, and founder of various publications. Member (1921 – 1941) and president (1933 – 1941) of the Senate of Puerto Rico. Founder of the Partido Republicano Puro (Pure Republican Party) and of the newspaper El Globo. He was also president of the Partido Unión Republicana (Union Republican Party).

Román Baldorioty de Castro

– Renown educator, author, reformer, and patriot. Distinguished himself as one of Puerto Rico's foremost abolitionists and spokesman for the island's right to self-determination. He was selected to represent Puerto Rico at the 1867 Universal Fair, which was organized in Paris, France. In 1870, he was elected as a deputy in the Spanish parliament where he promoted abolition of slavery. He also founded the Partido Autonomista in 1887.

Dolores Valdivieso Llompart

–first woman mayor of Guaynabo.
Public Schools sorted by educational levels.
Bayamón Region
Guayanabo District
Name
Level
Telephone
Address
Elementary

MARIANO ABRIL

K-6

(787) 720-7870

PO Box 29030-441, P.R. 00725-8900

LUIS MUÑOZ RIVERA I

K-3

(787) 783-8920

PO Box 3429, P.R. 00963-0000

ALEJANDRO JR. CRUZ

K-6

(787) 287-6080

PO Box 939, P.R. 00970-9390

BETTY ROSADO DE VEGA

K-6

(787) 720-6178

PO Box 7894 BO. CAMARONES, P.R. 00970-0000

ESPERANZA LINARES

1-6

(787) 731-8188

PO Box 939, P.R. 00970-9390

HATO NUEVO

1-6

(787) 731-2202

PO Box 1899, P.R. 00965-

JOSÉ DE DIEGO

K-6

(787) 720-3550

PO Box 5369, P.R. 00971-0000

JUAN ROMÁN OCASIO

PK-6

(787) 783-4272

URB. SANTA ROSA 3147 SUITE 062, P.R. 00970-0000

JUANILLO FUENTES

K-6

(787) 720-1055

AVE. ALEJANDRINO 3071, P.R. 00969-0000

LOS ALAMOS

K-6

(787) 720-3313

PO Box 1899, P.R. 00970-0000

LUIS MUÑOZ RIVERA II

4-6

(787) 783-5290

BO. AMELIA, P.R. 00970-0000

RAMÓN MARÍN SOLÁ

K-6

(787) 720-3911

URB. MUÑOZ RIVERA, P.R. 00970-0000

ROMÁN BALDORIOTY DE CASTRO

K-6

(787) 720-3351

PO Box 7886 SUITE 319, P.R. 00970-7886

SANTA ROSA II

K-3

(787) 287-0175

AVE ALEJANDRINO 3071, P.R. 00969-7035

SANTA ROSA III

K-6

(787) 720-2718

PO Box 74, P.R. 00970-0000

SANTIAGO IGLESIAS PATÍN

PK-6

(787) 783-1645

URB. SANTIAGO IGLESIAS, P.R. 00921-0000

Intermediate

MARIANO ABRIL

7-9

(787) 720-4755

HC 1 BOX 29030, P.R. 00725-0000

JUAN A MIRANDA

7-9

(787) 790-8198

PO Box 1899, P.R. 00970-0000

RAFAEL MARTÍNEZ NADAL

7-9

(787) 720-3356

PO Box 966, P.R. 00970-0966

Secundary

ROSALINA C. MARTÍNEZ

7-12

(787) 783-8385

PO Box 3311, P.R. 00963-0000

JUAN PONCE DE LEÓN

PK-9

(787) 792-3550

BO. JUAN DOMINGO, P.R. 00966-0000

SU RAFAEL HERNÁNDEZ

K-9

(787) 287-5840

PO Box 2058, P.R. 00970-0000

High School

JOSEFINA BARCELÓ

10-12

(787) 720-6482

PO Box 3974, P.R. 00970-3974

MARGARITA JANER PALACIOS

10-12

(787) 720-2217

URB. MUÑOZ RIVERA 53 AVE ESMERALDA, P.R. 00970-0000
Hymn:
By Rafael Velázquez Pericas
Guaynabo, pueblo querido,
yo no te olvido, eres mi amor…
Guaynabo, eres mi encanto,
te quiero tanto, de corazón.
Tu gente, sencilla y noble,
tus hombres son recordados
por sus hazañas,
por su lealtad…
Recuerdo a Baldorioty,
hombre valiente
y sin igual.
Luchando por los esclavos
allá en las cortes
supo ganar.
Su nombre es respetado,
alláien los campos
y en la cuidad.
Guaynabo, eres mi pueblo
lleno de ensueños
y de bondad.