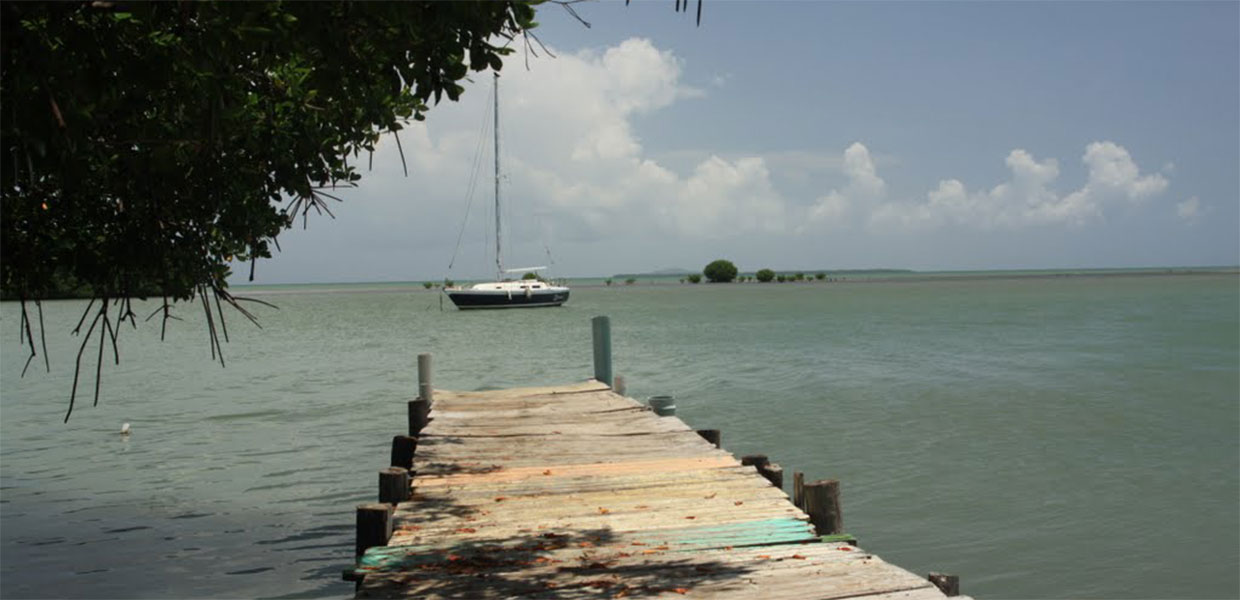 Santa Isabel, Puerto Rico
Land of Champions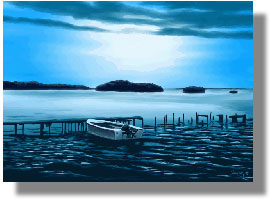 Foundation: Santa Isabel (SAHN-tah ee-sah-BEL), was founded October 5, 1842. On May 22, 1840 Antonio Vélez in name of the neighbors asked governor Santiago Méndez Vigo authorization to found a separated town from Coamo. This was justified, as usual, by the distance from the municipal head in Coamo and by the difficulties of the numerous passages of the river and the conditions of the roads. The necesary arrangements were made and on October 5, 1842 the separation took place and the municiplity of Santa Isabel was constituted. The town was placed under the patronage of Santa Isabel de Hungría. The municipal buildings progressed slowly, and in 1850 mass was celebrated in the home of the Colón family because the church had not been concluded.

Location: It is located in the southern coast. It borders north with Coamo, south with the Caribbean Sea, west with Juana Díaz, and east with Salinas.
Area: 88.9 sq km / 34.2 sq mi
Population: 21,665 (census 2000)
Population Density: 243.7 per sq km / 633.4 per sq mi
People are known as: Santaisabelinos
Santa Isabel is also known as:
Tierra de Campeones (Land of Champions)
La Ciudad de los Potros (The City of the Colts)
Wards:

Santa Isabel, Puerto Rico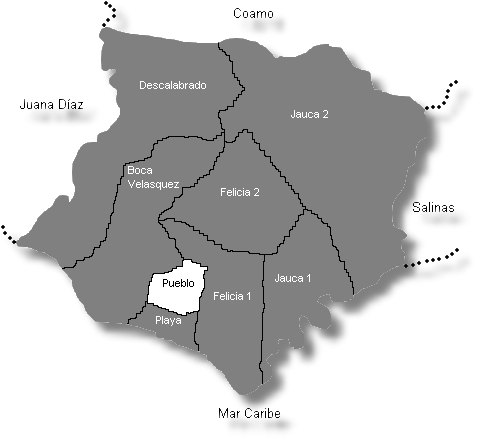 Census 2000:
Population by Wards – Santa Isabel
Habitants

Boca Velázquez

2,279

Descalabrado

3,918

Felicia 1

362

Felicia 2

1,889

Jauca 1

2,538

Jauca 2

3,504

Playa

840

Santa Isabel Town

6,335

Total
21,665
Source: Censo 2000
Patrón:
Santiago Apóstol
Santiago Apóstol Parish
Apartado 137
Santa Isabel, P.R. 00757
(787) 845-2450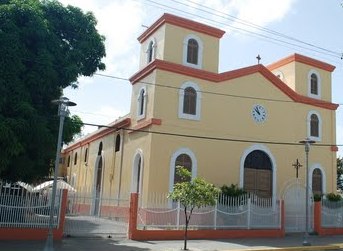 Topography: Located in the Coastal Plain of the South, its topography is level. Its highest elevation is the Cuevas Hill with 300 meters of altitude above sea level.
Hydrography: It is watered by the Jueyes, Cayures, Coamo, Descalabrado rivers and the Coamo dam with an area of 158 square kilometers.
Economy: Manufacture; clothing, electrical and electronic machinery, metal products and nutritional products and agriculture; vegetables and tropical fruits.
Average Salary: $263.32 weekly (1998)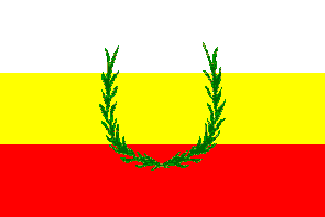 Flag: The flag of Santa Isabel is described as follows: Flag of the usual proportions, divided horizontally in three stripes of same the width: white the superior one, yellow the central one and red the inferior one, may be ornamented with sugar cane stems or without them.
Coat Of Arms: The enamels or colors of the shield and the figures, allude to the name of the town at the time of its foundation, its Patron Saint and the supreme authorities, under which government the Municipality of Santa Isabel was founded. Santa Isabel is symbolized by the latin "I" and its crown of medieval type. The red and silver colors, that are the old colors of Hungary, represent the purity and charity; virtues that shone more in the infuriate princess, Duchess of Turingia, by their marriage and example of sovereign.
The Apostle Santiago is symbolized by scallop shells, also denominated in heraldic with the Christian names of shells of Santiago or shells of Pilgrims, because they were emblem of romeos, peregrinations and sanctuaries in the Middle Age. In Spain, they got to identify themselves as much as with the famous peregrinations to Compostela, that became standard of this Apostle.
The shells recall, in addition, that the territory of Santa Isabel is rich in archaeological deposits of the Taíno Indians, pre-columbian inhabitants of Puerto Rico. These deposits, generally, are denominated "concheros", due to the abundance of shells and snails. In addition, it recalls that the sea that bathes the coast of Santa Isabel, these shells were collected in abundance. The colors red and gold of the shield and the crown, represent the Spanish origins of the founders of Santa Isabel, and that the town depended on Villa of San Blas de Coamo, whose Coat of Arms has as dominant colors gold and red. The crown is standard of the towns and municipalities. The sugar cane stems that surround the shield, allude to the main agricultural product of Santa Isabel and to elements characteristic of its landscape.
Santa Isabel Public Schools
| | | | |
| --- | --- | --- | --- |
| Name | Level | Telephone | Address |
| ANA L. ROSA TRICOCHE | Elementary | (787) 845-2291 | PO Box 847 |
| ANA VALLDEJULY (JAUCA) | Elementary | (787) 845-6147 | PO Box 1440 |
| APOLONIA VALENTÍN | Elementary | (787) 845-5337 | PO Box 753 |
| EMILIO CASAS (PEÑUELAS) | Elementary | (787) 845-5577 | PO Box 1440 |
| ESTHER RIVERA | Elementary | (787) 845-5901 | PO Box 847 |
| FELICITA OLIVIERI SANTINI (OLLAS) | Elementary | (787) 845-4494 | PO Box 847 |
| JOHN F. KENNEDY | Elementary | (787) 845-2560 | PO Box 1090 |
| MARTIN G. BRUMBAUGH | Elementary | (787) 845-3315 | PO Box 847 |
| PLAYA | Elementary | (787) 845-2241 | PO Box 847 |
| MANUEL MARTÍN MONSERRATE | Intermediate | (787) 845-3160 | PO Box 847 |
| PLAYITA CORTADA | Secondary | (787) 845-3565 | PO Box 847 |
| ELVIRA M. COLÓN | High School | (787) 845-2751 | PO Box 847 |
Hymn: By Víctor R. Blanco Santiago
En un pedazo del sur estás presente
Pueblo Cielo, Pueblo Tierra, Pueblo Mar.
Santa Isabel tú te elevas digno de gracias
que celebran los que te aman al cantar.
Pueblo Cielo, Pueblo Tierra, Pueblo Mar.
Nuestra gente dulce y maravillosa
se bautiza con las olas de tu encanto.
Eres mi pueblo rico en tierra, fabulosas
eres mi pueblo tierno en gentes de agradar.
Pueblo Cielo, Pueblo Tierra, Pueblo Mar.
Son virtuosos y el Señor está en las mentes
y los niños regocijan el valor
de este nido tan hermoso, tan querido,
que nos brinda el noble arte del amor.
Pueblo Cielo, Pueblo Tierra, Pueblo Mar.
No te puedo jamás, nunca, olvidar
mi corazón se llena de ternura
cuando siento sutil toque en mi existir.
Tomas todo lo de vida en mi fortuna
eres parte de mi vida y soy feliz.
Pueblo Cielo, Pueblo Tierra, Pueblo Mar.
Events:
Mango Festival – May
Crab Carnival – June
Patron Celebrations – July
Cemí Carnival – October
Turkey Festival – November
Places To Visit:
Aguirre Forest
El Malecón (boardwalk)
Indian Museum
Jauca Beach
Hacienda Alomar Ruins