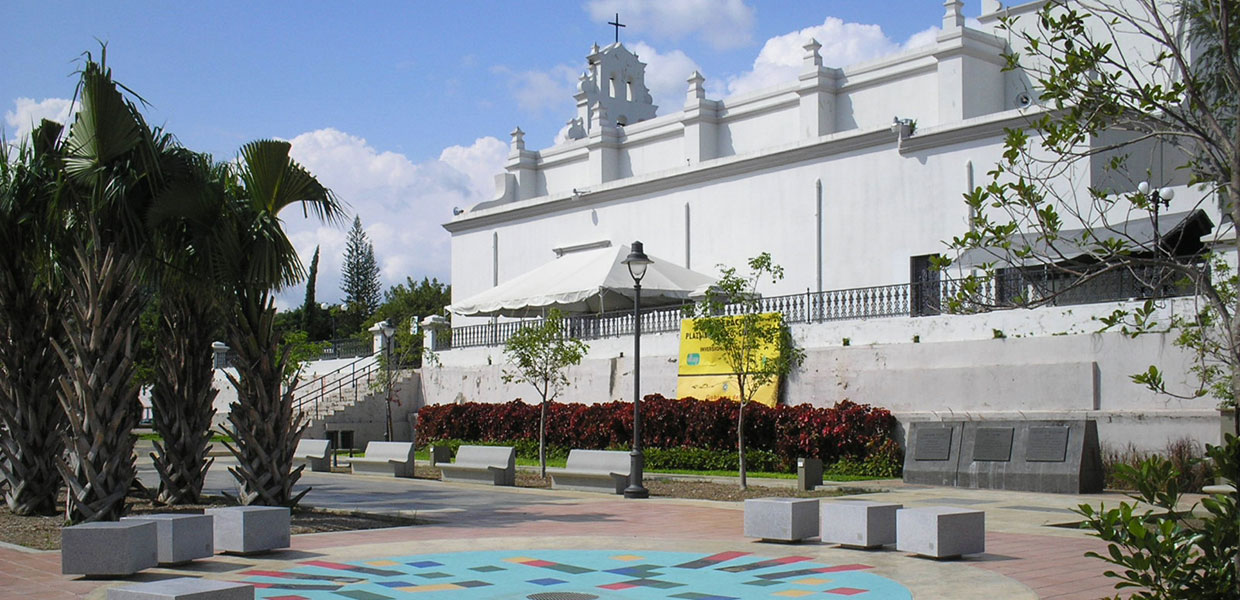 Coamo, Puerto Rico
The Villa of San Blas de Illescas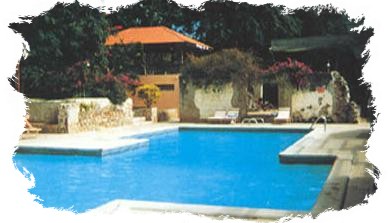 Coamo (ko-AH-mo) is known as the "Villa of San Blas de Illescas", "the old town", "the town of the thermal waters", and "the center of the universe", the towns people are known as the "marathon runners". The name of the town, a Taino word, means "extended plain".
The patron saint is San Blas de Illescas, whose day is celebrated on February 3. Another traditional festival, the day of Our Lady of Candlemas, is celebrated on February 2. The world-famous San Blas de Illescas half-marathon is held during these festivities.
Coamo is located to the south of the Central Mountain Range. It is bordered on the north by Orocovis and Barranquitas, on the south by Santa Isabel and Salinas, on the east by Aibonito and Salinas, and on the west by Villalba and Juana Díaz. The hydrography of the town is based on the Coamo River, which springs from Pulguillas Ward and runs for 35 kilometers (22 miles) to empty into the Caribbean Sea.
Coamo is very popular for its thermal waters known as the "Coamo Baths." There is also an inn in the area of the baths. The first guest house on the site was built by Andrés G. Luhring in 1847. Ten years later, José Usera became the proprietor and built an elegant building using brick and rubble masonry and local woods. Today, the only remains of the original hotel are the restaurant, the thermal water pools and a few walls that add to the historic ambiance of the modern inn.
Other economic activities include agriculture and animal husbandry (chicken, cattle, and produce) and a plant that manufactures radio parts.
Foundation:
The name Coamo is derived from the Taíno word, which means extensive valley. In 1519 the construction of the town began with the name San Blas de Illescas. It was officially founded July 15, 1570, making it one of the oldest cities in the island after San Juan and San Germán. Bishop Diego de Salamanca was granted permission to establish a church in Coamo to provide the residents of that area basic religious services. Before 1582, twenty families lived in Coamo in the same area where the Taínos had their village of Guayama.
Diego of Salamanca founded the hermitage of San Blas and lived there until 1618. He was helped by economic aid from the families of the city. The church in 1616 was constructed in brick and straw. Its architecture had the simple characteristic lines of the construction done on the island at the time. Coamo is famous for its thermal baths containing healing and therapeutic waters. Long before the Spaniards arrived to the island, the Indians bathed in these waters, and according to legend, this was the fountain of youth that the Indians told Ponce de Leon about. He was mistaken when he went to Florida to look for it, and unfortunately for him the search would end in his death.
Location:

Coamo is located in the southern region of the Central Mountain Range. It is bordered by: Barranquitas and Orocovis on the north, Santa Isabel on the south, Juana Díaz and Villalba on the west, and Aibonito and Salinas on the east.
Area:
202.8 sq km / 78.0 sq mi
Population:
37,597 (census 2000)
Population Density:
185.3 per sq km / 482.0 per sq mi
People are known as:
Coameños
Coamo is also known as:
La Villa de San Blas de Illescas (San Blas de Illescas Villa)
Los Maratonistas (The Marathonists)
La Villa Añeja (Old Villa)
Ciudad de las Aguas Termales (City Of Thermal Waters)
Coamo, Puerto Rico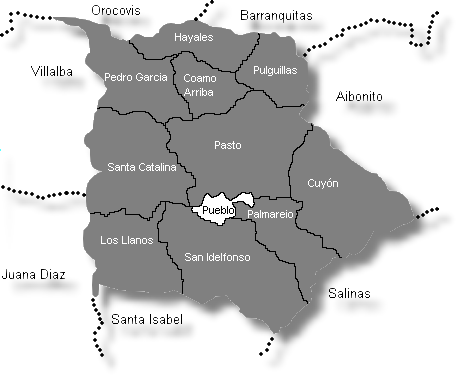 Census 2000:
Population by Wards – Coamo
Habitants
Coamo Town
7,573
Coamo Arriba
422
Cuyón
2,263
Hayales
1,282
Los Llanos
3,666
Palmarejo
4,195
Pasto
5,420
Pedro García
624
Pulguillas
1,131
San Ildefonso
9,288
Santa Catalina
1,733
Total
37,597
Source: Censo 2000
Patron:
San Blas de Illescas
San Blas de Illescas Parish
Apartado 196
Coamo, P.R. 00769
(787) 825-1122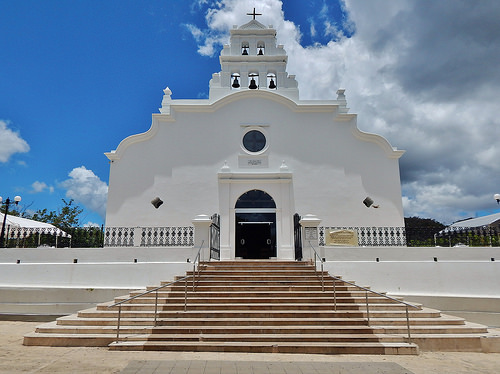 Topography:
The most outstanding elevations appear in the Cuchillas de Coamo and Cerro Pulguitas. Other hills are the Santa Ana and Presidio.
Hydrography:
Part of this system are the Coamo, Descalabrado, Lapa, Jueyes and Mina rivers. The hydrography includes the Coamo Thermal Baths, which are nourished by the Coamo river near the Santa Isabel border.
Economy:
Agriculture: poultry, mango, and cattle.
Average Salary:
$271.26 weekly (1998)
Flag: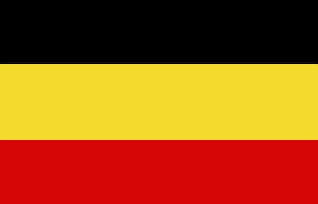 The flag, like the Coat of Arms, was approved August 5, 1969. The flag of Coamo derives its colors from the Coat of Arms. The red is indicative of the martyrs and recalls San Blas who was beheaded. The yellow alludes to charity of San Blas and to the dry pastures of Coamo. The black refers to the bitterness and mourning undergone by Coamo.
Coat Of Arms: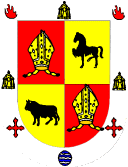 The Coat of Arms is divided into four parts. The superior left and the inferior right have a red background with a gold Episcopal hat each. These parts of the Coat of Arms represent the old seat of San Blas de Illescas.
The horse and the bull represent the cattle wealth of the population. The gold color that serves as background in contrast with the black color, recalls the yellowish reddish tone of the fields of Coamo during the droughts.
The heavy border of the Coat Of Arms contains the following figures: two flames; three bell towers with gold bells outlined in red; two red crosses with arms ending in three petals; and a circle with a surface divided by horizontal blue and silver-plated stripes. The bell towers represent the three primitive churches of Coamo. The flames allude to the celebration of the Candelaria, the crosses allude to the Spanish colonizer Cristóbal de Illescas, and the circle represents a well for the Thermal Baths of Coamo. The crown has four towers.
Places To Visit:
Old Coamo Cemetery
Coamo Baths
City Hall
Efrén Bernier residence (Casa Blanca)
José Ignacio Quintón residence
Casino de Coamo (Spanish Social Club)
Our Lady of Valvanera Hermitage
Baptist church
San Blas de Illescas Catholic church
Mount Pico lookout point
Coamo Historical Museum
Luis Muñoz Rivera town square
General Méndez Vigo Bridge
Padre Iñigo Bridge
Scenic route
Sugar cane mills
Pan American bicycle rink
Events:
Patron saint's festival – February
San Blas sports festival – February
Crafts festival in honor of the flag – June
Coamo Anniversary – July
Concert and lighting of the Christmas tree – December
Distinguished Citizens:
María Teresa Babín

– college professor, writer, and founder of the Puerto Rican Studies Department at Lehman College in Nueva York. Babín was a tireless collaborator with the journals and newspapers for which she wrote on cultural affairs. She was elected Humanist of the Year by the Puerto Rico Endowment for the Arts (1988). Her publications include El mundo poético de Federico García Lorca (1954), La situación de Puerto Rico (1965), El lenguaje, protagonista de nuestra literatura (1981), among others.

Bobby Capó

– singer, composer, television director, and government official. Capó had great success as a singer in Latin America and the Untied States, as well as participating in several movies of the Golden Age of Mexican cinema. Some of his most famous and world-renowned songs are Piel canela, Luna de miel en Puerto Rico, Soñando con Puerto Rico, Juguete, etc.

Pedro Miguel Caratini

– professional baseball player. Caratini was a prominent baseball player in the 1930s, also playing in the Dominican Republic, where he is buried. He is in the Hall of Fame of both Puerto Rico and the Dominican Republic.

Francisco Coimbre

– professional baseball player. Coimbre began to play baseball in the 1920s and was one of the pioneers of the professional baseball league in 1938. He played in the Dominican Republic, Mexico, Cuba, and the United States.

José Luis Martínez-Picó

– engineer and college professor who obtained a doctorate abroad. Martínez-Picó founded and directed the Chemistry Department at the University of Puerto Rico in Mayagüez (1948 – 1958). He held the position of dean many times and was chancellor between 1986 and 1990.

Félix Matos-Bernier

– journalist and poet. Matos founded the newspapers El Cautivo (1895) and La Nueva Idea (1895). He also published literary works such as Recuerdos Benditos in 1895, Puesta de sol in 1903 and Isla de arte in 1907.

Rafael Picó-Santiago

– geographer and college professor. Picó earned his doctorate in geography and planning at Clark University. He was chairman of the planning board from 1942 to 1955; Secretary of the Treasury (1955 – 1957); president of the Government Development Bank (1958 – 1964); and a senator in the Puerto Rico legislature from 1965 to 1969. His book Geografía de Puerto Rico (1954) is a frequently used reference.

Juan Rivera-Ortiz

– teacher and political figure. Rivera-Ortiz was mayor of Coamo for two four-year terms as well as a senator for the Guayama district from 1980 to 1991.

Rafael Rivera-Zayas

-public speaker, attorney, and journalist. Rivera-Zayas was a representative in the Puerto Rico Legislature from 1932 to 1936 and presided the Puerto Rico Atheneum in 1933. As a journalist he wrote about literary and political topics.

José Seda

– sports figure. Seda was a professional baseball players and one of the founders of the professional league in 1938. He also played in the Dominican Republic and Venezuela
Public Schools sorted by educational levels.
Ponce Region
Coamo District
Name
Level
Telephone
Address
Elementary
ANASTASIO SANTIAGO
K-6
(787) 825-3896
PO Box 358, P.R. 00769-0000
AURELIA QUINTERO LABOY
K-6
(787) 825-3808
PO Box 1298, P.R. 00769-0000
BENIGNA I CARATINI
K-6
(787) 825-3383
PO Box 3358, P.R. 00769-0000
ELEMENTAL NUEVA
K-6
(787) 825-1435
PO Box 358, P.R. 00769-0000
HILDA RAQUEL MATEO
K-6
(787) 825-4633
PO Box 350, P.R. 00769-0000
JOSÉ RAMÓN RODRÍGUEZ
K-6
(787) 825-1127
PO Box 3001 Suite 180, P.R. 00769-0000
PURIFICACIÓN RODRÍGUEZ
PK-6
(787) 825-1684
PO Box 3001 Suite 184, P.R. 00769-0000
RUFINO HUERTAS
K-6
(787) 825-5444
PO Box 358, P.R. 00769-0000
SUSANA RIVERA
K-6
(787) 825-3992
PO Box 3001 Suite 263, P.R. 00769-0000
Intermediate
BENJAMIN FRANKLIN
7-9
(787) 825-1284
PO Box 358, P.R. 00769-0000
FLORENCIO SANTIAGO
7-9
(787) 825-1575
PO Box 1912, P.R. 00769-0000
HERMINIO W SANTAELLA
7-9
(787) 825-5559
PO Box 3000 Suite 227, P.R. 00769-0000
Secondary
SU ENRIQUE COLÓN
K-9
(787) 867-4501
PO Box 358, P.R. 00769-0000
SU EUGENIO NAZARIO SOTO
K-9
(787) 825-5759
PO Box 1928, P.R. 00769-0000
SU MANUEL CANDANEDO
K-9
(787) 825-2858
PO Box 3001 Suite 132, P.R. 00769-0000
SU RÍO JUEYES
K-9
(787) 825-5445
Suite 177, P.R. 00769-0000
High School
JOSÉ FELIPE ZAYAS
10-12
(787) 825-5911
Suite 183, P.R. 00769-0000
RAMÓN JOSÉ DAVILA
10-12
(787) 825-1247
PO Box 358, P.R. 00769-0000
Hymn:
By Manuel Torres Tapia
Allá muy cerca del pueblo
donde nació Muñoz
entre montañas y flores
se encuentra también
donde nací yo.
Tierras de lindas mujeres
y de seres a quien amo.
un nombre Taíno tiene
y es mi bello pueblo Coamo.
Coamo, desde que partí
eché muy de menos
tus lindas mujeres
tu sol tropical.
Coamo hoy he vuelto hasta ti
para que sepas
que aunque estuve lejos,
no te puedo olvidar.
Coamo, aquí estoy otra vez
y yo te aseguro
que de ti más nunca
me separaré.
Quiero volver a gozar
de tu clima tropical
y aunque pasen años
nunca te olvidaré.