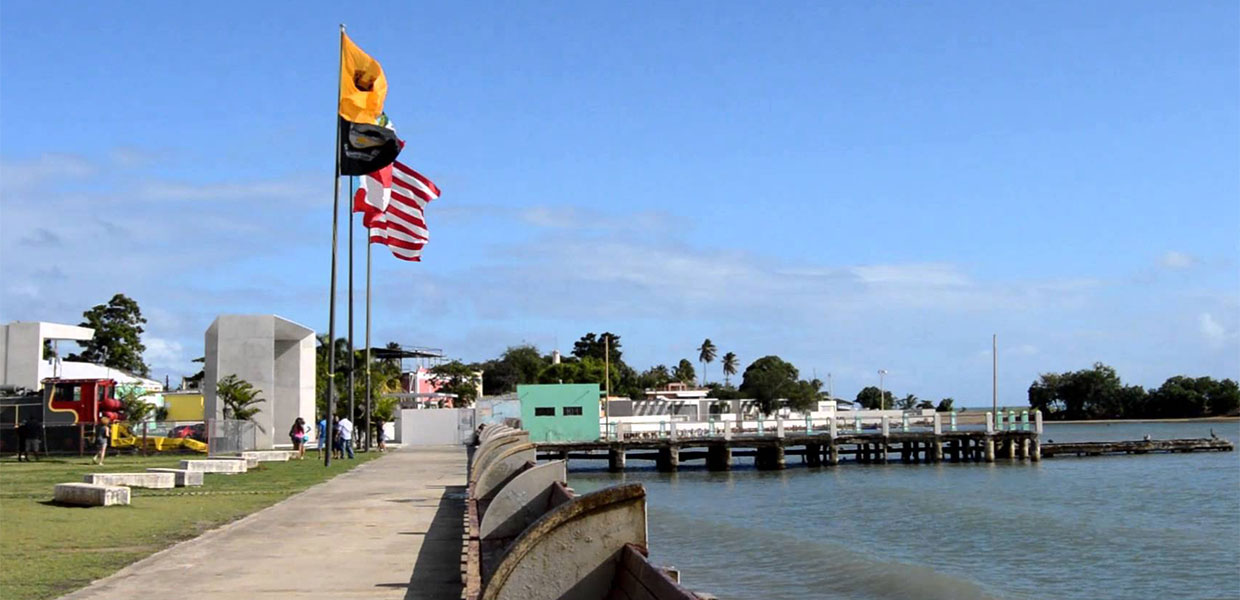 Arroyo, Puerto Rico
The Pleasing Town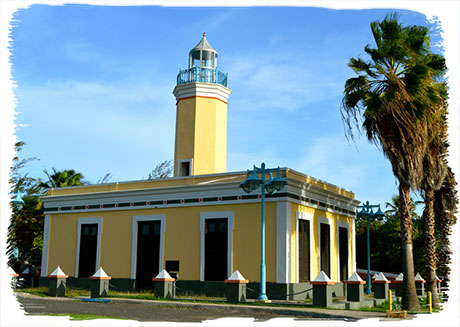 Arroyo (ah-RO-yo) is known as the "Pueblo ingrato" (The ungrateful town), el Pueblo grato (The pleasant town), and "Los bucaneros" (Buccaneers). Its patron is Virgin of Our Lady of Carmen.
Arroyo is located on the south of the island. It borders with the municipality of Patillas on the north; the Caribbean Sea to the south; to the west with Guayama and to the east with the municipality of Patillas.
Geographically, it belongs to the Ponce-Patillas alluvial plain subregion in the region known as the southern coastal plain. It is a very arid area, although its alluvial plains are very productive because of their artificial irrigation. On the eastern area, on its border with Patillas, are the hills: Bandera, Magdalena or Juan Amaro, and Yaurel. Monte Verde is located in the area between Ancones, Yaurel, and Pitahaya. Corazón hill is located in the mountain range that serves as border with the municipality of Guayama.
Towards mid-20th century, this municipality's economy depended mostly on growing agricultural products such as yam, plantain, yautía (root vegetable), and sugarcane; one of its main sugarcane producers was Central Lafayatte. Today, this town has some pharmaceutical companies and part of its land is used as dairy farms.
Foundation:
According to documents of the Departamento de Obras Públicas de Puerto Rico it was in 1855 when the jurisdictional limits between Guayama and Arroyo were established. However, the newspaper Gaceta de Puerto Rico published in 1868 says that Arroyo was founded in 1852.
In 1859 the City Council adopted an agreement to open streets; then a year later the construction of the plaza and a culvert in the Marina Street of the town. Two decades after the foundation of the town, Arroyo had 5,575 inhabitants. At the time the following rural districts formed the municipality: Barrio Pueblo (east and west), Pitahaya, Yaurel, Ancones, Cuatro Calles, Palmas and Guásimas.
In 1898 the rural district Cuatro Calles became part of the urban zone. The rural zone consisted of the districts of Ancones, Palmas, Guásimas, Yaurel and Pitahaya.
In March, 1902 the Legislative Assembly of Puerto Rico approved the "Law for Consolidation of Certain Municipal Terms of Puerto Rico". The law stipulated "that on the first day of July, 1902 the municipality of Arroyo (among others) would be suppressed as a municipality and its City Council, Mayor and the municipal employees and all the territory of the municipality would be annexed to the Municipality of Guayama".
It was not until March, 1905 that the Legislature of Puerto Rico approved a law that revoked the law approved in July of 1902 and the Municipality Arroyo was reorganized and constituted again as an independent municipality with the same territorial organization it had before being annexed to Guayama.
In 1910 the urban zone of Arroyo, until that moment constituted by the district Cuatro Calles, was subdivided in the urban districts Pueblo Este, Pueblo Oeste and Cuatro Calles. This was the last change that the territorial organization of the Municipality of Arroyo underwent. At the moment Arroyo is composed of the urban zone subdivided by Cuatro Calles, Pueblo Este and Pueblo Oeste, and the rural districts Ancones, Palmas, Guásimas, Yaurel and Pitahaya.
Location:

Arroyo is bordered by: Patillas to the north, the Caribbean Sea to the south, Guayama to the west, and Patillas to the east.
Area:
37.7 sq km / 14.5 sq mi
Population:
19,117 (census 2000)
Population Density:
507.0 per sq km / 1,318.4 per sq mi
People are known as:
Arroyanos
Arroyo is also known as:
El Pueblo Grato
Los Bucaneros
Wards: Arroyo, Puerto Rico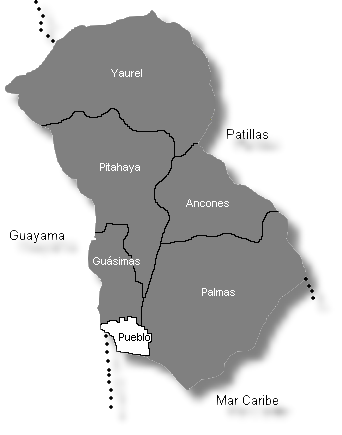 Censo 2000:
Population by Wards – Arroyo
Habitants
Ancones
3,870
Arroyo Pueblo
1,503
Guásimas
3,747
Palmas
4,090
Pitahaya
3,981
Yaurel
1,926
Total
19,117
Información: Negociado del Censo de los EE.UU. Censo 2000
Patron:
Nuestra Señora del Carmen
Nuestra Señora del Carmen Parish
Apartado 388 Arroyo, P.R. 00714
(787) 839-3465
Mass Schedule:
Daily: 7:00pm, Thursdays & every first Friday 6:30pm
Saturday: 7:00pm | Sunday: 7:00am, 9:00am & 11:00am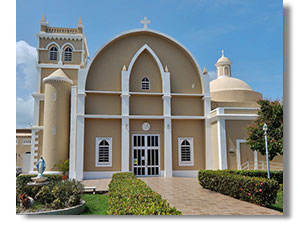 Topography:
The topography corresponds to the sub region of the Ponce-Patillas Alluvial Plains, a region known as the Southern Coastal Valley. It is a very dry area, although the alluvial plains are productive because of artificial irrigation.
Hydrography:
The Nigua also known as the Laurel river, crosses the municipality north to south. The hydrographic system is completed by the Corazón, Antigua, Jácana, Yaurel better known as Zanjón gorges, and others of less importance. The old Virella Colony has a mineral water spring. This municipality also counts with thermal waters, but have not been exploited.
Economy:
Manufacture of furniture, electronics, and pharmaceutical products. Sugarcane and other agricultural products are cultivated.
Salario promedio:
$215.96 semanal (1998)
Flag: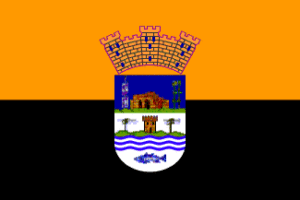 It has two horizontal bands of equal size. The orange and black colors keep alive a past filled with adventure and accomplishment. The Coat of Arms is placed in the center of the flag.
Coat Of Arms: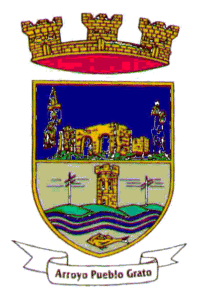 The municipal authorities officially approved this shield on the 31st of March, 1970. Cut into the upper blue field a church, a rosary to the right and a flower to the left. At the base, a tower between two silver telegraph poles on green hills. At the bottom waving stripes of blue and silver, and below these, a fish.
Above the shield, lies a crown of three towers filled in with purple. Below there's a banner with the motto, Arroyo Pueblo Grato (Arroyo Pleasing Town).
Places To Visit:
Central Lafayette
El Malecón
La Cora Estate
La Torre del Viejo
Windmill
Monument of Enrique Huyke
Monument of Samuel Morse
Las Palmas beach
Ruins of the Lighthouse
Events:
The carnival – February
Black fest – March
Los Rosarios de Cruz – May
Patron saint in honor to Virgen del Carmen – July
Fished festival – November
Christmas festival- December
Distinguished Citizens:
Guillermo V. Cintrón

– Poet, theatrical author, short-story writer, and journalist during the first decades of the 20th century.

Miguel Saavedra García

– Director of Revista Farmacéutica de Puerto Rico and legislator in the House of Representatives at the beginning of the 20th century.

Francisco Javier Amy

– Poet and prose writer.

Carmen Bosello Guzmán de Huyke

– Wrote and published her first collection of poems in the book titled Ecos y Notas.

Juan B. Huyke

– Educator, journalist, lawyer, politician, and writer of children's topics and literature.

Marcelino Cintrón

– He was the first mayor of Arroyo in 1855.

Galio Ortiz

– Was part of the secret society, Torre del viejo, and committed suicide during the times of the compontes (tortures by a military tribunal) prior to being jailed.

Max E. "Chuma" Sánchez

– First athlete from Arroyo to obtain a medal in the Central American and Caribbean games in Panamá in 1938.

María Socorro Laco

t – Secretary of the Department of Public Education 1979.
Public Schools Sorted by Educational Levels.
Humacao Region
Arroyo District
Name
Grade
Phone
Address
Elementary

BEATRIZ RODRÍGUEZ

K-6

(787) 839-3133

Po Box 267, P.R. 00714-0267

CAYETANO SÁNCHEZ

K-6

(787) 839-3745

PO Box 898, P.R. 00714-0000

DOLORES GONZÁLEZ

K-6

(787) 839-5177

PO Box 357, P.R. 00714-0000

ENRIQUE HUYKE

PK-6

(787) 839-4295

PO Box 297, P.R. 00714-0000

JOSÉ M MASSARI

K-6

(787) 839-3140

PO Box 240, P.R. 00714-0000

ESC. NUEVA BO. ANCONES

K-6

(787) 271-2973

PO Box 164, P.R. 00714-0164

Nivel Intermedia

JOSÉ DE CHOUDENS

7-9

(787) 839-5390

PO Box 360, P.R. 00714-0000

SU JOSÉ HORACIO CORA

7-9

(787) 839-4030

PO Box 847, P.R. 00714-0000

Nivel Secundaria

SU EDMUNDO DEL VALLE

K-9

(787) 839-6086

PO Box 330, P.R. 00714-0000

Nivel Superior

CARMEN BOZELLO DE HUYKE

10-12

(787) 839-2655

PO Box 267, P.R. 00794-0000
Hymn:
Arroyo, Arroyo pueblo grato sol de Dios,
sale entre tus palmeras tus riberas
dan al Mar Caribe soy de Arroyo,
cuna que me vio nacer.
Riachuelo que surgió de las aguas del Río Yaurel
que fuera incitador de tu noble fundación.
Pitahaya cual región nuestro Indio comenzó
a explotar y a cultivar nuestras tierras antes de Colón.
Grandes fueron y son nuestras personas
Samuel Morse e Isabelino Cora,
Max Sánchez, Don Jesús María,
Don Cristóbal Sánchez y Don José de Choudens.
Y en nuestra educación
Cayetano Sánchez, Javier Amy,
Juan B. Huyke, Mrs. Gallart,
Mrs. Quiñones y Carmen Bozello.
Nuestra historia transcurrió no
podemos olvidar la central de
Lafayette, la Sierrita y a Nicasio Ledee.
Arroyo, Arroyo pueblo grato sol de Dios,
sale entre tus palmeras tus riberas dan al mar caribe.
Soy de Arroyo cuna que me vio nacer,
soy de Arroyo cuna que me vio nacer.