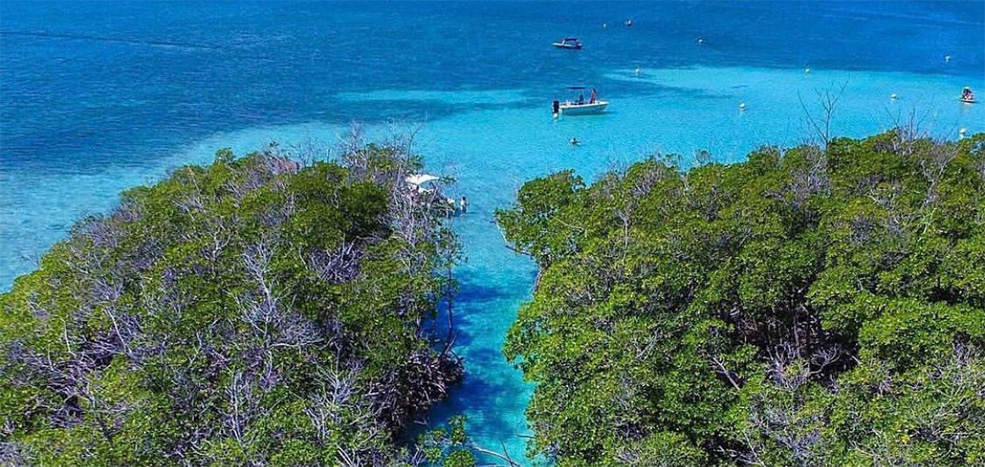 Cayo Icacos Beach
Lajas, Puerto Rico
Cayo Icacos Beach is located in the southwest of Puerto Rico, in front of the city of Lajas and only 45 minutes from Ponce.
This beach is one of the most famous beaches that makes up the La Parguera Natural Reserve, since it has a natural pool around mangroves that naturally purify the water. This is one of the most crystalline waters in the reserve, in addition to its white and fine sand that makes it possible to walk through it without any inconvenience.
Of all the islands in the area La Parguera, this beach is the most popular for practicing snorkeling. It is more frequented by visitors during summers, holidays and weekends. Sometimes the place gets unbearably crowded by boat owners who love to come to this beach to hang out.
The beach has many areas that are shallow even children can walk and swim in the water safely.
It is recommended that you bring everything you need. If you arrive early you can return to the dock and enjoy the excellent and delicious traditional meals of the many restaurants in the area.
The bathrooms are on the neighboring island Mata La Gata. You will need a boat or kayak to get to this place. Swimming at Mata La Gata beach is not recommended, as the open sea enters freely between the islands with waves and currents that vary according to the weather. You can ask your tour operator to come and pick you up at a specified time and then go to Mata La Gata for the rest of the day where there are grills and picnic tables.
How to get to Caracoles
To get there it is necessary to go on tourist boats in the reserve. There are several tour operators that will take you to Caracoles. This is dedicated to providing tours through all of La Parguera and have knowledge of all the flora and fauna that this paradise contains. You can also rent a small boat, giving you the freedom to go "island hopping".