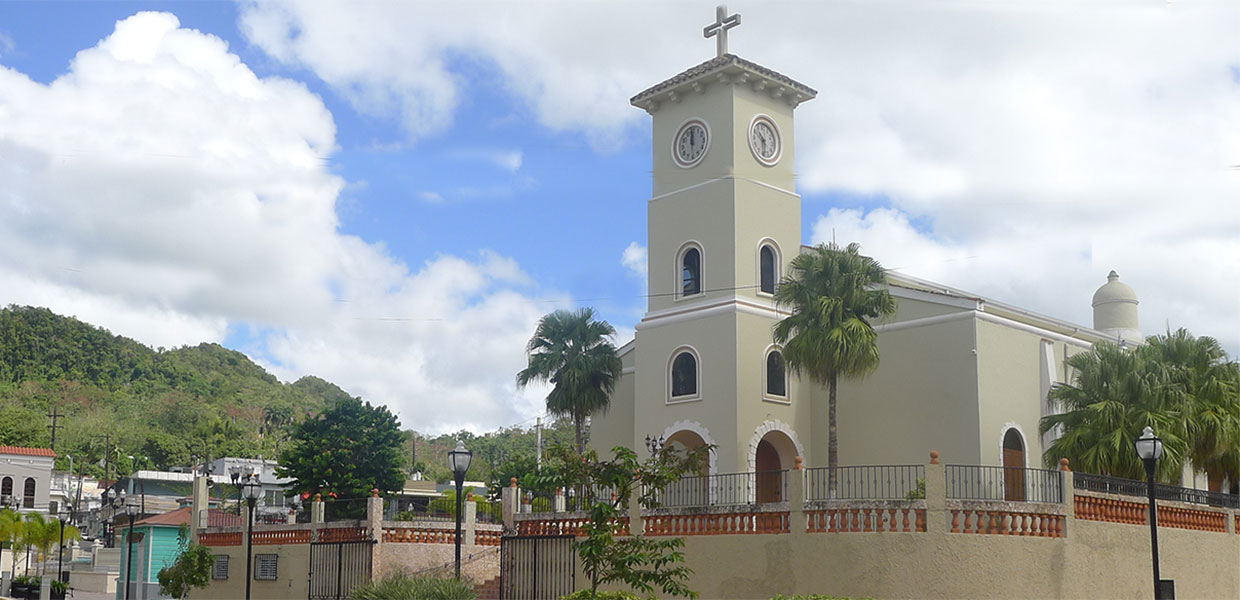 Corozal, Puerto Rico
The Birthplace of Volleyball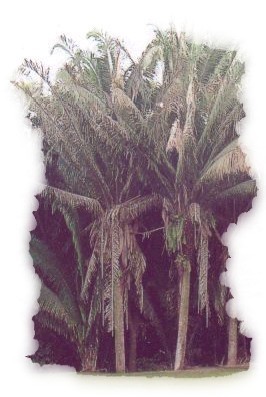 Corozal (ko-ro-ZAHL) residents are known as known as "The plantain farmers," because of the huge numbers of plantains planted in the mountains of the municipality. The municipality is also called the "birthplace of volleyball" and the "Capital of the Center of the Island". Corozal's patron saint festival honors the Holy Family and is held in the month of January. The town also has a Plantain Festival.
Corozal is located in the west central region of the island, close to the north coast. It is bordered on the north by Vega Alta and Toa Alta, on the south by Orocovis, Barranquitas and Naranjito, on the east, also, by Naranjito, and on the west by Morovis and Orocovis.
In the Abras sector are La Chiquita and Quintero caves and in the Padilla sector is the Rodríguez cave. All are wet and dark. The Quintero cave is especially deep.
Today, agriculture still has a role in Corozal but on a smaller scale. The municipality also has factories producing clothing, food products and machinery.
Fundación:
The town of Corozal was founded in 1795 by the owners of the land, Don Joaquin Marrero and Don José de Rivera Ortiz. This last one was the first constitutional mayor in 1813.
The name Corozal comes from the word corojo or corozo ("Corozo", "Corojo", "Tagua", or "Vegetal Ivory"), these are the fruits of a palm, (phytelephas macrocarpa) that reaches a height of five to six meters and grows in humid places which are used to confection bottons and others crafts. It is also said that it could have been due to the abundance of these palm trees in the area.
Location:

Located in the central-eastern region, closer to the northern coast, it borders north with Vega Alta and Toa Alta, Orocovis, south with Barranquitas and Naranjito, east with Naranjito and west with Morovis and Orocovis.
Area:
109.2 sq km / 42.0 sq mi
Population:
36,867 (census 2000)
Population Density:
355.9 per sq km / 877.7 per sq mi
People are known as:
Corozaleños
Corozal is also known as:
La Cuna del Voleibol (The Birthplace of Volleyball)
Los Plataneros
Wards: Corozal, Puerto Rico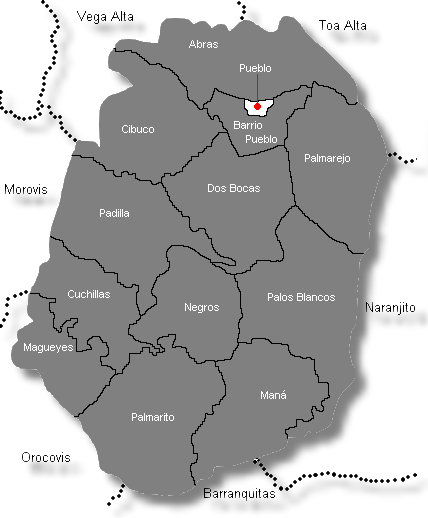 Census 2000:
Population by Wards – Corozal
Habitants

Abras

1,984

Cibuco

5,054

Corozal (city)

2,850

Cuchillas

1,393

Dos Bocas

2,760

Magueyes

295

Maná

2,014

Negros

1,239

Padilla

3,959

Palmarejo

5,856

Palmarito

2,160

Palos Blancos

3,664

Pueblo (Barrio)

3,639

Total
36,867
Source: Censo 2000
Patron:
La Sagrada Familia
La Sagrada Familia Parish
P.O. Box 474
Corozal, Puerto Rico 00783-0474
(787) 859-2595
Foundation: 1804
Patron Day: Sunday after Christmas
Mass Schedule:
Daily: 6:30am & 7:00pm
Saturday: 6:00pm & 7:15pm, Sunday: 6:30am, 8:30am & 10:00am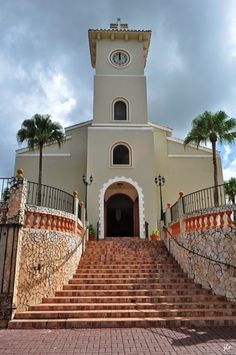 Topography:
The higher elevations of this municipality are to the south, reaching 700 meters, but do not excede 1,000 meters. To the north in the Cibuco, Abras and Palmarejo wards the terrain is level.
Hydrography:
Grande de Manatí River, Cibuco River, De los Negros River, Corozal River and its affluents the Dos Bocas River, Mavilla River and the Jacinta Ravine.
Economy:
Crafts and agriculture (bananas).
Flag: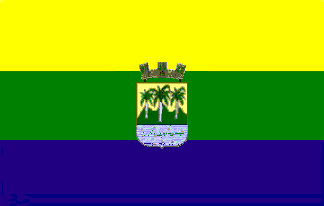 The flag of the town is inspired by the Coat Of Arms, it consists of three horizontal stripes of equal width, yellow the top, green the middle and blue the bottom, and in some instances the middle stripe could have embroidered or printed the Coat Of Arms.
Coat Of Arms: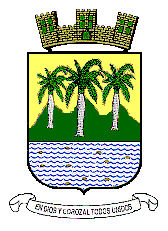 On a gold background three Corozo Palms, with clusters in their original color, planted on a green landscape and in front of a mountain range. At the bottom, blue and silver water waves sprinkled with gold nuggets. The three towercrown is gold with black stones.
The Corozo Palms represent the name of the town and its river, whose margins were populated with these palms. The mountains represent the high and striking mountains of Corozal. The waves represent the Corozal River and gold nuggets, metal that until recently was panned in its riviera. The gold background of the Coat Of Arms is symbol of hard labor and also alludes to the gold of Corozal, so appreciated long ago for its purity. The crown is a emblem used to designate cities and towns.
Places To Visit:
Town barber shop
City Hall
Cibuco Historical Tourism Center
El Rancho Recreational Center
Municipal church
Public Plaza
Events:
Corozal Carnival – June
San Juan Bautista Carnival – June
Corozo Festival – October
Plantain Festival – October
Patron Saint Festival (The Holy Family) – January
Distinguished Citizens:
Ramón Luis Acevedo

– Writer and professor. Currently he is the director of the Puerto Rican Literature Institute. He also a directo of Estudios Hispánicos journal.

Emilio R. Delgado

– Poet and journalist. He was editor of three important, leading magazines: Faro, Vórtice and Puerto Rico Ilustrado. He also directed the newspaper La Correspondencia and was Secretary and Librarian of the Puerto Rican Athenaeum.

Sixto Febus

– painter. Studied in classes taught by Picasso at the Sorbonne University in Paris. He has painted portraits of famous personalities. He worked as conservatore in prestigious museum as the Louvre, in Paris, the Prado, in Madrid and Buckingham Palace in England. His works have been exhibited in prestigious museums in the United States, Spain, Vienna and Australia.
Public Schools sorted by educational levels.
Morovis Region
Corozal District
Name
Level
Telephone
Address
Elementary

ABRAHAM LINCOLN

4-6

(787) 859-3007

PO Box 135, P.R. 00783-0000

FIDEL LÓPEZ COLON

K-6

(787) 859-4592

PO Box 623, P.R. 00783-

GENARO BOU

K-6

(787) 859-1566

PO Box 1730, P.R. 00783-0000

HIPÓLITO CALDERO

K-6

(787) 859-7777

PO Box 1830, P.R. 00783-0000

JOSÉ FERNÁNDEZ RUBIAL

K-6

(787) 859-7288

PO Box 82, P.R. 00783-0000

MANÁ

K-6

(787) 859-0001

HC 3 Box 13523, P.R. 00783-0000

PALMARITO CENTRO

K-6

(787) 859-4466

HC 3 Box 13523, P.R. 00783-0000

RAFAEL MARTÍNEZ NADAL

K-3

(787) 859-2720

PO Box 709, P.R. 00783-0000

Intermediate

MANUEL BOU GALI

7-9

(787) 859-4656

PO Box 1179, P.R. 00783-0000

Secondary

DR. JOSÉ PADÍN

K-9

(787) 859-0304

PO Box 1700, P.R. 00783-1700

SU DEMETRIO RIVERA

K-9

(787) 859-4111

PO Box 80124, P.R. 00783-0000

SU JULIÁN MARRERO

K-9

(787) 859-3027

PO Box 1041, P.R. 00783-0000

SU NICOLÁS RODRÍGUEZ

K-9

(787) 859-3250

PO Box 1808, P.R. 00783-0000

High School

EMILIO R. DELGADO

10-12

(787) 859-2037

PO Box 1807, P.R. 00783-0000

PORFIRIO CRUZ GARCÍA

10-12

(787) 859-0288

PO Box 521, P.R. 00783-0000
Hymn:
By Aníbal Gándara Campo
Salve perla de sabana
salve, salve, salve
perla incomparable.
Salve, salve todos tus hijos
fieles vasallos hoy rendidos
te aclaman y en este himno.
Todo su amor te consagran.
Todo su amor te consagran.
Cual soberana perla te destacas
en un valle ameno de altivas palmeras,
ellas te ofrecen jugosos alimentos
y… te abanican gentil princesa.
Ríos y dos mares
perlas te desgranan
para enriquecerte.
Oh mi patria amada
más hay una perla
digna de tu gloria es Corozal
la perla más preciada.
Si el héroe mártir
y el saber de un hombre
la fama de un pueblo
crea y eterniza
su existencia toda
sin fin te proclaman
tus estudiosos y gallardos hijos.