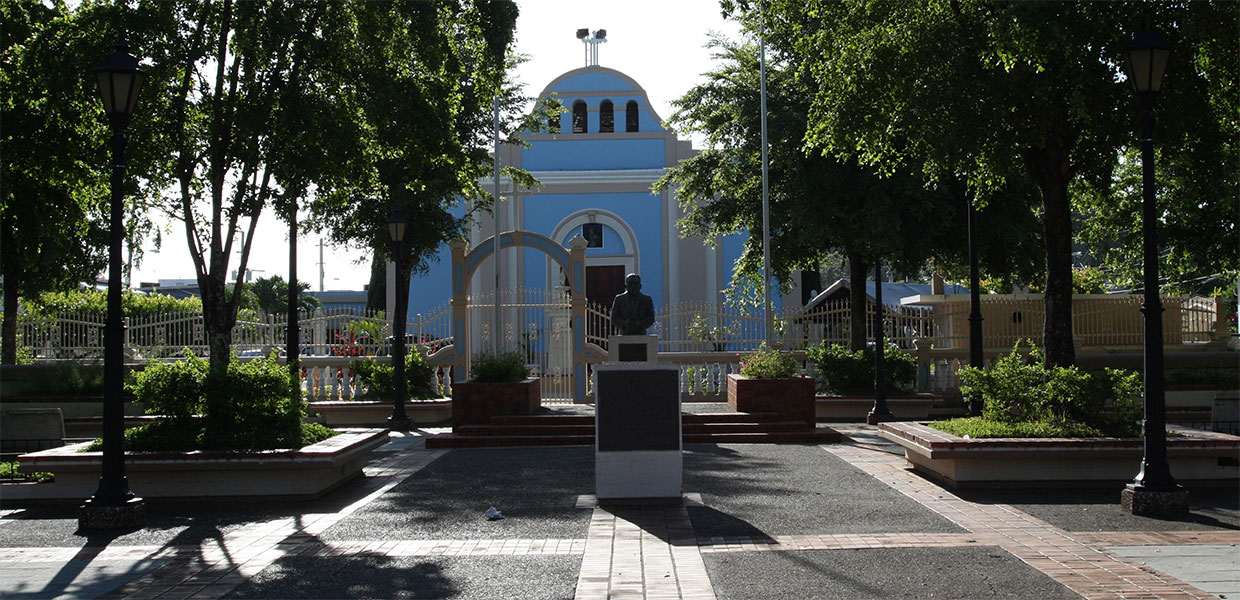 Vega Alta, Puerto Rico
Town of Squaters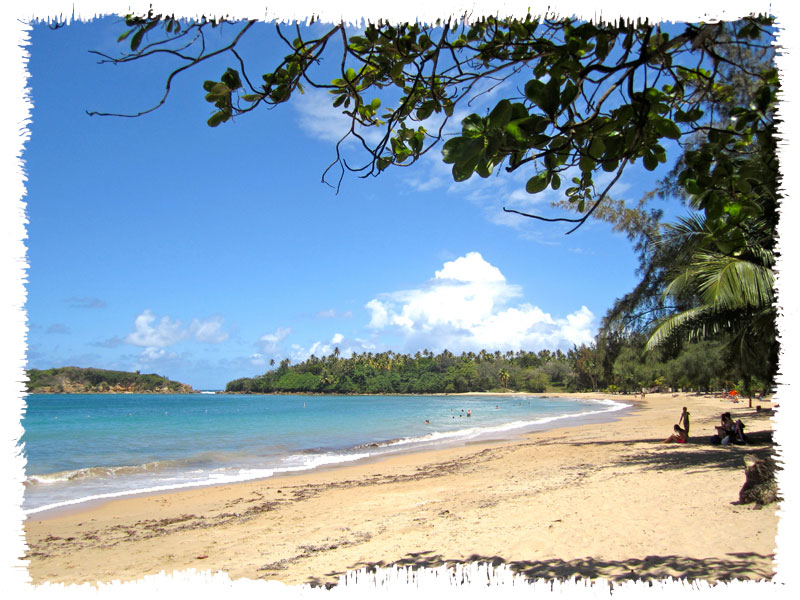 Vega Alta (VAI-gah AHL-tah) is known as the "Squatters Town" and its residents are called the "Pottery Makers." According to popular history, the "Squatters Town" nickname comes from the habit of sugar cane workers to resting in a squatting position while waiting for the train that carried the cane, because the station did not have any seats.
Vega Alta is located on the north coast of Puerto Rico. It is bordered on the north by the Atlantic Ocean, on the south by Morovis and Corozal, on the east by Dorado and Toa Alta and on the west by Vega Baja.
The patron saint festival is held around December 8 in honor of the Immaculate Conception of Mary.
Foundation:
The town of Vega Alta was established as the Territory of Vega (Partido de Vega), in the native territory of Cibuco, in the era of the colonization by the Indian Chief Guacabó. Our historian, Don Pedro Tomás de Córdova, tells us that the town of Vega Alta was founded in 1775, several years before our neighboring town, known then as Naranjal, kown today as Vega Baja. In 1768, Vega Alta was the part of population known as Las Vegas (Fertile Valleys), that included the western and eastern territories of the Cibuco River. Once the population was established, it was named "Vega".
The word "vega, at the moment of little use in urban Puerto Rico, describes a low, level and fertile land, as were the shores of the Cibuco river during the process of colonization of the Island. This river was one of richest in gold. Small nuggets dragged by the current were deposited in the depressions of its channel. In order to wash the sand and to gather the metal the conquerors populated the margins of the river and used numerous entrusted Taínos. The right side of the river was called Vega Alta; the left side, Vega Baja.
After the settlers of Vega Baja asked the government authorization to populate, Vega Alta followed. Although permission to do so was granted first to Vega Baja, Vega Alta managed to found their town before Vega Baja in 1775. Historian Pedro Tomás de Córdova in "Geographic, historical, economic and statistical memories of the Island of Puerto Rico" says that in 1831 this municipality counted with five wards in addition to the head of district: Candelaria, Cienagueta, Espinosa, Mariana and Monicado. Twenty years later three other were added: Bajura, Mavilla and Sabana, although Mariana had disappeared, and Monicado's name was changed to Maricao.
On March 1, 1902, the Legislative Assembly of Puerto Rico, passed the "Law for the Consolidation of Certain Municipal Terms", by which the municipality Vega Alta was eliminated and all its municipal wards and authorities were added to Vega Baja. This situation changed in 1905, when a new law of the Legislature reinstated the municipality to its 1902 configuration.
Location:

Located in the northern coast it borders; north with the Atlantic Ocean, south with Morovis and Corozal, east with Dorado and Toa Alta, and with west with Vega Baja.
Area:
72.8 sq km / 28.0 sq mi
Population:
37,910 (censo 2000)
Population Density:
520.7 per sq km / 1,353.9 per sq mi
People are known as:
Vegalteños
Vega Alta is also known as:
Pueblo de los Ñangotaos (Town of Squaters)
Los Maceteros
Wards: Vega Alta, Puerto Rico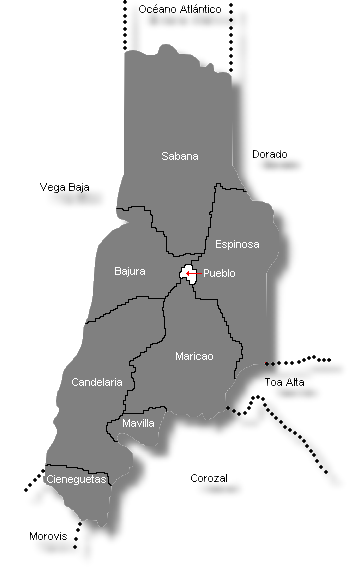 Census 2000:
Population by Wards – Vega Alta
Habitants

Bajura

4,394

Candelaria

1,687

Cienegueta

440

Espinosa

12,613

Maricao

4,812

Mavilla

422

Sabana

12,300

Vega Alta Town

1,242

Total
37,910
Source: Censo 2000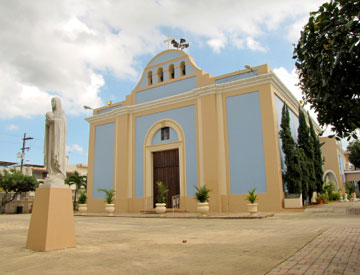 Patron:
Inmaculada Concepción
Inmaculada Concepción Parish
P.O. Box 775
Vega Alta, P.R. 00692-0775
(787) 883-4875
Founded: 1805
Topography:
Predominantly level, due to its location in Northern Coastal Valley. It also belongs to the karst zone thus displaying numerous wooded hills, caves and drains. Its higher elevations are found in the south, in the Ciénagueta ward, that corresponds to the region of the Hills of the North, where the elevations may reach 500 meters.
Hydrography:
It is watered by the Cibuco, Mavilla and Unibón rivers. In the Sabana ward we can find the Prieta Bog.
Economy:
Agriculture; sugar cane, grains, fruits, bananas, ornamental plants, flowers, dairy and meat cattle, pigs and poultry. It also counts with the maufacture of electrical and electronic machinery, furniture, food, chemicals and plastics.
Average Salary:
$297.13 weekly (1998)
Flag:

Vega Alta's flag is inspired by the design, symbolism and colors of the municipal Coat of Arms with the exception of the silver-plated color, where the color white replaces the silver. It is divided vertically in seven (7) stripes in the order, colors and proportions as described: the first (the immediate one to the mast) white (5 modules); second: green (5 modules); third: white (9 modules); sixth: green, (5 modules); and seventh: white (5 modules).
It is necessary to indicate that the colors also have a very special meaning, the blue, in honor to the Matron Saint Inmaculada Concepción de María. The green, on the other hand, in honor to the unforgettable don Francisco de los Olivos, represented specifically by the olive tree leaves that appeared in the Coat of Arms. The white refers to the purity of Matron Saint.
Coat Of Arms: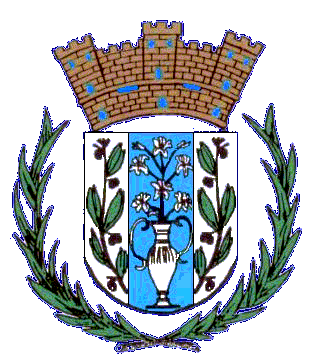 Vega Alta's Coat of Arms was designed by Attorney Roberto Biascochea Lota, of the Office of Cultural Subjects of San Juan, Puerto Rico. It consists of three bars, the center one formed by a silver amphora from which a branch of lilies excels; it symbolizes the Inmaculada Concepción de María.
The blue and silver colors are typical of the image of the Matron. In the lateral stripes there are two olive tree branches, symbol of the founder of the town; don Francisco de los Olivos. The crown, indicates category of town, because it has three towers. In the shield we see two sugar cane stems, because this was product cultivated in that region; besides adding beauty to the shield, it recalls that the sugar cane was source and base of the economy of Vega Alta.
Events: 
Three Kings Festival – January
Singing of the Rosaries – February
Vega Alta Carnival – February
Kite Festival – April
Virgen del Carmen Parade – July
Rooster Festival – October
Patron Saint Festival – December
Places To Visit: 
Golondrinas cave
Inmaculada Concepción de María Church
Gilberto Concepción de Gracia Plaza
Vega Alta Forest
Cerro Gordo public beach
Distinguished Citizens: 
Gilberto Concepción de Gracia

– Lawyer, politician and founder of the Puerto Rican Independence Party.

Ladislao "El Maestro Ladí" Martínez Otero

– Musician and composer.

Rita Maldonado de Bear

– Professor of Economics and Finance in the United States.

Juez Gilberto Ramírez

– Family Court judge in the Supreme Court of New York.

Bernie Williams

– Professional baseball player and musician.
Public Schools sorted by educational levels.
Vega Alta District
| | | | |
| --- | --- | --- | --- |
| Name | Level | Telephone | Address |
| ANTONIO PAOLI | Elementary | (787) 883-4945 | PO Box 1749 |
| ELEMENTAL URBANA | Elementary | (787) 883-2770 | PO Box 2197 |
| ELISA DÁVILA VÁZQUEZ | Elementary | (787) 883-1165 | PO Box 1477 |
| IGNACIO MIRANDA | Elementary | (787) 883-2775 | PO Box 1447 |
| JOSÉ D. ROSADO | Elementary | (787) 883-0344 | PO Box 1477 |
| JOSÉ M. PAGÁN | Elementary | (787) 883-0689 | PO Box 1027 |
| RAFAEL HERNÁNDEZ | Elementary | (787) 883-1025 | PO Box 355 |
| APOLO SAN ANTONIO | Intermediate | (787) 883-3130 | Carr. # 676 |
| BO. BREÑAS | Second Unit | (787) 883-4535 | PO Box 1507 |
| ADELAIDA VEGA | Second Unit | (787) 883-5005 | PO Box 1508 |
| ILEANA DE GRACIA | High School | (787) 270-3355 | PO Box 1958 |
| LADISLAO MARTÍNEZ | High School | (787) 883-5105 | PO Box 1778 |
Hymn:
By Domingo Figueroa Ramírez
En la costa norte de mi islita
hay un pueblo de la mano de Dios,
tierra hermosa Vega Alta de Espinosa
erigida con esfuerzo y con honor.
Simbolizan su escudo y su bandera,
nube y cielo Inmaculada Concepción,
caña esmeralda fuente de subsistencia,
ramos de olivos a nuestro fundador.
Tierra firme que ha sabido dar
pan de vida y de poder,
aprendimos a esperar con bondad,
la llegada de cada amanecer.
Chimenea de la Carmen, legendaria
Río Cibuco, Cerro Gordo y el verdor,
es un orgullo haber nacido en este lar
a Vega Alta por siempre yo amaré.