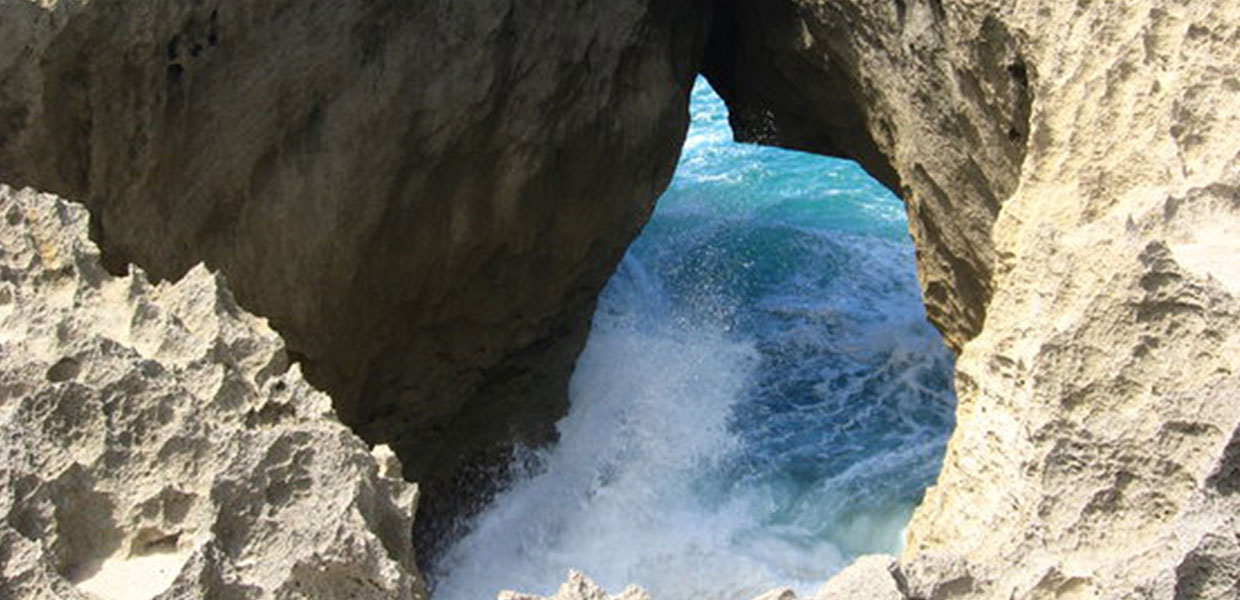 Dorado, Puerto Rico
Golden City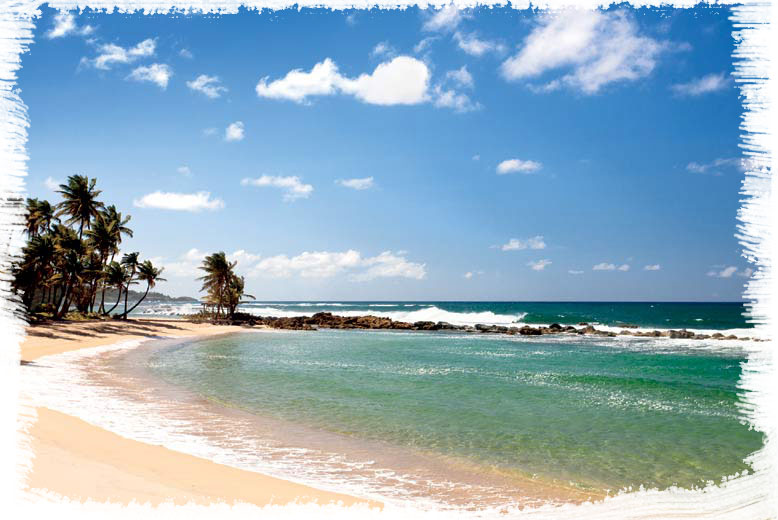 Dorado (do-RAH-do) is known as the "cleanest town in Puerto Rico" and the "golden city". The patron saint is Saint Anthony of Padua.
The town of Dorado is located on the north coast of Puerto Rico. It is bordered on the north by the Atlantic Ocean, on the south by Toa Alta, on the east by Toa Baja, and on the west by Vega Alta.
The hydrographic system of the town is comprised of the La Plata River (formerly called the Toa) and its tributaries, the Cocal, Nuevo and Lajas rivers. There are red, black, and white mangroves at the mouths of these rivers. The Mata Redonda lagoon and Punta Fraile marsh are located in Higuillar ward, very close to the coast.
Dorado's economy is currently based on tourism and manufacturing. The town is famous for its lavish hotels, while pharmaceuticals and electric and electronic equipment are the main industrial products. There is still some agricultural activity including some produce farming as well as traditional cattle raising for meat and dairy products. Construction is also an important source of employment.
Foundation:
In 1831 Dorado was a ward of the municipality of Toa Baja. During several years, the ward grew forming its own population center. This center was called Pueblo Nuevo (New Town) to distinguish it from the old town, Toa Baja. Years later, the residents of the wards of Dorado, Iguillar, Mameya and other sectors belonging to Toa Baja made a request to the governor to establish Dorado as a independent municipality with the condition that the cost of construction of municipal projects be prorated.
In 1842, governor Santiago Méndez Vigo authorized the foundation of the town with the condition that the proposed projects and the territory be defined with the following wards: Dorado Pueblo, Iguillar, Maguayo, Mameya and Río Lajas.
In 1848, the construction of the church was finished. In 1878, the Mameya ward disappeared and Iguillar underwent a name change, known by the name of Jiguillar. Years later, the Mameya ward reappears with the name of Mameyal and Jiguillar changed to Higuillar.
Though the origin of the name of Dorado is not clearly known, several legends exist. The most accepted are: that the town was named in honor of a family from the town and the other is that it was named for its golden beaches.
During its early decades the economy of the recently founded town depended on sugar cane cultivation, cattle and the production of fruit. Roof tiles and bricks were manufactured and there were also several sugar cane refineries. Fishing was also a mean of subsistence.
During 1898, when Puerto Rico changed sovereignty under the Paris Peace Treaty, and under the Law for Consolidation of Certain Municipal Terms (1902), Dorado became again part of the municipality of Toa Baja. Later, a legislative law made it possible for Dorado to recover its independent municipality with its original wards and borders.
Location:

It is bordered by: the Atlantic Ocean on the north, Toa Alta on the south, Vega Alta on the west, and Toa Baja on the east.
Area:
59.8 sq km / 23.0 sq mi
Population:
34,017 (census 2000)
Population Density:
568.8 per sq km / 1,479.0 per sq mi
People are known as:
Doradeños
Dorado is also known as:
Ciudad Dorada (Golden City)
La Más Limpia de Puerto Rico (The Cleanest Of Puerto Rico)
Wards: Dorado, Puerto Rico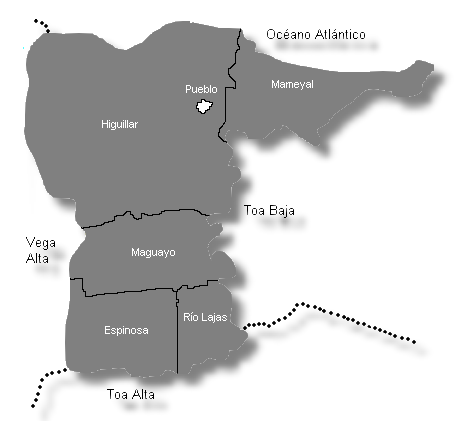 Census 2000:
Population by Wards – Dorado
Habitants
Dorado Town
994
Espinosa
3,222
Higuillar
22,481
Maguayo
4,711
Mameyal
36
Río Lajas
2,573
Total
34,017
Source: Censo 2000
Patron:
San Antonio de Padua
Cll Pedro Lopez Canino
Dorado, 00646, Puerto Rico
Tel. 787-278-1416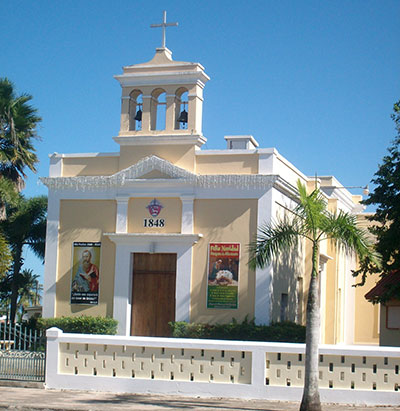 Topography:
Belonging to the region of the Northern Coastal Valleys, most of its terrain is level and less than 328 feet above sea level. The wooded hills of the region are the main characteristic of the Dorado landscape. There are elevations in the south that reach 656 feet and in the north where the hills only reach 262 feet of altitude.
Hydrography:
La Plata River and its affluents: the Cocal, Nuevo and Lajas rivers. It also has near the coast, in the Higuillar ward, the Mata Redonda lagoon and the Punta Fraile marsh.
Economy:
Commerce, tourism, manufacture (clothing & medical equipment).
Average Salary:
$388.49 weekly (1998)
Flag: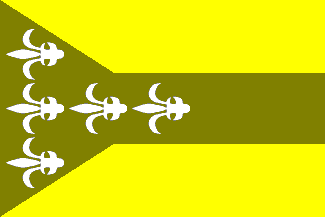 The flag is composed of three stripes of equal width: the upper and lower stripes are golden, and the center one is brown. A brown, equal-sided triangle is placed with its base at the hoist. The golden stripes symbolize the town's name, Dorado or "golden". The brown stripe stands for Dorado's Patron Saint, Saint Anthony of Padua.
Coat Of Arms: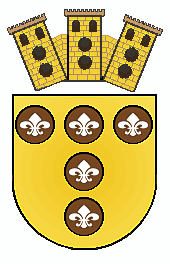 Dorado's Coat Of Arms was officially adopted March 27, 1978, and its colors are gold, silver and brown. The crown is gold with brown windows. The three towers mean that Dorado is a town, a properly constituted municipality. Underneath the crown, we can observe five disks that form a "T", which is called Tau.
This "T" represents San Antonio de Padua, which is associated with the iris or lily flowers. The disks are brown and the lily flowers are silver, they represent the majestic La Plata River, which borders the town of Dorado to the east. The gold background of the Coat Of Arms denominates in a heraldic way the Talking Souls of the town. For example, in this case, the gold represents the name of the town; it is relative to the Patron San Antonio de Padua, whose veil is brown.
Events:
Three Kings' Day Festival – January
Del Plata Carnival – February
Minin Kuilan Gold Cup – April
Patron Saint's Festival – June
Cocolía Crab Festival– August
Town and Country Festival – September
Discovery of Puerto Rico-Puerto Rican Culture Festival – November
Christmas Festival – December
Places To Visit:
Ojo del Buey Recreational Area – located at the mouth of the La Plata River
Bazar del Parque square
Dorado del Mar golf course
Hyatt Dorado east course
Hyatt Dorado west course
Art and History Museum
Marcos Juan Alegría Residence and Museum – the former residence of the painter Marcos Juan Alegría, it includes an art school and an exhibition of the painter's works.
Casa del Rey (Spanish Government House) Museum and Cultural Center
Parish of Saint Anthony of Padua
Aviation park
Artisans square
Illustrious Citizens of Dorado square
Dorado town square
Del Plata Exhibition Hall
Sanctuary of Christ the Reconciler
Juan Boria Theater
Distinguished Citizens:
José S. Alegría

– attorney, political figure, and writer. Member of the House of Representatives from 1937 to 1940 for District Number 1.

Juan Boria

– reciter of Afro-Puerto Rican poetry

Marcelino Juan Canino-Salgado

– Professor at the Department of Hispanic Studies at the Río Piedras Campus of the University of Puerto Rico. Dr. Canino-Salgado has been visiting professor at other universities, including Yale University. His many publications include El cantar folclórico de Puerto Rico (1974).

Esteban A. de Coenaga

– dentist

Juan Meléndez-Báez

– political figure, one of the founders of the Popular Democratic Party. He was a member of the Constitutional Assembly, 1951 – 1952, and representative to the House, between 1949 and 1968.
Public Schools sorted by educational levels.
Bayamón Region
Dorado District
Name
Level
Telephone
Address
Elementary
ELEMENTAL ALFONSO LÓPEZ GARCÍA
K-6
(787) 796-3223
PO Box 938, P.R. 00646-0000
ESPINOSA KUILAN
K-6
(787) 270-0594
PO Box 728, P.R. 00646-0728
ESPINOSA PARCELAS
K-6
(787) 883-3414
PO Box 728, P.R. 00646-0000
JOSÉ DE DIEGO
K-6
(787) 796-1232
BO. PUERTOS CARR. 695 KM. 1 HM. 16, P.R. 00646-0000
LUIS MUÑOZ RIVERA
K-6
(787) 796-6246
PO Box 548, P.R. 00646-0548
LUISA M. VALDERRAMA (SAN ANTONIO)
K-6
(787) 796-4410
PO Box 728, P.R. 00646
RÍO LAJAS
K-6
(787) 870-3416
PO Box 628, P.R. 00646-0000
JACINTO LÓPEZ MARTÍNEZ (TOA BAJA)
PK-6
(787) 796-1255
PO Box 2474, P.R. 00951-2474
Intermediate
MARCELINO CANINO CANINO
7-9
(787) 796-2761
PO Box 728, P.R. 00646-0000
PRE-VOCACIONAL SANTA ROSA
EE
(787) 796-4055
PO Box 728, P.R. 00646-0000
RICARDO ARROYO LARACUENTE
7-9
(787) 796-1222
PO Box 589, P.R. 00646-0000
Secondary
SU PEDRO LÓPEZ CANINO
K-9
(787) 883-4005
PO Box 728, P.R. 00646-
High School
JOSÉ SANTOS ALEGRÍA
10-12
(787) 796-1520
PO Box 728, P.R. 00646-0000
Hymn:
By Juan Alegría Rivera
Por fin, en las riberas
del Dorado querido,
las corrientes del Plata,
que corren sin cesar,
traen a sus orillas
sus perlas y corales,
que emergen adornando
desde el fondo de la mar.
Que emergen adornando
desde el fondo de la mar.
Son lindas sus montañas,
que alegran el paseo,
aspirando las brisas
que vienen desde el mar,
y en las noches de calma,
reciben las caricias,
de las pampas alegres
en que duerme el terrenal.
De las pampas alegres
en que duerme el terrenal.
Los días de mi vida
que ufano consagré
al culto del estudio
con incesante afán.
Hoy, son óptimos frutos
que en generoso empeño,
al pueblo doradeño
aquí vengo a brindar.
Al pueblo doradeño
aquí vengo a brindar.