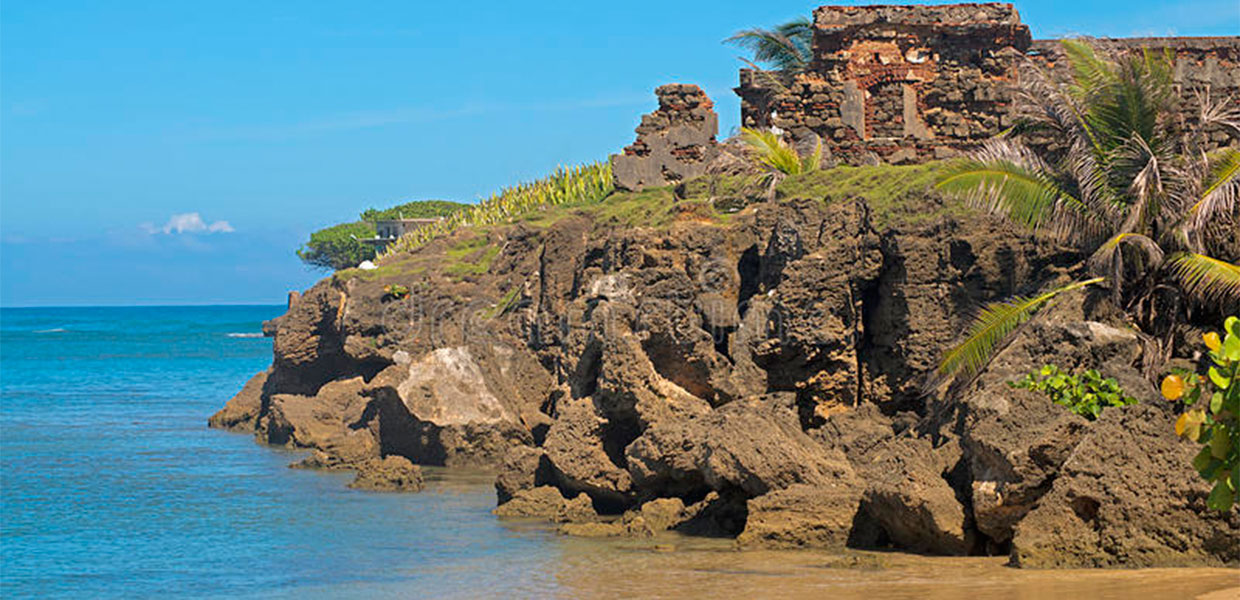 Toa Baja, Puerto Rico
Valleys of the Toa City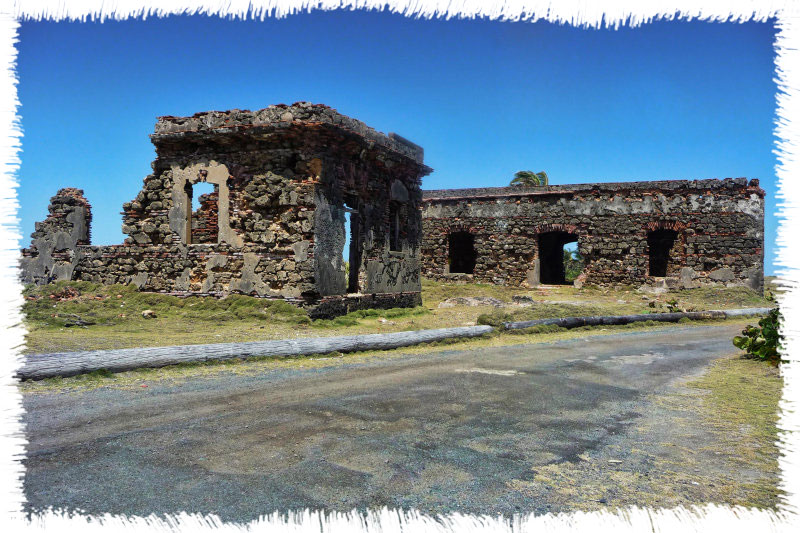 Toa Baja (TO-ah BAH-hah) is known as the "City of the Toa Valleys", the "Underwater City" and the "People of the Plains". The patron saint is San Pedro Apóstol.
Toa Baja is bordered on the north by the Atlantic ocean, on the west by the municipality of Dorado, on the south by Toa Alta and on the east by the municipalities of Cataño and Bayamón.
Geographically, it is part of the region called the northern coastal plain. Its land is very fertile. The municipality's hydrological system consists of La Plata (Toa) River, the longest river on the island, and the Cocal canal and various streams.
During the late 20th century, the dominant industries in the municipality were manufacturing of metal, plastic, concrete, textiles, electronic products and liquor. Fruit is also grown and dairy cattle are raised here. According to the Department of Agriculture (2002), Toa Baja had only three farms, which represents a decrease of 86 percent from the 22 that existed in 1998.
Foundation:
The foundation of Toa Baja took place, according to historians, in 1747, and according to others, shortly after. Twenty years later, still it was classified as a small village, under the name of Shore of Toa Baja. In the shores of the Toa, today De La Plata river, Juan Ponce de Leon established the King's Farm in a place called Santa Elena, where Chief Aramaná had his yucayeque, and whose indians were used for manual labor. It has been indicated that the first experimental agricultural station of the island was established here, since it was here where the first vegetables from Europe were introduced and the locally cultivated vegetables were improved.
The term "toa" means mother, and this word is the native name of the De La Plata river, born in the mountains of the region of Cayey and ends in the Atlantic.
During the XVI century this region attracted numerous settlers because of the wealth of its alluvium territories and the production of the so called fishing "corrals" located in the river, of pre-Columbian origin. Its first settlers were families from Canary Islands, by the names of Marrero, Salgado and Martinez.
In 1749 a new church dedicated to Our Lady of the Conception and the saints Pedro, Pablo and Matías. It was built on a hill in front of the town. Shortly after it was transferred behind its original location in a higher location facing the river and its back towards Toa Baja.
In 1902 the Legislative Assembly of Puerto Rico< approved the Law for the Consolidation of Certain Municipal Terms by which the municipality of Toa Baja was eliminated, and its wards and civil employees incorporated to the municipality of Bayamón. The Assembly countermanded this law in 1905 and its character of independent municipality with the wards that integrated it in 1902 were given back to Toa Baja.
Location:

Located in the northern coast, it borders with Dorado and the Atlantic Ocean to the north, south with Toa Alta, west with Dorado and Cataño and east with Bayamón.
Area:
62.4 sq km / 24.0 sq mi
Population:
94,085 (census 2000)
Population Density:
1,507.7 per sq km / 3,920.2 per sq mi
People are known as:
Toabajeños
Toa Baja is also known as:
Ciudad de los Valles del Toa (Valleys of the Toa City)
Ciudad Bajo Aguas (Under Water City)
Los Llaneros (The Valley People)
Wards: Toa Baja, Puerto Rico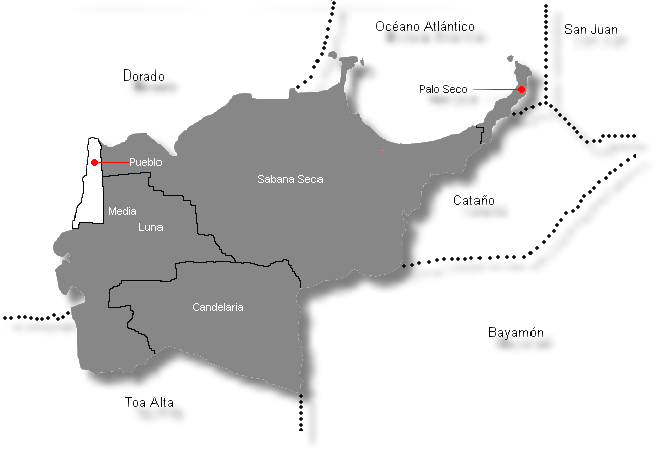 Census 2000:
Population by Wards – Toa Baja
Habitantes
Candelaria
25,223
Media Luna
12,712
Palo Seco
325
Sabana Seca
55,103
Toa Baja Town
722
Total
94,085
Source: Censo 2000
Patron:
San Pedro Apóstol
San Pedro Apóstol Parish
Calle Las Flores 47
Toa Baja, P.R. 00949
Teléfono: 787-794-1327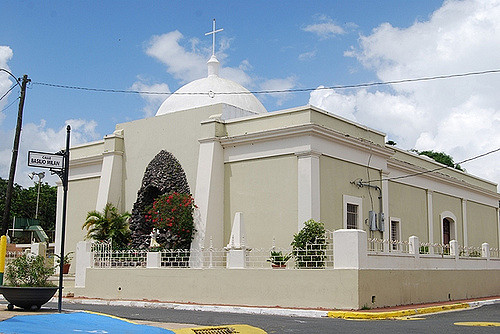 Topography:
It is located in the Northern Coastal Plains and in the karst zone. Its topography is made up mainly by wooded hills, typical of the karsts.
Hydrography:
Its bathed by the Plata, Cocal and Hondo rivers and the San Pedro bog in the Sabana Seca ward.
Economy:
Manufacturing (metal, plastic, concrete, textile, electrical and electronic machinery and rum) and agriculture (sugar cane, fruits and dairy cattle).
Flag:
The flag of Toa Alta was designed in 1980. Its colors are green and gold, with keys in gold and silver. The green stripe, represents the plains of the Toa; and the color gold, represents the sun that bathes our plains. The crossed keys, symbolize San Pedro Apostle, patron of the town of Toa Baja. They appear in similar form in the greater altar of the Parochial Church of Toa Baja, San Pedro Apostle.
Coat Of Arms: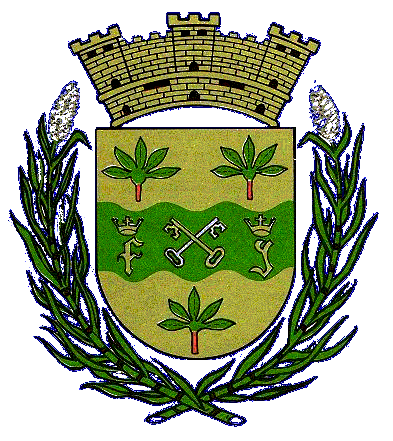 The waving stripe represents the Toa River, one of the first mentioned in the history of Puerto Rico, and in whose shores Juan Ponce de Leon tried to settle the first population of Puerto Rico.
The definition of the symbols:
The keys, crossed in vane, symbolize San Pedro Apostle, patron of the town. In similar form they appear in the altar of the Parochial Church San Pedro Apostle, of Toa Baja.
The F and the J, represent Don Fernando II of Aragón and V of Castile, and his daughter, Doña Juana, sovereign of Castile and Leon.
The handfuls of yucca refer to one of the main crop of this area, and constitute a symbol of the Indians who cultivated it, and whose main food was casabe or bread of yucca.
The crown is the traditional municipal standard whereupon is stamped to the shields of towns, villas and cities.
The sugar cane stems refer to the cultutivation and industry, that represented the main source of wealth of Toa Baja; the wealth is represented by gold of the field of the shield.
Events:
Artisans Festival – March
Patron Saint Festival – June
Beach Festival – July
Musical Bands Festival – August
Christmas Festival – December
Places To Visit: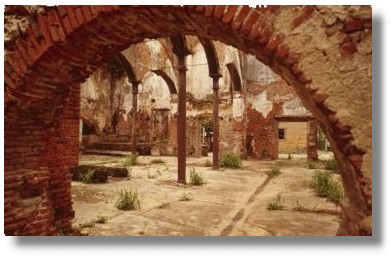 El Cañuelo Fort
Hermana Island
Bacardí Rum tourism complex
Central Constancia sugar mill
Nuestra Señora del Carmen Catholic Church
San Pedro Apóstol Catholic Church
Santa Elena Estate
Palo Seco thermoelectric plant
Candelaria Chapel
The Little Train
Distinguished Citizens:
Virgilio Dávila

– Puerto Rican poet.

Ernesto Juan Fonfrías

– Lawyer, novelist, poet and essayist.

Manuel Padilla Dávila

– Farmer and poet.

Teresina Delgado

– Poet, orator and musical composer.

Luis M. Santiago

– Teacher and author of the hymn of Toa Baja.

Pablo Pantoja Robles

– Veteran of the United States armed forces and member of the municipal assembly. The Levittown Multi-Use Center was named for him posthumously.

Dra. Carmen A. Pantoja

– First woman astronomer in Puerto Rico; associate professor of physics and astronomy at the University of Puerto Rico. She won the Nielsen Prize for her doctoral thesis. She worked in the Astrophysics Center (Harvard) and was science editor of the Astronomy Society's Telescopium and of Universe.
Toa Baja Public Schools.
Toa Baja District
| | | | |
| --- | --- | --- | --- |
| Name | Level | Telephone | Address |
| ALTINENCIA VALLE | Elementary | (787) 794-1460 | PO Box 731 |
| AMALIA LÓPEZ DE VILA | Elementary | (787) 784-2035 | PO Box 50449 |
| ANTONIA SÁEZ IRIZARRY | Elementary | (787) 780-5975 | PO Box 2400 Suite 361 |
| CARMEN BARROSO MORALES | Elementary | (787) 795-8885 | PO Box 52032 |
| DELIA DÁVILA DE CABÁN | Elementary | (787) 261-1340 | 5ta Calle Lago Las Curias |
| DR. EFRAÍN SÁNCHEZ HIDALGO | Elementary | (787) 784-5570 | PO Box 2477 |
| ERNESTINA BRACERO | Elementary | (787) 784-5540 | PO Box 233 |
| ERNESTO JUAN FONFRÍAS | Elementary | (787) 780-1750 | Carr. # 2, km 17.7 |
| JOHN F. KENNEDY | Elementary | (787) 784-0370 | PO Box 2477 |
| JOSÉ NEVAREZ LÓPEZ | Elementary | (787) 870-5246 | PO Box 2345 |
| JOSÉ ROBLES OTERO | Elementary | (787) 794-3470 | PO Box 2477 |
| LORENCITA RAMÍREZ DE ARELLÁN | Elementary | (787) 784-4925 | PO Box 52015 |
| LUIS M. SANTIAGO | Elementary | (787) 794-1445 | PO Box 2322 |
| MARÍA J. CORREDOR RIVERA | Elementary | (787) 740-2225 | PO Box 2477 |
| BASILIO MILÁN HERNÁNDEZ | Intermediate | (787) 795-6570 | PO Box 51515 |
| JOSÉ NEVAREZ LANDRÓN | Intermediate | (787) 794-1465 | PO Box 1321 |
| MARÍA LIBERTAD GÓMEZ | Intermediate | (787) 784-0125 | PO Box 2477 |
| MARTÍN GARCÍA GIUSTI | Intermediate | (787) 251-2231 | PO Box 2477 |
| FRANCISCA DÁVILA SEMPRIT | Second Unit | (787) 784-3455 | PO Box 2477 |
| ADOLFINA IRIZARRY | High School | (787) 794-2018 | PO Box 2477 |
| DR. PEDRO ALBIZU CAMPOS | High School | (787) 784-4605 | PO Box 51901 |
| MARÍA TERESA PIÑEIRO | High School | (787) 784-4140 | PO Box 495 |
Hymn:
By Luis M. Santiago
Espléndido Toa Baja, jardín de mis amores,
tú luces por doquiera, tu hermosura sin par.
Son bellas y fragantes tus matizadas flores,
que vierten en el aire su esencia virginal.
Un sol esplendoroso alumbra tu llanura,
risueña, portentosa por su fecundidad;
pues luce eternamente su manto de verdura,
primicias venturosas del clima tropical.
Hermosa tus noches, perenne primavera,
y de tu luna hermosa el pálido rielar,
el Plata caudaloso, que besa tu ribera,
parece una serpiente de plata o de cristal.
Si en los dorados días de mi niñez dichosa,
para colgar mi cuna, me brindaste un hogar,
yo quiero que me guardes, para cavar mi fosa,
un sitio en tus llanuras, bajo el sol tropical
que van siempre unidos.