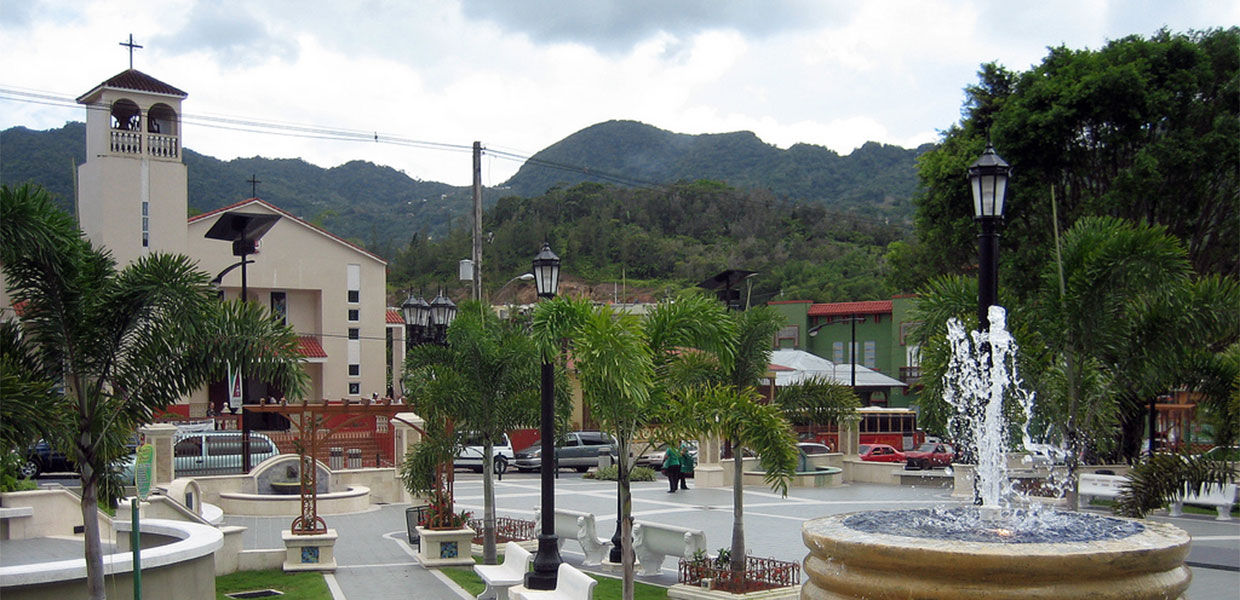 Adjuntas, Puerto Rico
City of the Sleeping Giant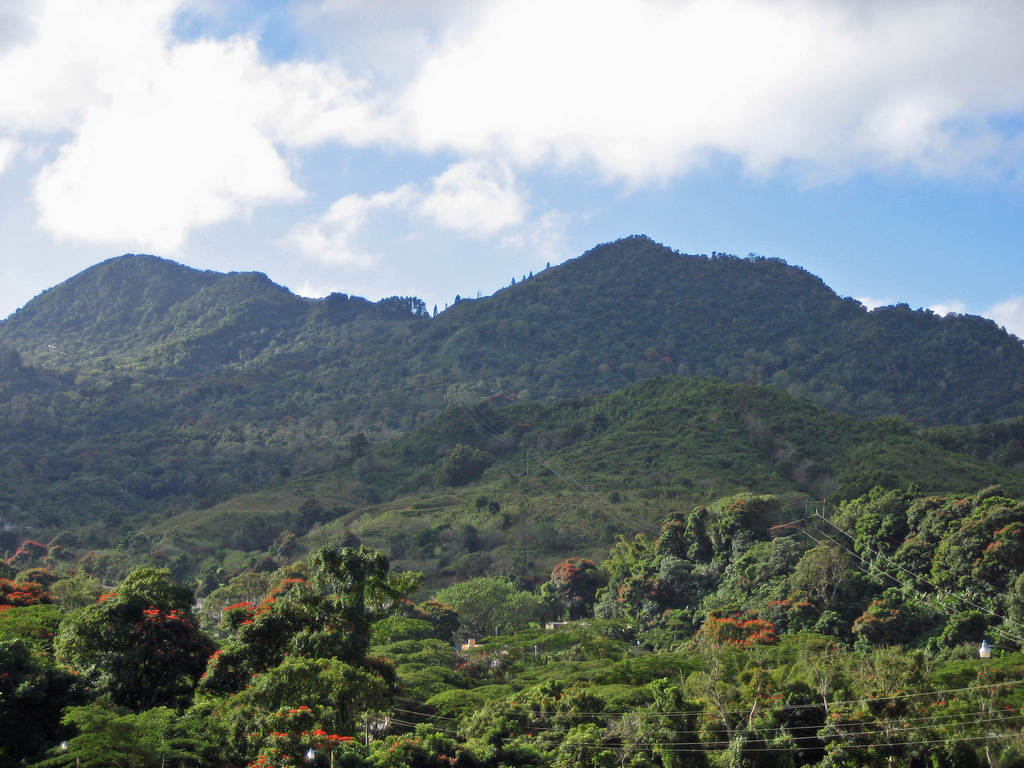 Adjuntas (ahd-HOON-tahs) is known as the "City of the Sleeping Giant", the "Land of Lakes", and the "Switzerland of the Americas". The Cidra Festival takes place in Adjuntas each year in March. The patron saint festival is held around August 21, which is San Joaquín and Santa Ana Day.
Adjuntas is part of the western region of the central mountain range, which gives it its mountainous topography. It is bordered on the north by Lares and Utuado; on the south by Yauco, Guayanilla and Peñuelas; on the east by Utuado and Ponce; and on the west by Lares and Yauco.
Adjuntas also has a number of lakes and reservoirs, which inspired the nickname "Land of Lakes." Its most important reservoirs are Las Garzas and Lake Guayo. Among the other hydrological resources of the municipality are the Portugués, Grande de Arecibo and Grande de Añasco rivers. Its nickname, the "City of the Sleeping Giant," refers to the silhouette of a mountain that can be seen from the town.
To the west of Adjuntas, in the center of the coffee growing region, is the Guilarte forest is sectioned into six zones. The forest covers parts of the municipalities of Adjuntas, Peñuelas, Guayanilla and Yauco. Because of its location, it is classified as a high range forest. Its vegetation is quite varied, and among the species of native trees that grow there are the sierra palm, the caimitillo and the granadillo. Among the exotic plants growing there is the eucalyptus.
In the 1980s, a community based organization was created in Adjuntas that successfully stopped a mining project that threatened several towns in the central mountain range. Since then, the environmental and community activism of Casa Pueblo has continued and today it manages the Adjuntas Lands Puerto Rican Biosphere Reserve. The reserve has 36,000 cuerdas (14,149 hectares) of land, distributed across ten municipalities. The region's elevations range from 2,000 to 4,000 feet (607 to 1,219 meters) above sea level.
Since the late decades of the 19th century, growing coffee has been the main economic activity in the town. Indeed, the founding of the town was tied to this industry. The coffee produced in Adjuntas is well regarded in the local and international markets and today this municipality is one of the main producers of coffee on the island. However, other industries such as raising livestock, growing fruit, and manufacturing clothing and electronic equipment have developed.
The three municipalities of Utuado, Jayuya and Adjuntas make up the most important and richest zone on the island, in terms of mining, due to both the quantity and quality of the minerals found there. The most important are gold and molybdenum, which have been found in association with other minerals, and copper, in the form of chalcopyrite.
Foundation:
Adjuntas was founded August 11, 1815, by Don Diego Maldonado. The name Adjuntas (literally: adjunct, joined) is derived from "joined land" because it was part of the Villa of San Blás de Illescas territory, today known as Coamo.
Since the early years of the XIX century, a conglomerate of twenty families existed in this valley; a place known as "Calle de Canas". Don Diego Maldonado directed the first parish of this town.
In 1831, four wards comprised the territory of Adjuntas. Today it has fifteen wards. In 1914 the San Joaquin Parish was erected next to the Town Hall. A new parish was constructed in front of the present plaza in 1968.
Location:

Adjuntas is located in the western region of the Central Mountain Range (Cordillera Central). Bordering it are: Lares and Utuado to the north; Yauco, Guayanilla and Peñuelas to the south; Utuado and Ponce to the east; and Lares and Yauco to the west.
Area:
172 sq km / 66.5 sq mi
Population:
19,143 (census 2000)
Population Density:
111.2 per sq km / 287.8 per sq mi
People are known as:
Adjunteños
Adjuntas is also known as:
La Ciudad del Gigante Dormido
La Suiza de Puerto Rico
La Tierra de Lagos
Wards:

Adjuntas, Puerto Rico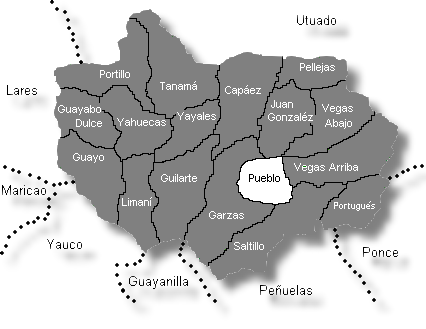 Censo 2000:
Population by Wards – Adjuntas
Habitants
Adjuntas Pueblo
4,980
Capáez
1,010
Garzas
973
Guayabo Dulce
101
Guayo
886
Juan González
736
Limaní
341
Pellejas
670
Portillo
552
Portugués
494
Saltillo
2,678
Tanamá
897
Vegas Abajo
518
Vegas Arriba
1,131
Yahuecas
1,434
Yayales
619
Total
19,143
Source: Censo:2000
Patron:
San Joaquín y Santa Ana
San Joaquín Parrish
Calle Rius Rivera # 14
Adjuntas, Puerto Rico 00601
Teléfono (787) 829-3145
Párroco – Rvdo. Pbro. Carlos G. Santiago Mercado, O.R.C.
Vicario – Rvdo. Pbro. Filiberto C. Hernández, O.R. C.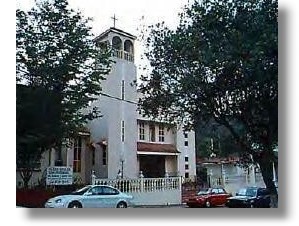 Topography:
Adjuntas has one of highest mountains of Puerto Rico; Cerro Guilarte which is the seventh in height in Puerto Rico with 3,953 feet. The territory is mostly mountainous.
Hydrography:
Adjuntas has the following rivers: Río Grande de Arecibo, Tanamá, Limaní, Vacas, Pellejas, Río Cidra and the Adjuntas, Pellejas, Garzas, Yahuecas & Guayo lakes.
Climate:
Adjuntas annual precipitation is 87 inches, and its average temperature is 72°F. Summers are warm (83°-85°F) in the daytime and mild at night time (60°-63°F). Meanwhile winters are moderately warm with cool temperatures at night, temperatures are between in the 50 °F (10 °C) and 60 °F (16 °C) range, but after cold fronts temperatures can drop down to 40 °F (4 °C).
Economy:
Agriculture (coffee, oranges, bananas & cattle), tourism & manufacturing.
Average Salary:
$215.96 weekly (1998)
Flag: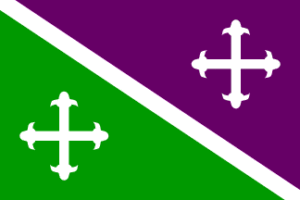 The flag derives its symbolism and part of its design from the Coat of Arms. A white band divides it diagonally into two irregular triangles: purple the superior one and green the inferior one.
Coat Of Arms: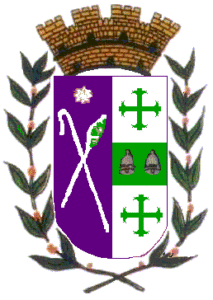 The bishop's crozier is an attribute of the Old Testament Patriarchs, and in Adjuntas' shield it represents the Patriarch Saint Joaquin, father of the Holy Virgin Mary and patron saint of the city. The spinning wheel refers to the house chores and symbolizes Santa Ana, mother of the Holy Virgin Mary and co-matron saint of the city.
The star stands for Our Lady, who was God's gift to the couple. The bells and crosses refer to the city name, Adjuntas, derived from the fact that both were adjunct or joined in its civil character to the Bishopric and Municipality of Coamo.
The crosses are taken from Coamo's Coat of Arms (which also presents bells, though as part of a belfry) and have their origin in the coat-of-arms of the village and the Illescas lineage, a name historically related to the ancient Villa of San Blás de Illescas. The coffee boughs refer to the fact that Adjuntas lies in the coffee zone of Puerto Rico. The crown, distinctive of four-towered shields, means that in Spanish times it obtained from the Crown (Spanish Royalty) the privileged title of "Village".
Places To Visit:
Casa Pueblo
La Arbela Estate
Luz de Luna Estate (Yahuecas)
Oliver Estate, Limaní
San Joaquín Church
The Written Rock
Mount Guilarte
Museum of Culture
Events:
Patron Saint Festival – August
El Gigante Marathon – July
Eduardo Vera Marathon – December
Troubadour Contest – December
Cidra Festival – August
Distinguished Citizens:
Angelita Bosch

– First woman pharmacist in Puerto Rico.

Rafael de Jesús Cordero

– Economist; Auditor of Puerto Rico; first Comptroller of Puerto Rico.

Arístides Moll Boscana

– Poet; began the literary modernist movement in Puerto Rico.

Josefina Moll Boscana

– Poet and writer. Sister of Arístides Moll Boscana.

Fernando E. Rodríguez Vargas

– Military officer, dental surgeon and scientist. Discovered the bacteria that causes dental cavities.
Public Schools sorted by educational levels.
Ponce Region
School District: Adjuntas
Name
Level
Telephone
Address
Elementary
ÁNGEL MALDONADO BULA
K-6
(787) 829-0834
PO Box 1029, P.R. 00601-0000
AQUILINO RIVERA OLAN
K-4
(787) 829-2682
PO Box 1029, P.R. 00601-0000
DOMINGO MASSOL
K-6
(787) 829-2494
PO Box 1029, P.R. 00601-0000
DOMINGO PIETRI RUÍZ
K-3
(787) 829-3510
PO Box 1029, P.R. 00601-1029
FRANCISCO PIETRI MARIANI
K-6
(787) 829-1953
PO Box 1029, P.R. 00601-0000
JOSÉ PILAR GONZÁLEZ
1-6
(787) 829-0836
PO Box 3012, P.R. 00601-9701
JUAN GARRASTEGUI
K-3
(787) 829-3036
PO Box 1021, P.R. 00601-0000
MANUEL F. SÁNCHEZ
K-6
(787) 829-1961
PO Box 1029, P.R. 00601-0000
TELESFORO VÉLEZ OLIVER
K-6
(787) 829-1907
PO Box 1029, P.R. 00601-0000
WASHINGTON IRVING
4-6
(787) 829-8810
PO Box 1029, P.R. 00601-0000
Intermediate
RAFAEL APARICIO JIMÉNEZ
7-9
(787) 829-3890
Rodulfo González final,
P.R. 00601-0000
Otros
JOSÉ B. BARCELÓ OLIVER
ADULTS
(787) 829-5379
PO Box 983, P.R. 00601-0000
Intermediate
SU HÉCTOR I. RIVERA
4-9
(787) 829-3030
PO Box 1029, P.R. 00601-0000
Secondary
JOSÉ EMILIO LUGO
10-12
(787) 829-0408
PO Box 1029, P.R. 00601-0000
Hymn:
By José A. Nieves Torres
Oh divina inspiración
Oh divina inspiración
Oh divina inspiración
con patrio orgullo
te dedico mi canción
eres mi cuna.
Adjuntas es mi amor.
Bendito seas sagrado suelo
bendito seas nido de amor,
en tus entrañas,
guardas anhelo, de extraño suelo.
Adjuntas eres mi amor.
En tus mujeres florece la dulzura
y la ternura de madre angelical;
Flores de otoño, jazmines y claveles;
de todo el año amor primaveral.
Tu fieles hijos, hombres vehementes.
Hombres valientes de corazón
Que tus entrañas brotó contigo.
Por darte orgullo y bella inspiración
bendito seas sagrado suelo
bendito seas nido de amor.
Rizadas joya de verde aliento,
y mil recuerdos…
Adjuntas eres mi amor.