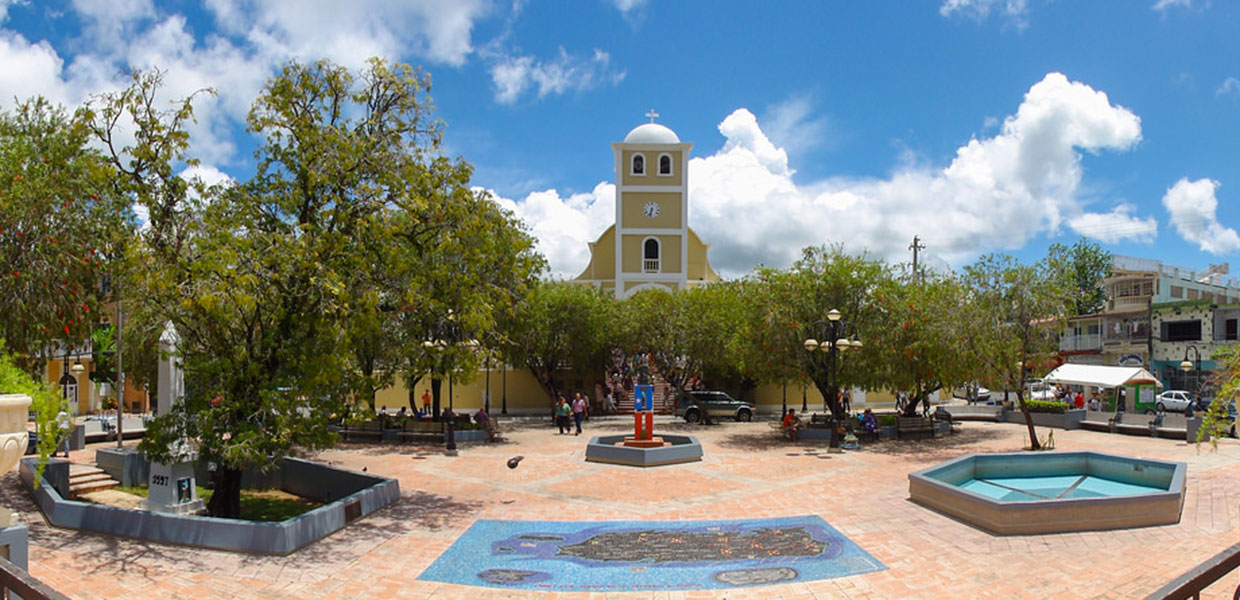 Lares, Puerto Rico
The City Of The Revolt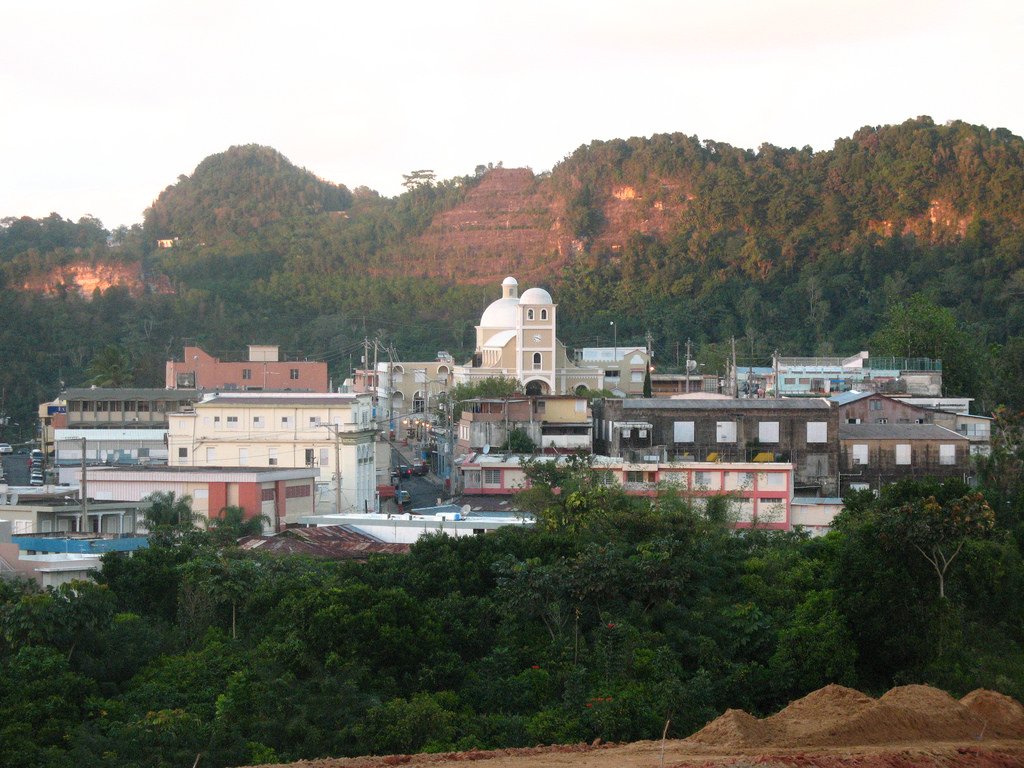 Lares (LAH-res) is known as the "the Town of The Grito", "Capital of the Mountains" and the "Altar of the Fatherland".
Lares is located in the west central region of the island. It is bordered to the north by the town of Camuy, on the south by Yauco and Maricao, on the west by San Sebastián and Las Marías and on the east by Hatillo, Adjuntas and Utuado.
Geographically, the municipality is part of the zone known as the central mountainous interior. Its highest elevations are found in the south, as the central mountain range extends through this area.
Lares is known for growing coffee. Today, other agricultural products are also grown, including oranges, bananas and (hydroponic) tomatoes, as well as fruits such as plantains, and root vegetables such as yautia and ñame. Its economy is also based on manufacturing of leather products, clothing and shoes. Raising livestock is a secondary activity.
The municipality also has manganese deposits which are inactive today because of intense exploitation in the past. According to historian Mario Villar Roces, important deposits of copper have also been found in the earth of Lares.
Foundation:
The name Lares is derived from the Basque names "laris" or "lariz" determined by the presence in the region of don Amador Lariz, a colonizer of the sixteeth century that owned a ranch in the area. On April 26, 1827, Governor La Torre approved a request to separate Lares from San Sebastián. The first mayor was Juan Francisco de Sotomayor, one of the founders of the independence movement. Although the town was founded in 1827, the parochial record books do not begin until 1838.
During 1868, the independence movement began that gave standing to the town of Lares. During those days, the Spainish revolution that culminated with the dethronement of Isabel II offered hope to the independence movement of Cuba and Puerto Rico. On 14 September of that year, the local board of Lares celebrated a "Te Deum" asking God for help in the insurrection that would take place days later.
On September 23, 1868, 185 farmers commanded by Manuel Rojas undertook the battle. The first rebel vanguard group that entered the town was rejected by the militia. But the rebels eventually prevailed and marched to the plaza. For a moment it seemed that the rebels could maintain their positions, but not for long. Shortly after, a group of Spanish veteran troops arrived from Moca forcing the rebels to retreat. The insurrection lasted only 10 hours and with a toll of four dead, four injured and six or seven prisoners. The greatest toll had been paid by Betances. It took him twelve years to prepare for the insurrection and in ten hours it was finished. The day after the revolt, Spanish Headquarters began a tenacious persecution of the rebels and their possible sympathizers that extended all the way to San Juan and through half of the island.
In 1898, North American Army occupied Lares, first occupied by General Henry's troops. Later General Henry ordered its troops to retreat to Utuado. A Spanish force was then sent from Arecibo to recapture Lares on September 21, 1898.
In 1946, the Puerto Rico Planification Board broadened the urban zone of of the City of Lares with parts of Barrio Pueblo and Barrio Lares (wards). This was the last change that the territorial organization experienced. At the time of its foundation, Lares counted 273 inhabitants.
Location:

It is bordered by: Camuy on the north, Yauco and Maricao on the south, San Sebastián and Las Marías on the west, and Hatillo and Utuado on the east.
Area:
160.4 sq km / 61.7 sq mi
Population:
34,415 (census 2000)
Population Density:
214.5 per sq km / 557.5 per sq mi
People are known as: Lareños
Lares is also known as:
Cuidad del Grito (The City Of The Revolt)
Los Patriotas (The Patriots)
Wards: Lares, Puerto Rico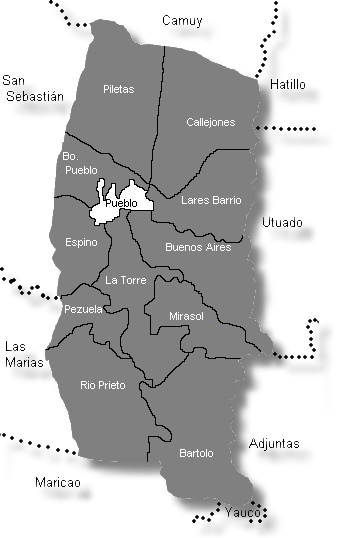 Census 2000:
Population by Wards – Lares
Habitants
Bartolo
2,030
Buenos Aires
3,060
Callejones
4,361
Espino
1,932
Lares (ward)
3,807
Lares Town
3,673
La Torre
1,725
Mirasol
1,510
Pezuela
272
Piletas
5,656
Pueblo
5,830
Río Prieto
559
Total
34,415
Source: Censo 2000
Patron:
San José
San José Parish
P.O. Box 103
Lares, Puerto Rico 00669-0103
Foundation: 1838
Patron Celebration: Marzo
Mass Schedule
Daily: 6:30am & 7:00pm
Saturdays: 6:30am & 7:00pm | Sundays: 7:00am, 8:30am, 10:00am & 7:00pm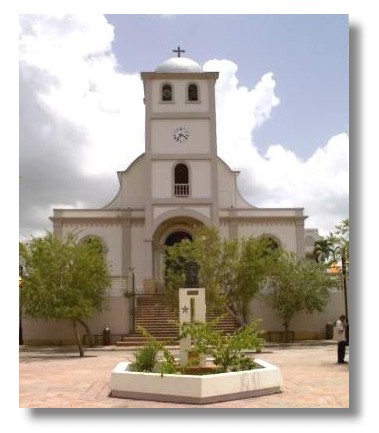 Topography:
Lares is located in the Central Mountain range at 1,200 meters above sea level and its territory is mainly mountainous.
Hydrography:
Its hydrographic system is made up of the following rivers and lakes:
Guajataca River
Prieto Rive
Toro River
Sapo River
Ángeles River
Guacio River
Camuy River
Guayo River
Guajataca Lake
Economy:
Manufacture (leather product, clothing, footwear) and agriculture (coffee, oranges, platains and bananas).
Average Salary:
$220.25 weekly (1998)
Flag:
On June 1868 Don Manuel Rojas presented to the Bravo Center of Lares the flag that Dr. Ramón Emeterio Betances had designed. Thus, the municipal flag of Lares is none other than the historical flag proposed by the patriarch Dr. Ramon Emeterio Betances for the Republic of Puerto Rico, and that has been named "Flag of Lares" due to the fact that it had been hoisted by the revolutionaries on September 23, 1868.
This flag is formed by a white Latin cross in the center. The width of the arms and base are equal to a third part of the latitude of the emblem. It has two quadrilaterals located above and two below the arms the cross. The superior (top) ones are blue and inferior (bottom) ones red. A five point white star is located in the center of the left superior (top) quadrilateral. This design served as model for Doña Mariana Bracetti in making the first flag of Lares. This flag became the symbol of the September 23, 1868, revolution. The revolution is well-known as the "Grito de Lares" (The Cry of Lares).
The honorable Municipal Assembly of Lares in 1952 approved a resolution proclaiming this flag the official flag of the Municipality of Lares. The flag's symbols have the following meaning:
The white cross represents – The need of a free motherland
The red color – The blood spilled by the heroes of the revolt"
The star – Freedom
Coat Of Arms: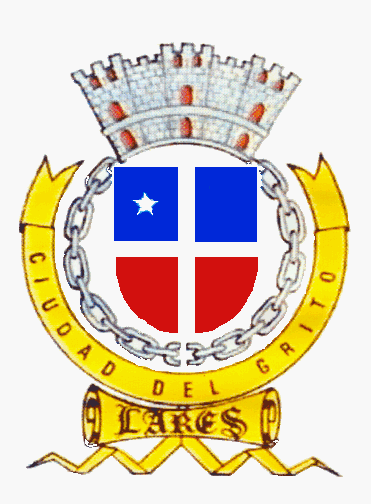 By authorization of the Institute of Culture, the Coat of Arms of Lares was adopted. It officially corresponds in its design and colors with those of the flag, adopted in 1952 by the Municipal Assembly under the administration of Mayor Ramón María Ramírez. The description of this Coat of Arms is as follows: a white cross is centered on and extends across the shield from side to side and top to bottom; it has blue top quadrants and red bottom quadrants; it has a five pointed white star in the upper left quadrant, the variant of which is in agreement with the best heraldic tradition. These figures, that in the flag are white, are represented in the shield in silver.
The chain that surrounds the shield is a talking soul that represents the name of the town of Lares in which the last name of the Spanish colonizers Rodrigo and Amador de Lares are perpetuated. The name "Lares" has its origin in the mountain range of the same name, in the province of Bajadoz, Kingdom of Extremadura, in Spain and is almost identical to the Llares language. Whereupon in certain parts of the mountains and in Asturias the chains are still used to hang the boilers in the home or chimney, a place of the house considered sacred by the Romans and dedicated in cults to the Lares gods, from which the Llares word is derived. The chain as an accessory to the shield, has a second meaning: to emphasize the object of the insurrection of Lares, to liberate Puerto Rico from the chains of colonialism.
The Coat of Arms as described has positioned around it on a scroll and a ribbon in a semicircle the words: "Lares Ciudad del Grito." This constitutes the stamp of Lares and identifies unmistakably the municipality of Lares.
Events: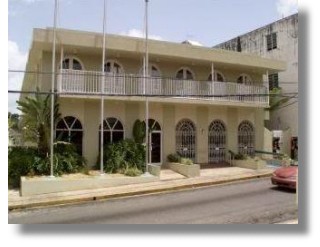 San José Patron Saint Festival – March
Lares Festival – September
Rábano Estate Festival – October
Almojábana Festival – October
Banana Festival – June
Places To Visit: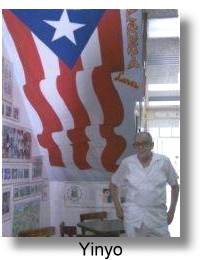 La Pajita Cave – Located in the Callejones sector
23rd of September Cultural Center
La Lealtad Estate
El Porvenir Estate
Margarita Estate
Manuel Rojas Estate
Lares ice cream shop
Marianna Bracetti Museum
El Jíbaro Park
Castañer settlement and the Casa Grande de Castañer
Revolution Plaza
José Feliciano Plaza
The Torres big house
Distinguished Citizens:
Gonzalo Arocho del Toro

– Journalist and playwright. He is best known in Puerto Rican letters for his play El desmonte of 1940.

Antonio Coll Vidal

–Poet, author of theatrical works and novelist. In 1957, the Institute of Puerto Rican Literature awarded him the prize for journalism.

Clemente Soto Vélez

–Poet, essayist and journalist. Along with Graciany Miranda Archilla, he was founder of the poetry movement called "The Hospital of the Sensitive," later renamed Atalayismo(1928). He was a supporter of independence for Puerto Rico and a militant nationalist.

Obdulio Bauzá

–Poet, Supreme Court judge and representative in the House of Representatives. He collaborated with the Nationalist Party in writing the party's program and a constitution for the Republic of Puerto Rico. He held the following posts in the justice department: prosecutor in Guayama, Mayaguez and San Juan, assistant prosecutor general for Puerto Rico, and supreme court judge. He is the author of various books of poetry. Among his most outstanding poems are: A mi tierra, El río sin retorno, En la noche and En la hacienda Estío.

Luis Hernández Aquino

-Poet, novelist, essayist and linguist. He began in journalism in San Juan, contributing to El País; he later wrote for El Mundo and numerous other publications, including the magazines El Día Estético, which was founded in 1941 and later called ínsula, and Bayoán, which was founded in 1950; he edited the magazine Revista Colegial in Mayagüez. Among his works are the Diccionario de voces indígenas de Puerto Rico and the novel La muerte anduvo por el Guasio.

Samuel Lugo

–Poet and short story writer. He was a member of the Atalayismo poetry movement and collaborated on El Día Estético e Insula. Author of the books of poetry Donde caen las claridades, Yumbra and Ronda de la llama verde.

Francisco Matos Paoli

–Poet. Matos Paoli identified with the cause of independence for Puerto Rico and was linked to the Puerto Rican Nationalist Party in the 1930s. In 1949, he was named secretary general of the Nationalist Party and when the nationalist revolution erupted in 1950 he was fired from his post at the university and sentenced to twenty years in prison. In 1955, he was given an unconditional pardon and was named permanent writer in residence at the University of Puerto Rico in recognition of his great merit as a poet. Among his most outstanding works is Canto de la locura.

Guillermo Bauzá

– Playwright, poet and novelist. Founder of the student publications El kuko and Ser; contributor to La Torre and El Imparcial. Author of several books of poetry and dramas.

Justo A. Méndez

– Senator. Founding member of the New Progressive Party. He later switched to the Popular Democratic Party and was a member of the ad hoc committee to study federal relations. In 1986, he was designated Secretary of the Department of Natural Resources, a position he held until 1988.

Antonio Oliver Frau

– (1902-1945) Poet and short story writer. He graduated with a law degree from the University of Puerto Rico in 1926. His works include Cuentos y leyendas del cafetal.

Denise Quiñones

– Miss Universe 2000
Public Schools sorted by educational levels.
Arecibo Region
Lares District
Name
Level
Telephone
Address
Elementary
AURELIO MÉNDEZ
K-2
(787) 897-0044
PO Box 1445, P.R. 00669-0000
CONSUELO GONZÁLEZ
K-6
(787) 897-2210
PO Box 1445, P.R. 00669-0000
DANIEL VÉLEZ SOTO
PK-6
(787) 897-3060
PO Box 387, P.R. 00669-0387
FRANCISCO VIZCARRONDO
K-3
(787) 897-0025
PO Box 770, P.R. 00669-0000
GEORGE WASHINGTON
K-6
(787) 897-4095
PO Box 1357, P.R. 00669-0000
GONZÁLEZ BELLO
K-6
(787) 897-4411
PO Box 1759, P.R. 00669-0000
JOAQUÍN CASTRO
K-2
(787) 897-2570
PO Box 1759, P.R. 00669-0000
JULIO LEBRÓN SOTO
K-6
(787) 829-3916
PO Box 1040, P.R. 00631-0000
MARIANO REYES CUEVAS
5-6
(787) 897-2160
PO Box 1237, P.R. 00669-1237
PILETAS ARCE
K-6
(787) 897-5065
PO Box 1759, P.R. 00669-0000
RAFAEL MARTÍNEZ NADAL
K-4
(787) 897-1550
PO Box 1237, P.R. 00669-1237
VIRGILIO ACEVEDO
K-2
(787) 897-1865
PO Box 394, P.R. 00669-0000
Intermediate
RAMÓN DE JESÚS SIERRA
7-9
(787) 897-2590
PO Box 1247, P.R. 00669-1247
Secondary
GABRIELA MISTRAL
7-12
(787) 829-1198
PO Box 561, P.R. 00631-0000
IGNACIO DICUPÈ GONZÁLEZ
K-9
(787) 897-6949
PO Box 769, P.R. 00669-0000
SU ANGÉLICA DELGADO(SU AMÉRICA)
K-9
(787) 897-1905
PO Box 1358, P.R. 00669-0000
SU BARTOLO
K-9
(787) 897-3545
PO Box 1368, P.R. 00669-0000
SU JOSEFINA LINARES
3-9
(787) 897-4070
PO Box 394, P.R. 00669-0000
SU JUAN C. PAGÁN
4-9
(787) 897-4044
PO Box 770, P.R. 00669-0770
High School
DOMINGO APONTE COLLAZO
10-12
(787) 897-2408
PO Box 820, P.R. 00669-0000
Hymn:
By Luis Lloréns Torress
En las verdes montañas de Lares,
y en lucha con la adversidad,
nuestros padres lanzaron el grito,
aquel primer grito de la libertad.
Nuestros padres soñaron un día
una patria feliz conquistar,
y murieron sin ver realizado
el ideal soñado de patria y libertad.
Brazo de oro que fue en Puerto Rico
la más noble y valiente mujer,
Brazo de oro bordó la bandera
que los puertorriqueños
sabremos defender.
La blanca cruz en ella significa
ansia de patria y redención,
el rojo, la sangre vertida
por los héroes de la rebelión.
Y la estrella en la azul soledad,
libertad, libertad, libertad.