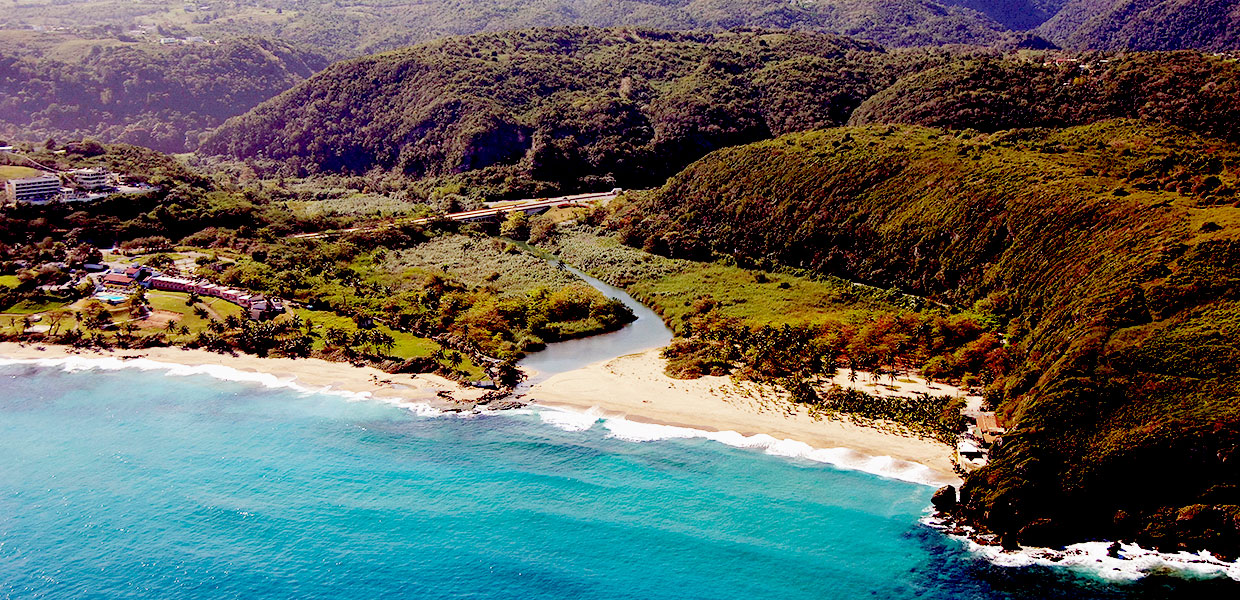 Camuy, Puerto Rico
Romantic City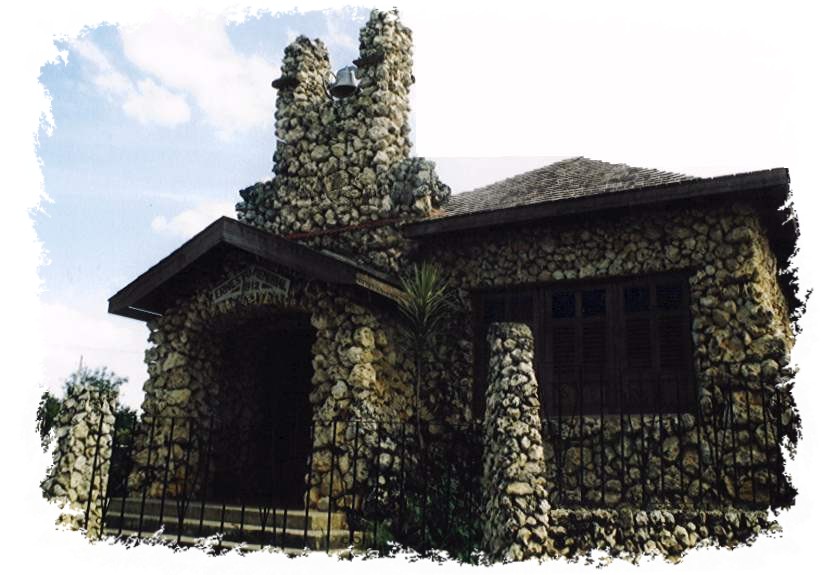 Camuy (kahm-WEE) is known as the "Romantic City", the "Sandwalkers" City" and the "City of the Taino Sun". The patron saint is Saint Joseph and the patron saint's festival is celebrated in March.
The municipality is in the northern central area of Puerto Rico and is bordered on the north by the Atlantic Ocean, on the south by Lares and San Sebastián, on the east by the municipality of Hatillo, and on the west by Quebradillas. It is located in the northern coastal plain, but comprises undulations known as the "llano de Quebradillas".
Historically the economy of Camuy has depended on agriculture, notably sugar cane. At one time there were three large sugar mills: Central Alianza, Central Soller, and Central Riollano. Other crops included tobacco, coffee, and fruits and vegetables.
The town also has a very particular tourist attraction, the cave park, which has an area of 268 acres and features underground caves where the Camuy River flows. This park is the third largest cave system in the world and has 16 entrances and 11 kilometers (7 miles) of caves. The guided tours allow visitors to enjoy this natural resource as part of an ecotourism program.
Foundation:
Camuy was founded in the year 1807 by Petrolina Matos. It was officially separated from Quebradillas in 1894. Three legends support the origin of the name: the first says that there was a Taino chief by the name of "Yumac" but with the passing of time the name was spelled backwards calling the region "Camuy"; the second refers to the Taino word "canuy," which means beautiful scenery, and later changed to "Camuy"; the last relates to the Coat of Arms of Camuy, which states that the Taino word means "sun".
In its beginnings Camuy was integrated into the Party of San Antonio de la Tuna. The "parties" were great extensions of land that divided Puerto Rico. This region today is known as Isabela. At the time the party covered the area between Aguadilla and Arecibo, what is known today as the municipalities of Camuy, Hatillo, Quebradillas, Isabela, Utuado, and San Sebastián.
Location:

Located on the northern coast, it is bordered by: the Atlantic Ocean on the north, Lares on the south, San Sebastián and Quebradillas on the west, and Hatillo on the east.
Area:
119 sq km / 46 sq. mi.
Population:
35,244 (census 2000)
Population Density:
296.1 per sq km / 766.1 per sq mi
People are known as:
Camuyanos
Camuy is also known as:
Ciudad Romántica (Romantic City)
Ciudad de los Areneros (City of the Areneros)
Ciudad del Sol Taíno (City of the Taíno Sun)
Wards: Camuy, Puerto Rico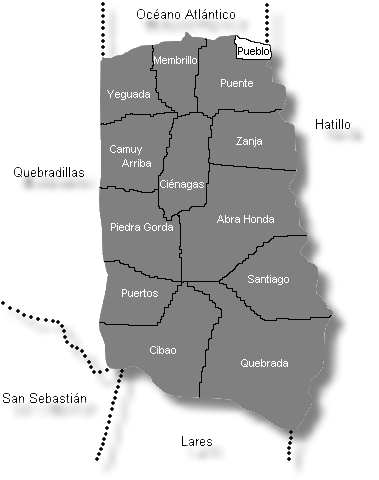 Census 2000:
Population by Wards – Camuy
Habitants

Abra Honda

2,169

Camuy Pueblo

1,261

Camuy Arriba

3,134

Cibao

1,314

Ciénagas

1,634

Membrillo

3,415

Piedra Gorda

1,722

Puente

8,963

Puertos

1,545

Quebrada

3,952

Santiago

490

Yeguada

2,565

Zanja

3,080

Total
35,244
Información: Negociado del Censo de los EE.UU. Censo 2000
Patron:
San José
San José Parish
P.O. Box 414
Camuy, P.R. 00627-0414
Tel. (787) 898-3620
Mass Schedule
Daily: 6:15am & 7:00pm
Saturday: 7:00pm
Sunday: 6:30am, 9:00am, 10:00am & 7:00pm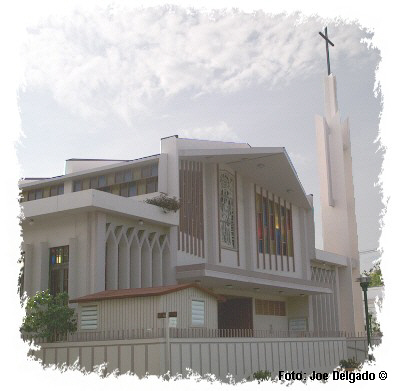 Topography:
It belongs to the zone designated as the plateau of the northwest where the terrain is level and known as the Valley of Quebradillas. Towards the interior of the municipality the topography becomes very irregular near Cibao. This strip of land, a zone of wooded hills and depressions, divides Camuy completely into two strips, north and south. The northern strip is known as Lomas de los Puertos.
Hydrography:
The Camuy River forms part of the hydrographic system with a length of 24 miles, which at one point becomes a narrow canyon that forms one of the most beautiful cave systems of the world, Rio Camuy Caverns. The Cibao River is also part of the system.
Economy:
Agriculture (sugarcane and cattle) and tourism.
Average Salary:
$240.00 weekly (1998)
Flag: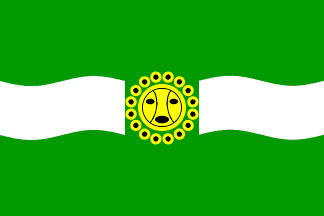 The flag of Camuy has a green field, an allusion to its green fields located along the northern coastal plain. The wavy white band at the center bears a yellow Taino sun. The band symbolizes the Camuy River, which is partially submerged. The Taino sun is a symbol of the Taino meaning of the word "camuy".
Coat Of Arms: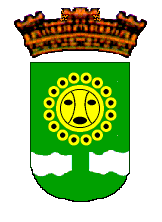 The coat of arms has a wavy silver band, broken at the center, on a green field, above which is a gold Taino sun. The green symbolizes the fertile land along the northern coastal plain and the Taino sun represents the name of the town, Camuy, which in the Taino language means "sun." The band symbolizes the Camuy River, which is partially submerged. The turreted castle that crowns the coat of arms is a heraldic symbol for towns.
Events:
Three Kings Wake – January
Río Camuy Carnival– February
Río Camuy River rafting event- March
Camuy Patron Saint`s day– May
Saint John`s Festival – June
Peñón Brusi Beach Festival – July
Cultural Festival – September
Salute to the Grito de Lares – September
Places To Visit: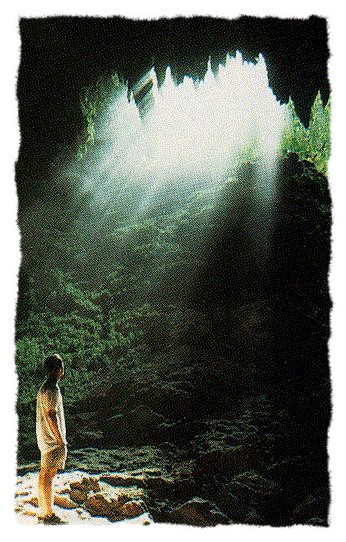 Brusilandia Resort
Villa Brusi Resort
Camuy History and Culture Circle
Camuy Cave
Hacienda La Sabana
Hacienda Morell
Lake Guajataca
Stone Church
Monte Calvario
Monument to Camuy Veterans
History and Culture Museum
José A. Méndez Passive Recreation Park
Camuy River boardwalk
Brisas del Mar Stable
Our Lady of Miracles Sanctuary
Former Social club
Camuy Social club
Distinguished citizens:
Amalia Arroyo Quijano

– poet and writer.

Pablo Avila González

– teacher, musician, and poet.

Pedro Avila Torres

– teacher, poet and musician.

Manuel Acevedo Rosario

– businessman and political figure, House Representative (1949 – 1960 and 1965 – 1972) and member of the constitutional assembly.

Juan Brussi Font

– notary, first novelist from Camuy. His travels included a trip with his family in the traditional Puerto Rican fishermen's boat, the yola, to Mona Island.

Florencio Cabán Hernández

– artisan, folksinger, musician, and renowned carver of wood saints, a santero. In 1967, the Institute of Puerto Rican Culture recognized his work by organizing an exhibition and showing a film on his creative work.

María Asunción Curbelo Mercado

– teacher and poet. Her favorite themes were her homeland, religion, and customs.

Soldoína Domenech Ríos

– prominent teacher and an adopted daughter of Camuy.

José D. Hernández

– teacher and civic leader; grand scout master of Troop 70 in Camuy.

Rafael Hernández Reyes

– musician, singer, artisan, and athlete (baseball player)

Adolfo Jiménez Hernández

– teacher and poet.

José Manuel Lacomba Nolla

– surveyor, poet, musician, singer, arranger, and composer.

Manuel Portalatín Santiago

– teacher and public servant; an exceptional civic leader who made extraordinary efforts in his work with the government industrialization program.

José Joaquín Rivera Firpi

– teacher. Leadership positions in education including auxiliary superintendent of schools and president of the Teachers Retirement Board.

Juan de Capadocia Rodríguez Lozada

– composer and musician.

Arsisclo Rosa Salas

– artisan (mason).

Germán Rosario Rivera

– composer, musician, and folksinger.

José A. Sierra Martínez

– teacher and writer
Public Schools Sorted by Educational Levels.
Arecibo Region
Camuy District
Name
Level
Telephone
Address
Elementary

AMALIA LÓPEZ DE ÁVILA (NUEVA)

PK-6

(787) 898-4830

PO Box 159, P.R. 00627-0000

JOSÉ D HERNÁNDEZ

K-6

(787) 898-0990

PO Box 811, P.R. 00627-0000

JOSÉ M HERNÁNDEZ

K-6

L (787) 898-7373

PO Box 159, P.R. 00627-0000

JULIÁN BLANCO

K-6

(787) 820-4277

PO Box 996, P.R. 00627-0000

LAURENTINO ESTRELLA COLON

K-6

(787) 898-3745

PO Box 568, P.R. 00627-0000

PEDRO AMADOR

K-6

(787) 898-1337

PO Box 926, P.R. 00627-0000

RALPH W EMERSON

K-6

(787) 898-2037

PO Box 831, P.R. 00627-0000

Intermediate

PABLO ÁVILA GONZÁLEZ

7-9

(787) 898-3770

PO Box 328, P.R. 00627-0000

Secundary

ANTONIO REYES

K-9

(787) 820-1472

PO Box 385, P.R. 00627-0000

SU JOAQUÍN VÁZQUEZ CRUZ

K-9

(787) 820-2909

APDO. 1029, P.R. 00627-0000

SU ROMÁN BALDORIOTY DE CASTRO

K-9

(787) 262-8771

PO Box 398, P.R. 00627-0398

SU SANTIAGO R PALMER

K-9

(787) 898-7976

HC 4 BOX 17413, P.R. 00627-0000

High School

LUIS F CRESPO

10-12

(787) 262-8421

PO Box 569, P.R. 00627-0000

SUPERIOR SANTIAGO R PALMER

10-12

(787) 898-9299

PO Box 158, P.R. 00627-0000

VOCACIONAL AGRÍCOLA SOLLER

10-12

(787) 898-6549

PO Box 4000 SUITE 74, P.R. 00627-0000
Hymn:
"Pedazo de Borinquen"
Por Ramón Jovito Barreto
Canto a este pueblo donde he nacido,
de verdes montes y de azul mar,
de un río travieso
que está escondido
pero que brota cual manantial
¡Camuy mi pueblo,
Camuy mi campo,
pedazo bello de Borinquen
el sol taíno te da su encanto,
yo no te cambio eres mi edén!
Hoy de tu historia yo siento orgullo
del Grito fuiste mecha inicial.
Por la Estrellada te han conocido
por Las Cavernas por tu central.
¡Camuy mi pueblo,
Camuy mi campo,
pedazo bello de Borinquén,
el sol taíno te da su encanto,
yo no te cambio eres mi edén!