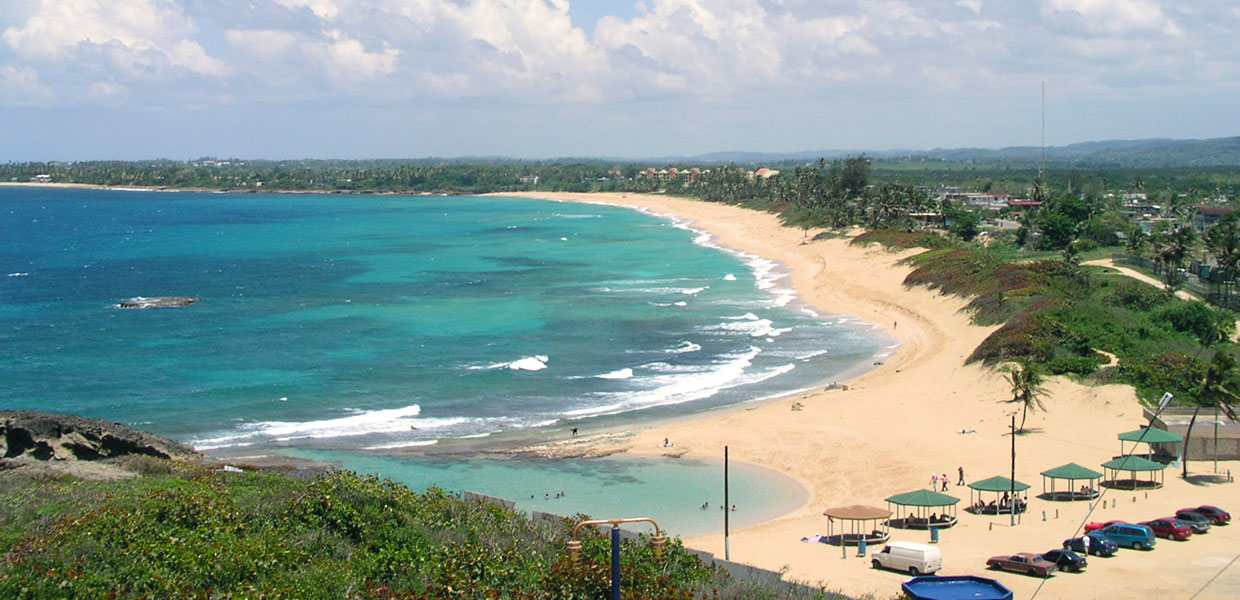 Arecibo, Puerto Rico
Captain Correa Villa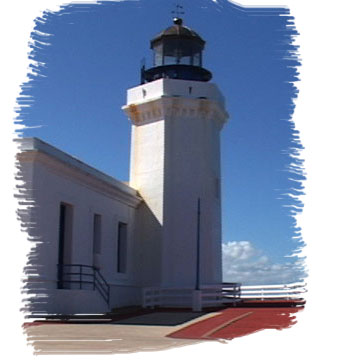 Arecibo (ah-re-SEE-boh) is a municipality on the north coast of the island. It is known as the "Village of Captain Correa," in honor of the heroic acts of Antonio de los Reyes Correa, who defended the village of Arecibo from the attack by the English in 1702. The Spanish colonel was awarded the Royal Effigy medal by the Spanish crown and was promoted to captain.
Arecibo residents celebrate various festivals during the year. Among the most important are the Patron Saint Festival in honor of San Felipe in April and the Arecibo Carnival, which takes place in the month of February.
Arecibo is also known for its traditional celebration of the Cetí Festival at the end of November. The cetí is a small fish that is frequently caught in the mouth of the Grande de Arecibo River during the quarter moon in July and during the same phase of the moon in subsequent months through January. Sometimes, these small fish form schools that can be as large as 25 to 30 meters long. Because of this fish, Arecibo is also known as the "Cetí City".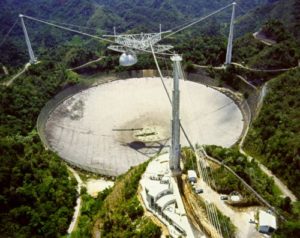 The world's largest radio-telescope is located in Arecibo. The gigantic structure, built of reinforced concrete, aluminum and steel, rises 565 feet above the mountains in the Esperanza sector. It was built by the U.S. Army Corps of Engineers at an initial cost of nine million dollars. It was inaugurated in November of 1963 under the direction of Prof. William E. Gordon of the Cornell University School of Electrical Engineering.
The geographic position of the town, approximately eighteen degrees north of the equator, makes it well suited for observations of the sun and the planets. The radio-radar telescope captures signals arriving from celestial objects in the farthest parts of the universe, and also contributes to scientific research on climate change.
Arecibo played an important production role in the Puerto Rico rum industry, as it was home to the Puerto Rico Distilling Co., founded in 1911. The company produced rums and other distilled liquors and sold them to other corporations on the island. Later, during Prohibition, it produced ethyl alcohol and Superior 70 rubbing alcohol. Over time, much of the land that belonged to this business was bought by the government of Puerto Rico to create housing projects.
Today, Arecibo has diverse industries related to the production of textiles, chemicals, and electronic equipment, among others. The service industry, business and agriculture remain part of the town's economy, along with fishing.
Foundation:
Arecibo has existed as a population nucleus since the early years of the sixteenth century (1533). In the year 1570 the Taino Indians entrusted the land to the Spaniards who began to live in the village.
According to history, the name Arecibo comes from an Indian Chief named Arazibo. The historian, Francisco M. Cadilla, doubts this assertion as he mentions in his book, "Los Ochonentistas," based on the historian Don Antonio de Herrera, where he talks about one of the seven mightiest rivers of the time, the Arecibo River.
In 1614 when the governor of the Island was Don Felipe de Beaumont, due to its population growth the village was promoted to a town. Governor Don Felipe de Beaumont with the consent of Bishop Pedro Soler, called it San Phelipe del Arecibo. In 1778 it was declared Villa, and later was known as "Very Loyal" (Muy Leal) in 1850.
Arecibo is also known as "La Villa del Capitán Correa" (Captain Correa Villa) when Lieutenant Antonio de los Reyes Correa on August 5, 1702, with a small group of armed militia ambushed and repulsed an attack of 40 English soldiers. They pushed the invaders out to sea with a balance of 22 dead invaders against 1 dead and 3 injured defenders. For this act of bravery he was promoted to Captain and was given a medal.
Location:

Arecibo is bordered by: the Atlantic Ocean to the north, Utuado and Ciales to the south, Hatillo to the west, and Barceloneta and Florida to the east.
Area:
330.2 sq km / 127 sq mi
Population:
100,131 (census 2000)
Population Density:
303.2 per sq km / 823.6 per sq mi
People are known as:
Arecibeños
Arecibo is also known as:
La Villa del Capitán Correa (Captain Correa Villa)
Muy Leal (Very Loal)
Ciudad del Cetí (Ceti City)
Diamante del Norte (Northern Diamond)
Los Capitanes (The Captains)
Wards: Arecibo, Puerto Rico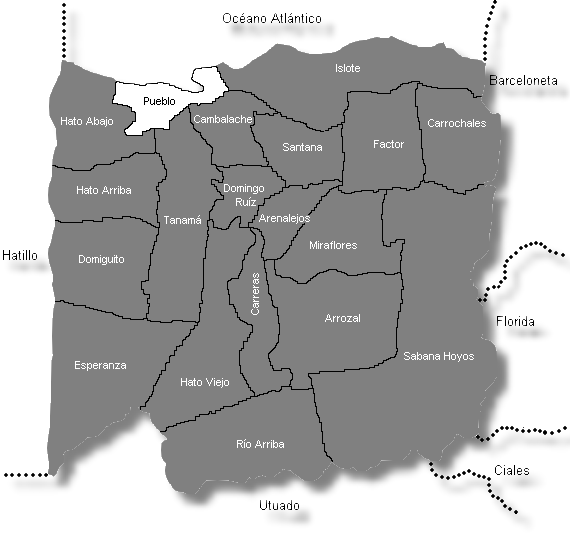 Censo 2000:
Population by Wards - Arecibo
Habitants
Arecibo Town
10,596
Arenalejos
2,997
Arrozal
1,218
Cambalache
64
Carreras
1,294
Domingo Ruíz
3,444
Dominguito
4,998
Esperanza
2,130
Factor
6,819
Garrochales
2,366
Hato Abajo
22,597
Hato Arriba
7,947
Hato Viejo
2,097
Islote
6,080
Miraflores
5,122
Río Arriba
1,028
Sabana Hoyos
11,064
Santana
4,857
Tanamá
3,413
Total
100,131
Información: Negociado del Censo de los EE.UU. Censo 2000
Patron:
San Felipe Apostol
Parroquia San Felipe Apostol
P.O. Box 577 Arecibo, Puerto Rico 00613-0577
Tel. (787) 878-1149
Horario de Misas
Diario: 6:15am, 7:30am 12:00md
Sábado: 7:00am y 4:00pm | Domingo: 7:00am, 8:30am y 11:00am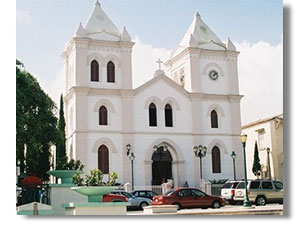 Topography:
Its terrain is almost level. Correa Hill, located in Sabana Hoyos, has approximately 270 meters (886 feet) only of altitude above sea level. The territory belongs to the Northern Coastal Valley region, which is adjacent to karst zone characterized by the presence of caves and wooded hills. The landscape near the coast has dunes formed by the wind.
Hydrography:
The most important rivers are the Tanamá River, and the Grande de Arecibo River. The Grande de Arecibo River is born in Monte Guilarte, Adjuntas and ends at Punto Morrillo, in the Atlantic Ocean. The Tanamá River, born in Utuado in the adjacent mountains of Adjuntas, flows and refreshes the lands of the barrios of La Esperanza, Dominguito, Hato Arriba and Tanamá.
Climate:
The annual precipitation is around 53.01 inches and the average temperature is 77.8°F.
Economy:
The economy of Arecibo is due to several factors: plants that manufacture textile products, chemical, electronic and electrical, and medical instruments among others. It also depends on services in commerce and agriculture. Another economic factor in Arecibo is fishing, although in a smaller scale.
Flag:
The flag of Arecibo derives its composition and colors from the Shield of the City. It is divided vertically in two equal parts.
The left side is blue having a belt that stands for "Captain Correa", a local military hero from Spanish times. The other part is yellow with fifteen blue rhombis with the vertices touching each other and placed in three horizontal rows of five each and five vertical columns of three each.
Coat Of Arms: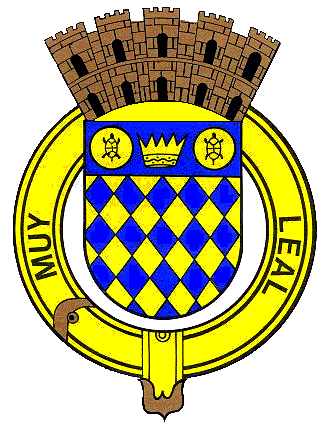 The shield is divided by diagonal lines in golden and blue rhombis with a blue stripe in the superior part, in which resides an opened five-point crown and which is adorned with drawings characterizing the art of the Taínos. This combination of symbols represents the Indian Cacique (Chieftain) from whom the population's name derives, the governor that erected the town and the hero Captain Correa who defended it.
The crown remembers the Cacique Francisco Jamaica Arecibo, converted to Christianity, who reigned the region of the Abacoa, today Arecibo. The two turtles are symbols of antiquity. The population of Arecibo is one of the four oldest of the Island. The golden rhombis are part of the shield of arms of the Governor Felipe de Beaumont y Navarro, Governor of Puerto Rico (1614-1620) and which had part in the foundation of Arecibo in 1616. The strap in gold and clasp of silver that borders the shield alludes to Captain Antonio de los Reyes Correa, of Arecibo. In the strap, in saber letters, it says Very Loyal (Muy Leal), a motto granted to the city in 1850. The crown mural has five towers, which means that Arecibo received the title of village. This occurred in 1778.
Places of Interest:
San Felipe Cathedral
Indian Cave
Los Morrillos Lighthouse Museum
Cambalache Forest Park
Olympic Pool
Los Negritos Beach
Events:
Arecibo Carnival – February
Centennial of the Puerto Rican flag – December
Artisan Fair – September
Cetí Festival – November
Folklore Festival – July
San Felipe Apóstol Patron Saint Festival – May
Beach festival – July
Distinguished Citizens:
María Cadilla de Martínez

(1884-1951) – Teacher, painter, essayist, historiographer, poet, short story writer, folklorist and feminist. In the literary world, she was known as 'María de América' and was internationally recognized as a "pioneering and most important figure in Puerto Rican folklore." She published a series of books, including: Poesía popular en Puerto Rico (1933), Costumbres y tradiciones de mi tierra (1938), Juegos y canciones infantiles de Puerto Rico (1940), and Alturas paralelas (1941).

Luisa Capetillo Perone

(1883-1922) – Feminist, writer and labor union activist. She was the first woman to wear pants in public in Puerto Rico. She belonged to the Free Federation of Workers and wrote essays, short stories and plays. Among her books are: Ensayos Libertarios (1907), Mi opinión (1911) and Influencias de las ideas modernas (1916).

Cayetano Coll y Toste

(1850-1930) – Physician, poet, politician, journalist, essayist and historian. He studied medicine at the San Juan Council Seminary and surgery at the University of Barcelona. He began working as a journalist in Spain by founding the Revista Ramillete, of which he was editor. He was medical director at the Hospital de la Monserrate in Arecibo and the Home for Orphan Children, which he founded. His literary production displays great versatility. He published the following books: Boletín histórico de Puerto Rico, Crónicas de Arecibo, Colón en Puerto Rico, Historia de la instrucción pública en Puerto Rico hasta el año 1898, Leyendas y tradiciones puertorriqueñas, and others.

René Marqués

(1919-1979) – Playwright, short story writer, novelist and essayist. The prolific writer was the author of the plays La carreta, Los soles truncos and Mariana o el alba, as well as a book of stories, En una ciudad llamada San Juan, the novels La víspera del hombre and La mirada, and the essay "El puertorriqueño dócil".

Manuel Zeno Gandía

(1855-1930) – Physician, writer, journalist, politician and novelist. He severely criticized the society of his time in a series of novels titled Crónicas de un mundo enfermo, which consisted of La charca (1894), Garduña (1896) and Redentores (1899).
Public Schools sorted by educational levels.
Arecibo Region
Arecibo District
Name
Level
Telephone
Address
Elementary

ANGÉLICA GÓMEZ DE BETANCOURT

K-6

(787) 878-1675

PO Box 116, P.R. 00613-0000

ANTONIA SÁNCHEZ

K-3

(787) 880-0262

PO Box 905, P.R. 00613-0000

CARMEN M ABREU

K-6

(787) 878-8367

152 Calle Delfín Olmo, P.R. 00612-0000

COTTO (ANEXO)

EE

(787) 878-8160

PO Box 9582, P.R. 00613-9582

DOLORES GÓMEZ DE ROMÁN

PK-6

(787) 878-2425

PO Box 733, P.R. 00613-0000

DOMINGO RUIZ

K-4

(787) 816-1919

PO Box 193, P.R. 00613-0000

DR. FRANCISCO SUSONI

K-6

(787) 878-1734

PO Box 193, P.R. 00613-0000

FÉLIX ROSARIO RÍOS

K-6

(787) 881-5310

PO Box 1320, P.R. 00688-1320

FRANCISCO PACHÍN MARIN

K-6

(787) 878-2019

Urb. Vista Azulo Calle 17, P.R. 00612-0000

FRANKLIN D. ROOSEVELT

PK-6

(787) 878-3034

PO Box 1116, P.R. 00612-0000

JESÚS SIVERIO DELGADO

K-6

(787) 881-3090

PO Box 907 Garrochales, P.R. 00652-0000

JOHN W. HARRIS

K-6

(787) 878-1514

PO Box 9773, P.R. 00613-0000

JULIO SEIJO

K-6

(787) 878-2062

PO Box 143566, P.R. 00614-0000

JUSTINIANO TORRES

K-4

(787) 881-6985

PO Box 451, P.R. 00613-0000

LOS CAÑOS

K-6

(787) 879-1558

PO Box 9919, P.R. 00613-0000

MARIA CATALINA TEJADA

K-6

(787) 881-6264

PO Box 1222, P.R. 00616-0000

MARTÍN DIEGO DELGADO

K-6

(787) 878-0645

Calle 8 University Gardens, P.R. 00612-0000

VÍCTOR ROJAS II

PK-6

(787) 878-5969

PO Box 142716, P.R. 00614-0000

VILLA SERENA

K-6

(787) 879-4825

PO Box 9941, P.R. 00613-0000

Intermediate

JOSÉ GUALBERTO PADILLA

7-9

(787) 878-2818

PO Box 9395, P.R. 00613-0000

LUIS MUÑOZ MARÍN

7-9

(787) 880-0757

PO Box 1116, P.R. 00613-0000

PRE-VOCACIONAL JOSÉ LIMÓN ARCE

EE

(787) 878-3300

PO Box 152, P.R. 00612-0152

THOMAS JEFFERSON

7-9

(787) 878-3332

MSC 456 P.O.BOX 4035, P.R. 00614-0000

VÍCTOR ROJAS I

EE

(787) 880-3551

PO Box 9666, P.R. 00612-0000

Secondary

LUIS MUÑOZ RIVERA

1-12

(787) 878-3585

PO Box 2854, P.R. 00613-0000

Jr. High

DDR CAYETANO COLL Y TOSTÉ

K-9

(787) 881-5429

PO Box 992, P.R. 00616-0000

EUGENIO MARIA DE HOSTOS

K-9

(787) 881-3540

PO Box 451, P.R. 00613-0000

JOSÉ RAMON RIVERA

K-9

(787) 881-1717

PO Box 451, P.R. 00613-0451

LUIS FELIPE PÉREZ

K-9

(787) 880-7488

PO Box 140538, P.R. 00614-0000

SU DIEGO BRAVO

K-9

(787) 880-2444

PO Box 2284, P.R. 00613-2284

SU ENRIQUE DE JESÚS BORRAS

K-9

(787) 878-7699

PO Box 141165, P.R. 00613-0000

SU FEDERICO DEGETAU

PK-9

(787) 881-1524

PO Box 141918, P.R. 00612-0000

SU MANUEL RUIZ GANDIA

K-9

(787) 879-0851

PO Box 9937, P.R. 00613-0000

SU RAMÓN E BETANCES

K-9

(787) 881-2650

PO Box 995, P.R. 00616-0000

SU RÍO ARRIBA

K-9

(787) 880-6003

PO Box 905, P.R. 00613-0000

High School

ABELARDO MARTÍNEZ OTERO

10-12

(787) 879-2614

PO Box 9059, P.R. 00612-0000

DRA. MARIA CADILLA DE MARTÍNEZ

10-12

(787) 878-3480

PO Box 1118, P.R. 00612-0000

SUPERIOR VOCACIONAL

10-12

(787) 880-6696

PO Box 601, P.R. 00613-0601

TRINA PADILLA DE SANZ

10-12

(787) 878-1365

PO Box 142672, P.R. 00612-0000

All Levels

BELLAS ARTES

3-12

(787) 881-2882

PO Box 524, P.R. 00613-0524

LIBRE DE MÚSICA

K-12

(787) 879-3567

PO Box 2794, P.R. 00613-2794
Hymn:
By José A. Monrouzeau
Villa y ciudad te conocí
acariciada por el mar
prodigio es ver cerca de tí
ríos formandose un collar
porque eres tú cuna gentil
de nuestro gran Pachín Marín,
Víctor Rojas también
de Campeche un jardín,
del Capitán Correa, el invicto,
fué un edén.
Arecibo, Arecibo
yo nunca te podré olvidar,
pueblecito de mis amores
que como tú no hay otro igual.
Por tus atletas y tus héroes
tus hijos te saben querer,
con sus mujeres en sus quereres
gratos recuerdos del ayer.
En el baseball estrellas son
Rodríguez Olmo con Pellot.
En basketball gran sensación
con John Padilla en Nueva York.
Así también cual campeón
Petaca Iguina es colosal.
Nuestros atletas son bravos
por su ideal por eso
gozan de fama y admiración.
Arecibo, Arecibo
yo nunca te podré olvidar,
pueblecito de mis amores
que como tú no hay otro igual.
Por tus atletas y tus héroes
tus hijos te saben querer,
con sus mujeres en sus quereres
gratos recuerdos del ayer.