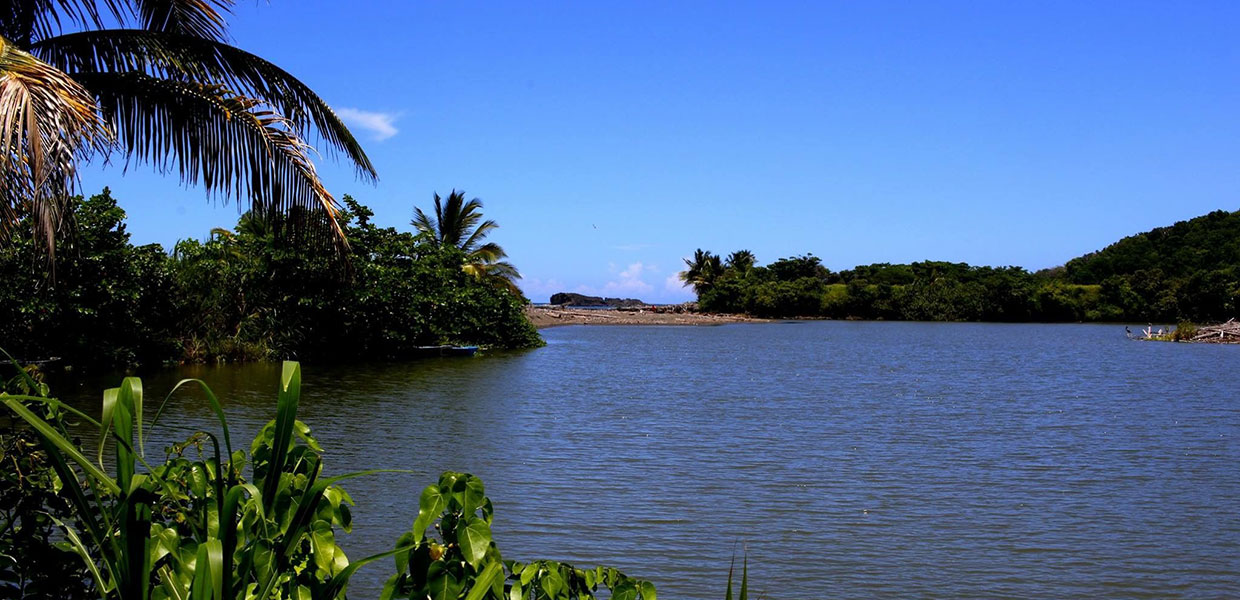 Barceloneta, Puerto Rico
Industrial City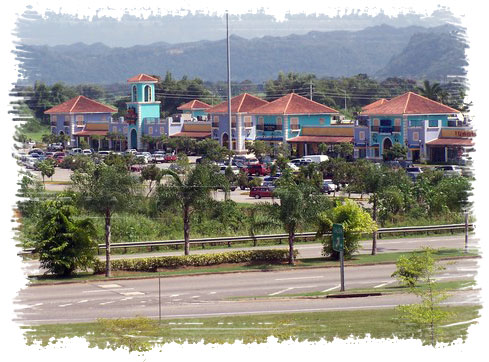 Foundation: Among the youngest towns of the island, the city of Barceloneta was founded the July 1, 1881. It was one of the last municipalities created by the Spanish government in Puerto Rico. Its founder was Don Bonocio Lenza Feliú. Barceloneta was named in honor of Barcelona (city of Spain) where the founder was born. Thirteen years after its foundation it experienced great agricultural and industrial development with 3 sugar cane plantations, 93 coffee plantations and 100 fruit farms.

Location: Located in the North coast, it is bordered by: the Atlantic Ocean on the north, the city of Florida on the south, Arecibo on the west, and Manatí on the east.
Area: 62.0 sq km / 24.0 sq mi
Population: 22,322 (census 2000)
Population Density: 360.0 per sq km / 930.0 per sq mi
People are known as: Barcelonetenses
Barceloneta is also known as:
Tomás Dávila Martínez (Industrial City)
La Ciudad de las Piñas (The Pineapple City)
El Pueblo de los Indios (The Indian City)
El Pueblo de Sixto Escobar (Sixto Escobar's City)
Wards:

Barceloneta, Puerto Rico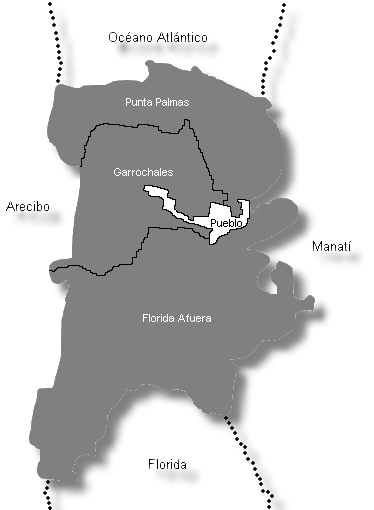 Census 2000:
Population by Wards – Barceloneta
Habitants

Barceloneta Town

277

Florida Afuera

12,969

Garrochales

5,201

Palmas Altas

3,875

Total
22,322
Información: Source: Censo 2000
Patron:
Nuestra Señora del Carmen
Parroquia Nuestra Señora del Carmen
47 Georgetti Barceloneta
Barceloneta, Puerto Rico
Tel. (787) 846-5625
Horario de Misas
Diario: Martes y miércoles 7:00 p.m. Jueves 8:00 a.m.
Sábados: 7:30 p.m.
Domingos: 7:00 a.m. y 11:00 a.m.m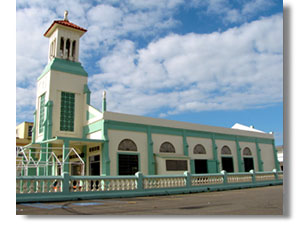 Topography: The terrian is mainly level. Because it is in the karst zone the terrain has many wooded hills and caves typical of the karst zones.
Hydrography: The Grande de Manatí river is 73 kilometers (45 miles) in length and lies between the municipalities of Manatí and Barceloneta and ends at the Atlantic Ocean. Also part of the hydrography is El Caño Tiburones, the most extensive marshland of the island and second most extensive of the Caribbean, covering 2,266 hectares.
Climate: Precipitation is approximately 53.01 inches and the annual average temperature is 77.8°F.
Economy: It has the greatest pharmaceutical complex in the world (14 industries). These industries choose Barceloneta to establish their companies because of its vast underground water deposits. The water in Barceloneta is so pure that it requires very little treatment for the manufacture of pharmaceutical products. In addition to the pharmaceutical industry it counts with numerous factories dedicated to the manufacture of textiles, food, chemicals, plastics, electronic instruments, communications and scientific equipment.
Average Salary: $528.24 weekly (1998)

Flag: LThe Municipal Assembly adopted the flag following ordinance No. 21, May 31, 1979. Roberto Biascochea Lota, Special Consultor in Heraldic Matters to the Puerto Rican Institute of Culture and Special Assistance to the Director, designed the flag. The flag is a rectangular adaptation of the former Coat of Arms, as are its colors, with the variation of omitting the flowers of "guajana" (sugar cane flower) and that the blazon's gold and silver are substituted by yellow and white, respectively.
The flag of Barceloneta derives from the Catalonian flag, the autonomous region of Spain which has Barcelona as it's capital. Barceloneta is the name of Barcelona's famous beach, and the original settlers of this Puerto Rican town were Catalan immigrants to Puerto Rico. The cross represents the flag of Saint George, one of the patron saints of Catalonia (along with Our Lady of Montserrat).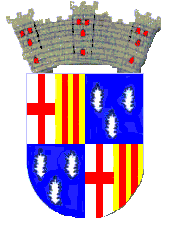 Coat Of Arms: This shield was approved by the Municipal Assembly by decree #21, 31 May, 1979. The sugar cane flowers (guajanas) symbolize the source of life of the old agricultural economy of Barceloneta. The blue symbolizes the beaches and marine ports of great importance for industry and commerce. Its crown consists of three towers.
EPublic Schools sorted by educational levels.
Updated: 08/07/2003
Arecibo Region
Barceloneta District
Name
Level
Telephone
Address
Elementary

AGUSTÍN

K-6

(787) 846-4379

PO Box 2048, P.R. 00617-0000

IMBERY

K-6

(787) 846-0361

PO Box 2052, P.R. 00617-0000

JESÚS M RIVERA

K-6

(787) 846-3165

PO Box 668, P.R. 00617-0000

JOSÉ CORDERO ROSARIO

K-6

(787) 846-5474

PO Box 2051, P.R. 00617-0000

PRIMITIVO MARCHAND

K-6

(787) 846-6509

PO Box 2048, P.R. 00617-0000

Intermediate

PRE VOCACIONAL BUFALO

EE

(787) 846-4595

PO Box 2048, P.R. 00617-0000

RAFAEL BALSEIRO MACEIRA

7-9

(787) 846-2460

PO Box 2074, P.R. 00617-0000

Secondary

DR. FRANCISCO VÁZQUEZ

K-9

(787) 846-3171

PO Box 2053, P.R. 00617-0000

High School

FERNANDO SURIA CHÁVEZ

10-12

(787) 846-6750

PO Box 2066, P.R. 00617-0000
Himno: Querido Barceloneta By Luis Felipe Román Ramos
Barceloneta, linda esmeralda
Que un día fundara Llenza Feliú,
Hombres valiosos, grandes mujeres
Te han distinguido a plenitud.
Siempre te llevo, Barceloneta,
En lo profundo del corazón
Rincón Boricua, rincón boricua,
Mi terruñito encantador.
En el espejo de tu gran río
Es donde nace la inspiración
Esplendorosa, esplendorosa,
Cual bella rosa de ensoñación.
Tu hermosa playa, Barceloneta,
Tu sol de oro primaveral
Son un regalo, son un regalo
Del Rey Eterno, Dios Celestial.
Events:
Plácido Acevedo Tribute – June
Las Criollas Beach Festival – June
Tipical Musical Festival – June
Virgen del Carmen Festivities – July
Bomba & Plena Festival – October
Places To Visit:
Antiguo Muelle (Old Seaport)
Caño Tiburones Marshland
Sixto Escobar Museum
Las Criollas Beach
Palmas Altas Beach
Cambalache Reserve
La Monserrate Refinery Ruins
Marqués de la Esperanza Hacienda Ruins
Distinguished Citizens:
Lic. Juan Cancel Ríos – Lawyer
Lic. Francisco Díaz Marchand – Lawyer
Sixto Escobar Vargas – Boxer
Benito de Jesús Negrón – Musician