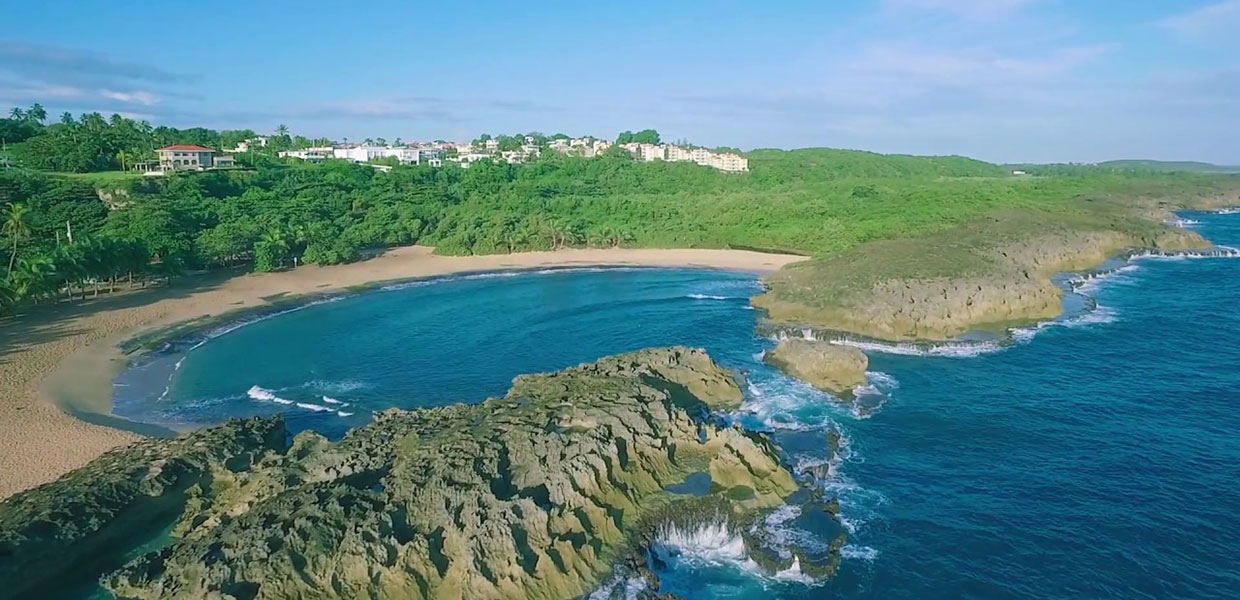 Manatí, Puerto Rico
Metropolitan City
Foundation: Manatí (mah-nah-TEE) was officially founded by Don Pedro Menéndez Valdés in 1738. It was the ninth town in receiving the blessing of the Spanish Crown in Puerto Rico. The first Spanish town was established in Manatí by Juan Ponce of Leon attracted by the wealth of the valley and the promises of gold in the Manatuabón River. After constructing the first structures in the borders of the river and as a result of the violent swells of the waters, he left and founded Villa Caparra.
It is said that Manatí was baptized with this name because of the abundance of manatees in its waters. Others assure that the name has indigenous origin, derivative of the name of the river that the first inhabitants called Manatuabón River. As a result of its great cultural development during the first decades of the XX century it was baptized as "La Atenas De Puerto Rico" (Puerto Rico's Athens). It is a fertile area bathed by springs, lagoons, beaches and the impressive and mighty Grande de Manatí River.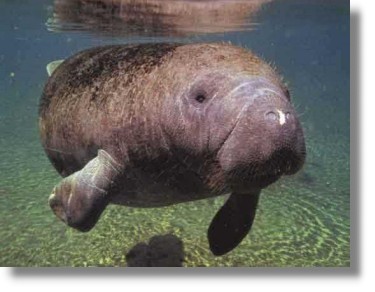 Manatees and dugongs ( trichechus manatus manatus ) are marine mammals of the order Sirenia. They originated in the middle Eocene period around 45 to 50 million years ago. They are gentle, plant-eating herbivores sometimes nicknamed "sea cows". The name manatee comes from the Haitian word manati. Today, their closest living relatives are elephants [Proboscideans], hyraxes [Hyracoidea] and aardvarks [Tubulidentata]. Manatees are classified as [sub-]ungulates, even though they live in the water. Their thick-skinned, streamlined, almost hairless bodies have forelimbs modified into flippers. The tail is enlarged and horizontally-flattened.
Manatees are now quite rare. In ancient times, sailors mistook them for mermaids or sirens on account of their long tails. Today, they often bear scars on account of their collisions with boats, a major hazard. Their only natural enemy is "man".
Manatí became a city July, 1994 due to its economic and industrial development. Because of this fact the Coat Of Arms used by Manatí has a five-tower crown instead of three, characteristic of cities. Now Manatí is known as "Metropolitan City".
Manatí has been a city focused in acquiring the latest in technology for the benefit of its citizens. Manatí maked history during March 5, 1998, when the Athens Internet began operations; the first internet supplier at a global level administered by a municipality.
On November 4, 2002 public order codes were implemented for the Manatí urban area. This initiative's intention is to establish essential norms to improve the quality of life of the citizens.
Location: It's located in the northern coast, it borders north with the Atlantic Ocean, south with Morovis and Ciales, west with Florida and Barceloneta and east with Vega Baja.
Area: 120.0 sq km / 46.0 sq mi
Population: 45,409 (census 2000)
Population Density: 378.4 per sq km / 987.1 per sq mi
People are known as Manatieños / Atenienses
Manatí is also known as:
Ciudad Metropolitana (Metropolitan City)
La Atenas de Puerto Rico (Puerto Rico's Athens)
Wards:

Manati, Puerto Rico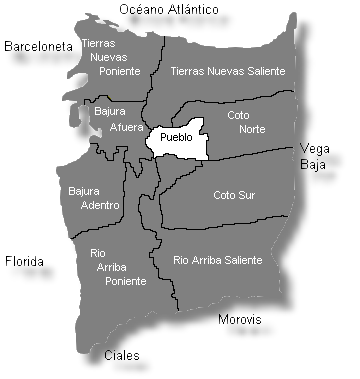 Census 2000:
Population by Wards – Manatí
Habitant

Bajura Adentro

2,382

Bajura Afuera

737

Coto Norte

11,311

Coto Sur

9,045

Manatí Town

7,162

Río Arriba Poniente

1,769

Río Arriba Saliente

3,119

Tierras Nuevas Poniente

4,098

Tierras Nuevas Saliente

5,786

Total
45,409
Información: Negociado del Censo de los EE.UU. Censo 2000
Patron:
Nuestra Señora de la Candelaria
Nuestra Señora de la Candelaria Parish
Calle Betances-Padial
Manatí, Puerto Rico 00674
(787) 854-2013
Foundation:1738
Mass Schedule
Dairy: 6:30am & 7:00pm
Saturdays: 6:30am & 7:00pm
Sundays: 7:00am, 9:00am, 10:30am & 7:00pm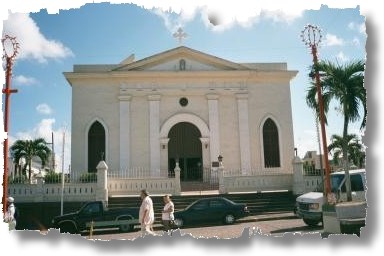 Topography: Manatí is in the Northern Coastal Valley region and in the karst zone in which we find several caves, wooded hills and water holes.
Hydrography: It counts with the Grande de Manatí river that ends at the Atlantic Ocean with a length of 73 kilometers (45 miles) and the Tortuguero Lagoon.
Climate: Its annual precipitation is around 61.81 inches and its average temperature is 77.8°F.
Economy: Manufacture (pharmaceutics) and agriculture (pineapple).
Average Salary: $388.57 weekly (1998)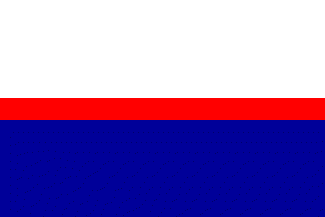 Flag: The flag has the following description: a wide white stripe, a wide blue united by a smaller red one in the center. These colors are representative of Don Pedro Meléndez Valdés, founder of the municipality.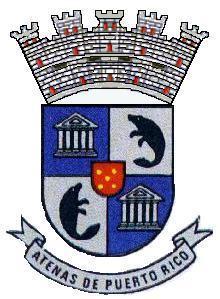 Coat Of Arms: Shield divided in quarters: in the blue fields, a silver Greek temple, in the silver fields a black curved manatee and covering the four quarters in the center a small red shield with five flames in gold, forming a vane. To the top, a three tower silver crown and below the shield a white banner with the inscription "Puerto Rico's Athens" in black letters. The Greek temple represents the city of Athens, whose characteristic building, the Parthenon was one of the main temples dedicated to goddess of wisdom Athens, to which, according to the legend, her name was given to the city.
Public Schools sorted by educational levels.
Arecibo Region
Manatí District
Name
Level
Telephone
Address
Elementary

ANTONIO VÉLEZ ALVARADO

K-6

(787) 854-4160

PO Box 30160 Suite 282, P.R. 00674-0000

AUGUSTO COHEN

K-5

(787) 884-6519

PO Box 1014, P.R. 00674-0000

CLEMENTE RAMÍREZ DE ARELLANO

K-6

(787) 884-3031

Suite 339, P.R. 00674-0000

CRUZ ROSA RIVAS

K-6

(787) 854-4900

PO Box 506, P.R. 00674-0000

EVARISTO CAMACHO

K-6

(787) 854-6315

PO Box 30160, P.R. 00674-0000

FÉLIX CÓRDOVA DÁVILA

K-6

(787) 854-4255

PO Box 30160 Suite 173, P.R. 00674-0000

FRANCISCO MENÉNDEZ BALBAÑE

K-6

(787) 854-3063

PMB 106, P.R. 00674-0000

JOSÉ DE DIEGO

PK-6

(787) 854-2272

PO Box 174, P.R. 00674-0000

JOSÉ MELÉNDEZ AYALA I

K-6

(787) 854-6788

PO Box 506, P.R. 00674-0000

JOSEFA RIVERA MIRANDA

K-6

(787) 854-7227

PO Box 506, P.R. 00674-0000

JUAN A. SÁNCHEZ DÁVILA

K-6

(787) 854-7747

PO Box 1397, P.R. 00674-0000

MICAELA ESCUDERO

K-6

(787) 889-3106

PO Box 3081, P.R. 00674-0000

TEODOMIRO TABOAS

K-6

(787) 854-2255

PO Box 506, P.R. 00674-0000

Intermediate

JESÚS T PIÑERO

7-9

(787) 854-2259

PO Box 3158, P.R. 00674-0000

NUEVA JUAN S. MARCHAND

7-9

(787) 854-4541

PO Box 506, P.R. 00674-0506

Institutional

INSTITUTO TECN. RECINTO DE MANATÍ

13-14

(787) 854-2050 715

PO Box 506, P.R. 00674-0000

Secondary

SU FEDERICO FREYTES RODRÍGUEZ

K-9

(787) 854-9672

PO Box 1844, P.R. 00674-0000

High School

FERNANDO CALLEJO

10-12

(787) 854-2629

PO Box 3355, P.R. 00674-3355

JOSÉ A. MONTAÑEZ GENARO (VOC. AREA)

10-12

(787) 854-2250

PO Box 1091, P.R. 00674-0000

PETRA CORRETJER DE O'NEILL

10-12

(787) 854-6601

PO Box 30160 Suite 335, P.R. 00674-0000
Hymn: Atenas de Borinquen – By Wilfredo Pagán
Que bonito ver la grandezas
de la tierra en que nací.
Ver su florrecer y sus playas
como brillan al dormir.
Orgulloso estoy de mi pueblo
y precioso Manati.
Que grtandioso es conocer
cómos se ha llamdo así.
En la Atena de Borinquen
en su cuna meció
todos esos próceres que allí cultivaron
todos los talentos que un pueblo nació,
y a su nombre proclamó.
Es la Atenas de Borinquen
de gracias y esplendor
de hermosas paisajes que serán recordados
si en tus bellas tierras no llegase a morir
te prometo que nunca serán olvidados.
En mi corazón llevar grabado
el nombre de Manati:
y será mi honor
porque ha sido la razón de mi existir.
Events:
Patron Fetivities – February
Cross Festivities – May
Beach Festival – July
Manatee Festival – July
Halloween Festival – October
Chirstmas Festival – December
Places To Visit:
Municipal Library
Monserrate Sugar Cane Refinery Ruins
The Acropolis
Mar Chiquita Beach
Tortuguero Beach
Los Tubos Beach
Old Cementery Ruins
Marqués de la Esperanza Hacienda Ruins
Taboas Teather
Historic Zone
Distinguished Citizens:
Clemente Ramírez de Arellano
Juan R. Ramos Vélez
Néstor Rodríguez Escudero