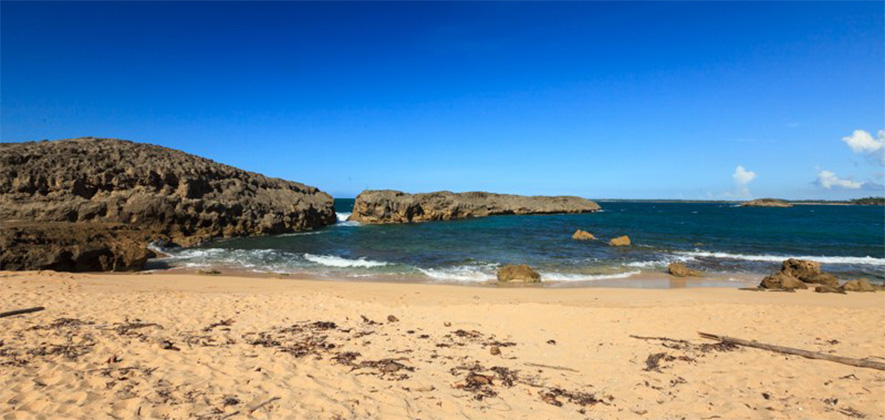 Mar Chiquita Beach
Manatí, Puerto Rico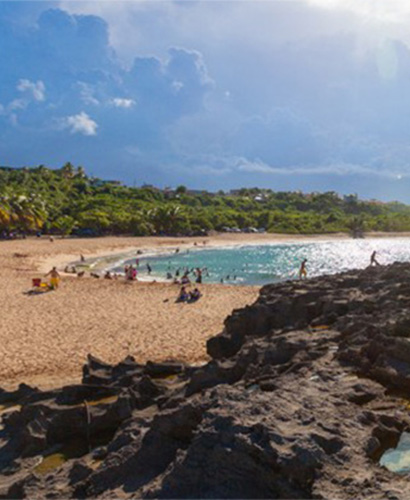 Mar Chiquita Beach is one of the most visited beaches located on the north coast of the island of Puerto Rico in the town of Manati. From the parking lot full of sand, it is steps away from the oval-shaped bay that is protected from the open ocean by the rocky limestone formations found along the north coast of Puerto Rico. An opening between the rocks allows the ocean to flow in and out creating Mar Chiquita.
Mar Chiquita (or Little Sea) is a small beach cove protected from the rugged Atlantic by a rocky wall. The small beach is surrounded by rocks that serve as breakwaters. In the middle of the rocks there is a cavity where the tide enters and forms a U-shaped wave inside the beach. Its sand is thick and has a lot of snails.
The beach is perfect for sunbathing, taking a dip, taking photos, walking, snorkeling for the variety of fish and marine crystals that can be appreciated, thanks to the crystalline water that it has or simply rest enjoying its beautiful landscapes. You can also take a break from the sun under one of the many palm trees that line the beach or visit one of the small kiosks in the parking area (usually open on weekends and holidays).
Facing the sea, embedded above another cave, is a niche with the image of the Virgen del Carmen. An annual procession is held that starts from the church and ends in this place.
The beach does not have bathrooms, but it has a large parking space, and food kiosks which are only open on weekends.