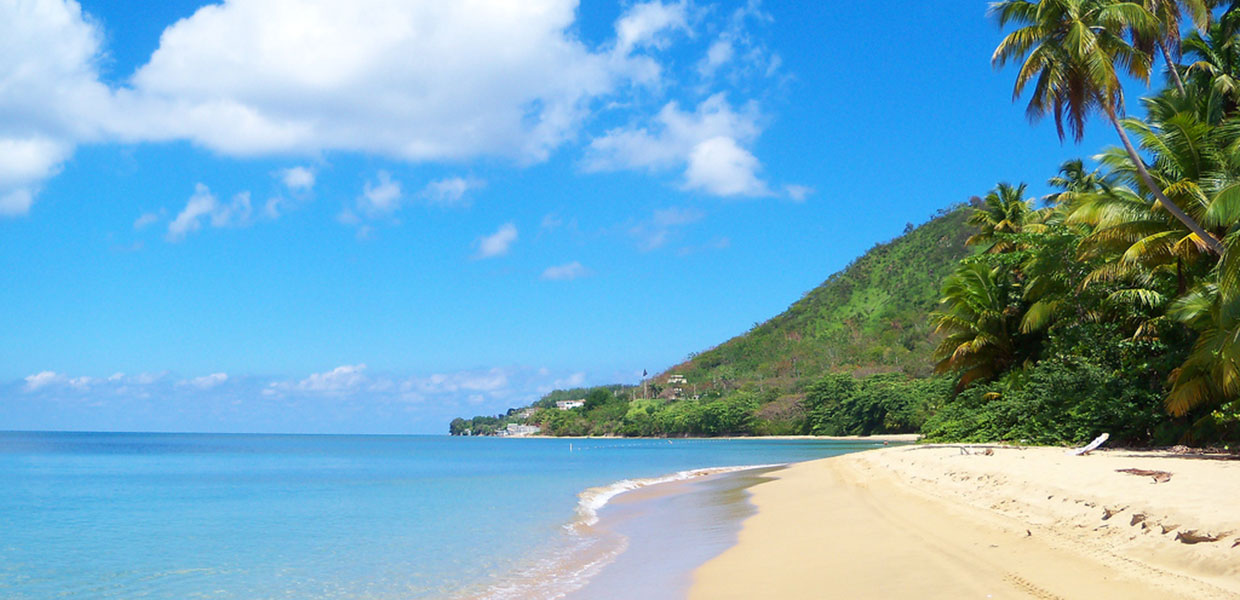 Añasco, Puerto Rico
Where The Gods Die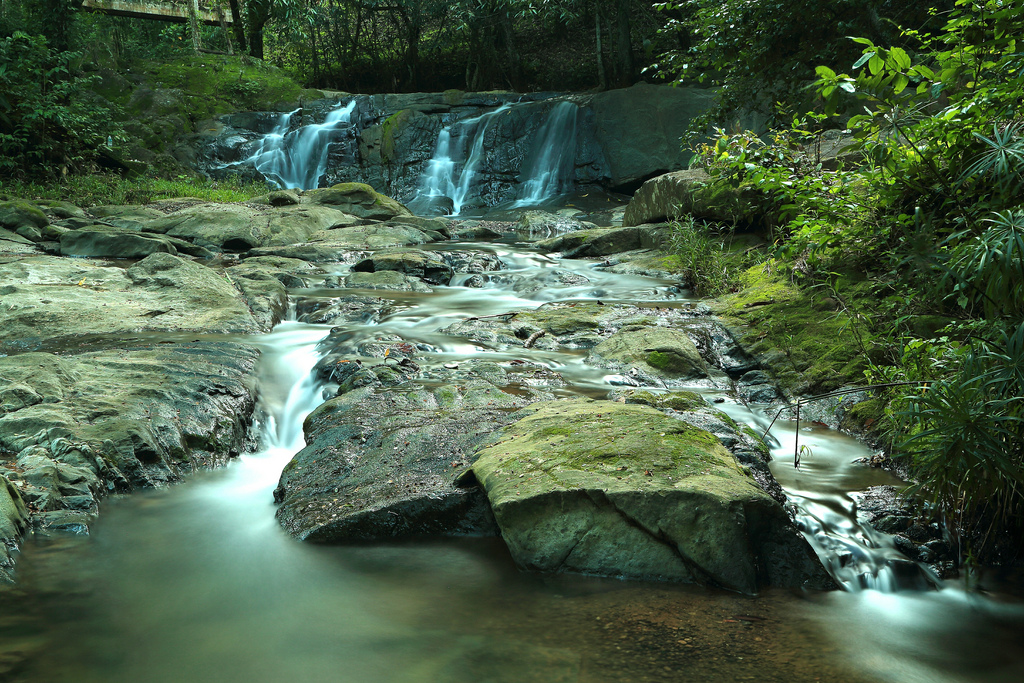 Añasco (ah-NYAHS-ko) is known as "the town where the gods die," "the puff pastry town," "the blood sausage town," and "the natives." The patron saint is Saint Anthony the Abbot.
Añasco is located in the valleys of the west coast of the island, and is bordered by the Río Grande de Añasco. It is bordered by the towns of Rincón, Aguada, and Moca to the north; Mayagüez to the south; San Sebastián and Las Marías to the east; and the Mona Channel to the west.
The land is largely flat, but there are some elevations that belong to the San Francisco mountain chain: Canta Gallo, and Gordo and Pinchón. In addition, there are wetlands and beautiful beaches. The rivers that run through the municipal territory are Grande de Añasco, Cañas, Casey, Dagüey, Hondo, and Humatas. There are also several brooks, such as La Balsa, Caguabo, Cerro Gordo, Cercada, Chiquita, Grande, Icacos, Justo, Las Piedras, and Del Muerto. On the coast there is the Añasco Bay and a promontory called Punta Cadena.
Today, agriculture ranks third or fourth as an economic activity, since most of the arable land is used for manufacturing, commerce, public buildings, and subdivisions. Nevertheless, plantains, bananas, and other produce are still grown. There is also a kind of mango produced in the region that is used to produce a famous jam. Añasco was also known for its pork rinds, a reputation now held by Bayamón.
Foundation:
Don Luis de Añasco founded the city of Añasco 1733. Juan Ponce de León sent him to this region to surpress a revolt by the Taíno Cacique Chayoán. The revolt arose after Cacique Chayoán ordered the drowning of Diego Salcedo in the Río Grande de Añasco river (called by the Taínos, Gurabo River), verifying that the Spaniards were not Gods but, instead, mortals. That is why today Añasco is called "Donde los Dioses Mueren" (Where The Gods Die).
Luis de Añasco was from neighboring San Germán and proprietor of the land where the town of Añasco was founded in 1733 by initiative of the rich landowner Don José de Santiago. This property was located on the margins of the river "Guaorabo", today known as Río de Añasco.
Location:

Located in the Costal Valley of the West. It is bordered by: Rincón, Aguada and Moca to the north, Mayagüez to the south, San Sebastían and Las Marías to the east, and the Mona Passage to the west.
Area:
92.0 sq km / 40.0 sq mi
Population:
28,348 (census 2000)
Population Density:
308.1 per sq km / 708.7 per sq mi
People are known as:
Añasqueños
Añasco is also known as:
Donde Los Dioses Mueren
El Pueblo de los Morcilleros
Los Nativos
Barrios: Añasco, Puerto Rico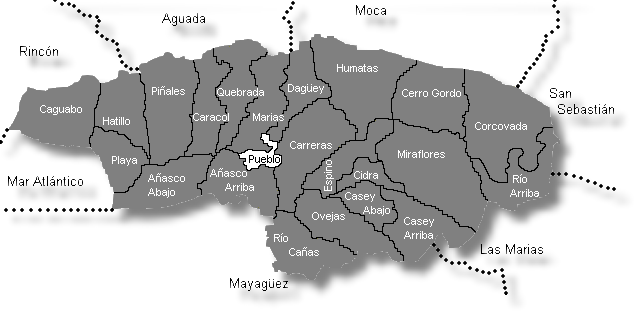 Censo 2000:
Population by Wards – Añasco
Habitants

Añasco Pueblo

1,038

Añasco Abajo

32

Añasco Arriba

1,847

Caguabo

903

Caracol

1,037

Carreras

3,303

Casey Abajo

180

Casey Arriba

523

Cerro Gordo

411

Cidra

332

Corcovada

659

Dagüey

1,891

Espino

1,646

Hatillo

1,383

Humatas

551

Marías

4,498

Miraflores

730

Ovejas

1,603

Piñales

2,163

Playa

1,652

Quebrada Larga

1,506

Río Arriba

176

Río Cañas

284

Total
28,348
Source: Censo 2000
Patron:
San Antonio Abad
San Antonio Abad Parish
Apartado 392, Añasco, P.R. 00610
(787) 826-2215
Mass Schedule:
Daily: 7:30am & 7:00pm
Saturday: 6:00pm / Sunday: 7:00am, 9:00am & 7:00pm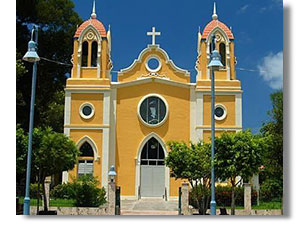 Topography:
The terrain is practically level and it has beautiful beaches. The elevations pertaining to the Central Mountain Range (Cordillera Central) that stand out in the topography of the municipality are the following: Canta Gallo (370 m), Gordo (340 m), and Pichón with the same height.
Hydrography:
The hydrographic system includes the rivers Río Grande de Añasco, Humatas and Dagüey and various gorges; also the rivers La Justo, Icaco, Caguabo, La Balsa and Cerro Gordo.
Climate:
Annual precipitation is approximately 80.4 inches and the average temperature is 75º Farenheit.
Economy:
The main source of income comes from the industries established in the industrial zone. Construction, commerce, and agriculture (sugar cane and fruits) constitute other sources.
Flag: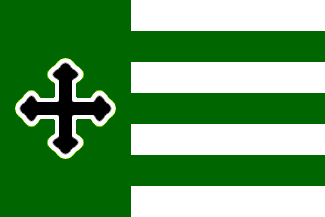 The flag derives its design, colors and symbolism from the municipal Coat of Arms. The only difference is that silver is painted white on the flag.
Coat Of Arms: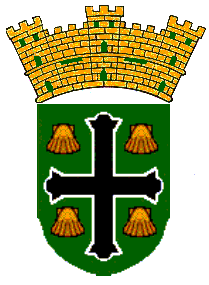 The green field of the shield contains a saber cross massed in black, outlined in silver, and has a gold scallop shell in each quadrant formed by the cross. A gold mural crown of three towers crests the shield. The shield itself is identical in its design and colors to the one from which it probably came; that is, that of Captain Luis de Añasco, companion of Captain Juan Ponce de León in his first trip of exploration and colonization of Puerto Rico. "When Juan Ponce de León came to discover Puerto Rico," it is written in the "History of Puerto Rico", by Fray Iñigo Abad y Lasierra, "he took in his company Captain Luis de Añasco." The Cacique Agüebana asked Juan Ponce de León to gave him the name of the captain, which he used from there on.
In his book "The Colonization of Puerto Rico" Don Salvador Brau says that, "Luis de Añasco resisted, with the help of other captains, the Indian attack in Aguada (area of Añasco). Later he participated in the campaign against the insurrection of the natives and baptized the female Indian Chief "Cacica Luisa" of the area of Loíza, by which she received the spanish name Luisa".
The shield of the town of Añasco is then, the same of the explorer Don Luis de Añasco, whose last name is perpetual in the population. One of the particular details, the four scallop shells, remember the last name of the founder of Añasco, Don José de Santiago, because these shells are also called "de Santiago", in the Spanish tradition they represent Apostle Santiago el Mayor, Patron of Spain.
Places To Visit:
Añasco Beach
Autodrome
Hacienda La Eugenia
Río Grande de Añasco
El Salto de la Encantada
San Antonio Abad Parish
Villa Pesquera
Events:
Saint's Festival – January
Mayuco Festival – January
Fine Arts Festival – January
Three Kings' Day Festival in Ovejas and Corcovada wards – January
Saint Anthony's Marathon – January
Antique Car Fair – January
Theater Festival – May
Youth Festival – July
Festival in Honor of Saint Rose of Lima – August
Añasco Triathlon – September
Chipe Festival – October
Distinguished Citizens:
Víctor Arrillaga

– poet, actor, and master of ceremonies. Arrillaga worked in films in the 1950s and 60s.

Rafael Arrillaga-Torrens

– physician, political figure, and essayist. Arrillaga-Torrens was a member of the Council on Higher Education, the Puerto Rico Academy of the Spanish Language, and the Puerto Rico Academy of Arts and Sciences. As a representative for the 1940 and 1944 terms, Arrillaga presided the House in 1943 and 1944. His essays include "Memoria de un viaje en el tiempo" (1963), "La naturaleza del conocer" (1987), and "Grandeza y decadencia de la España del siglo XVI" (1995), among others.

José Antonio de Bonilla-Torres

– writer and priest. He spoke out against paying the Catholic church for granting dispensations to allow marriages and thanks to him, this practice was prohibited by royal order in 1815.

Germán Delgado-Pasapera

– poet and teacher. Delgado taught at the University of Puerto Rico, Mayagüez Campus. He published a book of poetry, Desde el fondo del pecho (1964) and a historical work, Puerto Rico: sus luchas emancipadoras 1850 – 1898 (1984).

José de Jesús-Domínguez

– a physician, playwright, essayist, and poet. De Jesús published in La Tarde, La Revista Blanca, and Revista Puertorriqueña; his essays include "La autonomía administrativa en las Antillas" (1887) and "Los jíbaros" (1903); his poetry includes Odas elegíacas (1883).

Ramón Figueroa-Chapel

– poet and theater critic. Figueroa collaborated as a theater critic at El Mundo. His published poetry includes the books Poesía (1969) and Balbuceo (1974).

Rosario Guiscafré-Arrillaga

– journalist and poet. Guiscafré collaborated with El Universal, Puerto Rico Ilustrado, El Mundo and El Imparcial. She presided the Association of Women Journalists and published a book of poems, Oleaje íntimo (1961).

Joaquín Parrilla

– revolutionary. Parrilla was one of the most outstanding participants in the Grito de Lares.

Leonardo Ponce de León

– journalist

Enrique Ramírez-Brau

– historian and poet. As a historian, he published several books, including Investigación histórica acerca del escudo de armas de Puerto Rico e Historia y genealogía del pirata Cofresí. His works of poetry include Lira rebelde, Bajo tu cielo azul and Canciones en la sombra.

Mariana Robles de Cardona

– educator and essayist. Robles directed the Spanish Department at the General Studies Department of the University of Puerto Rico. She was a member of the Puerto Rico Academy of Arts and Sciences. Her works include Búsqueda y plasmación de nuestra personalidad (1958) and El ensayo puertorriqueño en la generación del treinta (1960).
Public Schools sorted by educationl levels.
Mayagüez Region
Añasco District
Name
Level
Telephone
Address
Elementary

ANTONIO GONZÁLEZ SUÁREZ

K-6

(787) 826-3625

PO Box 790, P.R. 00610-0000

CARMEN CASASUS MARTI

K-6

(787) 826-5355

PO Box 1576, P.R. 00610-0000

ESPINO

K-6

(787) 826-3380 (787)

PO Box 1818, P.R. 00610-0000

MARIANA BRACETTI

K-6

(787) 826-3040

PO Box 1407, P.R. 00610-0000

OVEJAS

K-6

(787) 826-1330

PO Box 1407, P.R. 00610-0000

PARCELAS MARIA

K-6

(787) 826-2266

PO Box 1731, P.R. 00610-0000

QUEBRADA LARGA

K-6

(787) 826-5080

PO Box 1407, P.R. 00610-0000

Intermediate

ALCIDES FIGUEROA

7-9

(787) 826-2195

PO Box 1788, P.R. 00610-1407

ISABEL SUÁREZ

7-9

(787) 826-2575

PO Box 1874, P.R. 00610-0000

Nivel Secundario

SERGIO RAMÍREZ DE ARELLANO

7-10

(787) 826-2260

PO Box 1407, P.R. 00610-1407

Secondary

SU PLAYA

K-9

(787) 826-3284

RR 01 BOX 955, P.R. 00610-0000

High School

LUIS MUÑOZ MARÍN

10-12

(787) 826-1476

PO Box 1722, P.R. 00610-1407
Hymn:
By David Cruz Colón (Kimby)
Añasco pueblo querido
siempre orgulloso de ti estaré
Añasco tierra del alma,
grandes riqueza de ti encontré.
Eres la cuna de nuestra historia,
nuestra cultura es parte de ti.
La puerta Hermosa que navegantes
primero vieron al llegar
aquí hermosos valles, aguas cristalinas,
el Rió Grande y el coquí.
La historia cuenta que aquí
ahogaron a Salcedo
y que en salto una India de noche se ve
que linda gente en Añasco
siempre encuentro orgulloso
de ti estaré.