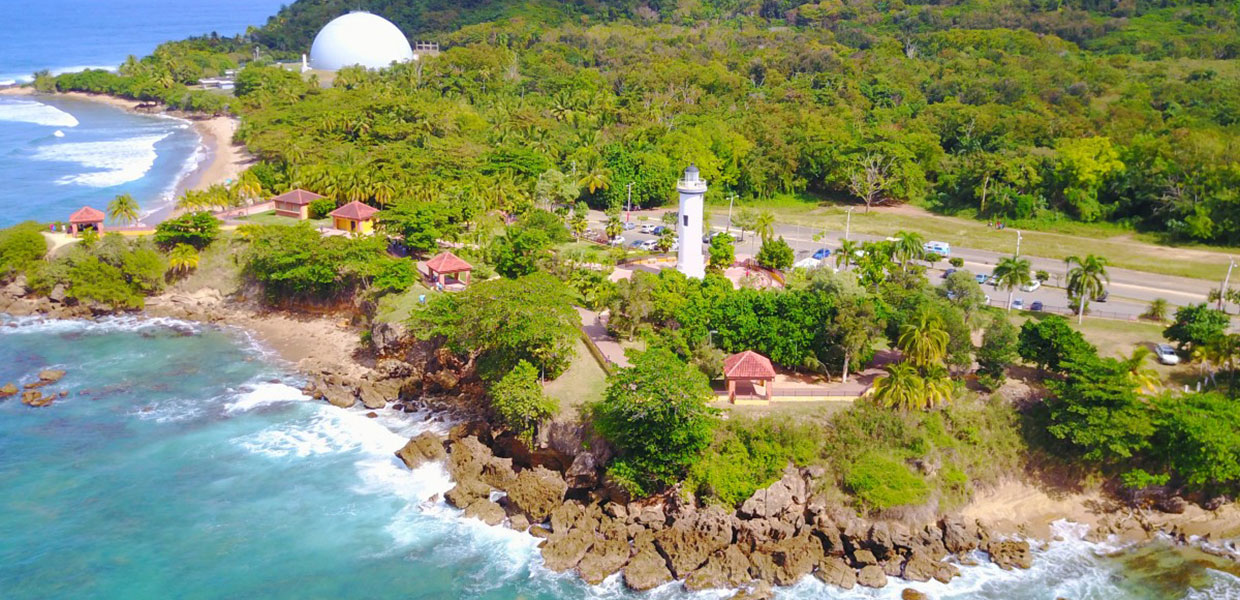 Rincón, Puerto Rico
Town of Beautiful Sunsets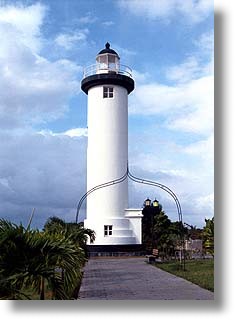 Rincón (ring-KON) is known as the "Town of the Beautiful Sunsets" and "Surfing Town," its residents are called "The Surfers". Its patron saint is Santa Rosa de Lima.
Rincón is visited by thousands of tourists each year. Since the celebration of the World Surfing Championship almost twenty years go, Rincón's six beaches have turned into the winter mecca for people who practice surfing. Whales in danger of extinction can be observed in the area during the months of winter.
Rincón is located on the extreme western point of the island. Rincón is bordered on the north by the municipality of Aguada and the Mona Channel; on the west by the Mona Channel; on the east by the municipality of Aguada and on the south by the Mona Channel and the municipality of Añasco.
The municipality is part of the region called the western coastal valleys, which is uniformly flat. Its alluvial soil is very fertile, and rain is abundant from May to November and scarce from December to March. Rincón also has some ridges from the San Francisco mountain range.
Among the principal industries are tourism and manufacturing. Chemicals, electronic equipment, scientific instruments and clothing are produced in the municipality. In the past, livestock and sugar cane farming were the main economic activities. Today, the only agriculture is fruit.
Foundation:
Rincón was founded in 1770. It was known formerly as Santa Rosa de Rincón. It is said that the name comes from Don González Rincón that was owner of the land.
Rincón has been receiving visitors since 1770, although many believe that Columbus made a brief visit in 1493. The local legend mentions Pirate Cofresí and his hidden treasure, that could be still buried in the beaches and hills of the area. In fact, Spanish treasures have been found in the clear and swallow waters of Rincón.
Location:

Rincón is approximately 15 miles north of Mayagüez and 11 miles southwest of Aguadilla. It is bordered by the Atlantic Ocean to the north, south and west; and to the east with Ańasco and Aguada.
Area:
36.0 sq km / 13.8 sq mi
Population:
14,767 (census 2000)
Population Density:
410.1 per sq km / 1,070.0 per sq mi
People are known as: Rinconeños
Rincón is also known as:
El Pueblo de los Bellos Atardeceres (Town of Beautiful Sunsets)
Los Surfers (The Surfers)
El Pueblo del "Surfing" (The Surf Town)
Wards: Rincón, Puerto Rico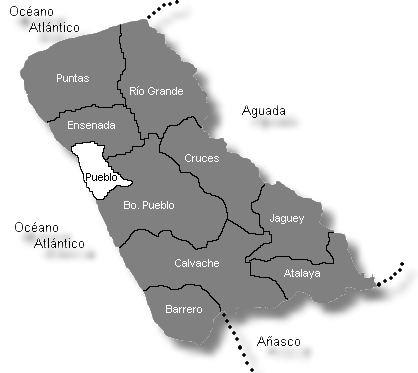 Census 2000:
Population by Wards – Rincón
Habitants
Atalaya
824
Barrero
1,019
Calvache
2,169
Cruces
1,296
Ensenada
1,301
Jagüey
865
Pueblo
3,393
Puntas
1,679
Rincón Town
1,030
Río Grande
1,191
Total
14,767
Información: Negociado del Censo de los EE.UU. Censo 2000
Patron:
Santa Rosa de Lima
Santa Rosa de Lima Parish
Apartado 128
Rincón, P.R. 00677
(787) 823-2650
Mass Schedule
Daily: 7:30am
Saturday: 7:30am & 7:30pm | Sunday: 7:00am, 9:00am & 11:00am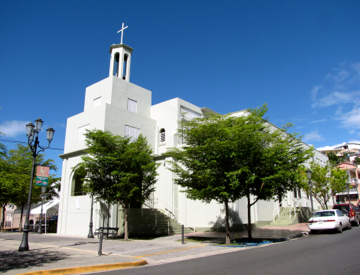 Topography: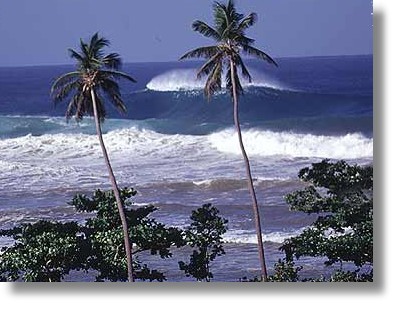 The municipality of Rincón constitutes the most prominent lands of the Western Coastal Valley region and of Puerto Rico. Its terrain is uniformly level, except for some small spurs of the San Francisco Mountains, found in the southeastern corner and in the Atalaya and Jaguey wards. The Atalaya hill with 362 meters (1,187 feet) is one of highest elevations of Rincón.
Hydrography:
It is bathed by the Grande river, that borders with Aguada; born in the Jagüey ward it has a length of approximately 9.7 kilometers (6 miles). It is also has the Grande de Calvache, Los Ramos, Punta Ensenada, Piletas and the Caflo García gorges. The Grande de Calvache gorge, seven kilometers (4.5 miles) long, is the longest.
Climate:
Temperatures average 73 degrees in winter and 85 degrees in summer.
Economy:
It is known for its agricultre, based on the cultivation of sugar cane and fruit. Cattle ranching and tourism are other source of income. It has several industries that manufacture chemical, electrical and electronic products, scientific instruments and clothing.
Salario promedio:
$249.71 semanal (1998)
Flag: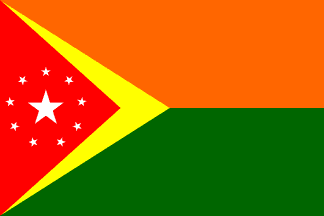 The municipal assembly approved the flag on September 28, 1973. The central white star represents the urban zone. The surrounding nine stars represent the nine wards of the municipality. The red and orange colors symbolize the vigor and the vitality of the city. The yellow represents Christianity. The green represents vegetation and the hope of the progress of the municipality. Finally, the white represents purity and the unity between the wards and the urban zone.
Coat Of Arms: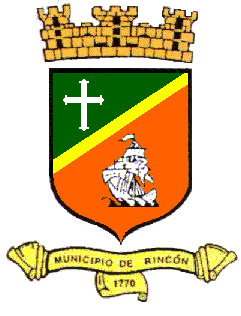 The shield consists of a green and orange Spanish blazon, with a yellow band inclined left to right. To the right and on a green background a cross, symbol of Christendom. To the left and on a orange background a Spanish ship, symbol of the discovery of Puerto Rico, in the coasts of Rincón. The orange color symbolizes vegetation and hope, and the yellow represents our Christendom. The banner has the inscription "Municipio de Rincón".
Events: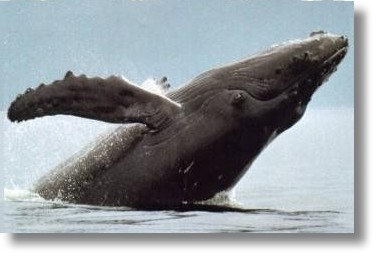 Patron Saint Festival – August
Whale watching – January and February
Traditional Festival of the Humpback Whale – March
Surfing season – all year long
Rincon Triathlon – June
Ultimate Dirt Challenge – March
Rincón International Film Festival – April
Coconut Festival – May
Places To Visit:
Punta del Mar
Higueras Point Lighthouse
Desecheo Island National Wildlife Refuge
Sun Garden
Plaza de Recreo
Beaches:
Sandy Beach
Escalera Beach
Deadman's Beach
Barrero Beach
Little Malibu Beach
Pistons Beach
Spanish Wall Beach
Trampa Beach
Corcega Beach
Black Eagle Beach
Pools Beach
Dogman's Beach
Parcking Lot Beach
Punta Higuero Beach
Terminador Beach
María Beach
Tres Palmas Beach
Antonio Beach
Almirante Beach
Indicators Beach
Los Almendros Beach
Rivermouth Beach
The Point Beach
Distinguished Citizens:
Domingo Bonet Santos

– Senator who was distinguished by his service to the community.

Juan Sánchez Martínez

– Decorated soldier in World War II, member of the United States Navy and first Puerto Rican named Commissioner of Human Rights for the state of New York.
Rincón public schools.
Rincón District
| | | | |
| --- | --- | --- | --- |
| Name | Level | Telephone | Address |
| CONRADO RODRÍGUEZ | Elementary | 787) 823-0005 | PO Box 681 |
| GENOVEVA PÉREZ | Elementary | 787) 823-5254 | PO Box 1559 |
| JORGE SEDA CRESPO | Intermediate | (787) 823-2087 | PO Box 857 |
| JUAN RUIZ PEDROZA | Elementary | (787) 823-5212 | PO Box 1546 |
| MAESTRO GANDIA | Elementary | (787) 823-1110 | PO Box 1829 |
| MANUEL GARCÍA PÉREZ (NUEVA) | High School | 787) 823-0335 | PO Box 1823 |
| MANUEL GONZÁLEZ MELO | Secondary | (787) 823-1197 | PO Box 1806 |
| OCTAVIO CUMPIANO | Elementary | 787) 823-5184 | PO Box 1829 |
Hymn:
Author Conrado Rodríguez
Rincón es mi pueblo querido
yo amo su cielo y su mar,
son verdes sus campos floridos
con brillo de sol tropical.
Las bellezas de sus montańas
son cual bendiciones de Dios.
Sus flores, su brisa y sus cańas
son gratos mensajes de amor.
Rincón, Rincón yo quiero
en tus playas vivir.
Rincón, Rincón yo quiero
en tus playas morir.