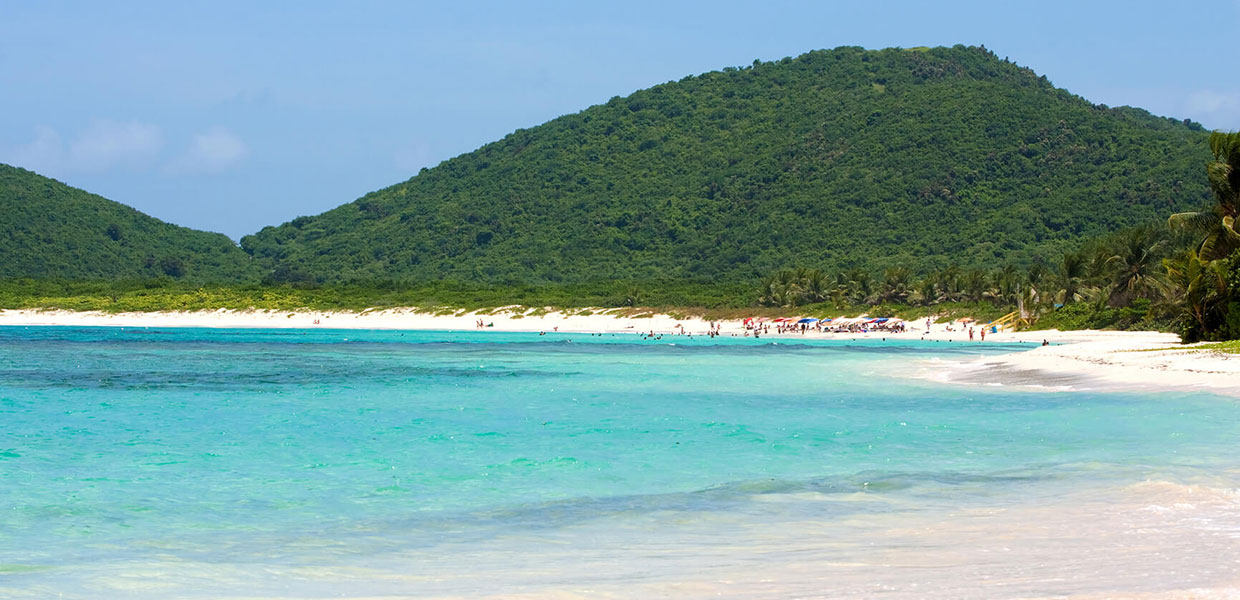 Aguadilla, Puerto Rico
The Water Hole Villa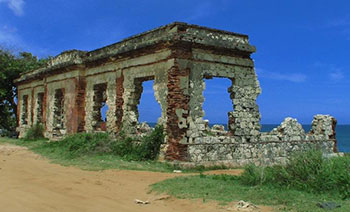 Aguadilla (ah-gwah-DEE-yah) is known popularly as the "city of springs." The nickname comes from the spring or Río Chiquito, known today as the Parterre. Aguadilla is also known as the "town of sharks", the "new garden of the Atlantic" and the place where "even the stones sing".
A town of traditions, Aguadilla celebrates a festival in honor of its patron saint, Saint Charles Borromeo, in November.
Aguadilla is located on the northwest coast of the island. It is bordered on the north by the Atlantic Ocean and Isabela; on the south by Moca and Aguada; on the east by Isabela and Moca; and on the west, once again by the Atlantic Ocean.
The largely flat terrain geographically is part of the northern coastal plains. Forestry resources include the Maleza Alta mangrove area, where there are black and white mangroves, providing a habitat for numerous species.
The economy of the town today is based on pharmaceuticals, rubber, plastics, leather, textiles, metals, wood, electronic equipment and food processing. The town's beaches are also known for their beauty and are frequented by surfers, divers and kayakers. The town has a golf course at Punta Borinquen, an inn and tourist resort, and an art museum.
Foundation:
Don Luis de Córdova founded Aguadilla in 1775 when it was separated from Aguada. At the beginning it had three main streets and a small population. Aguadilla is also known as the "La Villa del Ojo del Agua" (The Water Hole Villa), "El Pueblo de los Tiburones" (Town of the Sharks), and recently "El Nuevo Jardín del Atlántico" (The New Garden of the Atlantic).
The name of Aguadilla is derived from the indian word "Guadilla or Guadiya", which means garden. In 1861 it received the denomination of Villa, years later Aguadilla became to be the head of the third Senatorial District, made up of Aguada, Isabela, Lares, Moca, Rincón and San Sebastián.
Location:

The municipality of Aguadilla is located at the northwest corner of Puerto Rico. Bordering it are: the Atlantic Ocean and Isabela to the north, Moca and Aguada to the south, Isabela and Moca to the east, and the Atlantic Ocean to the west.
Area:
92.3 sq km / 35.5 sq mi
Population:
64,685 (census 2000)
Population Density:
700.8 per sq km / 1,826.9 per sq mi
People are known as:
Aguadillanos
Aguadilla is also known as:
La Villa del Ojo de Agua (The Water Hole Villa)
El Pueblo de los Tiburones (Shark Town)
El Nuevo Jardín del Atlántico (The New Atlantic Garden)
Hasta Donde Las Piedras Cantan (Where Even The Stones Sing)
Wards: Aguadilla, Puerto Rico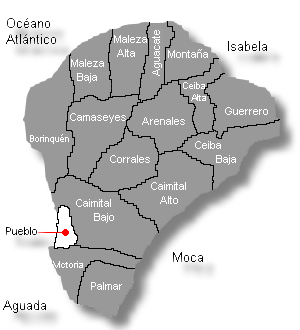 Censo 2000:
Population by Wards - Aguadillaa
Habitants
Aguadilla Pueblo
4,884
Arenales
1,038
Borinquen
8,386
Caimital Alto
3,656
Caimital Bajo
5,277
Camaceyes
12,138
Ceiba Alta
566
Ceiba Baja
2,420
Corrales
8,546
Guerrero
3,366
Maleza Alta
1,613
Maleza Baja
3,058
Montaña
4,027
Palmar
2,136
Victoria
2,043
Total
64,685
Source: Censo 2000
Patron:
San Carlos Borromeo
San Carlos Borromeo Parish
Apartado 238
Aguadilla, P.R. 00605
Tel. (787) 891-0575
Mass Schedule:
Daily: 7:00am & 5:30pm
Saturday: 4:00pm & 7:00pm
Sunday: 7:00, 8:30, 10:00am & 4:00p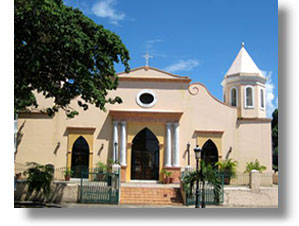 Topography:
Aguadilla belongs to the Western Costal Valley. Its terrain is mostly flat. The most outstanding hills are Jiménez (728 feet) and El Viñet (689 feet).
Hydrography:
Culebrinas River
Economy:
Textiles, chemicals, paper products, electronic equipment, fruit, cattle and sugar.
Average Salary:
$314.28 weekly (1998)
Flag: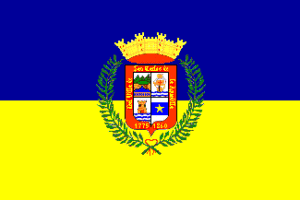 The flag is light blue over yellow with the Coat of Arms and laurels in the center.
The flag was designed in 1972 following the recommendations of the Puerto Rican Institute of Culture for the occasion of the 200th Anniversary of the city's foundation. It consists of two horizontal bands of equal size, blue the upper one and gold (yellow) the lower one, the predominant colors of the Coat of Arms placed at the center of the flag.
Coat Of Arms:
The shield's arms refer to the history of Aguadilla. The first quarter (upper left) presents the famous "Ojo de Agua" (Water Hole) behind the Jaicoa Mountains. The second quarter (upper right) shows the image of a "nao" or vessel that stands for the many ships that made Aguadilla their seaport in past centuries and with reference to the discovery of Puerto Rico by Christopher Columbus. (Another contested site of the landing). The third quarter (lower left) illustrates a tower raised from the waters due to the battles at Fuerte de la Concepción (Fort of the Conception), where English and Colombian pirate's attacks were repelled in the XVII and XIX centuries. The fourth quarter has a five-point star in reference to the many Aguadillan intellectuals that have given prestige to the arts, sciences, writings, military, and legislature; it is an _expression of light and clarity.
The inscription thereupon refers to the granting of the title of "Loyal Villa", in 1860, by Queen Elizabeth II and that corresponded to the cooperation that Aguadilla gave to Spain during the war in Africa. The green boughs refer to the palms that the Holy Virgin of Victory carries. The crown has four towers signifying its status of Villa. The colors stand for the following: red for courage, fearlessness, intrepidity (boldness), and honor; blue, the classic sea color, for serenity and sweetness; green for hope, abundance and liberty; purple for the dignity of the citizens; gold for wealth, faith and constancy (steadfastness). The white background stands for temperance and kindliness.
Events:
Three Kings' Day Festival – January
A night for love in the Atlantic garden – February
Anniversary of José de Diego – April
Puerto Rican Kite Festival – April
Flower and Song for Mothers – May
Beach Festival – May
Song and Poetry for Fathers – June
Placido Acevedo Music Festival – June
Saint John's Eve – June
Festival of Our Lady of Mount Carmel – July
Christmas illumination – October
Aguadilla Harbor Festival (patron saint's festival) – November
Festival of the Discovery – November
Christmas caroling – December
Christmas parade – December
Rafael Hernández Music Festival – December
Homecoming on the town square – last Sunday of the month
Places To Visit:
Aguadilla Ice Skating Arena
Old sugar dock
Aguadilla bowling alley
City Hall
Stone house – Punta Borinquen Lighthouse
Indian Fountain
The Fountain of Youth
Colón Park
Fort La Concepción
Las Cascadas Water Park
Saint Charles Borromeo Church
El merendero
Monument to Rafael Hernández
Monument to Fishermen
Aguadilla Art Museum
Parterre Spring
Fishermen's Plaza
Rafael Hernández Town Square
Punta Borinquen Golf Course
Ruins of the old Spanish lighthouse
Luis Raúl Estévez Skate & Splash Park
Beaches:
La Ponderosa Beach
La Poza Beach
La Saldinera Beach
Tabletop Beach
Distinguished Citizens:
María Bibiana Benítez y Constanza

– considered to be the first woman poet in Puerto Rico, a great aunt of José Gautier-Benítez. Her works include: La ninfa de Puerto Rico (1831), Dialogo alegórico (1858), and La cruz del Morro (1862).

Amalia Ceide

– teacher, journalist and poet. She was a member of the Puerto Rico Atheneum and the Puerto Rico Writers Association. Her literary works include Interior (1936), Cuando el cielo sonríe (1946), Agustín Stahl (1969), among others.

José de Diego y Martínez

– public speaker, poet, jurist, political figure, attorney, and an ardent defender of independence for Puerto Rico. He was a member of the Chamber of Delegates from 1902 until his death in 1918. In 1907 he became president of that legislative body until the Jones Act, he also presided the new House of Representatives until 1918. De Diego was president of the Puerto Rico Atheneum (1915–16) and the Association of Writers and Artists. He founded the Instituto Universitario José de Diego (1915) and the Academia Antillana de la Lengua (1916), while advocating for Spanish adopted as the language of instruction in the public schools. His works of poetry include Sor Ana (1887), Cantos de rebeldía (1916), Cantos de Pitirre (1950, posthumous) among others.

Monserrate Deliz

– educator, writer, and folklorist. Deliz wrote Cantos Infantiles.

Esther Feliciano Mendoza

– Doctor of philosophy and teacher, she was distinguished as Woman of Puerto Rico by the Union of American Women in 1983. Among other works, she published Nanas (1945), Arcoiris (1951) and Sinfonía de Puerto Rico (1970), the latter receiving an award from the Instituto de Literatura Puertorriqueña.

Jesús Figueroa

– Composer and musician, Figueroa founded a music academy, which he directed until his death. He was awarded the National Prize by the Institute of Puerto Rican Culture. As a composer of many danzas and zarzuelas, he was renowned for musical works such as Nueva Era, Borinquen, and A Carmen.

Rafael Hernández

– the most important Puerto Rican musician and composer of the 20th century. His early work include the songs Pobre Borinquen, El buen borincano, Mamá, Borinquen me llama, and Campanitas de cristal. While living in New York he formed the Trío Borinquen and traveled all over America with hit songs such as Capullito de Alelí and Silencio. In 1934, Hernández organized a quartet by the name of Victoria. The Lamento borincano, a deeply patriotic work, garnered worldwide fame for Hernández.

José de Jesús-Esteves

– attorney, poet, and journalist. De Jesús collaborated with periodicals such as Puerto Rico Ilustrado and La Democracia. His works include Besos y plumas, Crisálidas, Ronda de ánforas, Sauce lírico, and Alma adentro.

Carmen Gómez-Tejera

– professor and essayist.

Miguel A. García-Méndez

– attorney, banker, and political figure. His very active political career included being a member of the House of Representatives from 1928 to 1940; first under the Alianza Puertorriqueña (1928 – 1932), and later, as president of that body, under the Republican Union Party (1933 – 1940). In 1952, he founded the Republican Statehood Party, which he presided until 1968. During that period he represented his party in the Puerto Rico senate. In addition, he was a member of the Constitutional Assembly from 1951 to 1952.

Manuel Méndez-Ballester

– writer, journalist, and political figure. Mendez was a member of the House of Representatives from 1962 to 1968. He collaborated with newspapers such as El Nuevo Día. His works include Isla Cerrera (1937), El clamor de los surcos (1938), Tiempo muerto (1940), Encrucijada (1958), Bienvenido Don Goyito (1968), and El Circo (1975), among others.

Ana Roque de Duprey

– educator, writer, and feminist. Roque founded the Liceo Ponceño (1901). She wrote Explicaciones de gramática castellana (1889) and Geografía universal (1894), among other works.

Agustín Stahl

– botanist, historian and physician. Stahl thoroughly studied the fauna and flora of Puerto Rico, receiving many academic awards abroad. He also created a museum of natural history. Stahl's published works include Informe sobre la enfermedad de la caña de azúcar (1880), Los indios borincanos (1889), La fecundidad de la mujer en Puerto Rico (1892) and Fundación de Aguadilla (1910).
Public Schools Sorted by Educational Levels.
Mayagüez Region
Aguadilla District
Name
Level
Telephone
Address
Elementary
ANA JAVARIZ
K-6
(787) 891-2260
PO Box 5254, P.R. 00603-0000
ANTONIO BADILLO HERNÁNDEZ
K-6
(787) 890-3350
PO Box 797, P.R. 00690-
CABAN
K-5
(787) 891-2077
PO Box 4024, P.R. 00605-4024
CARMEN GÓMEZ TEJERA
K-6
(787) 891-0810
PO Box 98, P.R. 00605-0000
DR. AGUSTIN STAHL
K-6
(787) 891-1000
PO Box 1807, P.R. 00605-1807
ELADIO J. VEGA
PK-6
(787) 891-0730
PO Box 566, P.R. 00605-0000
EXTENSION BORINQUEN
K-4
(787) 891-0484
PO Box 605 703, P.R. 00605-0000
HOMERO RIVERA SOLA
K-6
(787) 891-8064
PO Box 4022, P.R. 00605-0000
JOSÉ ACEVEDO ÁLVAREZ
K-6
(787) 882-1400
PO Box 5225, P.R. 00605-5225
JOSÉ DE DIEGO
K-6
(787) 891-0754
PO Box 4934, P.R. 00605-4934
LUCIA CUBERO
K-6
(787) 891-2877
PO Box 3427, P.R. 00605-0000
LUIS MUÑOZ RIVERA
K-6
(787) 891-0862
PO Box 250339, P.R. 00605-0000
MANUEL CORCHADO
K-6
(787) 891-8510
PO Box 5236, P.R. 00605-0000
RAFAEL CORDERO
K-6
(787) 891-0100
PO Box 98, P.R. 00605-0000
RAFAEL FABIAN
K-6
(787) 877-6590
PO Box 1857, P.R. 00605-
RAMÓN RODRÍGUEZ
K-6
(787) 882-9382
PO Box 5225, P.R. 00605-5225
Intermediate
ANTONIO BADILLO HERNÁNDEZ
7-9
(787) 890-3360
PO Box 68, P.R. 00690-
CENTRO PRE-VOCACIONAL
EE
(787) 819-4620
PO Box 3744 Caimital Alto, P.R. 00603-0000
DR. RAFAEL DEL VALLE
7-9
(787) 891-0620
PO Box 98, P.R. 00605-0000
ESTHER FELICIANO MENDOZA
7-9
(787) 890-2418
PO Box 250299, P.R. 00604-0000
JOSÉ DE DIEGO
7-9
(787) 891-2220
PO Box 1945, P.R. 00605-0000
Jr. & High School
CENTRO DE ADIESTRAMIENTO Y BELLAS ARTES
7-12
(787) 890-2008
PO Box 250041, P.R. 00604-0041
Jr. High
SU ADAMS
K-9
(787) 891-9170
Aguadilla Shopping Center, P.R. 00605
High School
BENITO CEREZO MÁRQUEZ
10-12
(787) 891-5000
PO Box 250434, P.R. 00604-0434
JUAN SUÁREZ PELEGRINA (NUEVA)
10-12
(787) 890-2320
PO Box 98, P.R. 00605-0000
SALVADOR FUENTES
10-12
(787) 890-5600
PO Box 250290, P.R. 00604-0296
Hymn:
Playita Aguadillana by Rafael Hernández Marín
Aguadilla Querida,
Barrio del Tamarindo
cueva de golondrinas
cuajadita de nidos,
donde las piedras cantan
junto a los Tres Amigos
y el Cerro de las Amigas
es un mudo testigo.
Somos por ti boricuas
y por tus playas
fue donde llegó la vida
a nuestro bello Edén.
Mi playita aguadillana
nadie podrá olvidar
que por ti es que
se llama Borinquen,
Borinquen, la islita
más hermosa
del antillano mar.