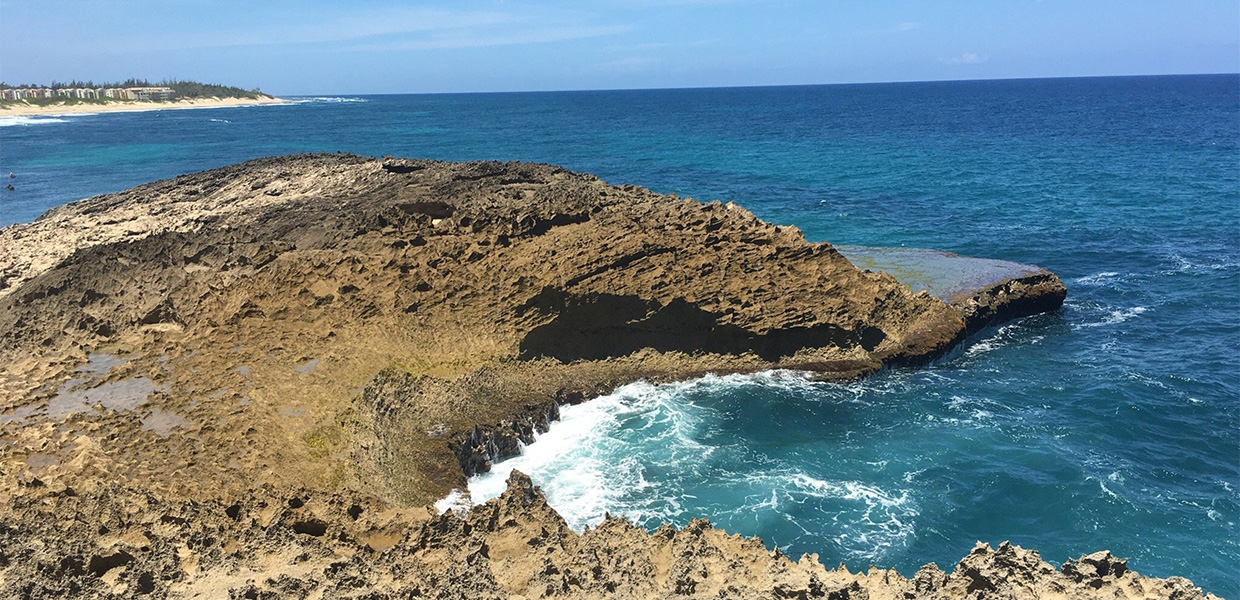 Isabela, Puerto Rico
The Northwestern Garden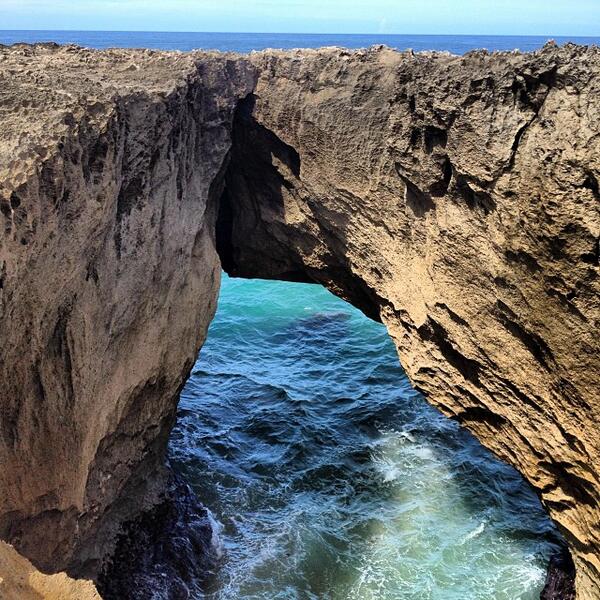 Isabela (ee-sah-BAI-lah) is known as "the garden of the northwest", "los gaillos" (the young roosters) and "the town of quesitos de hoja" (traditional Puerto Rican white string cheese). The patron saint of Isabela is Saint Anthony of Padua.
The town of Isabela is in the northern coastal plains. It is bordered on the north by the Atlantic Ocean, on the south by the town of San Sebastián, on the east by Quebradillas, and on the west by Aguadilla and Moca. The southern region is rimmed by the Aymamón Mountains, which are an extension of the Jaicoa range.
Karst topography features include towers, sinkholes, and caves. There are several caves in Coto ward, including are La Cueva del Tunel, La Cueva del Colo, and La Cueva del Goyo.
Isabela's present economy is based on tourism and high technology manufacturing industries. Cattle ranching and agriculture contribute moderately, most significantly in Jobos, where cassava root is grown. Fishing is the primary economic activity in the coastal region.
Foundation:
Chief Mabodomaca ruled the region where Isabela was founded. He was one of the most important chiefs of the Island. Although the actual date is not known, a settlement called San Antonio de la Tuna existed in this great extension of land that occupy today the municipalities of Isabela, Camuy and Quebradillas. Its center was at that time along the shoreline of the Guajataca River. Around 1725 Governor José Antonio de Mendizábal y Azares granted authorization to base a population on the settlement, which must have happened as it normally did after the foundation of a hermitage. In this case additional factors were the avocation of San Antonio and the construction of a small village. At the end of eighteenth century when the area was visited by Fray Iñigo Abbad y La Sierra, San Antonio de la Tuna had a church, more than sixty houses and almost 1,200 inhabitants, which was a considerable number for those times.
In the second decade of the nineteenth century, around 1818, the neighbors were supposedly stimulated by Bishop Mariano Rodríguez Olmedo to grant Pablo Corchado authorization to request from Governor Salvador Meléndez the transfer of the population to new site closer to the coast. The new site would be named Isabela in honor of Queen Isabel of Castile. Meléndez approved the transfer request and the new town was founded the following year May 21, 1819. In this same year the construction of the church began which finished sixteen years later.
The economy of San Antonio de la Tuna had been based on cattle ranching. After the transfer to the present Isabela, the cultivation of sugar cane, coffee, tobacco and fruits was stimulated. In 1918 the church was damaged during a strong earthquake that affected the western region of the island, it was rebuilt at a cost of $52,000.
Location:

It is bordered by: the Atlantic Ocean on the north; San Sebastián and Moca on the south, Aguadilla on the west, and Quebradillas on the east.
Area:
145.6 sq km / 56.0 sq mi
Population:
44,444 (census 2000)
Population Density:
305.2 per sq km / 793.6 per sq mi
People are known as:
Isabelinos
Isabela is also known as:
El Jardín del Noroeste (The Northwestern Garden)
Los Gallitos (The Cockerels)
El Pueblo de los Quesitos de Hoja (The Town of Cheese)
Wards: Isabela, Puerto Rico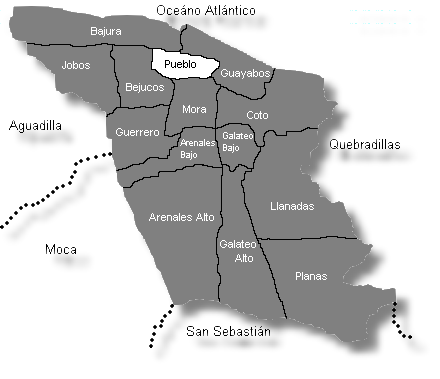 Census 2000:
Population by Wards - Isabela
Habitants

Arenales Altos

3,677

Arenales Bajos

3,296

Bajura

501

Bejucos

3,056

Coto

3,799

Galateo Alto

1,269

Galateo Bajo

1,755

Guayabos

1,426

Guerrero

3,854

Isabela Town

9,204

Jobos

3,534

Llanadas

2,761

Mora

4,271

Planas

2,041

Total
44,444
Source: Censo 2000
Patron:
San Antonio de Padua
San Antonio de Padua Parish
P.O. Box 525
Isabela, P.R. 00662-0525
Tel. (787) 872-2563
Fundation: 1835
Patron Celebration: 13 de junio
Mass Schedule
Daily: 6:45am y 7:00pm
Saturdays: 7:00pm, Sundays: 7:00am, 10:30am y 7:00pm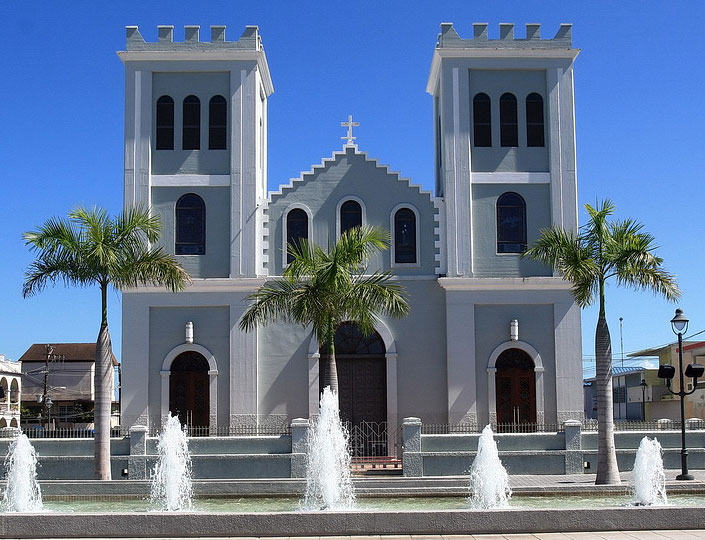 Topography:
Geographically it belongs to the Northern Coastal Plains. The Aymamón Mountains run through the south, which are an prolongation of the Jaicoa Mountain Range that begins in Aguadilla. The hills that are part of these mountains are La Bandera (Galateo Alto ward)) at 368 meters (1,207 feet); La Silla (Arenales Alto ward) at 337 meters (1,106 feet); El Sombrero (in Galateo Alto) at 330 meters (1,083 feet); Indio (Planas ward)) at 310 meters (1,017 feet); and Monte Encantado (in Arenales Altos) at 280 meters (919 feet) of elevation above sea level. The central part of the territory does not surpass 200 meters (656 feet) of height; near the coast, it is below that height.
Hydrography:
The Guajataca River borders the east separating it from Quebradillas; its affluent the Sequía Gorge intersects the river at the Coto and Llanadas wards. Los Cedros and Del Toro gorges empty directly into the ocean.
Climate:
Annual precipitation is around 62.8 inches and its average temperature is 84.7°F.
Economy:
Manufacture (shoes), tourism, industry, dairy products, cattle, leather and tabacco.
Average Salary:
$232.80 weekly (1998)
Flag:

Isabela's flag derives its design, colors and symbolism from its Coat of Arms. It consists of three horizontal stripes of equal width. The top and bottom stripe are yellow and the center one green. The Coat of Arms may be superposed on the green stripe in the center. The dimensions of the flag are the usual ones used in Puerto Rico.
Coat Of Arms: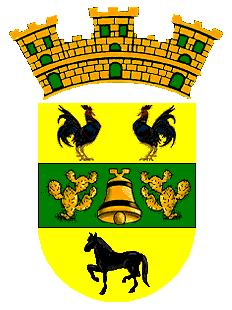 In a way similar to the flag, the shield is divided horizontally in three stripes of the same width, two gold and one green. The top and bottom stripes are gold, and the green stripe in the center has an olive tree in its center. The green symbolizes the first inhabitants of Isabela and of all Puerto Rico, including the Igneris Indians that were established here during the nineteenth century.
The gold represents the Taíno Indians, who lived in this area about two hundred years before the discovery of our island. They made extensive use of gold. The gold bell represented in the center stripe between two cactus is symbol of the hermitage, today in ruins. It is also a symbol of the town of San Antonio de la Tuna, founded during the last third of the seventeenth century along the Guajataca River. It is the place of origin of the present Isabela.
The roosters represent Isabela's famous fighting cocks. They also represent bravery. The horse represents Isabela's famous Paso Fino horses and the cattle wealth of the region. The crown has three towers, a standard emblem for cities.
Events:
Three Kings day – January
Isabela Cock Fight Festival – February
Textile Festival – May
Patron Saint Anthony of Padua Festival – June
Holy Innocents' Day– December
Caroling "Escuadrón" (Marina) – December
Caroling "Siempreviva" (Marina) – January
Places To Visit:
Guajataca State Forest
El Brujo natural pool
Sculpture of Chief Mabodamaca
Manuel Corchado y Juarbe recreational plaza
Ruins of the Saint Anthony de la Tuna shrine
City Hall
Parish house
Cara del Indio (Limestone sculpture resembling an indigenous man's face)
Jacinto natural pool
Saint Anthony of Padua Church
Guajataca Square
Guajataca Tunnel
Beaches:
Distinguished Citizens:
Manuel Corchado y Juarbe

– lawyer, abolitionist, and writer. He was president of the Liberal Reformist Party and the Puerto Rico Atheneum. He publised poetry, essays, and plays. His most renowned works include a book of poetry, Un beso (1881), an essay, Las barricadas (1870), and a play, El capitán Correa.

Noel Estrada

– musician and composer. Author of the famous song, En mi Viejo San Juan.

Vicente Géigel-Polanco

– lawyer, poet, essayist, and journalist. He contributed work to such newspapers such as El Imparcial, La Democracia, El Mundo, and Puerto Rico Ilustrado, among others, and he was director of el Diario de Puerto Rico. He was president of the Puerto Rico Atheneum (1939 – 1941) and member of the Institute of Puerto Rican Literature and the Puerto Rican Academy of History. Géigel was Attorney General of Puerto Rico and director of the Division of Economic and Social Research of the Department of Labor, as well as a university professor. He was a member of the Liberal Party, the Popular Democratic Party (by which he was elected senator at large in 1940 and 1944) and a member of the Puerto Rican Independence Party. Among his writings are a book of poetry, Canto al amor infinito (1962) and the prose piece El despertar de un pueblo (1942).

Esther M. Melón

– university professor and writer of numerous literary works.

Santiago Polanco-Abreu

– born in Bayamón, raised in Isabela. Member of the House of Representatives (1948 -1964), over which he presided from 1963 to 1964. He was a delegate of the Constituent Assembly (1951), resident commissioner in Washington (1965 –1969), and Popular Democratic Party candidate for governor in 1968. Journalist, essayist, and poet.
Public Schools sorted by educational levels.
Arecibo Region
Isabela District
Name
Level
Telephone
Address
Elementary

ANTONIO GEIGEL PAREDES

K-6

(787) 872-1942

PO Box 545, P.R. 00662-0000

EMILIA CASTILLO

PK-6

(787) 830-2925

PO Box 1487, P.R. 00662-0000

EPIFANIO ESTRADA

K-6

(787) 872-4650

PO Box 545, P.R. 00662-0000

GLORIA GONZÁLEZ

K-6

(787) 872-3440

PO Box 8000, P.R. 00622-0000

JOSÉ JULIÁN ACOSTA

PK-6

(787) 872-2440

PO Box 1368, P.R. 00662-0000

JUAN B. HUYKE

K-6

(787) 872-5520

PO Box 1368, P.R. 00662-0000

LA PLANTA

K-6

(787) 872-4096

PO Box 80000, P.R. 00662-0000

MANTILLA

K-6

(787) 872-5050

PO Box 8000, P.R. 00662-0000

MANUEL CORCHADO Y JUARBE

K-6

(787) 872-2320

PO Box 855, P.R. 00662-0000

MATEO HERNÁNDEZ

K-6

(787) 872-5770

PO Box 545, P.R. 00662-0000

NICANDRO GARCÍA

K-6

(787) 872-5430

PO Box 8000, P.R. 00662-0000

NUEVA CEFERINA CORDERO

K-6

(787) 872-0464

PO Box 951, P.R. 00662-0000

PARCELAS MORA GUERRERO

PK-6

(787) 830-5780

PO Box 2243, P.R. 00662-0000

Intermediate

IRMA DELIZ DE MUÑOZ

7-9

(787) 872-4070

PO Box 560, P.R. 00662-0000

JOSÉ C. ROSARIO

7-9

(787) 830-2025

PO Box 8000, P.R. 00662-0000

LUIS MUÑOZ RIVERA

7-9

(787) 872-2388

PO Box 2076, P.R. 00662-2076

Secondary

SU JOSÉ A. VARGAS

K-9

(787) 872-5650

PO Box 519, P.R. 00662-0000

High School

DR. HERIBERTO DOMENECH

10-12

(787) 830-2915

PO Box 540, P.R. 00662-0000

FRANCISCO MENDOZA

10-12

(787) 872-2275

PO Box 1776, P.R. 00662-1776
Hymn:
By Adrián Augusto Alfaro (Cholo)
Isabela, permite que me inspire
en tu nombre que incita inspiración
deja que tus bellezas las admire
y le cante con todo el corazón.
Son tus playas hermosas
y tus mares fuente de gran pureza;
cristalinas y adornan tus orillas
las palmeras que abanican
con brisas tus colinas.
En tu historia de Coto y Guajataca
razas dan formación a
tu cultura ejemplificándose
en tu Mabodamaca indio,
firmeza, honor, clase y altura.
Tu Pozo de Jacinto
es leyenda tu nombre
San Antonio de la Tuna
tus gallos, tus quesitos, bellas prendas
Manuel Corchado y Juarbe, su cuna.
Isabela, déjame que me inspire
que me levante al cielo en oración
y que le pida a Dios,
que con bondad te mire
y que siempre te de,
su santa bendición.
Bendita Isabela, mi bello Jardín
mi bella Isabela, de mi corazón.