Rompe Olas Beach "Tamarindo Beach"
Aguadilla, Puerto Rico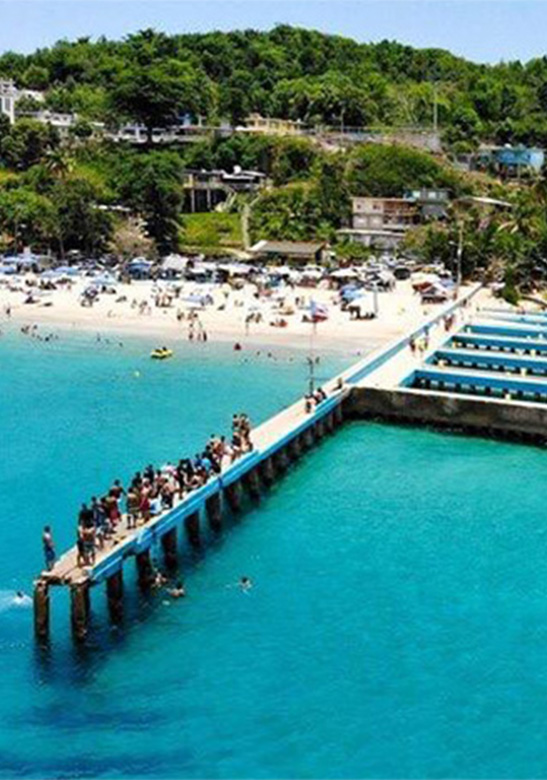 Rompe Olas Beach, located northwest of Puerto Rico in the municipality of Aguadilla, stands out for being a harmonious place. The beach offers some of the clearest waters on the northwest coast, with beautiful shades of turquoise.
Between the blue of its waters, the white of the sand, the flora and fauna that this place welcomes make this beach a unique paradise. There is a small dock near the breakwater that serves as a springboard for those who like to jump into the water from its height. It is always recommended to exercise the greatest possible caution.
Despite the beach being very accessible, it enjoys great tranquility for those who like to be away from the hustle and bustle. It has a large parking lot and a variety of kiosks where you can enjoy your typical meals.
During the summer months, the water can be very calm. Local teenagers can be seen swimming and snorkeling along the jetty. It is not recommended to swim or snorkel without being accompanied, as there are no lifeguards on this beach. You must be aware of the water currents and you must wear appropriate clothing. If they carry minors, they must always be accompanied and supervised by an adult. In general the beach is quite safe as long as the tide is low.
Rompeolas offers two different beaches which are Rompeolas Norte, also known as Playa Tamarindo and Rompeolas Sur.  This beach, which is a few steps from the center of town, gets its name from the huge breakwater found in the place.
Summer time is the busiest time with most local families. During the winter months and on weekdays, you may share the beach with some families and vacationers. It also has kiosks and cafes to have a good time with friends and family. Don't forget to charge your cell phone or bring a camera as it is a good place to take excellent photos.