Domes Beach
Rincón, Puerto Rico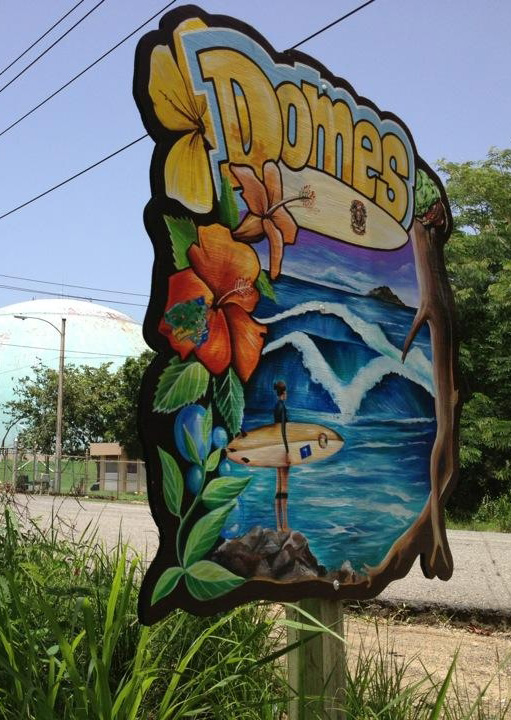 Domes Beach is located on the west coast of the island between the Rincon Lighthouse (Faro de Rincón) and the Puerto Rico Nuclear Reactor (called "Dome") which is now inactive. This beach is one of the best  surfing beaches in the island of  Puerto Rico.
This beach is very popular and crowded by surfers from the west area of the Island as well as by North American tourists. Swimming is not recommended due to strong currents, sharp rocks and pointed sea urchins, but many vacationers head towards the beach comb and watch the islanders test the waves.
Domes Beach has deep and choppy waters that collide with the tan-colored coast, bringing shells, sea glass, rocks and hedgehogs. In the distance you can see Desecheo Island, and behind the beach is the blue Nuclear Reactor, which is becoming a science center.
Domes Beach, an access point for surfers, has golden sands, deep waves and palm trees with shade. The old nuclear power plant nearby with its blue-green vaulted roof gave its name to the beach. The size of the waves makes it perfect for surfing.
Domes Beach is commonly known by its waves.  It is the site of the "Legend Surf Classic" that takes place in January in which international surfing competitions are held.  It is recommended that only expert surfers practice this sport since the waves can become dangerous.
At the right time of the year, this is also a great place to watch whales.  Bring a towel, enjoy the warm rays of the sun and see the fun. The beach has no bathrooms, but you can find some kiosks nearby. You must arrive early if you want good parking.
Add Domes Beach to your travel itinerary in Rincón and discover new vacation ideas.