Cardona Island
Ponce, Puerto Rico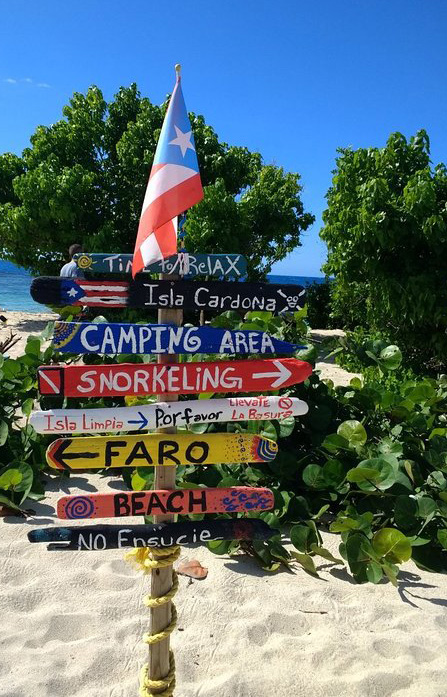 Cardona Island, also known as Sor Isolina Ferré Island, is a small, uninhabited island located 1.30 nautical miles south of the mainland off the coast of Puerto Rico on the west side of the entrance to the port of Ponce.
The island measures approximately 6 acres (24,000 m²) of land and is another beach option that Ponce offers, in addition to Pelícan Beach in Caja de Muerto Cay. Curiously, the storm surges as a result of Hurricane María, reconfigured the sand, so that now the island is wider than it is long.
The island is a paradise for those who love the sea and water activities. Its white sand beach and crystal clear waters is bordered by a coral reef. On this little island you can explore every corner of the island and enjoy its beautiful beach. The water is really crystal clear and it has a huge reef for those who love snorkeling and diving.
Cardona Island is one of the seven islands attached to the municipality of Ponce. In addition to being able to take a refreshing dip, this small island of three cords in length, you can walk the paths and visit an old lighthouse called "Faro del Puerto de Ponce" or "Faro de Cayo Cardona" built of masonry, brick and mahogany by Spaniards in 1889. The main focus of interest is the single gunfire that flies at the top. Visitors can also climb the 44 steps to enjoy the incomparable view of the Ponce coastline.
Until the mid-19th century, Cardona Island was used sporadically as a quarantine center during epidemics. The island was listed on the United States National Register of Historic Places on October 22, 1981.
The name "Cardona" is believed to come from the surname of a family of lighthouse keepers stationed on the island for many decades. Whatever its origin, the island is now also called "Sor Isolina Ferré" in appreciation and in memory of the religious woman who dedicated her life to the improvement of the residents of the "Playa" neighborhood, of which Cardona Island it is a part.
This island can be seen from the heights of Highway 2 near Ponce and from the Guancha Boardwalk observation tower. The island is administered by the Puerto Rico Department of Natural and Environmental Resources.
The island has no facilities so you need to bring everything you need for the day: sunscreen, hat, food / water, towel, camera, etc. It is also allowed to bring barbecue, chairs, etc. Bring suitable shoes if you want to explore the island. Most of it is sandy, but there are some sharp trails and coral.
How to get there:
You can go by private boat, kayak departing from the Guancha Boaedwalk, or through authorized hikers who offer transfer services from the Guancha offering various packages to make your visit the most pleasant and fun.