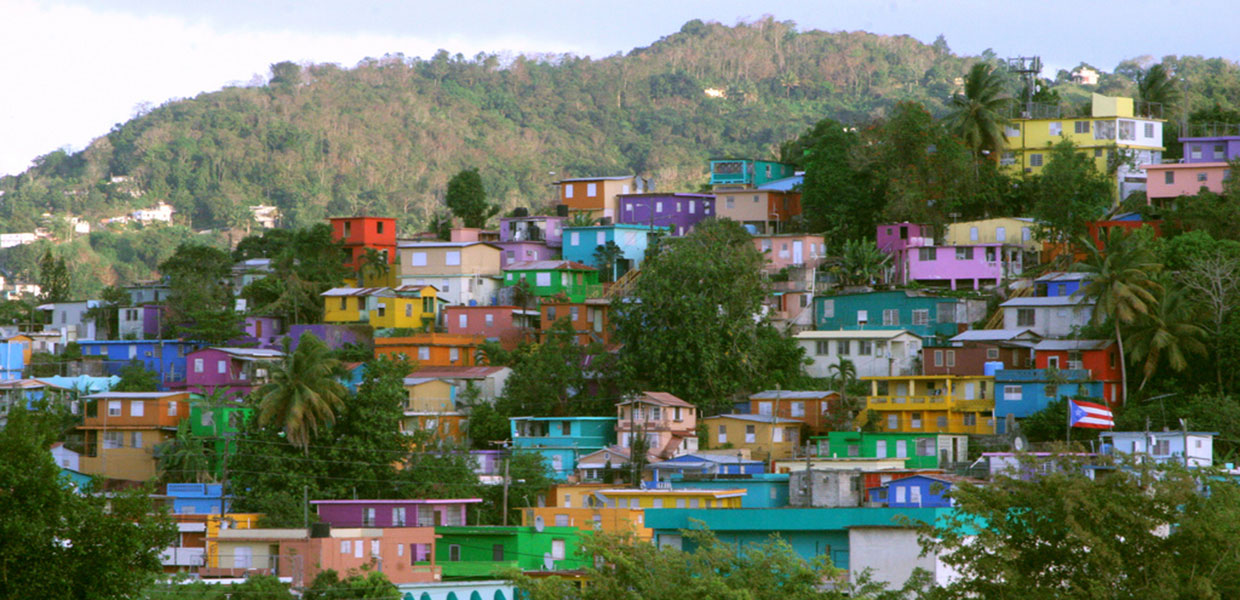 Gurabo, Puerto Rico
Town of Stairways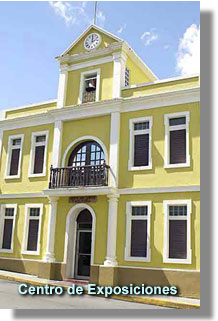 Foundation: Before Gurabo (goo-RAH-bo) was declared an independent municipality it was Burabo, a district of Caguas. This district was distant from Caguas, which caused transportation problems during the eighteenth century. Caguas could not take care of the problems of their neighbors in this district.
In 1812 the residents of Gurabo decided to take action on this matter. The 168 heads of family who lived in the district met to discuss their problems. They decided to declare themselves orphan of all medical, ecclesiastical, and judicial authority. They complained of not receiving municipal services, and because of the significant number of inhabitants, they were entitled to better economic and social considerations. In this meeting, power was granted to Don Luis del Carmen Echevarría to manage the foundation of the new town, obtaining this in 1815. Seven years later, in 1822 the town erected canonically its own parish under the advocation of Patriarch San José.

Location: Located in the central eastern region, it is bordered by: Trujillo Alto on the north, San Lorenzo on the south, Caguas on the west, and Carolina and Juncos on the east.
Area: 73.0 sq km / 28.0 sq mi
Population: 36,743 (census 2000)
Population Density: 503.3 per sq km / 1,312.2 per sq mi
People are known as: Gurabeños
Gurabo is also known as:
El Pueblo de las Escaleras (Town Of Stairways)
Puerta del Turismo del Sureste (The Southeastern Tourism Gateway)
Wards:

Gurabo, Puerto Rico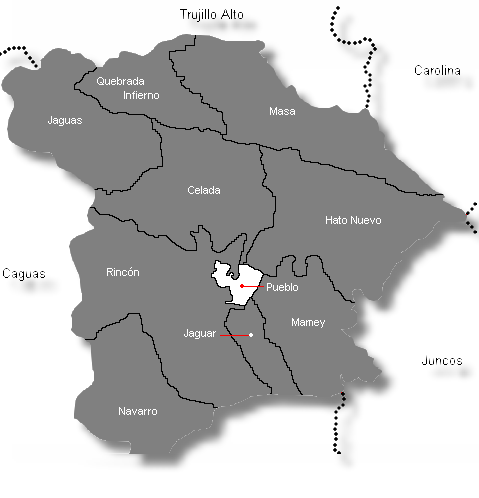 Census 2000:
Population by Wards – Gurabo
Habitants

Celada

2,288

Gurabo Pueblo

1,960

Hato Nuevo

7,377

Jaguar

810

Jaguas

2,075

Mamey

4,203

Masa

1,677

Navarro

5,015

Quebrada Infierno

675

Rincón

10,663

Total
36,743
Source: Censo 2000
Patron:
San José
San José Parish
Apartado 733
Gurabo, Puerto Rico 00778
(787) 737-2656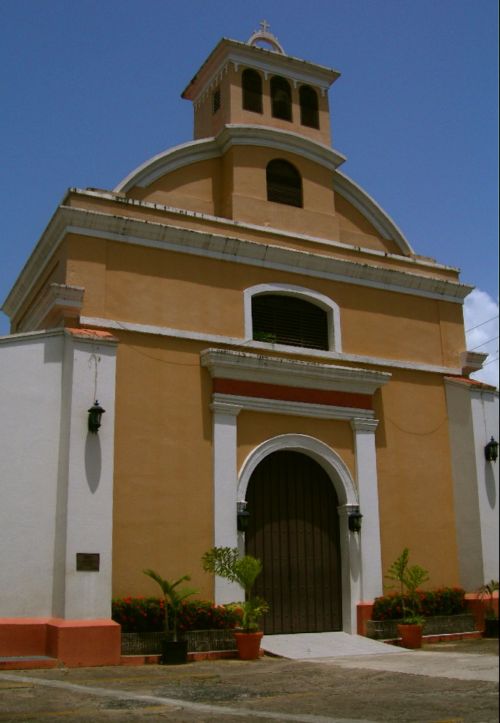 Topography: Gurabo belongs to the Caguas Valley region. To the north it contains the Cuchilla de Hato Nuevo, whose culminating point in Gurabo territory is the Silla Hill (Masa Ward), with 367 meters (1,204 feet) of altitude. In the southeast (Mamey Ward) it has other smaller elevations corresponding to the Sierra de Cayey.
Hydrography: The Grande de Loíza River serves as the border with the municipality of Caguas and its affluent is the Gurabo River. Some gorges that water this municipality and affluents of the Grande de Loíza River are the Grande, Infierno and Maracuta gorges.
Climate: Average high temperature is 87.0º F, the low is 65.5º F and the average annual rain is 63.35 inches.
Economy: Manufacturing (metal, paper, plastics, chemistries, phamaceuticals, textiles, electrical and electronic equipment, and electrical machinery) and agriculture (dairy farms).
Average Salary: N/A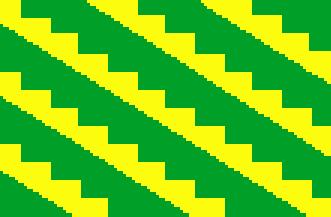 Flag: With eleven stripes, six green and five yellow, alternated, the yellow with the superior (top) edge indented forming a stairway. Each step measures two units high by three wide. The flag has the main colors of the municipal Coat of Arms, green and gold representing the metal, in this case by the color yellow, and its design alludes to the five stairways characteristic of the urban profile of the population.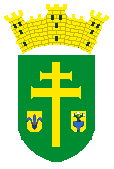 Coat Of Arms: In a green field resides a widened gold patriarcal cross. Below the bottom arm are two shields in silver. The one on the left has a fleur de lis and the one on the right three lilies with stems in a natural way. Three towers in gold crown the shield.
Public Schools sorted by educational levels.
Humacao Region
Gurabo District
Name
Level
TTelephone
Address
Elementary

CELADA CARRETERA

K-6

(787) 737-4346

PO Box 1131, P.R. 00778-0000

HATO NUEVO

K-6

(787) 737-4347

PO Box 1335, P.R. 00778-0000

JAGUAS

K-6

(787) 737-6066

PO Box 1369, P.R. 00778-0000

LUIS MUÑOZ RIVERA

PK-3

(787) 737-2216

PO Box 1364, P.R. 00778-0000

MARGARITA RIVERA DE JANER

4-6

(787) 737-6594

PO Box 879, P.R. 00778-0000

MAXIMINA MÉNDEZ

K-6

(787) 737-8366

PO Box 1359, P.R. 00778-0000

VILLA MARINA

K-6

(787) 737-4344

PO Box 580, P.R. 00778-0000

Intermediate

MATÍAS GONZÁLEZ GARCÍA

7-9

(787) 737-2056

PO Box 1346, P.R. 00778-0000

Secondary

SU JOSEFINA SITIRICHE

K-9

(787) 737-2626

PO Box 38, P.R. 00778-0000

SU SANTA RITA

K-9

(787) 737-6222

HC 1 BOX 4226, P.R. 00778-0000

SU VIDAL SERRANO

K-9

(787) 747-2323

PO Box 1090, P.R. 00778-0000

High School

DRA. CONCHITA CUEVA

10-12

(787) 737-2700

PO Box 1293, P.R. 00778-0000
Hymn: By Miguel Monserrate
En un valle rodeado por montañas nace un
pueblo de entre el barro.
Con valor fue creado por hombre de fe
y constancia para honrar
y alabar al Creador.
En Gurabo un pueblo con mucho orgullo
de costumbres de cultura y devoción
donde el tiempo se detiene ante el arrullo
de su gente de su historia y tradición.
CORO
Gurabo es mi pueblo, es mi hogar,
es mi vida, es mi orgullo, es mi cantar,
es mi música, es mi sueño, es mi luchar…
mi instrumento de alegría y mi soñar.
Gurabo es mi pueblo, es mi hogar,
escalera al paraíso terrenal
de las voces de su gente surge el himno
que se cantará por toda la eternidad.
Events:
San José Patron Festivities – March
Mapeyé Festival – October
Places To Visit:
Centro de Exposición
Hacienda Mirador
Loíza Lagoon
Del Turabo University Museum
Cofresí Park
Distinguished Citizens:
Luis del Carmen Echevarría
Nilda González Monclova
Ángel Celestino Morales
Ángel Viera Martínez