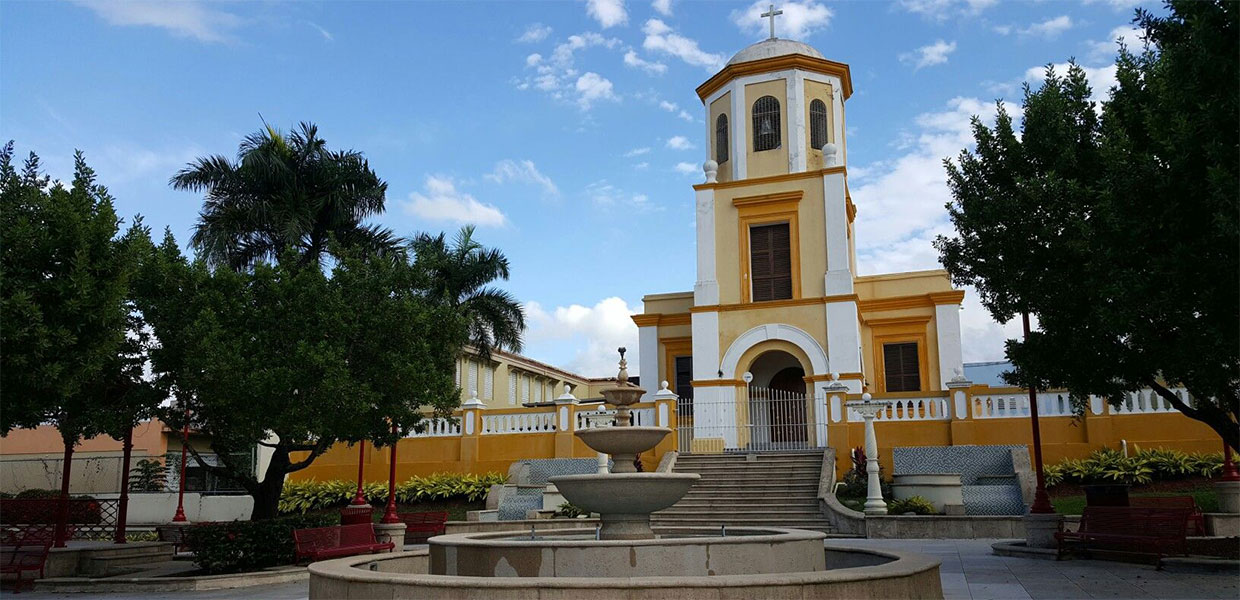 San Lorenzo, Puerto Rico
The Town of the Samaritans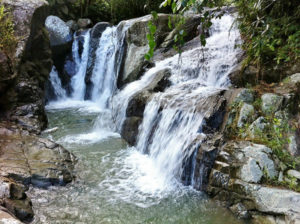 San Lorenzo (san lo-REN-zo) is known as the "Town of Samaritans" and the "Samaritan City". The patron saints of the town are Nuestra Señora de las Mercedes and San Lorenzo, for whom the town is named.
San Lorenzo is located in the eastern part of Puerto Rico. It is bordered on the north by the municipality of Gurabo, on the east by Juncos and Las Piedras, on the west by Caguas and on the south by Patillas and Yabucoa.
This municipality is part of the geographic region called the Caguas interior valley, although in the southeast part there are some of the higher elevations of the Cayey range, which is part of the eastern humid mountains.
The economy of San Lorenzo, originally based on cattle ranching, included later on the cultivation of sugar cane, that was processed in a refinery moved by steam and five oxen which had two stills. In addition coffee and fruit were cultivated. The wood production, that was very rich, had already decayed by the immoderate exploitation of the forests. Today, the economy is mainly revolves around manufacturing. Clothing, leather shoes, and electronic equipment are produced there. In agriculture, raising livestock and growing fruit are also important economic activities.
Foundation:
San Lorenzo was founded by don Valeriano Muńoz de Oneca. The exact date is not certain because the parochial archives of this municipality were lost in a fire and no copies were available. Coll y Toste believes that it was in 1811 and other investigators such as Generoso Muńoz Morales indicates that it was founded between March of 1813 and April of 1814.
It is said that Gregorio Muńoz de Oneca donated forty acres of land. In the XVIII century the San Miguel de Hato Grande ranch was part of the original Hato Grande de los Delgado ranch, enormous extension of land granted by royal decree to a family, and was part of a ward of the an extensive valley which had as headquarters Caguas.
Documents state that as early as 1737 a hermitage was erected by the parish of Caguas, under the tutelage of San Miguel. The church was constructed in 1812, and during the date of the foundation of the town, 1811 or 1813, the original tutelage of San Miguel was changed to San Lorenzo. According to history it is said that this last saint appeared to several neighbors in the fertile valley of the river.
San Lorenzo is known as ""The Town of the Samaritans"" according to the following story; "During the 1920's, in the Hato de San Lorenzo ward according to journalistic versions of the time and verbal testimonies of people who lived then: multitudes would go to a place in the mountains where a young 12 year old girl lived.
This young girl named Julia Vázquez Torres, according to versions, had supernatural powers that in repeated occasions provided health to needed people. During these undeniable feats only homemade remedies were applied with medicinal plants, minerals and the pure waters of a nearby well, where the young girl took care of the people. With time, the young girl became an adult, but her reputation as a upright person and dedicated to do good accompanied her every day by her life ".
Location:
Located in the eastern central region, it borders with Gurabo to the north, Patillas and Yabucoa to the south, Caguas and Cayey to the west and east with Juncos and Las Piedras.
Area:
137.8 sq km / 50.3 sq mi
Population:
40,997 (census 2000)
Population Density:
297.5 per sq km / 773.5 per sq mi
People are known as:
Sanlorenceńos
San Lorenzo is also known as:
The Town of the Samaritans
Land of Leyends
Wards: San Lorenzo, Puerto Rico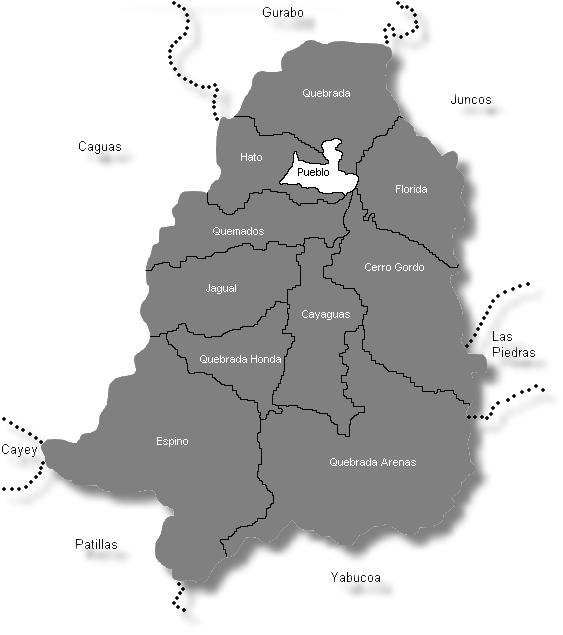 Census 2000:
Population by Wards – San Lorenzo
Habitants
Cayaguas
1,394
Cerro Gordo
4,400
Espino
3,435
Florida
5,791
Hato
7,109
Jagual
4,316
Quebrada
2,231
Quebrada Arenas
2,751
Quebrada Honda
2,309
Quemados
4,771
San Lorenzo Pueblo
2,490
Total
40,997
Source: Censo 2000
Patron:
Nuestra Seńora de las Mercedes
Nuestra Seńora de las Mercedes Parish
Apartado 1280
San Lorenzo, P.R. 00754
(787) 736-2571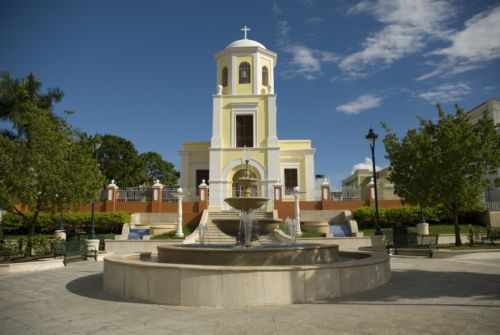 Topography:
It belongs to the geographic region of the Valley of Caguas and part of the Cayey Mountain Range.
Hydrography:
This municipality is bathed by the Grande de Loíza, Emajagua, Cayaguás and Las Vegas rivers.
Economy:
Industry (clothing, leather footwear and electromechanical equipment) and agriculture (tobacco, fruit, sugar cane and cattle).
Flag:

The flag of San Lorenzo is divided in four rectangles of equal size. The superior left and the inferior right are yellow. The superior right and inferior left are formed by horizontal stripes of equal width: two yellow and three red ones, alternated. This flag adopts the sytle of the Muńoz de Oneca's Coat of Arms, lineage of the founder of this town, don Valeriano. This flag was adopted officially September 5, 1972.
Coat Of Arms: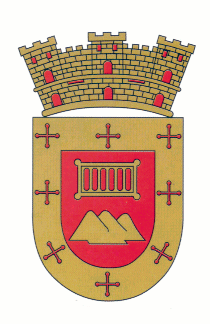 The colors gold and red have been chosen for Coat of Arms of San Lorenzo, because they are the colors of the Muńoz lineage shield, from which Don Valeriano Muńoz de Oneca belonged to, founder of the town of San Miguel de Hato Grande, today San Lorenzo. The grill is the traditional symbol of San Lorenzo, deacon and martyr, patron of the town, because in a grill he underwent the martyrdom, slowly burned to death. The hill or mountain represent the Gregorio Hill, which dominates the San Lorenzo panorama. The cross is one of the heraldic attributes of San Miguel Arcángel, whose name was given to the town in the begining.
Events:
Three Kings Concert – January
Moncho Roldán Parade – January
Candelaria Festival – February
Kite Festival – March
Festival of the Cross – May
La Virgen de las Mercedes Patron Saint Festival – September
Lace and Embroidery Festival – September
Passion Fruit Festival – November
Places To Visit:
La Santa Peak
San Carlos cockfighting ring
Nuestra Señora de las Mercedes church
La Marina Bridge
Quintana Ranch
Priscila Flores Theater
Distinguished Citizens: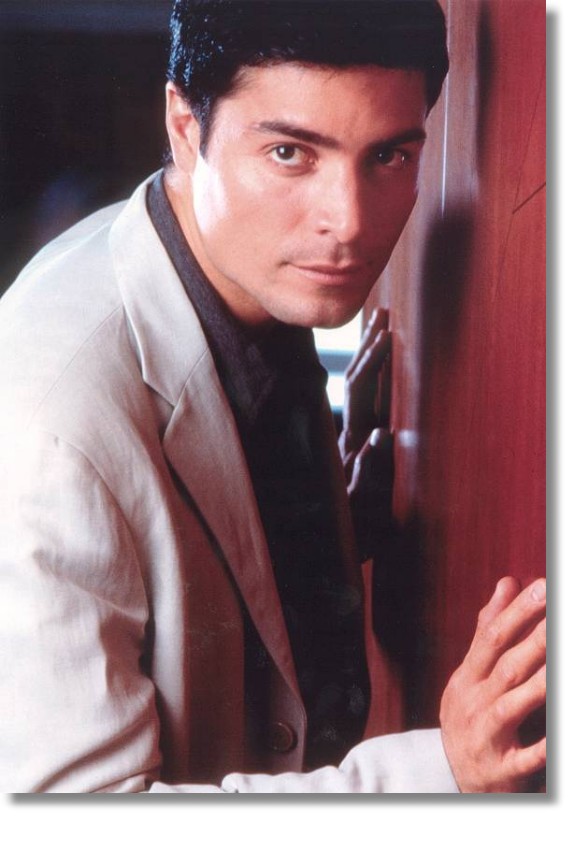 José Tous Soto

– Lawyer and senator.

Elmer Figueroa Arce "Chayanne"

– Singer and actor.

Generoso Morales Muñoz

– Historiographer and journalist.

Priscila Flores "La Alondra de San Lorenzo"

– Folk music singer.

Carmita Jiménez

– Singer.

Ernestina Reyes Vásquez "La Calandria"

– Folk music singer and composer

Antonio Fernós Isern

– Physician and politician First resident commissioner after the creation of the Commonwealth.

María E. Machín

– Member of prestigious civic and professional institutions.
Public Schools sorted by educational levels.
San Lorenzo District
| | | | |
| --- | --- | --- | --- |
| Name | Level | Telephone | Address |
| CARMELO FIGUEROA | Elementary | (787) 736-6424 | PO Box 994 |
| EL PARQUE | Elementary | (787) 736-8995 | PO Box 440 |
| ESPINO | Elementary | (787) 736-0086 | PO Box 1283 |
| EUGENIO MARIA DE HOSTOS | Elementary | (787) 736-0650 | PO Box 1285 |
| GERARDO SELLES SOLÁ | Elementary | (787) 736-2351 | PO Box 1285 |
| HATO PARCELAS | Elementary | (787) 736-5444 | PO Box 1238 |
| JAGUAL | Elementary | (787) 736-8898 | PO Box 994 |
| JOSÉ ROSARIO | Elementary | (787) 736-5830 | Lado Parque de Bomberos |
| JOSEFA DOMINGO | Elementary | (787) 736-5880 | PO Box 1281 |
| LUIS MUŃOZ RIVERA | Elementary | (787) 736-5856 | PO Box 1283 |
| LUIS MUŃOZ RIVERA (VIEJA) | Elementary | (787) 736-2051 | PO Box 1283 |
| MANUEL CRUZ | Elementary | (787) 736-9269 | PO Box 1283 |
| QUEMADOS | Elementary | (787) 736-1546 | PO Box 1251 |
| GENEROSO MORALES MUŃOZ | Intermediate | (787) 736-6658 | PO Box 1281 |
| MARÍA CRUZ BUITRAGO | Secondary | (787) 736-9272 | PO Box 1283 |
| DRA. MARÍA T. DELGADO DE MARCAN | Secondary | (787) 736-0470 | PO Box 9929 |
| QUEBRADA HONDA | Secondary | (787) 736-8989 | PO Box 1289 |
| CARLOS ZAYAS | Secondary | (787) 736-9633 | PO Box 1281 |
| JAGUAL ADENTRO | Secondary | (787) 736-7877 | PO Box 1283 |
| JOSÉ CAMPECHE | High School | (787) 736-2701 | Calle Emilio Buitargo |
Hymn:
By: Raúl A. Torres Irizarry and Elpidio Montalvo
Son tus campos de bellísimo verdor
y tu gente como ninguna
pueblo que guardas en tus suelos
una historia de inmenso valor.
Posees riquezas dignas de admirar
el Río Grande y el Cerro Gregorio.
Vistes de fe y esperanza nuestro ser
cuando hablamos de tu santa montańa.
Oh, Samaritana eres mujer ejemplar
nuestro gran tesoro fue heredar tu identidad.
Orgulloso yo viviré del pueblo que represento
con la frente en alto te diré es mi pueblo
San Lorenzo, San Lorenzo.