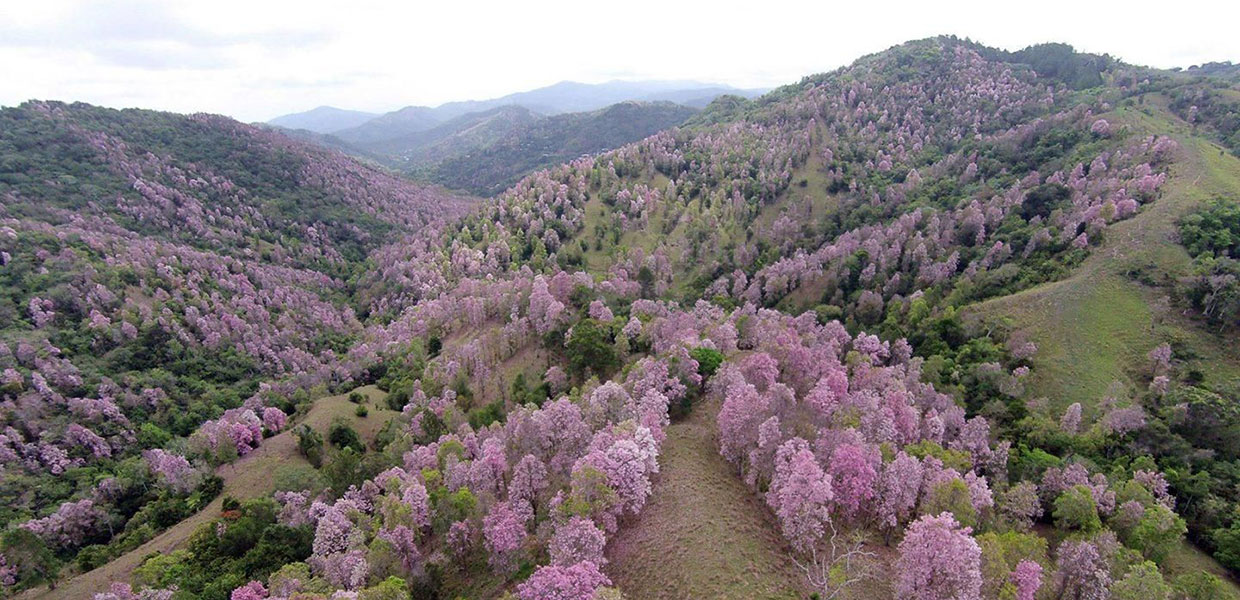 Cayey, Puerto Rico
Mist City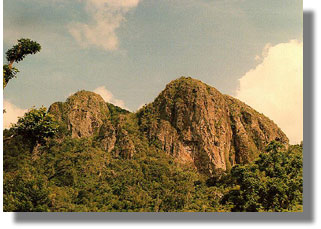 Cayey (kei-YAI) is known as the "Misty City," the "City of Mount Torito," and the "City of the Golden Coquí". The patroness is Our Lady of the Assumption, whose festival is held in August.
Located in the mountainous region of Puerto Rico, Cayey faces the south coast. It is bordered on the north by Cidra and Caguas, on the south by Salinas and Guayama, on the east by Caguas, San Lorenzo, and Patillas, and on the west by Aibonito and Salinas.
There are many attractions in Cayey, including Guavate ward, where part of the Carite State Forest is located, as well as the "roast pork trail". Many visitors flock to the roast pork stands and restaurants that serve local delicacies. Puerto Rican folk music and food create a certain magic in the area for visitors from around the island and abroad.
The Three Kings Recreational park is located on the same highway. Craft fairs, festivals, and poetry and musical events are held at the Park. The monument to the Three Kings was created by Juan Santos and sculptors Héctor León and Gladys Nieves. All along Route 184 there are fifteen sculptures created by this artist. The summer residence of the governors of Puerto Rico is located in the Jájome sector.
Besides its renowned elevations, Cayey is an important historic and cultural center. There is a campus of the University of Puerto Rico, several museums, and the Muñoz-Mendoza residence, where former governor Luis Muñoz Marín lived with his wife Inés Mendoza, when he retired from the governorship.
Foundation:
Cayey history goes back to an indigenous settlement called Toíta on the banks of the La Plata River. The name Cayey was recorded in writing for the first time in 1519 and has been variously spelled as Cahey, Cayei, Caiyey, and Calley. It is believed that this was the name of the chief, or cacique, of the region. In Spanish colonial times there was a small settlement in what was known as the Hato de Cayey, part of Coamo.
On July 2, 1773, settlers in the Toíta region petitioned Governor Miguel de Muesas for permission to found a town, which was granted on August 17, 1773, barely a month and a half later. The new town was called "Nuestra Señora de la Asunción de Cayey de Muesas." In the early days of the town, there were seven dwellings and a wooden church. By 1787 a chapel and two sacristies had been built.
The economy was based on cattle farming, and in spite of the abundance of produce and trees, the inhabitants consumed barely enough to meet their needs.
In the early 19th century, the township of Cayey lost population, since the residents of Cidra seceded. However, several groups of immigrants came to the area at the time, from France, the Spanish provinces of Catalonia, Cantabria, and Galicia, and the Canary Islands. These immigrants married into criollo families who had settled in the valley. By the second half of the century, there was a flourishing coffee industry.
Economic growth was fueled by the construction of the central highway. In 1827, the road between Cayey and Caguas was completed, and the road to Ponce was finished in 1829. The year after, work was begun on the road to Cidra. The first bridge on the road between Cayey and Cidra was inaugurated in 1854. The road to Aibonito was built in 1878 and in 1895 a route connecting Cayey and Arroyo through Guayama was completed.
These new routes meant that the town had a strategic location in the 19th century communications network, which were crucial for Cayey's development during the 20th century.
Location:

Cayey is located in the mountainous region, towards the southern coast. It is bordered by: Cidra and Caguas on the north, Salinas and Guayama on the south, Aibonito and Salinas on the west, and Caguas and San Lorenzo on the east.
Area:
130.0 sq km / 50.0 sq mi
Population:
47,370 (census 2000)
Population Density:
364.3 per sq km / 947.4 per sq mi
People are known as:
Cayeyanos
Cayey is also known as:
Ciudad de las Brumas (Mist City)
Ciudad del Torito (Torito City)
Ciudad del Coquí Dorado (Golden Coquí City)
Wards: Cayey, Puerto Rico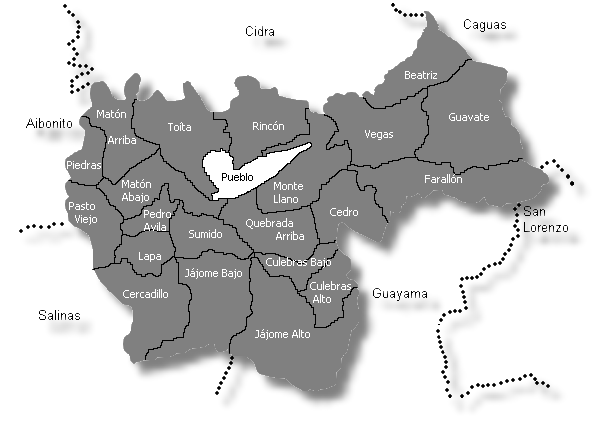 Census 2000:
Population by Wards – Cayey
Habitants

Beatriz

1,986

Cayey Pueblo

15,706

Cedro

777

Cercadillo

827

Culebras Alto

68

Culebras Bajo

292

Farallón

623

Guavate

1,491

Jájome Alto

654

Jájome Bajo

637

Lapa

234

Matón Abajo

1,184

Matón Arriba

1,034

Monte Llano

3,874

Pasto Viejo

654

Pedro Ávila

178

Piedras

59

Quebrada Arriba

1,134

Rincón

5,909

Sumido

729

Toíta

6,291

Vegas

3,029

Total
47,370
Source: US Censo
Patron:
Nuestra Señora de Asunción
Apartado 372887
Cayey, P.R. 00737-2887
(787) 738-2763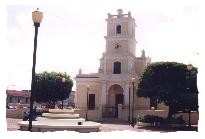 Topography:
The mountainous terrain forms part of the mountain ranges of Cayey and Jájome, which are part of the Central Mountain range (Cordillera Central). The population is mostly based in the valley areas.
Hydrography:
The Plata, Chiquito, Guavate, Matón rivers that flow towards the Atlantic Ocean, and the Majada, Jájome and Lapa rivers that flow to the Caribbean.
Economy:
Manufacture (food products, pharmaceutical products, medical equipment), agriculture (cattle) and telecommunications.
Average Salary:
$327.70 weekly (1998)
Flag: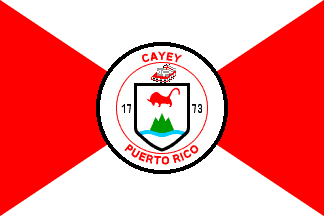 The flag derives its design and colors from the Coat of Arms, which is in the center of the flag encirled by a solid black ring. The centered Coat of Arms and has four triangles pointing to it, two white and two red.
Coat of Arms: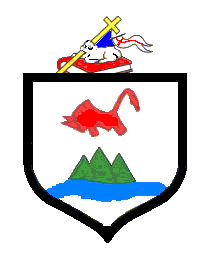 The Coat of Arms has a three tip mountain, a red bull, and a waving blue stripe representing the abundant water in the zone and also in reverence to the primitive Matron of the town of Cayey. The shield is topped with the silver lamb symbol of San Juan of Puerto Rico, and a red book.
The colors red and gold symbolize the Spanish tradition and it's founder. The green color represents the landscapes and Cayey mountains. The black color indicates antiquity, solemnity and seriousness. The shield is a creation by Dr. J.J. Santa Pinter, associated professor of the Colegio Universitario de Cayey.
Places To Visit:
Carite State Forest
City Hall
Cayey Historical Museum
Roadkeeper's House
Cayey Seismology Center
Mount El Torito
Luis Raúl "El Rolo" Colón Municipal Sports complex
School of Fine Arts
Garita de Cayey Knoll
Rex Cream ice-cream parlor
Our Lady of the Assumption Church
Monument to the Puerto Rican Jíbaro
Monument to the Three Kings and The Three Kings Recreational Park
Veterans' Monument
Dr. Pío López Martínez Art Museum
Ibero-American Promenade
Ramón Frade Town Square
Cayey Sports Hall of Fame
Events:
Children and the Mountains Festival – January
Regional Fair – April
Torito Olympic Games– April
Trumpet Tree Festival – June
Distinguished Youth of Cayey – June
Constitution Night – July
Patron Saint's Festival – August
Saint Isidore the Farmer – October
Christmas Festival – December
Cabalgata del Río – December
Poetry and Song – second Friday of the month
Distinguished Citizens:
Jenaro Baquero

– economist, attorney and educator. Baquero was Secretary of Commerce from 1965 to 1969. He has also presided or was on the board of several private and public institutions.

Félix Lucas-Benet

– secretary of the provincial assembly in San Juan.

Milagros Benet de Newton

– educator, civic leader, and political figure. Benet fought for votes for women in Puerto Rico. She was president of the Suffragist League (1920 – 1922) and the Pan-American Women's Association of Puerto Rico (1923 – 1933), among others.

Félix Bonilla-Norat

– painter and art critic, Bonilla studied in the Untied States, Spain, and Italy, and exhibited at the Salon de Tuileries in 1938. Bonilla had a studio in New York and was an art critic for The San Juan Star.

Luis Raúl "El Rolo" Colón

– an outstanding baseball player.

Angel David Cruz-Báez

– geographer and educator, Cruz wrote the Atlas de Puerto Rico. He headed the Geography Department at the University of Puerto Rico and the Puerto Rico Geographers Association.

Agustín Fernández-Colón

– a civic leader, he was secretary of the Puerto Rico Farmers' Association, a member of the Cayey city council, and director of the newspaper La Correspondencia de Puerto Rico.

Benigno Fernández-García

– attorney and political figure. Fernández-García was born in Luquillo, but was adopted as a native son of Cayey. As a political figure, he was a Representative in 1912, 1914, and 1917,as a member of the Union Party of Puerto Rico. Between 1924 and 1928 he was mayor of Cayey for the Puerto Rico Alliance Party and he represented that party in the House in 1928, serving as vice president of that body. From 1934 to 1939 he was attorney general of Puerto Rico, and under GovernorTugwell he headed the Labor Department.

Eugenio Fernández-Méndez

– anthropologist, educator, poet, and essayist. Fernández headed the University of Puerto Rico Press (1955 – 1964) and was the first president of the board of directors of the Institute of Puerto Rican Culture (1955 – 1964). He also was a member of the Puerto Rico Academy of the Spanish Language and resident humanist at the Cayey Campus of the University of Puerto Rico. His works include subjects such as anthropology, history, and art, reflecting his interest in the issue of Puerto Rican identity.

Lionel Fernández-Méndez

– attorney and political figure. A member of the Constituent Assembly that created the Commonwealth of Puerto Rico (1951 – 1952). Senator for the Popular Democratic Party from 1949 to 1972.

Ramón Frade de León

–renowned painter. Frade studied in the Dominican Republic, where he won a gold medal from the Dominican Academy for his work Vista panorámica de Santo Domingo (1893). He also studied briefly in Italy. His most famous works include El pan nuestro de cada día, La planchadora, and La cogedora de café.

José "Rony" Jarabo-Alvarez

– attorney and political figure. Jarabo was an at -large representative from 1973 to 1992. He presided the House from 1985 to 1992.

Emérita León-Candelas

– educator and painter

July César López

– poet and essayist. Lopez studied in Puerto Rico and Venezuela. His works include books of essays such as Peregrino de sombras (1967) and Pulso variable (1979) and poetry such as Fogatas del tiempo (1972) and Geografía del vértigo (1976).

Francisco E. Martínez-Aponte

– economist and educator.

Juan Mata-Vázquez

– first mayor of Cayey.

Miguel Meléndez-Muñoz

– journalist, essayist, and storywriter

Baltasar Mendoza-Martínez

– an outstanding mayor.

Angel M. Mergal

– poet and anthropologist.

Pedro Montañez

– known as El Torito de Cayey. Boxer of international stature.

Luis Muñoz-Morales

– writer, essayist, university professor, and author of well-known legal treatises.

Rafael Rivera-Otero

– poet and journalist. He was sub-director and correspondent for El Mundo. Rivera received the Roosevelt Medal from the Puerto Rico Athenaeum in 1930 for the poem For All the Days that Were not Beautiful.

Jesús María Robles "Chuito el de Cayey"

– musician

Félix Rodríguez-Báez

– painter. His works include landscapes and still lifes, his oil painting Paisaje de Cayey (1968) being one of his best-known works.

Marcos Rodríguez-Frese

– poet. Rodríquez-Frese has received several prizes form the Puerto Rico Athenaeum. At one time he headed the pro-independence Federación Universitaria Pro-Independencia.

José Rodríguez-Pastor

– physician and writer. Rodríguez headed the Tuberculosis Bureau in Puerto Rico for almost two decades (1925 – 1942). His writings include a collection of essays titled La importancia de ser puertorriqueño.

Vicente Rodríguez-Rivera

– attorney, poet and writer. He wrote for newspapers and periodicals, such as La Democracia, El Imparcial, El Mundo, and Puerto Rico Ilustrado.

Bernardo Vega

– journalist, political figure, and union leader. Vega was one of the founders of the Socialist Party (1912), founded and directed the newspaper Gráfico (1927), and wrote for the newspapers Liberation and El Progresista.
Public Schools sorted by educational levels.
Caguas Region
Cayey District
Name
Level
Telephone
Address
Elementary

AGUSTÍN FERNÁNDEZ COLON

K-6

(787) 738-5761

PO Box 372040, P.R. 00737-0000

BENIGNO CARRIÓN

K-6

(787) 738-3087

PO Box 373275, P.R. 00737-0000

CONSUELO LÓPEZ BENET

1-6

(787) 263-2999

PO Box 373332, P.R. 00737-0000

EMERITA LEÓN ELEMENTAL

K-6

(787) 738-2410

PO Box 372966, P.R. 00737-0000

FÉLIX LUCAS BENET

K-6

(787) 738-3830

PO Box 373362, P.R. 00737-0000

JOSÉ GUALBERTO PADILLA

K-6

(787) 738-7847

PO Box 373503, P.R. 00737-0000

JULIO VIZCARRONDO Y CORONADO

K-6

(787) 738-7111

PO Box 373503, P.R. 00737-0000

LUIS MUÑOZ RIVERA

K-6

(787) 738-2621

PO Box 371156, P.R. 00737-0000

MANUEL CORCHADO YJUARBE

K-6

(787) 263-0101

PO Box 373503, P.R. 00737-3503

MIGUEL MELÉNDEZ MUÑOZ (ELEMENTAL)

K-6

(787) 738-2058

PO Box 373392, P.R. 00737-0000

RAMON FRADE LEON

K-6

(787) 738-2847

PO Box 10000 Suite 123, P.R. 00737-0000

SALVADOR BRAU

K-6

(787) 738-3190

PO Box 10000 Suite 135, P.R. 00737-0000

VIRGINIA VAZQUEZ MENDOZA

PK-6

(787) 263-4635

PO Box 2617, P.R. 00737-2617

Intermediate

BENIGNO FERNÁNDEZ GARCÍA

7-9

(787) 738-2626

PO Box 373274, P.R. 00737-0000

DR. RAMÓN EMETERIO BETANCES

7-9

(787) 738-3745

PO Box 371119, P.R. 00737-0000

EMERITA LEÓN INTERMEDIA

7-9

(787) 738-2440

PO Box 370573, P.R. 00737-0000

Secondary

SU EUGENIO MARIA DE HOSTOS

K-9

(787) 738-5866

PO Box 372528, P.R. 00737-2528

SU GERARDO SELLES SOLA

K-9

(787) 263-0490

PO Box 6400 Suite 455, P.R. 00737-0000

SU REXFORD GUY TUGWELL

K-9

(787) 738-5482

HC 44 Box 13591, P.R. 00737-0000

High School

BENJAMIN HARRISON

10-12

(787) 738-1309

PO Box 3246, P.R. 00737-0000

CENTRO ADIESTRAMIENTO

EE

(787) 263-1480

PO Box 2345, P.R. 00737-0000

MIGUEL MELÉNDEZ MUÑOZ (SUPERIOR)

10-12

(787) 738-3078

PO Box 3160, P.R. 00737-0000
Hymn:
Alma Boricua By Clodomiro Rodríguez
Dejé en los campos de la patria mía
un paraíso, un verdadero edén.
Encuentro al mundo un campo frío y desierto
al compararlo con mi borinquén.
¡Viva mi patria, mi bello país!
¡Viva por siempre glorioso y feliz!
Yo veo riquezas en esta tierra extraña.
Yo veo bellezas muy dignas de admirar;
pero hace falta no-sé-qué de encanto
que solo tiene mi terruño ideal.
Dejé al salir de aquellas playas níveas
mi hogar querido, el nido de mi amor.
Dejé dos ojos que me lloran siempre,
dos ojos claros, limpios como el sol.
Yo soy boricua. Mi amor es Puerto Rico.
Para mi islita no encuentro parangón.
Nací en los montes del centro de mi tierra.
¡Yo soy boricua de sangre y corazón!