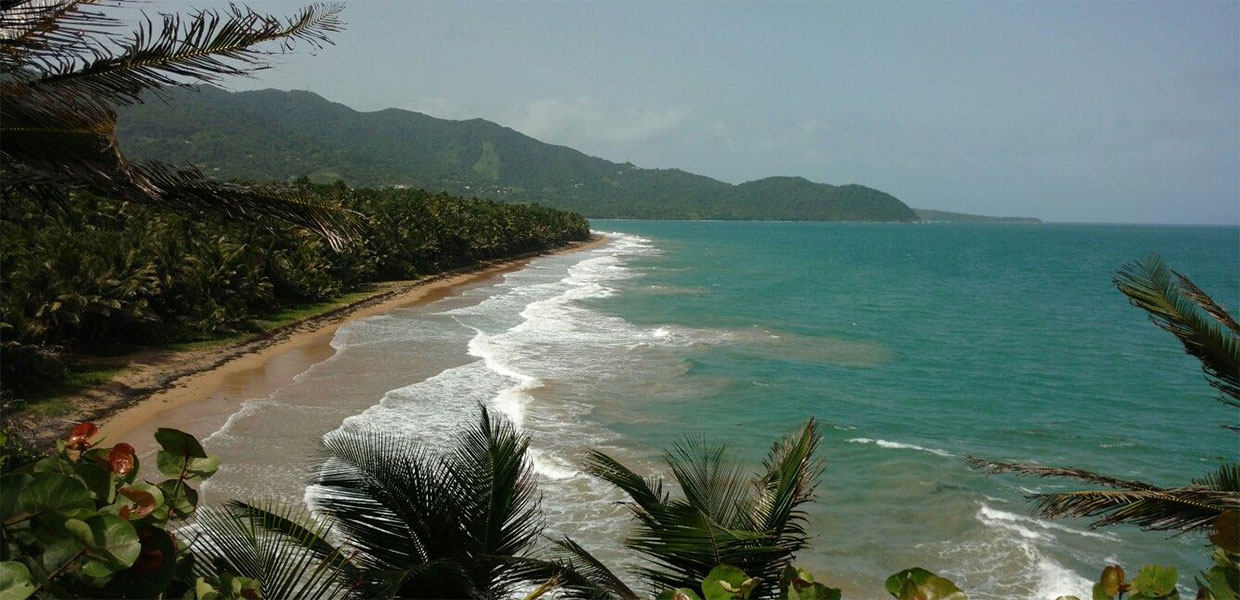 Yabucoa, Puerto Rico
City of Sugar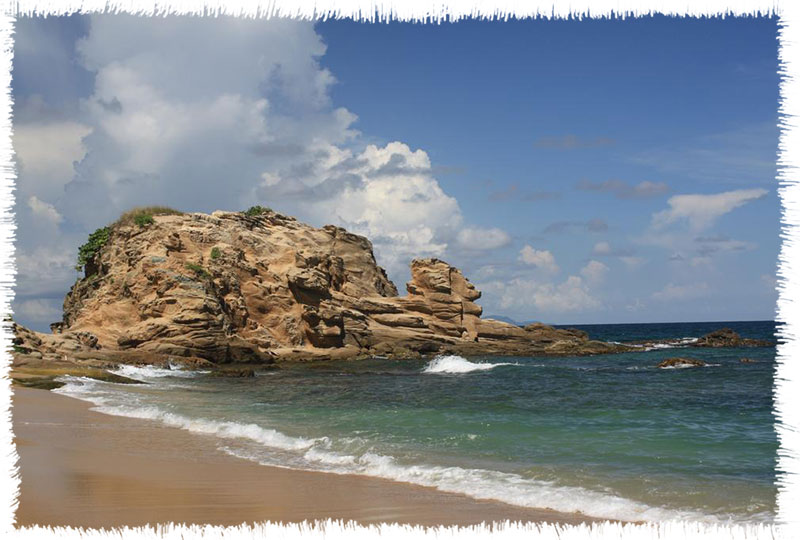 Yabucoa (yah-boo-KO-ah) is known as the "City of Sugar," "Town of the Yuca," and its residents, Yabucoeños, are nicknamed "milky drinkers". The name Yabucoa comes from the Taino chief Guaroca, which means "place or site with water", according to some scholars. Others say the name refers to "place of cassava".
Yabucoa is located in the southeast of Puerto Rico. It is bordered on the north by San Lorenzo, Las Piedras and Humacao, on the west by San Lorenzo and Patillas, on the south by Maunabo and the Caribbean Sea; and on the east by the Caribbean Sea.
Geographically, it is part of the humid region of the eastern coastal plains. The Yabucoa valley consists of fertile, alluvial soils. The municipality is mainly flat. Other notable geographic features along the coast are, from north to south, Guayanés point, the port of Yabucoa, Quebrada Honda point and Yeguas point.
Vegetables such as plantains and tubers are grown in the municipality. There are also several dairies producing milk. Economic activity in the municipality also includes manufacturing of clothing, cigarettes, and electrical appliances. There is also a petrochemical plant and an oil recycling facility. Today, in addition to those industries, there is the Olein Recovery Corp., a plant that recycles oil. Cattle and hog farming, and growing fruits, are also part of the economy.
Foundation:
It is believed that the foundation of Yabucoa, took place October 3, 1793, being governor Commander Francisco Torralbo. The lands in which the church, the House of the King, the priest's house, and the one destined to common land and plaza, 25 acres altogether, were donated by Manuel Colón and his wife Catalina Morales Pacheco.
A year after the foundation of the town the construction of the church was finalized, that was placed under the patronage of Ángeles Custodios. Other municipal projects were concluding throughout the years. Little by little the jail was built and the cemetery fenced.
On July 25, 1825 the Santa Ana cyclone ruined almost completely the town; only the church remained standing. Three years later the jail was rebuilt and shortly after the first slaughter house was finished.
On July 25, 1825, the Santa Ana hurricane almost completely destroyed the town, except for the Nuestra Señora de los Angeles church, the site used as a refuge by residents during the storm.
In 1828, the governor of the island, Miguel de la Torre, ordered construction of the Kings House.
In 1847, Yabucoa had only three public buildings: the church, the Kings House and a butcher shop. There was also a public school, attended by twenty students. In 1898, there were seven public schools and three private schools.
Location:

Yabucoa is located in the southeastern end of Puerto Rico. To the north it borders with San Lorenzo, Las Piedras and Humacao, to the south with Maunabo and the Caribbean Sea, west with San Lorenzo and Patillas and east with the Caribbean Sea.
Area:
141.9 sq km / 54.6 sq mi
Population:
39,246 (census 2000)
Population Density:
276.5 per sq km / 718.7 per sq mi
People are known as:
Yabucoeños
Yabucoa is also known as:
La Ciudad del Azúcar (City of Sugar)
El Pueblo de Yuca (City of Yucca)
Los Bebe Leche (Milk Drinkers)
Wards: Yabucoa, Puerto Rico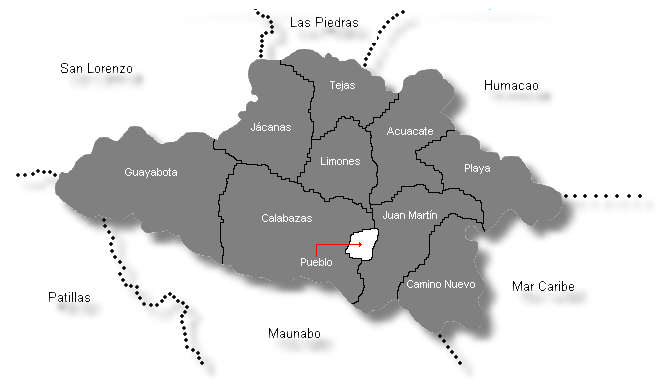 Census 2000:
Population by Wards – Yabucoa
Habitants
Aguacate
2,758
Calabazas
7,998
Camino Nuevo
3,919
Guayabota
3,240
Jácanas
3,303
Juan Martín
3,483
Limones
3,770

Playa

4,761
Tejas
2,830
Yabucoa Town
3,184
Total
39,246
Información: Negociado del Censo de los EE.UU. Censo 2000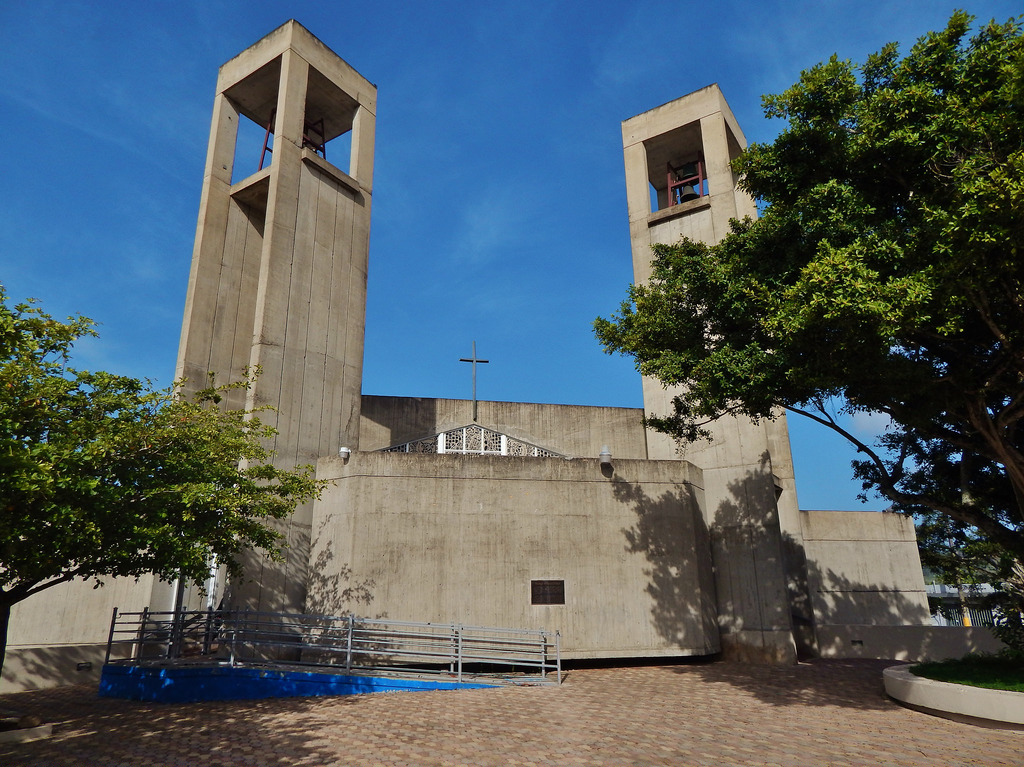 Patron:
Santos Ángeles Custodios
Santos Ángeles Custodios Parish
Apartado 7
Yabucoa, P.R. 00767
(787) 893-2250
Topography:
It belongs to humid region of the Eastern Coastal Valleys.
Hydrography:
It watered by the Guayanés, Prieto, Arenas, Limones, del Ingenio rivers and the Santiago marsh, as well as several gorges, among them Cortadera, Aguacate, Aguas Largas and Laja.
Economy:
Manufacture; clothing, cigarettes, electrical and electronic machinery, petroleum refinement. Agriculture; sugar cane, fruits, tobacco and cattle.
Average Salary:
$314.15 weekly (1998)
Flag: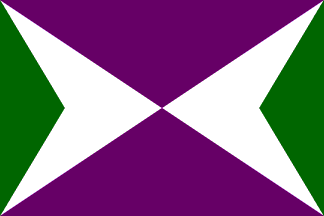 The design of the flag of Yabucoa is abstract, inspired by the colors of the municipal shield; green, white and violet.
Coat Of Arms: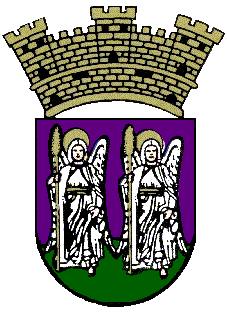 Yabucoa is the only municipality of Puerto Rico with the Santos Ángeles Custodios (Holy Guardian Angels ) as its patron. This fact, serves as base and inspiration for the design of the shield of Yabucoa.
In the shield appear two angels representing the immense multitude of them.
The color purple (violet) field of the shield represents the highest dignity of the angels.
The walking sticks are attributes of the traveller, and refer to the holy office of the Angels as guides and companions in man's journey in his earthly life.
The canes are adorned with guajana flowers, representing the wealth of the sugar cane.
The green land where the angels stand symbolizes the fertile valley in which Yabucoa is located.
Events:
Sugar Cane Festival – May
Beach Festival – May
Carmen Festival – July
Quebradillas Festival – September
Patron Celebrations – October
Festival del Campesino – October
Martorell Jíbaro Festival – December
Places To Visit:
La Casa de la Cultura (House of Culture)
Roig Refinery
Hacienda Santa Lucía Ruins
Distinguished Citizens:
Antonio Ayuso Valdivieso

– Lawyer, journalist, educator and politician. Presided over the Nationalist Party and the newspaper El Imparcial. Recognized as a war correspondent.

Santiago Vidarte

– Romantic poet who participated in the Album puertorriqueño (1844) and the Cancionero de Borinquén (1846).

Alfonso Lastra Chárriez

– Politician, senator, representative and delegate to the first Pro Independence Congress.

Nydia M. Velázquez

– The first woman to be elected to the New York City Council.
Public Schools sorted by educational levels.
Yabucoa District
| | | | |
| --- | --- | --- | --- |
| Name | Level | Telephone | Address |
| CALABAZAS ARRIBA | Elementary | (787) 893-1380 | PO Box 1950 |
| CATALINA MORALES | Elementary | (787) 893-4400 | PO Box 2040 |
| EUGENIO MARIA DE HOSTOS | Elementary | (787) 893-2500 | PO Box 256 |
| FEDERICO MATHEW BAEZ | Elementary | (787) 893-4680 | PO Box 1950 |
| FRANCISCO SUSTACHE | Elementary | (787) 893-4830 | PO Box 6 |
| JAIME C. RODRÍGUEZ | Elementary | (787) 893-2010 | PO Box 6 |
| JOSÉ F. CINTRÓN Y ANEXO | Elementary | (787) 266-2333 | PO Box 699 |
| JUAN B. HUYKE | Elementary | (787) 893-2122 | PO Box 12 |
| MARTA SÁNCHEZ | Elementary | (787) 893-3300 | PO Box 2002 |
| MARTORELL | Elementary | (787) 893-3425 | PO Box 1458 |
| ROSA SÁNCHEZ VARGAS | Elementary | (787) 893-3345 | PO Box 357 |
| ROSA COSTA VALDIVIESO | Intermediate | (787) 893-3390 | PO Box 2009 |
| ANDRÉS SANDÍN | Second Unit | (787) 893-1070 | PO Box 888 Suite 202 |
| ANDRÉS SOTO QUIÑONES | Second Unit | (787) 893-0090 | PO Box 128 |
| ASUNCIÓN LUGO | Second Unit | (787) 893-2626 | PO Box 1514 |
| CRISTÓBAL DEL CAMPO | Second Unit | (787) 893-3332 | PO Box 622 |
| JESÚS T. SANABRIA CRUZ | Second Unit | (787) 893-4860 | PO Box 429 |
| MANUEL ORTIZ | Second Unit | (787) 893-5770 | PO Box 1064 |
| MARCOS SÁNCHEZ | Second Unit | (787) 893-7136 | PO Box 1508 |
| ROGELIO ROSADO | Second Unit | (787) 893-3075 | PO Box 155 |
| LUIS MUÑOZ MARÍN | High School | (787) 893-2880 | PO Box 6 |
| NUEVA ESCUELA | High School | (787) 893-2216 | PO Box 1990 |
| TEODORO AGUILAR MORA | High School | (787) 893-2216 | PO Box 1990 |
Hymn:
By Dr. Juan A. Quiñones Soto
Yabucoa es mi Pueblo
y mi meta la unidad,
como hermanos laboremos
por Paz y Felicidad.
Fraternalmente estaremos
en pos de un Ideal,
luchar siempre con justicia
con verdad y dignidad.
Nuestro Valle nos inspira,
nuestro Monte, nuestro Mar,
dispuestos siempre estaremos
en la luchar a continuar.
Yabucoa, cuna nuestra,
que Guaracas defendió
toca ahora nuestra herencia
proteger con Fe y Amor.
Con la mente siempre al cielo
nuestra lucha ha de ser
conservarle a nuestros Hijos
esta tierra, este hogar.
Yabucoa es mi Pueblo
y mi meta la unidad,
como hermanos laboremos
por Paz y Felicidad.