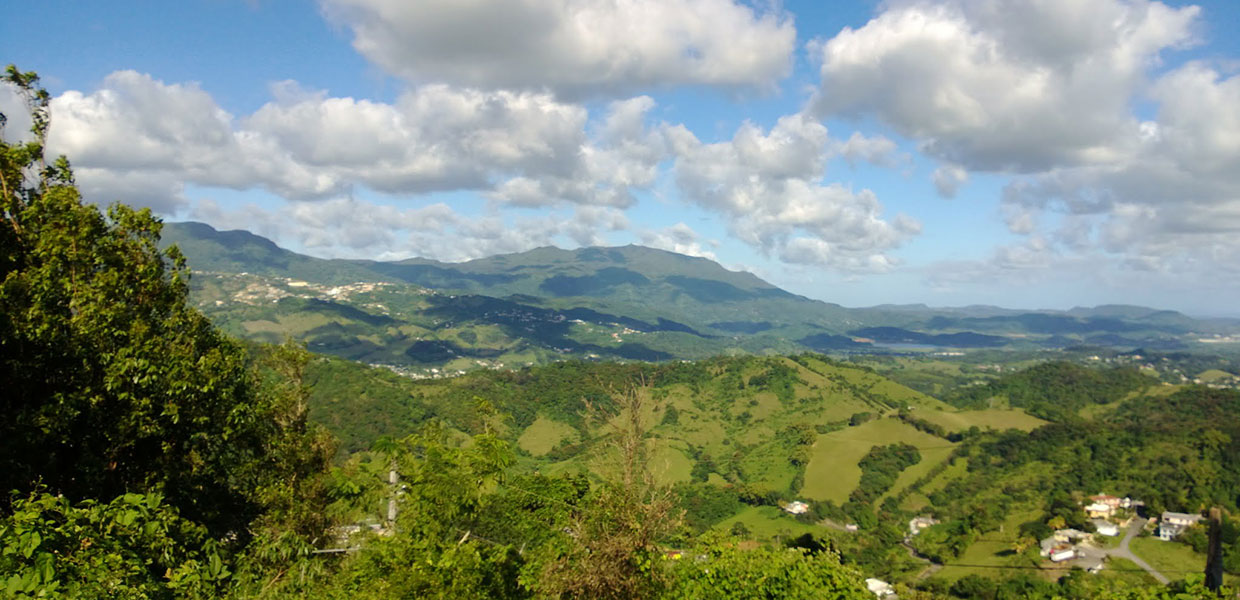 Las Piedras, Puerto Rico
Artesian City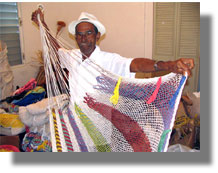 Foundation: The municipality of Las Piedras (lahs pee-AI-drahs) was founded in 1801. The original population of Las Piedras was based on a hill along the shores of the Humacao River, during that time the area was covered by great boulders, the reason why it was baptized Ribera de Las Piedras (Stones/Boulder Shore). It was part of a ranch called "Hato Grande de los Delgados", granted in 1626 by royal decree to Sebastián Delgado de Rivera, which covered an area that today is known as the municipalities of: Las Piedras; Caguas, Gurabo; parts of San Lorenzo, Juncos and Aguas Buenas. Legend has it that people called it "Ribera de Las Piedras" because of the boulders along the shore of the river where the town was established.

Localización: Las Piedras is located in the center of the Island, it is bordered by: Canóvanas and Río Grande to the north, Yabucoa to the south, Naguabo and Humacao to the east, and Juncos to the west.
Area: 12.8 sq km / 43.4 sq mi
Population: 34,485 (census 2000)
Population Density: 305.7 per sq km / 794.5 per sq mi
People are known as: Pedreños or Pedrences
Las Piedras is also known as:
Ciudad Artesanal (Artesian City)
Los Come Guábaras (The Guábaras Eaters)
Wards:

Las Piedra, Puerto Rico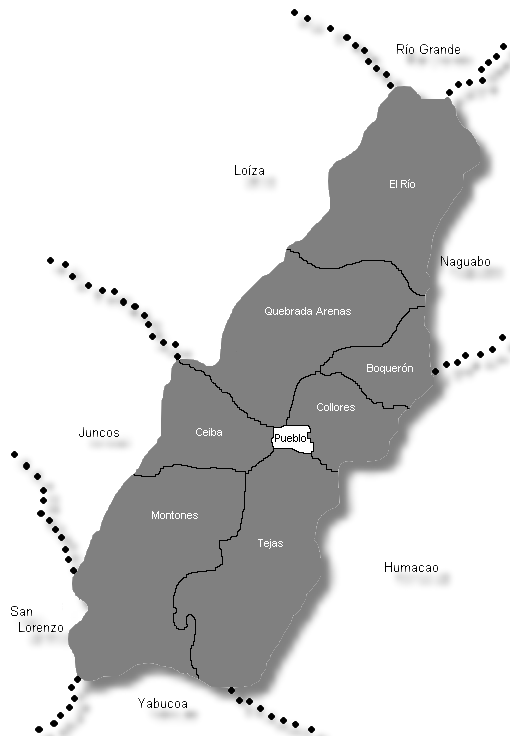 | | |
| --- | --- |
| Census 2000: Population by Wards – Las Piedras | Habitants |
| Boquerón | 1,984 |
| Ceiba | 1,557 |
| Collores | 4,648 |
| El Río | 4,918 |
| Las Piedras Town | 1,911 |
| Montones | 6,096 |
| Quebrada Arenas | 4,386 |
| Tejas | 8,985 |
| Total | 34,485 |
Source: Censo 2000
Matron:
La Inmaculada Concepción María
Apartado 324
Las Piedras, P.R. 00771
(787) 733-2381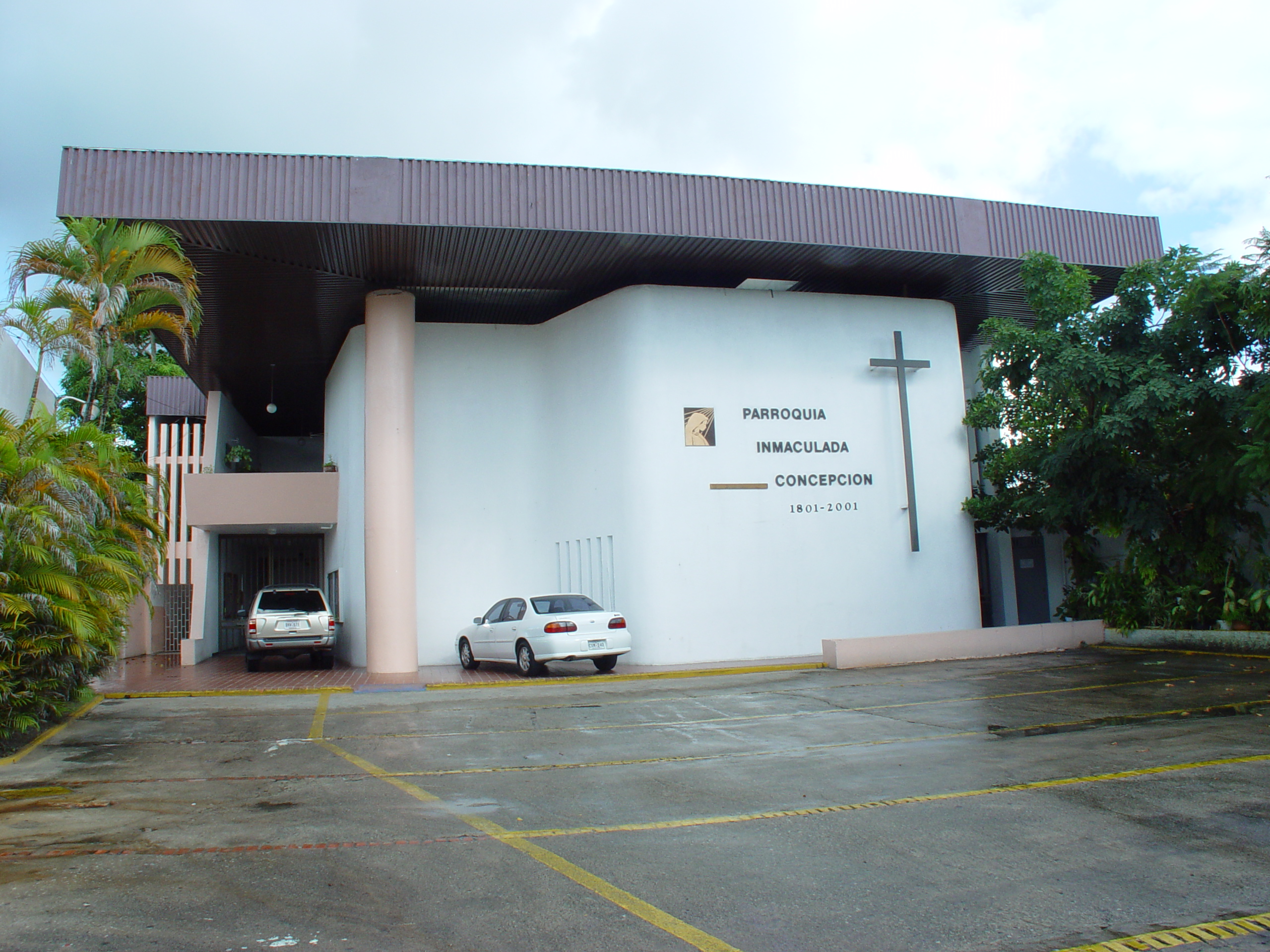 Topography: The terrain of this municipality is mostly level. It belongs geographically to the region of Valleys of the Southeast. Nevertheless, it has spurs of the Luquillo Sierra range to the north and of the Cayey Sierra range to the south. In the Luquillo Sierra we find El Toro at 1,074 meters (3,523 feet) rising between: the wards of Guzmán, Arriba and Rio Grande; and the Las Piedras River. It is the highest point of this mountain range. The Cayey Sierra hills contain the Collores Hill at 369 meters (1,210 feet) in the Colores Ward; and the Asomante Hill at 270 meters (886 feet) in the Tejas Ward in the south.
Hydrography: This municipality gives birth to one of the main affluents of the Grande de Loíza River, the Gurabo River. The river originates in the El Río ward in the Luquillo Sierra range at an elevation of about 900 meters (2,953 feet). It is approximately 32 kilometers (20 miles) long. Its affluents are: the Honda Gorge in the Rábanos ward; Arenas and the Valenciano Rivers that have their origen in the Montones ward; and water from the Montones and Muertos Gorges. The Humacao River rises in the Montones ward, this one ends at the eastern coast or the Passage of Vieques. All the aforefore mentioned end at the Grande de Loíza River in the Atlantic Ocean.
Economy: Manufacturing: computers and pharmaceutical.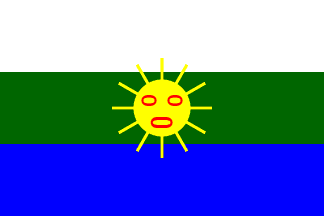 Flag: The flag of Las Piedras is formed by three horizontal strips of equal width, the superior (top) white, green the center and blue the inferior (bottom) one. In the center in yellow color resides the Taíno sun of the shield.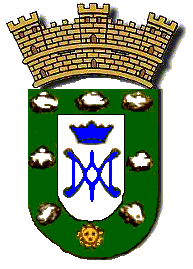 Coat Of Arms: In a silver field resides a blue monogram of the Holy Virgin, topped by a blue crown. Seven silver stones border the silver field and at the tip of the shield resides the Taíno sun in gold denominated as the "Sun of Las Piedras".
Símbolos:
The Holy Virgin's monogram, blue on silver background, represents the Immaculate Conception, under whose title the Parochial Church of Las Piedras gave origin to the town.
The silver stones on a green background represent the boulders scattered thru region in which the municipality is located and from which the name comes.
The Taíno sun is a version of a indigenous carving found in a cavern named "Del Indio" in the Las Piedras region. It symbolizes the original native inhabitants of the area.
Public Schools sorted by educational levels.
Humacao Region
Las Piedras District
Name
Level
Telephone
Address
Elementary

BENITO MEDINA

K-6

(787) 733-6847

PO Box 1320, P.R. 00771-0000

CARMEN BENÍTEZ

PK-3

(787) 733-2660

PO Box 98, P.R. 00771-0000

FRANCISCO TORRES

K-6

(787) 733-2262

PO Box 98, P.R. 00771-0000

JOSÉ DE DIEGO

K-6

(787) 733-8777

PO Box 1296, P.R. 00771-1296

LA FERMINA

K-6

(787) 852-9766

PO Box 728, P.R. 00771-0000

LUIS MUÑOZ RIVERA

K-6

(787) 733-1441

PO Box 98, P.R. 00771-0000

MATIAS RIVERA

K-6

(787) 733-3113

PO Box 2021 Suite 139, P.R. 00771-0000

MILAGROS MARCANO

K-6

(787) 733-4282

PO Box 98, P.R. 00771-0000

NUEVA JOSÉ D. ZAYAS

K-6

(787) 716-1232

PO Box 1296, P.R. 00771-1296

Intermediate

LEONICIO MELÉNDEZ

7-9

(787) 733-2520

PO Box 1033, P.R. 00771-0000

SANTIAGO TORRES

7-9

(787) 733-1454

PO Box 98, P.R. 00771-0000

Secondary

FERNANDO ROIG Y ANEXO

5-7

(787) 733-9818

PO Box 26, P.R. 00771-0000

High School

FLORENCIA GARCÍA

10-12

(787) 716-0044

PO Box 1221, P.R. 00771-0000

RAMÓN POWER Y GIRALT

10-12

(787) 733-2561

PO Box 1276, P.R. 00771-0000
Hymn: Author: Juan Casillas Alvarez – Music: Germán Peña
Somos de la Ribera
de Las Piedras, Puerto Rico
Que entre ríos y montañas
ampliamos horizontes
cultivando nuestra tierra.
En el Centro de Oriente
Quiso el Obispo de España
Que con amor y gran empeño
Fundara su templo en la montaña
los pedreños.
Somos del barco artesanos
Como pájaros cantores
nos da el sol sus esplendores
e ilumina en nuestras manos
la noble y gloriosa enseña
de la Patria Borinqueña.
Con valor, Oh Ribereños
miremos hacia el futuro
y al triunfo siempre seguros
y al triunfo siempre seguros
marcharemos los pedreños.
Events:
Güiro Festival – March
Typical Cultural Festival – April
Cross Festivities – May
Youngster's Festivities – July
Typical Festival – September
Pork Festival – November
Patron Festivities – December
Places To Visit:
Del Indio Cavern
Las Piedras Historic Museum
Panoramic Route 917
Francisco Negrón Park
Artesanial Walk
Distinguished Citizens
Sotero Gómez
Silvia Ricardo – Judge
María Elena Gómez – Judge
Carmen Benítez – Educator
Modesto Velázquez Flores – Fiscal
José R. Camacho – Radio Anouncer
Eugenio López – Dairy Farmer & boxer
Víctor Torres – Historian y reporter
Zenón Hernández – Writer & poet