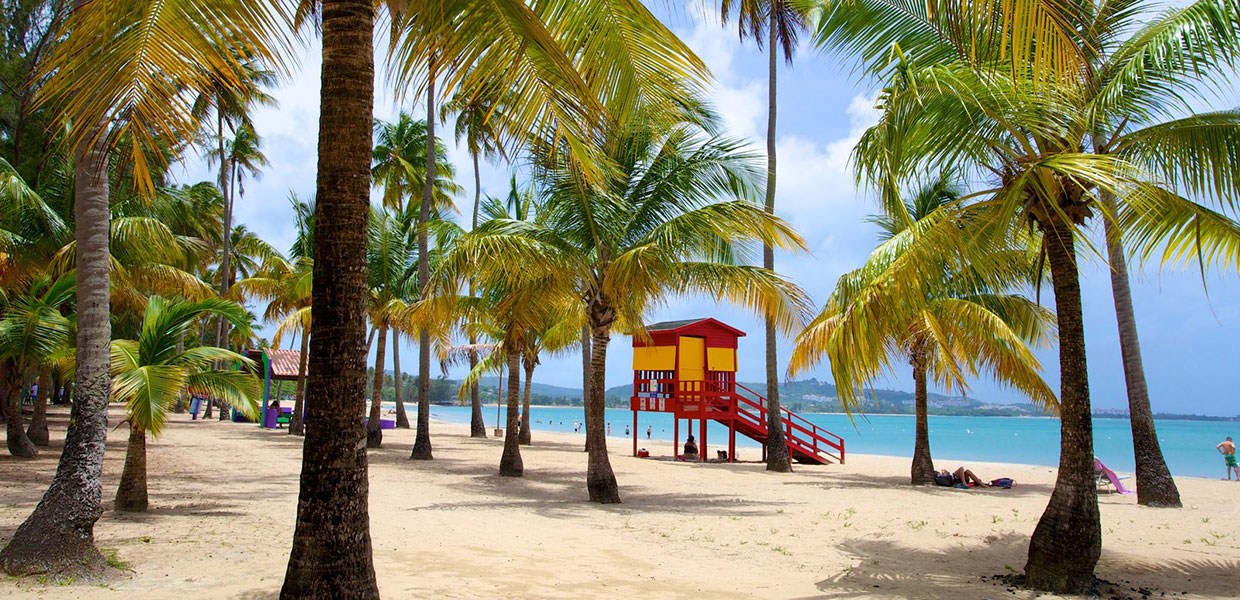 Luquillo, Puerto Rico
Sun Capital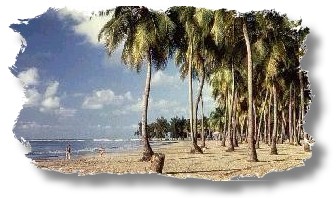 Luquillo (loo-KEE-yo) is known as the "City of Eternal Summer," the "Sunshine Capital" and the "Puerto Rico Riviera." The nicknames for residents are "the tourists" and "the coconut eaters."
The main economic activities are manufacturing, tourism, livestock and agriculture. Factories producing articles of clothing, electrical equipment, industrial machinery, and metal and leather products do business in Luquillo. The construction industry has also developed notably in this coastal municipality.
Foundation:
Luquillo was founded in 1797. Spaniards who left the Hato de Caparra entered thru the mountain range arriving at the shores of a river of fresh and crystal clear water where they settled. Later the Spanish leader of the expedition, don Cristóbal Guzmán, built a village and a chapel under the patronage of San Juan Obrero.
Perhaps the name of this municipality refers, as some suggest, to Lucuo or Loukuo, a Taíno divinity. More frequently, reference is made to Yukiyú or Yocajú, a Taíno beneficial divinity that lived in the Luquillo mountains. It must be mentioned that in the first years of sixteenth century Chief Loquillo lived in this region. His name is possibly an hispanicized word. He maintained a long guerrilla war against the Spaniards that were sheltered in the mountains.
In 1898 all the municipality was eliminated and the territory divided in the following way: the Juan Martín, Pitajaya and Sabana wards were added to Fajardo and the Hato Viejo, Mameyes 1 and Mata de Plátano wards added to Río Grande.
In 1914, the Legislative Assembly of Puerto Rico approved a law by which the municipality of Luquillo was reorganized again, with the same wards it had in 1897 with the exception of the Hato Viejo ward that disappeared in 1910 and the Mameyes II ward that became part of Río Grande.
Location:

Located in the northeast. It is bordered by: the Atlantic Ocean to the north, Fajardo to the south and east, and Río Grande to the west.
Area:
67.6 sq km / 26.0 sq mi
Population:
19,817 (census 2000)
Population Density:
283.1 per sq km / 762.1 per sq mi
People are known as:
Luquillenses
Luquillo is also known as:
Capital del Sol (Sun Capital)
La Riviera de Puerto Rico (Puerto Rico's Riviera)
Los Come Cocos (Coconut Eaters)
Wards: Luquillo, Puerto Rico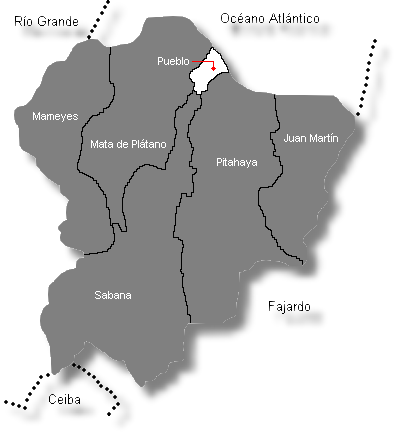 Census 2000:
Population by Wards – Luquillo
Habitants

Juan Martín

966

Luquillo Town

1,353

Mameyes I

2,383

Mata de Plátano

8,318

Pitahaya

4,505

Sabana

2,292

Total
19,817
Source: Censo 2000
Patron:
San José
San José Parish
Apartado 493
Luquillo, Puerto Rico 00773-0493
(787) 889-2590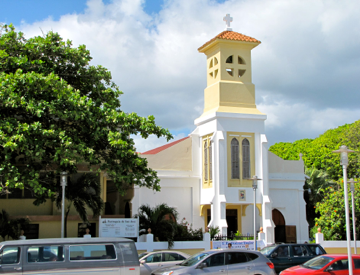 Topography:
Luquillo contains some spurs of the Luquillo Mountain range in the south and southeast region of its territory, in the Pitahaya and Sabana wards. In the Sabana ward the elevations reach to approximately 500 meters (1,640 feet). In the northeastern region, close to the coast, between the borders of the Juan Martín ward of Luquillo and the Quebrada Fajardo ward of Fajardo, the Barros and Zalduondo hills are not higher than 227 meters (748 feet). Except for the elevations mentioned, most of the territory is level.
Hydrography:
Luquillo has the follwing rivers: the Mameyes which divides it from Río Grande; the Savannah and its affluents Pitahaya, Cristal and Camándulas; the Juan Martín, which has as tributaries several gorges; and by the Mata de Plátano gorge. The Savannah and the Juan Martín rivers rise in Luquillo. They are 12.6 and 5.7 kilometers (7.6 and 3.4 miles) long, respectively. The Mameyes river is born in the Grande River.
Economy:
Manufacturing, tourism, cattle and agriculture.
Average Salary:
$285.17 weekly (1998)
Flag: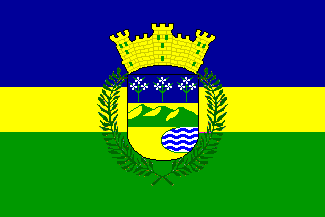 It consists of three horizontal stripes, the blue top and green bottom are double of width of the yellow central stripe. Blue makes reference to the sky and the sea; yellow represents the sand of its beaches and green represents the vegetation of the mountains. In the center stripe resides the Coat Of Arms of the town superimposed and surrounded by two palm tree leaves crossed at the bottom.
Coat Of Arms: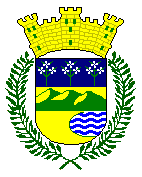 EIn a gold background a centered mountain range with three green mountains is accompanied at the bottom by a bay with blue and silver waves; the top portion of the shield in blue, has three iris branches. Above the shield resides a three tower gold crown. Surrounding the shield by its flanks are two palms trees leaves crossed at the bottom.
The mountains represent the Luquillo Mountain range from which the town derives its name. The bay placed in the gold field represents the Luquillo beach with a mountain range as its background. The iris symbolize Patriarch Saint Joseph, the town's patron. The crown is distinctive of the all cities, villas, towns and municipalities and stands for autonomy, unity and common defense. The palm tree leaves that surround the shield constitute another reference to the beach of Luquillo, and beautiful ornamentation.
Events: 
San José Patron Saint Festival- March
Coconut Festival- September
Traditional Cooking Festival- December
Places To Visit: 
Luquillo Public Beach
La Pared Beach
La Bandera Beach
La Monserrate Beach
Las Pailas Beach
Mameyes Beach
Chief Luquillo Monument
Peace Plaza
Rosendo Matienzo Cintrón Plaza
Joaquín Robles baseball park
Ocean View Boulevard
Luquillo Range
Distinguished Citizens: 
Rosendo Matienzo Cintrón

– Lawyer, politician, orator, philosopher and essayist. He was a pro-independence leader and a founder of the Union Party of Puerto Rico. In 1912, he founded the first pro-independence political party in Puerto Rico, the Independence Party.

Benigno Fernández García

– Lawyer and politician born in Luquillo and an adopted son of Cayey, where he lived from 1911 on. He was a member of the Puerto Rico Union Party, the Puerto Rican Alliance Party and the Liberal Party, which he represented as a delegate in the House of Representatives, a mayor, and resident commissioner, respectively. He was the attorney general for Puerto Rico and was named secretary of labor by Governor Tugwell.

Tomás Batista Encarnación

–Sculptor and painter. Winner of awards from the Institute of Puerto Rican Culture and the Guggenheim Foundation (1962), he studied in Puerto Rico under the direction of the Spanish artist Compostela. He has created sculptures and busts of distinguished Puerto Ricans, as well as the Monument to the Puerto Rican Jíbaro. He has been director of the Institute of Puerto Rican Culture's Sculpture and Restoration Workshop and the School of Plastic Arts. In 1992, to celebrate the 500th anniversary of the discovery of the Americas and Puerto Rico, the Puerto Rican Fifth Centenary Committee commissioned him to create a monument to the indigenous chief Loquillo. He is the creator of some of the most important sculptures of Puerto Rico.

Carmelo Román

– Educator, painter and writer.

Zoilo López

– Painter and muralist.

Camilo Valle Matienzo

– Musician and educator.

Eugenio Fernández García

– Politician and prominent physician. He was a senior professor in the Philosophy Department of the University of Puerto Rico, president of the Puerto Rico Medical Association (1923-1927), representative for the Puerto Rican Alliance Party (1928) and founder and director of a clinic for the treatment of tuberculosis in San Juan, which was named for him. Beginning in 1923, he edited El libro de Puerto Rico, a volume of biographies and historical information about Puerto Rico.
Public Schools sorted by educational levels.
Fajardo Region
Luquillo District
Name
Level
Telephone
Address
Elementary

CAMILO VALLES MATIENZO

K-6

(787) 889-1045

PO Box 1502, P.R. 00773-0655

CAROLINA G. DE VEVE

K-6

(787) 889-6167

PO Box 1006, P.R. 00773-0000

FORTUNA PLAYA

K-6

(787) 889-3600

PO Box 1006, P.R. 00773-0000

MATA DE PLÁTANO

PK-6

(787) 889-3744

PO Box 1006, P.R. 00773-0000

PABLO SUÁREZ ORTÍZ

K-6

(787) 889-5633

PO Box 1006, P.R. 00773-0000

PITAHAYA

K-6

(787) 889-0473

PO Box 1006, P.R. 00773-0000

ROSENDO MATIENZO CINTRÓN

K-6

(787) 889-2180

PO Box 1006, P.R. 00773-0000

Intermediate

RAFAEL N. COCA

7-9

(787) 889-3243

PO Box 1200, P.R. 00773-0000

Secondary

SU SABANA (SU ALEJANDRINA RÍOS)

K-9

(787) 889-3750

PO Box 485, P.R. 00773-0655

High School

SUPERIOR ISIDRO A. SÁNCHEZ

10-12

(787) 889-4333

PO Box 1588, P.R. 00773-0000
Hymn:
By don Carmelo Alvira Guerra
Junto a las costas del mar Atlántico
cerca del Yunque, en un rincón,
entre palmeras, muy arrogante,
se fue formado una población.
Llaman Luquillo de mis amores
al pueblecito que así creció;
chozas de pajas de pescadores
con el progreso se transformó.
Sus bellas playas y sus mujeres,
su fe cristiana y su tradición;
Ilenan el alma, nos traen placeres
recuerdos gratos del corazón.
Lindos paisajes, campos floridos,
nítido el cielo a la luz del sol
forman del pueblo sus coloridos,
y el alma Ilenan con su arrebol.
Cuando más lejos nos encontramos,
en la alegría o en el dolor;
Luquillo mío siempre te amamos
y te queremos con gran amor.