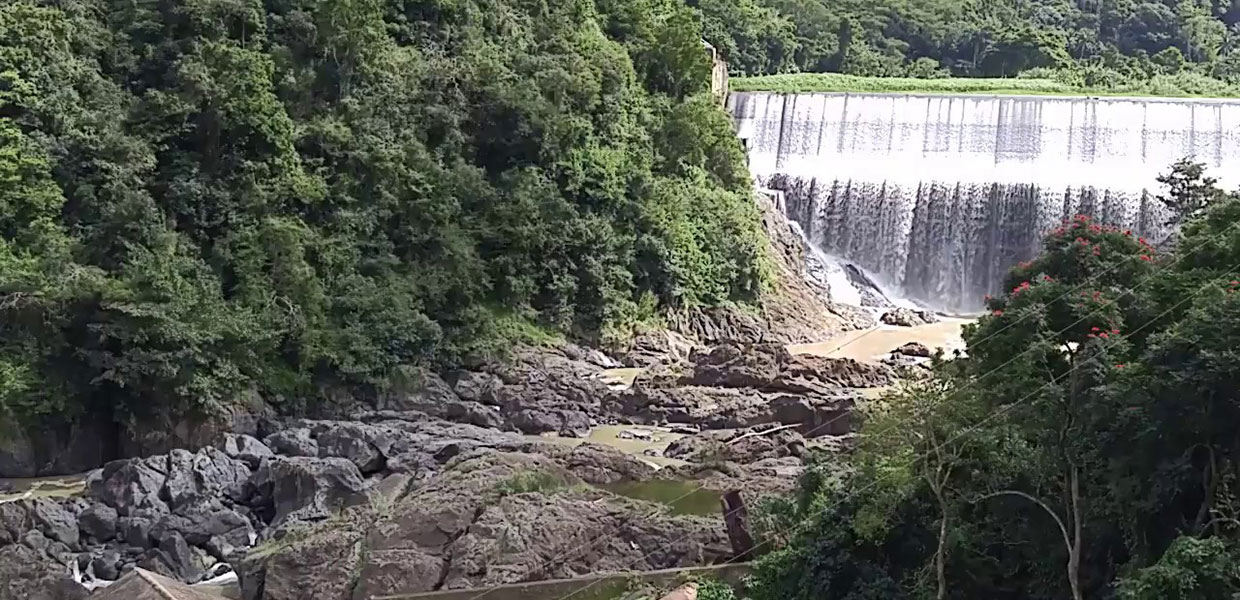 Comerío, Puerto Rico
The Pearl of The Plata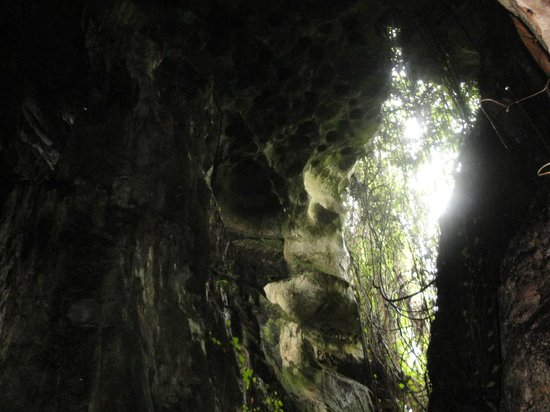 Comerío (ko-me-REE-o) is known as "the Pearl of La Plata" and "the town of the guabaleros", the latter referring to a kind of spider called guabá. It was first known as Sabana del Palmar because of the many royal palms that grew on a plantation called El Palmar, the site where the town was founded. The town patron is Holy Christ the Healer, honored in the festival held around the 6th of August.
Comerío is located in the central-eastern region of the island and is bordered by Naranjito and Bayamón to the north; Cidra and Barranquitas to the south; Aguas Buenas and Cidra to the east and Barranquitas to the west.
The town is irrigated by the La Plata River and its tributaries the Hondo and Arroyata rivers. The La Plata River runs through the center of town and has been very influential in the development of Comerío, so much so that Comerío is known as La Perla del Plata (the pearl of La Plata). There are two small dams on the river known as Comerío Uno and Comerío Dos, the first of which was built in 1908 for the purpose of supplying electric power to the San Juan metropolitan area.
Traditionally the town economy has been based on coffee, tobacco, and produce. Comerío was famous worldwide for its production of tobacco. At the beginning of the 20th century there were three cigar factories that had been established by natives of Comerío: Cobián y Compañía; La Comerieña, owned by Sánchez and Compañía; and El Privilegio, owned by Santiago Umpierre y Compañía, the latter being the largest in terms of sales and employees. In 1901, cigars from Comerío were awarded a gold medal at an exposition in New York City.
Today the town has manufacturing plants that produce electrical and electronic devices, footwear, cigars, and furniture. Minerals have been found on Mount La Tiza including white clay, kaolin, alunite, pyrophilite, sericite, and silica. In 2003, the municipal government of Comerío received an award from the Environmental Protection Agency (EPA) for its recycling efforts.
Foundation:
Comerío was founded June 12, 1826. It was originally founded with the name Sabana del Palmar (Palm Savannah), because of the abundance of palms that existed in the area. From the beginning of the XIX century a desire existed between the neighbors of the districts of Bayamón, Cidra and Barranquitas, to become independent from their respective parties and to constitute a new municipality.
In June 1826, an official decree denominated the new municipality of Sabana del Palmar and which territories included the districts Comerío Alto, Comerío Bajo, Arroyato, Piña, Río Hondo, Sierra and Quebrada Prieta of the jurisdictions of Bayamón, Cidra and Barranquitas.
In 1894 the city council asked the Spanish Crown authorization for a name change, officially adopting "Comerío" as the new name. The name of Comerío derives from the name of the Indian Cacique Comerío who lived in the region.
In the 1854, according to an original document from the archives of the Departamento de Obras Públicas, Sabana del Palmar, was subdivided by the Vega Redonda, Cejas, Naranjo, Cedrito, Doña Elena, Palomas, Rió Hondo and Piña districts. At the time of the foundation of the town, the population consisted of 510 habitants, soon increasing to 3,000.
Location:

Located in the center-eastern region of island, it borders north with Naranjito and Bayamón, south with Cidra and Barranquitas, east with Aguas Buenas and Cidra, and west with Barranquitas.
Area:
73.3 sq km / 28.2 sq mi
Population:
20,002 (census 2000)
Population Density:
272.8 per sq km / 709.2 per sq mi
People are known as
Comerieños
Comerío is also known as:
La Perla de Plata (The Pearl Of The Plata)
Pueblo de los Guabaleros (Town Of The Guabaleros)
Wards: Comerio, Puerto Rico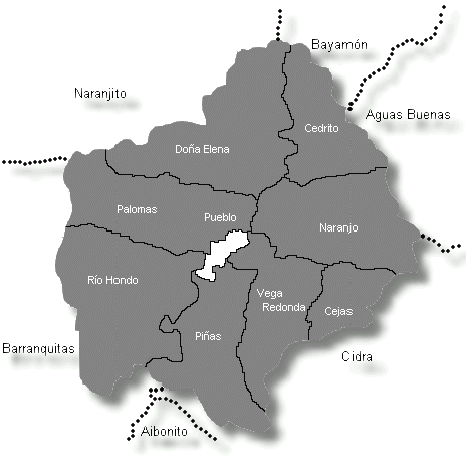 Census 2000:
Population by Wards – Comerío
Habitants

Cedrito

1,269

Cejas

860

Comerío (city)

4,103

Doña Elena

2,966

Naranjo

1,845

Palomas

4,382

Piñas

1,700

Río Hondo

1,857

Vega Redonda

1,020

Total
20,002
Source: Censo 2000
Patron:
Santo Cristo de la Salud
Apartado 1139
Comerío, P.R. 00762
Tel. (787) 875-4525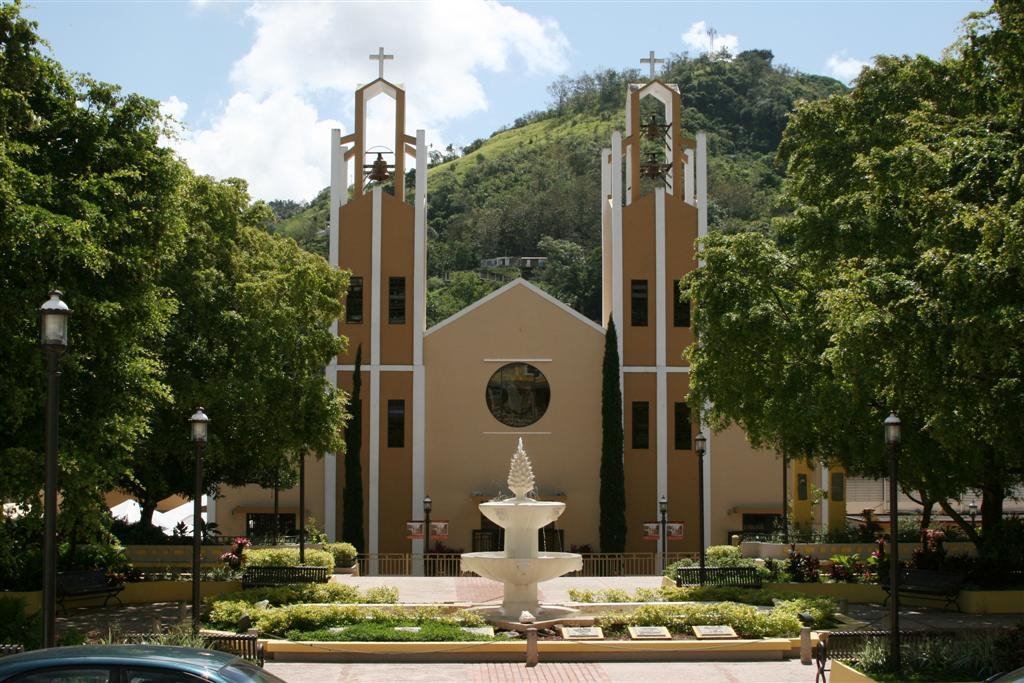 Topography:
All the terrain is over 200 meters (656 feet) of height. The highest peaks are La Tiza with 360 meters (2.165 feet), Comerío with 573 meters (1,880 feet), Magueyes with 570 meters (1,870 feet), Lazo with 470 meters (1,542 feet) and the Viento Caliente that reaches the height of 650 meters (2,132 feet) of altitude above sea level.
Hydrography:
La Plata river and its affluents Hondo and Arroyata rivers. At the basin of the La Plata some kilometers to the north of the population of Comerío between the districts Doña Elena and Cedrito we find the Comerío Lake, with a height of 127 meters (418 feet) above sea level. Its original capacity is 600 acres/foot (740.000 cubic meters).
Economy:
Agriculture (tabacco, coffee y fruits).
Average Salary:
$240.46 weekly (1998)
Flag: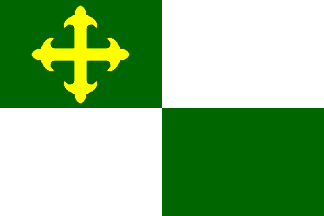 Quartered in cross, of green and white, and superimposed the right superior quarter is a anchored yellow cross. Being the flag an abstraction of the Coat of Arms, it gathers all its symbolism.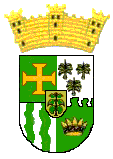 Escudo: Escudo partido en campo de sinople verde una cruz ancorada de oro, medio cortada de plata con dos palos de sinople. De plata cortado por una línea nebulosa, de sinople, el jefe cargado de tres copas de palmas reales, de sinople y la punta de una corona antigua de oro, su listel adornado de una greca taína de sable y brochante sobre el todo, en abismo un escusón de oro, cargado de una mata de tabaco arrancada de sinople indicando lo feraz de las vegas de Comerío para el cultivo de tabaco.
Places To Visit:
Tobacco Warehouse
Media Luna Recreation Park
La Tiza Peak
La Mora Caves
Las Pailas
Los Pilones
Town Square
La Plata River
Events:
Spring Carnival – April
Jíbaro Festival – June
El Jobo Festival – July
Patron Festivities – August
San Andrés Apostil Festivities – November
La Mora Cave Festival – December
El Seco Marathon – December
Christmas Fantasy – December
Distinguished Citizens:
Celestino J. Pérez

– Pharmacist, lawyer and elected legislator

Claudio Torres

– Composer

Juana Colón (1886-1967)

– Founder of the Socialist Party in Comerío

Manuel A. Pérez (1890-1951)

– Professor

María Aguayo

– Senator
Public Schools sorted by educational levels.
Caguas Region
Comerío District
Name
Level
Telephone
Address
Elementary
CENTRO IMPEDIMENTOS SEVEROS
EE
(787) 875-5824
PO Box 1123, P.R. 00782-0000
HERMINIO SIERRA
K-6
(787) 875-4088
PO Box 1123, P.R. 00782-0000
HORACE MANN TOWNER
PK-6
(787) 875-3265
PO Box 1123, P.R. 00782-0000
INÉS MARIA MENDOZA
K-6
(787) 875-2084
PO Box 1123, P.R. 00782-0000
JUAN ZAMORA
K-6
(787) 875-4341
PO Box 1123, P.R. 00782-0000
MANUEL CRUZ MACEIRA
K-4
(787) 875-5806
PO Box 1123, P.R. 00782-0000
MARIA C HUERTAS
K-6
(787) 875-3991
PO Box 1123, P.R. 00782-0000
PABLO R ORTIZ ROLÓN
K-6
(787) 875-3730
HC 2 Box 1123, P.R. 00782-0000
PEDRO MORALES BÁEZ
K-3
(787) 875-0645
PO Box 1123, P.R. 00782-0000
PIÑAS ARRIBA
K-6
(787) 875-2860
PO Box 1123, P.R. 00782-0000
Intermediate
LUIS MUÑOZ MARÍN
7-9
(787) 875-3390
PO Box 1123, P.R. 00782-0000
Secondary
SU MARIA C SANTIAGO
K-9
(787) 875-3613
PO Box 1123, P.R. 00782-0000
SU OSCAR PORRATA DORIA
K-9
(787) 875-2850
PO Box 308, P.R. 00728-0000
SU RAMÓN ALEJANDRO AYALA
K-9
(787) 875-2929
PO Box 328, P.R. 00782-0000
High School
JUANA COLÓN
10-12
(787) 875-2130
PO Box 1123, P.R. 00782-0000
Hymn:
By Dr. Francisco Manrique Cabrera
Con alma henchida de amor y ensueño
erguido ante el porvenir tremolamos
la canción de esperanza juvenil.
A Dios pedimos saber que alumbre
a nuestro país de fuerzas a nuestra fe
que aliente a nuestro vivir.
Comerío, montaña en flor donde El Plata
canta sin par cantos de miel y amor voces del tabacal.
A Dios pedimos saber que alumbre
a nuestro país de fuerzas
a nuestra fe que aliente a nuestro vivir.