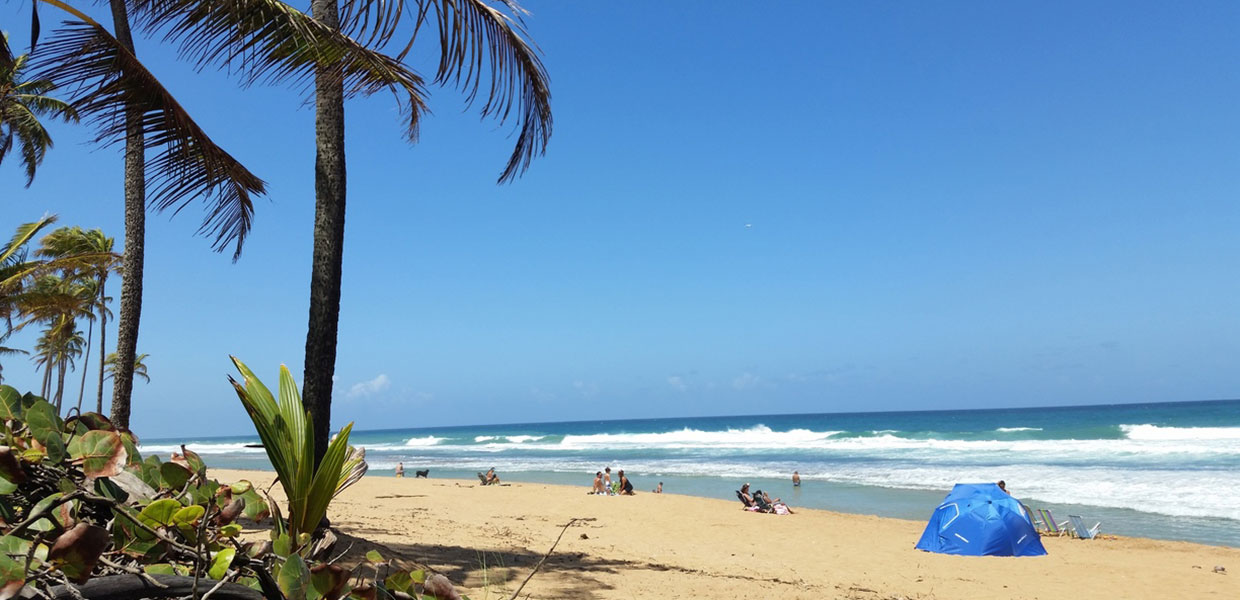 Loíza, Puerto Rico
Capital of Tradition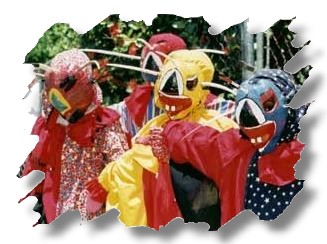 Loíza (loo-EE-zah) is known as the "The Capital of Tradition," "The santeros" and "The coconut producers." The patron saint is Saint Patrick, but the festivities in honor of the patron saint are dedicated to Saint James the Apostle. The festival is one of its principal attractions, especially because of the colorfully dressed vejigantes.
Loíza is located on the northeast coast of Puerto Rico. Is bordered on the north by the Atlantic Ocean, on the south by the municipality of Canóvanas, on the east by Río Grande and on the west by the town of Carolina.
Loíza is one of the few places in Puerto Rico where our African heritage is vividly represented. In Loíza the heritage of music and dance is kept alive in the bomba and plena.
The town of Loíza has many points of interest along its coast, including La Torrecilla and Piñones lagoons. The Piñones State Forest, a unique ecosystem whose rich variety of fauna and flora live on more than 3,500 cuerdas of mangroves, is located in Loiza. There are many bird species, 46 of which are endangered species.
The principal sources of income are fishing and tourism, although employment is concentrated in manufacturing, retail sales, and the hotel industry. The municipality has had paper, electronics, and leather factories. Agriculture is based on truck farming and coconuts.
Foundation:
In 1692 Loíza was appointed as an urban party because it had enough population, approximately 100 houses and 1,146 inhabitants. But it was not until the year 1719 the Spanish government recognized its existence by declaring it a town. Its founder was Gaspar de Arredondo. It was reconstituted again as a municipality August 16, 1970. The legend is that the name Loíza was that of a Taíno woman, Chief Loíza or Yuisa, who governed a territory called Jaymanio in the margins of the Cayrabón river now named the Grande de Loíza river.
Supposedly, Loíza took the name Luisa when she was baptized, because it was her godfather's name, Luis de Añasco. It is also said that this Taíno Chief married mulatto conqueror Pedro Mejías, with whom she died during an attack by the fierce Caribes. In fact, there is no proof that the christian name of Yuisa was Luisa; none either of her chieftainship or of her marriage with Mejías. Recently another possible source for the origin of the name is worthwhile considering. Iñigo Lopez de Cervantes y Loayza, member of the Spanish Hearing, had great extensions of land in this region and enjoyed much prestige between the governors and the colonizers of the time. His second last name could have been used to name this territory.
Location:
Loíza is bordered by: the Atlantic Ocean to the north, Canóvanas to the south, Río Grande to the east, and Carolina to the west.
Area:
65.0 sq km / 25.0 sq mi
Population:
32,537 (census 2000)
Population Density:
500.5 per sq km / 1,301.4 per sq mi
People are known as:
Loiceños
Loíza is also known as:
Capital de la Tradición (Capital Of Tradition)
Los Santeros (The Saint Worshippers)
Los Cocoteros (The Coconut Grovers)
Wards: Loiza, Puerto Rico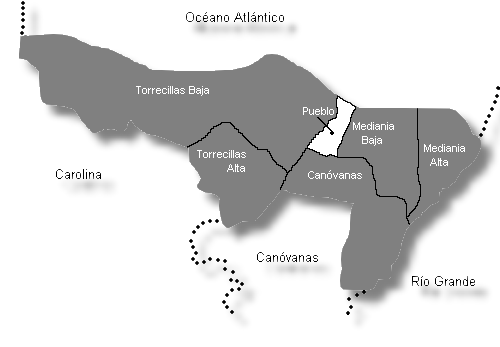 Census 2000:
Population by Wards – Loíza
Habitants
Canóvanas
7,699
Loíza Town
4,123
Medianía Alta
9,482
Medianía Baja
8,911
Torrecilla Alta
0
Torrecilla Baja
2,322
Total
32,537
Source: Censo 2000
Patron:
Santiago Apóstol
San Patricio Parish
Calle Espíritu Santo
Loíza P.R. 00772
Tel. (787) 876-2229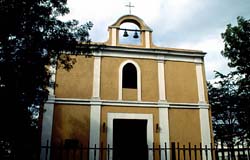 Topography:
The terrain is nearly uniformly level because since it does not surpass 100 meters (328 feet) above sea level. It is in the geographic region called the Coastal Plains of the North (the Atlantic coast).
Hydrography:
The hydrograqphy is formed by: the Grande de Loiza and the Herrera rivers, which serve as the border with the municipality of Río Grande; and the Piñones and La Torrecilla lagoons. La Torrecilla is shared with the municipality of Carolina. Great marshy extensions of land complete the hydrographic system.
Economy:
Tourism and fishing.
Average Salary:
$290.34 weekly (1998)
Flag: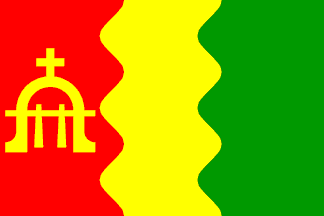 The colors of the flag represent the following:
Red and gold – Our Spanish inheritance, because they belong to the Spanish flag
Green – The Saint Patrick tradition of Loíza.
Three undulating stripes – The represention of our geography because Loíza is a coastal town having the widest and mightiest river of all Puerto Rico. The silhouette of a bell tower in the first stripe represents religious tradition and also serves as a symbol of the Church of Saint Patrick as an historical monument. .
Coat Of Arms: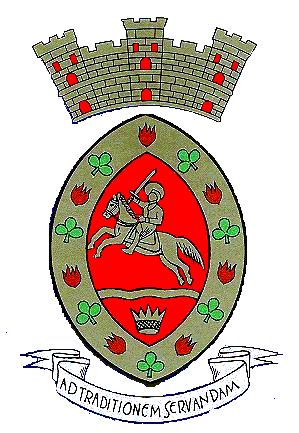 The mounted figure of Santiago Apostle, dominant in the shield, proclaims the devotion to the saint that the Loiceños profess, manifested in a special way during the celebration of traditional festivities every July 25th.
The flames are emblem of the Holy Spirit, bearer of the seven gifts, a title of the old church of Loíza. The undulating stripe represents the Grande de Loíza River, notable in geography, history and literature of Puerto Rico. The crown symbolizes the famous Taína Chief Yuisa, who dwelled in Loíza territory and found a tragic death. The trebols represent San Patrick, Apostle of Ireland and patron of the population.
Places To Visit:
Piñones State Forest
Ayala Family Craft Center
Piñones Development Center
Piñones Cultural Center
María de la Cruz Cave
Church of Saint Patrick
Julia de Burgos Walkway
Events:
Mayombe Carnival – February
Patron Saint – Saint Patrick – March
Festival of Saint James the Apostle – July
Beaches:
Distinguished Citizens:
Castor Ayala

– Master craftsman, father of the Ayala brothers who are craftsmen and promoters of Puerto Rican traditional dancing.

Iván Calderón

– Major league baseball player.

William Cepeda

– Musician

Miguel A. del Valle Escobar

– House representative for District 39 (1965-72) and for District 36 (1973-1976).

Samuel Lind

– Renowned painter.

Francisco E. Mundo Arzuaga

– Mayor (1933-1936), House representative for District 35 (1937-1940 and professor.

Juan Rosado Fuentes, Mateo Pérez Sanjurjo, Pedro Falú, and Antonio Falú

– Leaders of the Socialist Party in the 1930s.

Gabriel Santos López

– Educator and first mayor, when the town once again became a municipality in 1973.

Ramón Suárez

– Founder of Mimiya Hospital in Santurce.

Miguel Villarán

– Major league baseball player.
Public Schools sorted by educational levels.
Fajardo Region
Loíza District
Name
Level
Telephone
Address
Elementary
CELSO GONZÁLEZ VAILLANT
K-6
(787) 876-8260
PO Box 1980 Suite 269, P.R. 00772-0000
EMILIANO FIGUEROA TORRES
K-6
(787) 791-5396
PO Box 507, P.R. 00772-0000
GUILLERMINA ROSADO DE AYALA
K-6
(787) 256-2050
Apartado 507, P.R. 00772-0000
JOBOS
K-6
(787) 256-4500
PO Box 507, P.R. 00772-0000
MEDIANÍA ALTA ELEMENTAL
PK-6
(787) 876-1200
PO Box 1980 Suite 201, P.R. 00772-0000
PARCELAS SUÁREZ
K-6
(787) 876-1878
PO Box 1450, P.R. 00772-0000
PARCELAS VIEQUES
K-6
(787) 876-1235
PO Box 94, P.R. 00772-0000
Intermediate
BELÉN BLANCO DE ZEQUEIRA
7-9
(787) 256-3060
PO Box 1980 Suite 341, P.R. 00772-1980
JESÚS A. VIZCARRONDO
7-9
(787) 876-1377
PO Box 507, P.R. 00772-0000
High School
CARLOS ESCOBAR LÓPEZ
10-12
(787) 876-2060
PO Box 535, P.R. 00772-0535
Himno:
Loiceños en Acción By Lolita Cuevas
Loiceño en acción
deja huella de tu yo
en tu tradición;
tu bandera has de honrar,
tus raíces y tu himno exaltar.
Loiceño, has de marcar
en el tiempo
el orgullo de tu honor;
tu vehemencia
ha de encontrar
luz divina
en horizontes de alta mar.
Unidos vamos adelante,
unidos en amor y paz;
nuestra historia
es la esperanza
que a nuestra patria
hará triunfar.
Cultiva tu tierra, es tesoro,
estudia y lucha
sin cesar,
que Loíza es hija digna
de Borinquén,
pueblo de amor y paz.