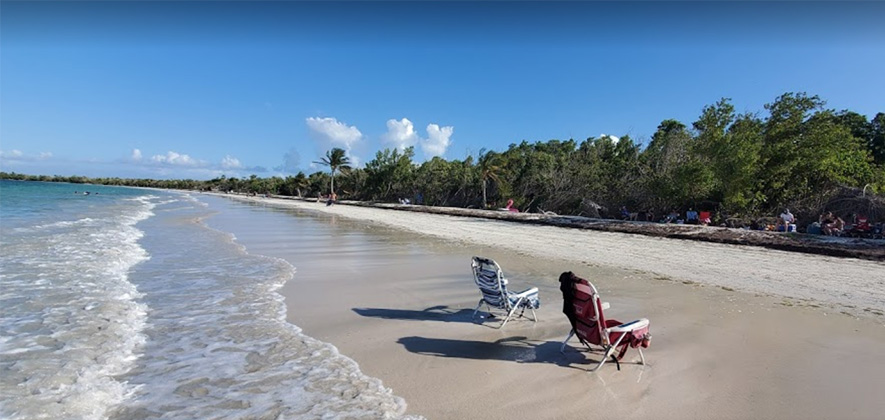 Medio Mundo Beach
Ceiba, Puerto Rico
Medio Mundo Beach is located on the east coast of of Puerto Rico in the town of Ceiba, at a distance of 2.8 miles from José Aponte De La Torre Airport, the old airport of the Roosevelt Roads base.
This beach is an unknown place for tourists. Usually, it is not included in the typical guides of Puerto Rico, since it is not as famous as Flamenco Beach, or Isla Verde Beach, but it is really a beautiful beach of great natural wealth with beautiful landscapes of white sand and crystal clear waters.
Medio Mundo Beach, meaning in English "half-moon beach" named for its shape of the cove, is another very long but narrow white sand beach (approx. 3 meters wide), ideal for taking a long walk along this deserted beach and simply admiring the sand and the blue sea water.
On this deserted beach, you can walk up to 40 feet into the water, and still be within a few feet of very shallow water, perfect for families with young children.
Occasionally, kayak tours are conducted by kayak companies that explore these beaches, the surrounding areas, and go near Piñeiro Island to snorkel.
Medio Mundo beach is one of the properties managed by the Conservation Trust of Puerto Rico.
How to get there:
You must take the highway to Fajardo and then the highway that goes to Ceiba airport, (highway # 3 that goes to Ceiba) and continue until the old Roosevelt Roads base. Just before entering Roosevelt Highway, turn left onto Playa Machos, park your car there and walk 5 minutes to the right.