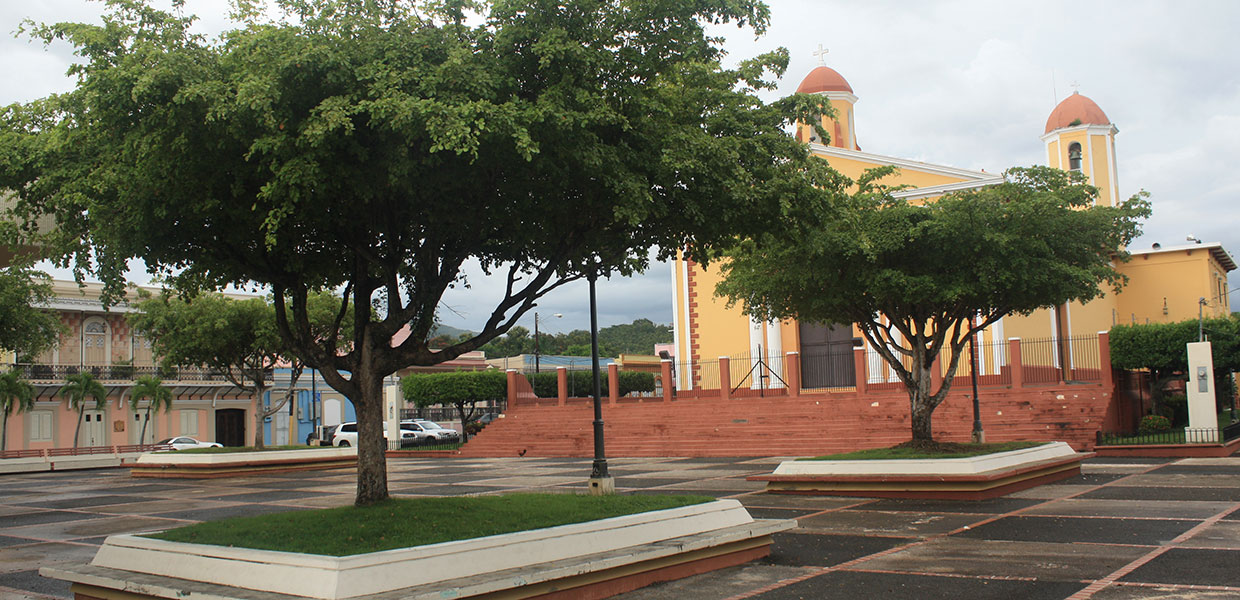 Sabana Grande, Puerto Rico
Town of Prodigies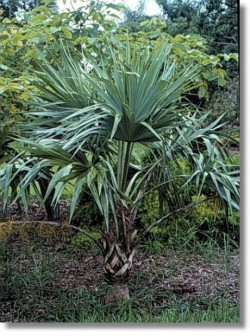 Foundation: Sabana Grande (sah-BAH-nah GRAHN-de), in its origins was a ward of the municipality of San Germán. It's name is derived from the extensive savannah (sabana) that occupies the southern region.
Distant from head of the district, San Germán, the residents of this territory, under the tutelage of San Isidro Labrador and Santa María de la Cabeza, managed to erect a church before 1808 that was auxiliary of the parish of San German. The auxiliary parish became independent from San Germán in 1813 and Don Pedro de Acosta founded the town in 1814 donating sixty acres of land for that purpose. In the site of the town, the people erected the Kings House and the Priest's House, built a plaza, a slaughter house and a cemetery.
During its first years of life the economy of the town was based on the cultivation of sugar cane, that was processed in primitive mills (trapiches), later in mills and finally in the refineries of the neighboring territories. The municipality counted with three great sugar cane haciendas: the "San Francisco" and "the Carmelita", both founded in 1872, and the "San Felipe", in 1880.
The municipality of Sabana Grande is known as the Town of the "Petateros" among other names. Petate is a weaved mat that is made of a type of palm tree (Thrinax morrisii) that grows in the northern part of the town. This palm weave had diverse uses, among them: sleeping mats, and mats to dry coffee and other grains.

Location: It is bordered by: Maricao on the north, Lajas and Guánica on the south, Yauco on the east, and San Germán on the west.
Area: 91.0 sq km / 35.0 sq mi
Population: 25,935 (census 2000)
Population Density: 285.0 per sq km / 741.0 per sq mi
People are known as: Sabaneños
Sabana Grande is also known as:
Pueblo de los Prodigios (Town of Prodigies)
Pueblo de los Petateros (Town of the Petateros)
Ciudad del Petate (Petate City)
Wards:

Sabana Grande, Puerto Rico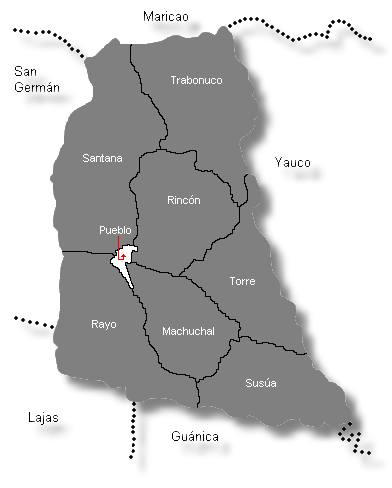 Census 2000:
Population by Wards – Sabana Grande
Habitants

Machuchal

4,892

Rayo

2,634

Rincón

3,997

Sabana Grande Pueblo

1,807

Santana

7,667

Susúa

2,861

Tabonuco

335

Torre

1,742

Total
25,935
Source: Censo 2000
Patron:
San Isidro Labrador
San Isidro Labrador Parish
Apartado 817
Sabana Grande, P.R. 00637
(787) 873-4475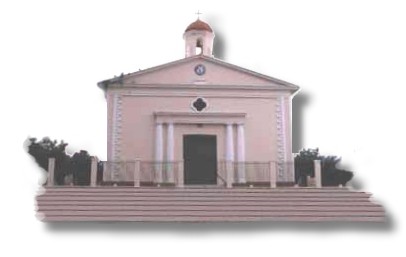 Climate: The temperature varies between 70 and 80 degrees F. The winds are nearly constant and normally flow from the east, southeast. Rain, usually abundant during the months of April to November, is scarce between December and March, with a annual average precipitation of 56 inches.
Topography: It is located in the geographic region denominated Sabana Grande Plain. The terrain is moderately mountainous to the north, in the most northern part of the Santana and Tabonuco wards. The Central Mountain Range runs through these wards and the municipality of Maricao.
Hydrography: Sabana Grande is bathed by the Guanajibo river and several of its affluents; Grande, Coco, Cruces, Flores, Río Loco and the Culebra, Honda and Agustina gorges.
Economy: Agriculture (sugar, fruits and cattle in a smaller scale) and the elaboration of scientific instruments, chemical agents, textile and wood.
Average Salary: $310.79 weekly (1998)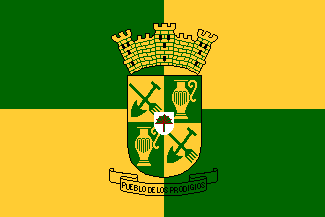 Flag: The Sabana Grande flag has four alternate quarters in green and yellow. In the center it has the municipal shield. The meaning of the flag is derived from the shield.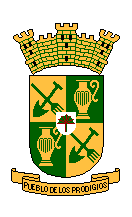 Coat Of Arms: The Sabana Grande Coat of Arms contains elements that symbolically represent the patrons of our town. The rake and the shovel represent San Isidro Labrador, also patron of Madrid. It is believed that its representation comes from the faith that had the farmers of the old countryside. When the great droughts came, they made promises with the hope that the patron would save their harvests. The jug symbolizes the domestic tasks of Santa María de la Cabeza, San Isidro's woman. Towards the center we find a palm leaf symbol of a typical industry of this town.
In the superior part is a crown with three towers, it establishes the category of town, and symbolizes solidarity, civic union and common defense.
The colors of the shield contain the tradition of our town: gold and green. Finally, the motto of our shield, Pueblo de los Prodigios (Town of Prodigies), brings to memory the tradition of a town where numerous extraordinary, historical and mysterious events have ocurred.
Sabana Grande Public Schools
| | | | |
| --- | --- | --- | --- |
| Name | Level | Telephone | Address |
| DR. JOSÉ CELSO BARBOSA | Elementary | (787) 873-1185 | PO Box 742 |
| FRANKLIN DELANO ROOSEVELT | Elementary | (787) 873-1520 | PO Box 846 |
| JOSÉ R. GAZTAMBIDE | Elementary | (787) 873-3860 | PO Box 846 |
| LUIS MUÑOZ RIVERA | Elementary | (787) 873-4270 | PO Box 371 |
| ROSENDO MATIENZO CINTRÓN | Elementary | (787) 873-7664 | PO Box 846 |
| JOSÉ A. CASTILLO | Intermediate | (787) 873-3120 | PO Box 846 |
| DAVID ANTONGIORGI CÓRDOVA | Secondary | (787) 873-1521 | HC 9 Box 4635 |
| FRANCISCO VÁZQUEZ PUEYO | Secondary | (787) 873-1501 | PO Box 846 |
| JUAN I. VEGA | Secondary | (787) 873-0545 | PO Box 846 |
| BLANCA MALARET | High School | (787) 873-3980 | PO Box 878 |
Himno: By Raúl A. Torres Irizarry & Elpidio Montalvo
Sabana Grande, ciudad petatera,
alegre y bonita del sur del país.
Sabana Grande, tus montes y tus llanos,
tu gente y tu historia leyenda ya son.
Sabana Grande, tierra bendita,
tierra del sol brillante,
de hermosa luna que perfuma,
con el aroma de sus plantíos en la llanura.
Sabana Grande, de noble estirpe,
leyendas y tradiciones,
entre sus montes canta el pitirre,
Dios con su hijo te brindan juntos sus bendiciones.
Sabana Grande, cuna de héroes,
poetas y atletas a orgullo eres tú.
Por eso Sabana Grande, mirando al futuro,
en la historia te habrán de tener.
Events:
Patron Celebrations – May
Virgen del Pozo Marathon – May
Petate Festival – December
Places To Visit:
Susúa State Park
Casa Barco
Orlando López Recreation Center
Hacienda Albino
El Pozo de la Virgen
Distinguished Citizens:
Augusto Malaret – Linguist
Manuel Quevedo Báez – Doctor & writer