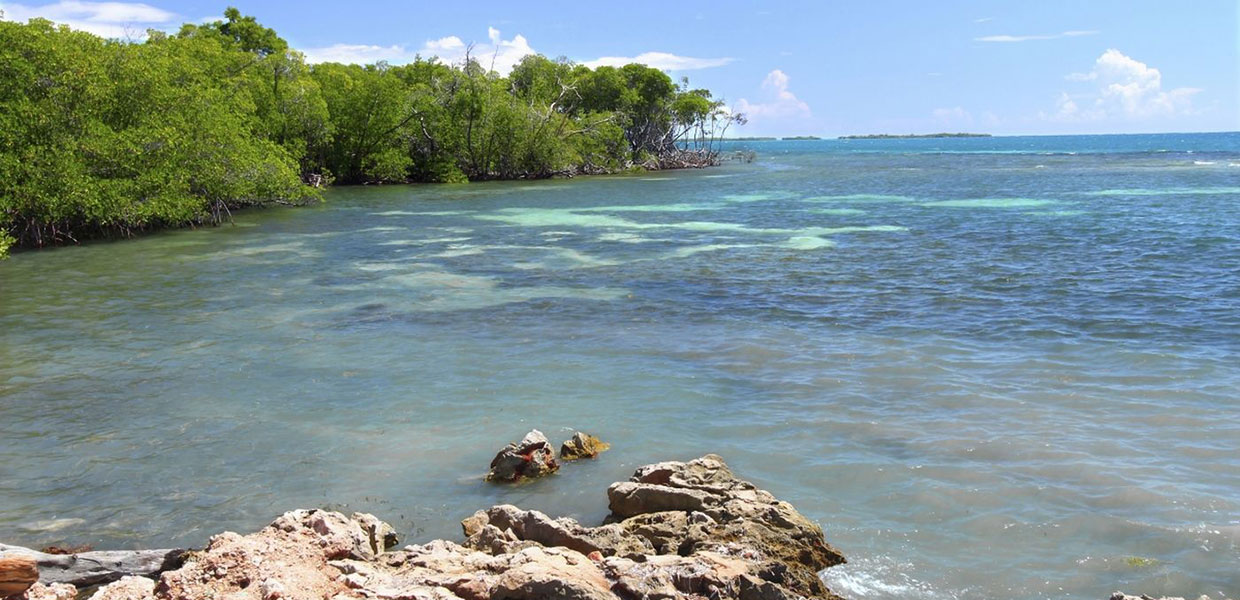 Guánica, Puerto Rico
Friendship City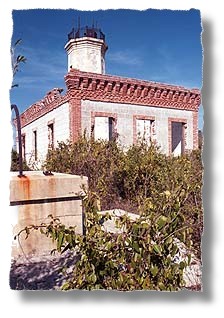 Foundation: Guánica (GWAH-nee-kah) was founded in 1914. In 1906 started eight years of intense civic fight in which the "Guaniqueños Segreguistas" (Guanica Segregationists) knocked on all doors and took their case to all the newspaper columns of the country, convincing the delegate to the Camera (Governing Body), Don Carlos A. Del Rosario, to initiate a project endorsed both by Union Delegates and by Republican Delegates who composed the Camera in those days. The project was approved by Governor Yaguer, segregating Guanica from Yauco making it a municipality March 13, 1914.
The origin of the name of Guanica comes from the agglutination of three indigenous roots: Guá, "he aquí" (here is); ni, "agua" (water); and ca, "lugar" (place). Therefore meaning, "he aquí un lugar de agua" (here is a place of water). Guanica is a young municipality, but its history goes back to the time of the colonization. The historians say that when Juan Ponce de León arrived to the Island in 1508 disembarking at the Bay of Guanica, Agüeybaná (the main Chief of the island) resided in this territory. At that time Guanica represented the indigenous capital of the Island. Guanica was also the landing place of North American troops in 1898.

Localización: Located on the southern coast, it is bordered by: Sabana Grande to the north, the Caribbean Sea to the south, Lajas to the west, and Yauco to the east.
Area: 94.9 sq km / 36.5 sq mi
Population: 21,888 (census 2000)
Population Density: 230.6 per sq km / 599.6 per sq mi
People are known as: Guaniqueños
Guánica is also known as:
Pueblo de la Amistad (Town Of Friendship)
El Pueblo de las Doce Calles (The Town Of The Twelve Streets)
Puerta de la Cultura (The Portal Of Culture)
Wards:

Guanica, Puerto Rico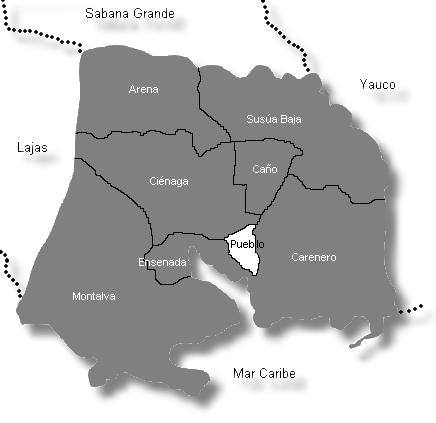 Census 2000:
Population by Wards – Guánica
Habitants

Arena

84

Caño

1,965

Carenero

2,862

Ciénaga

2,376

Ensenada

2,184

Guánica Pueblo

4,699

Montalva

3,148

Susúa Baja

4,570

Total
21,888
Información: Negociado del Censo de los EE.UU. Censo 2000
Patron:
San Antonio Abad
San Antonio Abad Parish
Apartado 804 Guánica, P.R. 00653
(787) 821-2147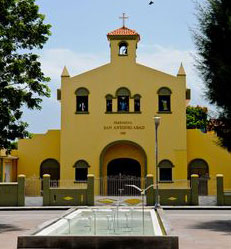 Topography: The territory is almost level, except for small elevations: the Lajara hills (in Montalva), which is the highest one, with 178 meters (584 feet), the Abra (in Ensenada), Seboruco (in Carenero), and El Peñón (in Ciénaga). The Montalva , Las Pardas and La Brea hills, all in the Montalva ward, are below 100 meters (328 feet) of height.
Hydrography: The Loco River, which rises in Yauco and flows into Guanica by the northeast and ends at the Guanica Bay. Also forming part of this systems is the Guanica Lagoon.
Economy: Manufacture (apparel) and tourism.
Average Salary: $250.94 weekly (1998)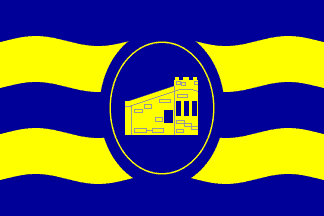 Flag: The five waves, blue and yellow represent the Guanica Bay, a fragment of the Official Shield of Guanica. It symbolizes the indigenous territory of Guaynía, name doubtlessly related to Guanica and that Fernando Fernandez de Oviedo, in his General History of the Indians, says that in this region several rivers of gold ran. The name of Tavara or Tábora recalls, the maternal last name of Don Cristóbal de Sotomayor given to the town because of its proximity to the Guanica Bay.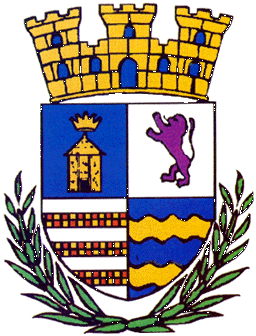 Coat Of Arms: Shield divided in four quarters. In the superior right side, it has a "bohio" (hut) under a crown that represents Cacique Agüeybaná, whose yucayeque (indian territory) was in this region. In the superior left quarter, a lion representing Juan Ponce de León.
The checkered strips over a silver-plated background in the inferior right side represent the shields of Don Cristóbal de Sotomayor, founder of the town of Tavara, the actual location of Guanica. The waved stripes represent the bay of this town. The branches surrounding the shield represent the sugar cane industry that was very important in this region.
Active School List 2001-2002 San Germán Region

Municipality of Guánica

Level

Telephone

Address

AGRIPINA SEDA

Intermediate

(787) 821-2570

PO Box 690

ÁUREA QUILES CLAUDIO

High School

(787) 821-2800

PO Box 494

CEFERINO COLÓN LUCCA

Elementary

(787) 821-6066

PO Box 1110

ELSA E COUTO ANNONI

Elementary

(787) 821-3222

PO Box 1037

FRATERNIDAD

Elementary

(787) 821-3121

PO Box 1045

JOSÉ RODRÍGUEZ SOTO

Elementary

(787) 821-2310

PO Box 691

LUIS MUÑOZ RIVERA

Elementary

(787) 821-3121

PO Box 327

MAGUEYES II

Elementary

(787) 821-7000

PO Box 1010

MARÍA DEL ROSARIO CRUZ CLAUDIO

Elementary

(787) 821-7322

PO Box 1110

MARÍA L MC DOUGALL

Elementary

(787) 821-2490

PO Box 599

OLGA E COLÓN TORRES

Elementary

(787) 821-3160

PO Box 1087

TERESITA NAZARIO

Intermediate

(787) 821-2300

PO Box 538
Hymn: By José Luis Padilla (Cheliquin)
América es jardín del mundo;
Puerto Rico es el jardín de América,
América es jardín del mundo;
Puerto Rico es el jardín de América
Pero mis versos los dedico
a mi pueblito del alma
Guánica, Guánica
pueblo que es obra de Dios.
Su bahía de cristal,
sus valles verdes de caña;
adornando cual collar,
bordeando están sus montañas.
Guánica, Guánica
que es jardín de Puerto Rico;
Guánica, Guánica
pueblo que es obra de Dios.
Son sus playas, tan azul,
Playas gemelas del cielo;
Sus mujeres sasonáz…
con sabor dulce de caña.
Guánica, Guánica
que es jardín de Puerto Rico;
Guánica, Guánica
pueblo que es obra de Dios.
América es jardín del mundo;
Puerto Rico es el jardín de América,
Guánica, Guánica
es jardín de Puerto Rico.
Guánica, Guánica
pueblo que es obra de Dios.
Guánica, Guánica
Events:
Fish Festival – April
Patron Festivities – Julio
July 25 Parade – July
Juan Ponce de León Celebration – August
Places To Visit:
Guanica Hacienda
Santa Rita Hacienda
Ballena Bay
Sugar Cane Refinery
Caprón Fortress
Gilligan's Island
Old Lighthouse
El Malecón (Boardwalk)
Guánica Bay
Manglillo Beach
Azul Beach
Rosada Beach
Playa Santa Beach
Serra Beach
Punta de Brea
Punta Jorobao
Distinguished Citizens:
Pedro Vargas Rodríguez
Victor Sallbery
Domingo Suárez Cruz
Agripina Seda
Pedro Santana
Miguel A. Morciglio
Jaime Cancel
Luis A. Nieves López
Domingo Bracero Hernández