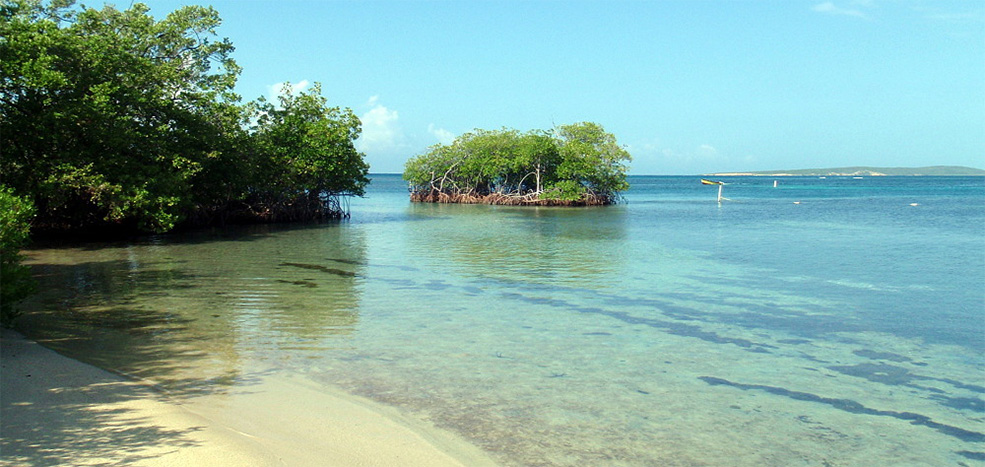 Gilligan's Island
Guánica, Puerto Rico
Guilligan Island or El Cayo Aurora, a small island located on the southwest coast of Puerto Rico is a paradise-like nature reserve part of the Guánica Biosphere Reserve and managed by the Department of Natural Resources (DRNA).
Teh small island has two channels that are approximately ten feet deep perfect for swimming.  The beach surrounding the key is beautiful, shallow, without strong waves, perfect for the whole family.
The beach is a perfect crystalline natural pool for a full day of swimming, snorkeling, kayaking in connection with nature. The beach it's made up of a series of mangroves and small beaches with fish of different species.
The island is nicknamed after the popular television show "Guilligan Island."
Surrounded by a healthy mangrove system, Gilligan's Island is a refuge for scuba divers with crystal clear waters with banks of tropical fish and some places with live and healthy corals. You can bring your own snorkeling gear or you can rent / buy on the main island in Guánica or nearby towns. If you are a beginner who practices snorkeling or if you want your children to start, Gilligan is a great place to learn.
The bottom is very sandy and you can swim all over the island with little effort, the current is slow and smooth. Gilligan's is very child friendly because of its shallow water. The island has picnic tables, barbecues, bathrooms and shaded areas for family picnics.
On the coast there is a restaurant that offers transportation to the round trip at a cost. The restaurant also brings food to the island if you request it. You can also use your own boat.
Gilligan Island is open every day from 9 a.m. to 5 p.m. It is closed on Mondays (except holidays Mondays, when it is open).
How to get to the beach:
From San Juan to Gilligan Island, Guánica: take Highway 52 to the city of Ponce. Then head west (now called Porta del Sol) on Highway 2 and head south on Route 116 to the city of Guánica. Then take the road # 333. After the turn to Copamarina Beach Resort, turn right, you will quickly see a parking lot on your right, park there and get your tickets.
To reach the island of Gilligan, there is a small private passenger ferry that operates from Tuesday to Sunday. The journey is less than 10 minutes to arrive or it can be reached by kayak that will take approximately 30 minutes to arrive. The island is closed for visitors on Mondays, rules of the DRNA.